Have you tried meal planning time and again, only to feel like you end up spending more money and having to throw food away? If so, I'm glad you're here! My menu planning system is THE BEST, SIMPLEST step by step system for beginners to learn how to meal plan.
This 7 step process will save you so much time, money, and sanity by:
cutting out extra trips to the store
eliminating the 5:00 stress of "crap! What's for dinner?"
getting rid of the 3 days a week fast food drive through guilt
batching the task of meal planning (batching is a major productivity hack!)
Here are the 7 steps for how to meal plan for a month in a nutshell:
Print several copies of my monthly meal plan calendar template & fill in the dates for the current month.*
Look at your family's calendar/ plans/ activities for the week – make a note on your meal planning calendar regarding activities or plans that affect dinner.
Have your go-to recipes in one spot on a recipe cheat sheet. (I will show you how to do this).
Use recipes you have to fill in your meal plan calendar & print as necessary.
Fill in 2-3 simple breakfast and lunch options. Think cereal, scrambled eggs, PB & J, salami & cheese.
Make a list of food you need for the week's meals.
Order your groceries online.
*Note: Of course, you can choose to use the same general system on a weekly basis. I have found weekly meal planning to be more cumbersome and less time-efficient 🙂
That process isn't patented or rocket science, but I know many people still feel irritated and overwhelmed by meal planning. So I'm going to break down each step of the system into specific instr
uctions.
There will also be tons of tips throughout this post to make this all as easy as possible for you. Towards the end of the post, I included several ideas for weekly menu plans (mostly fast & easy weeknight dinner ideas) with many of our favorite recipes linked.
Remember – any time you try something new, there's a time period of figuring out what works best for you. Tweak this monthly meal planning system as needed & give yourself grace.
You can watch or listen to my video explanation if you'd rather watch than read 🙂
Why Monthly Planning Might Actually Be Easier Than Weekly Meal Planning
Personally, I have found monthly meal planning to be easier and faster than weekly meal planning for 3 reasons:
1. Batching your tasks saves time
Any time you can do a task in "bulk," you eliminate the "start up costs" of getting the project going. Every time you meal plan, you have to:
Look for recipes
Grab a calendar or list of some sort
Check your fridge, pantry, and freezer to see what you have
Think through your calendar for the week to plan accordingly
Doing all of those things every single week takes WAY more time than sitting down once a month and making a meal plan for the whole month.
I promise monthly meal planning is less intimidating than it sounds!!
2. You can double & freeze meals which saves time and money.
Many ingredients are cheaper in bulk, and many meals don't take THAT much longer to just double the quantity.
If I'm making something that can easily be doubled and frozen, I will put it on the menu twice and write "DF" near the first time I plan it. That way I know to buy double the ingredients in the recipe and freeze some of what I make.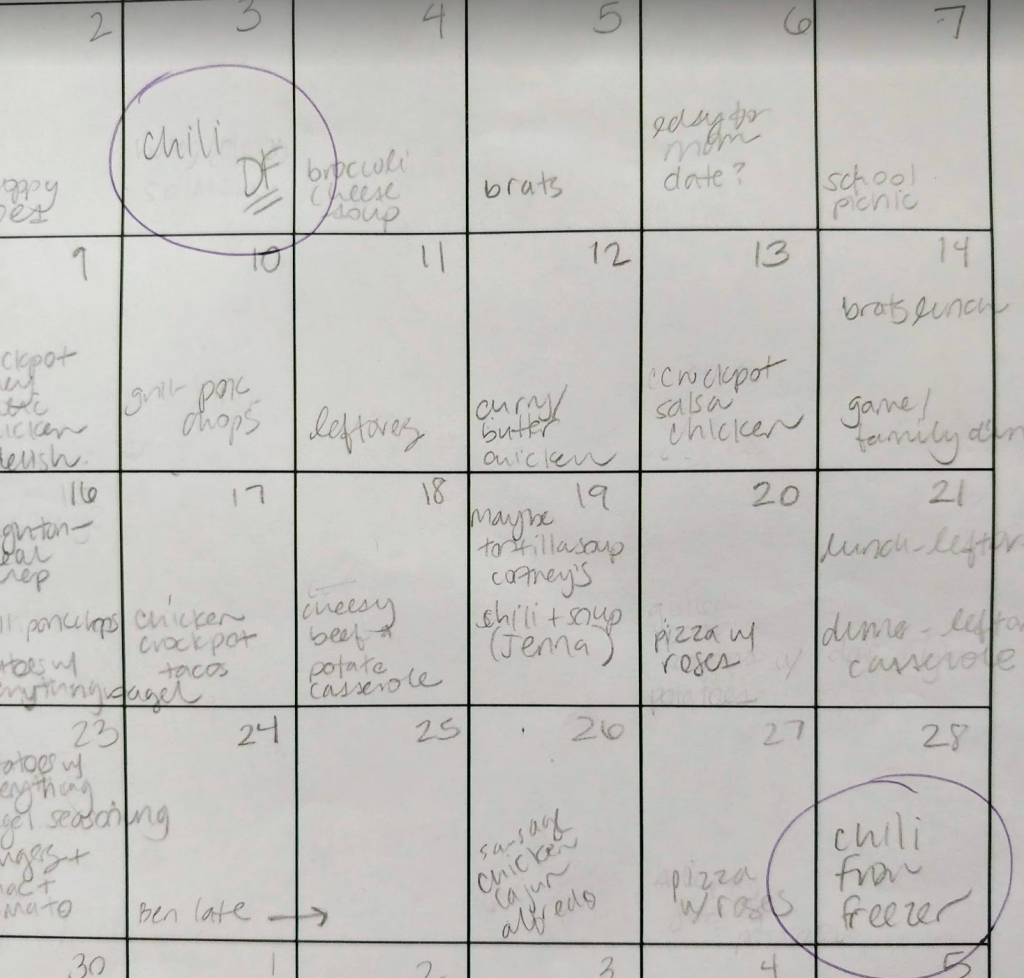 3. Variety + Efficiency + Throwing less out
By planning monthly, rather than weekly, you can make sure to use up all your ingredients efficiently but not have to eat the same thing several days in a row.
It just takes a couple months to find your groove! Use pencil, and give it a few months to see if it'll work for you.
If planning monthly just seems too daunting, here's an idea: print my monthly calendar but do my system each week – one week at a time. After doing that for 4 weeks, you'll have a whole calendar of meals you could repeat next month.
Step 1 – Print This Monthly Meal Plan Template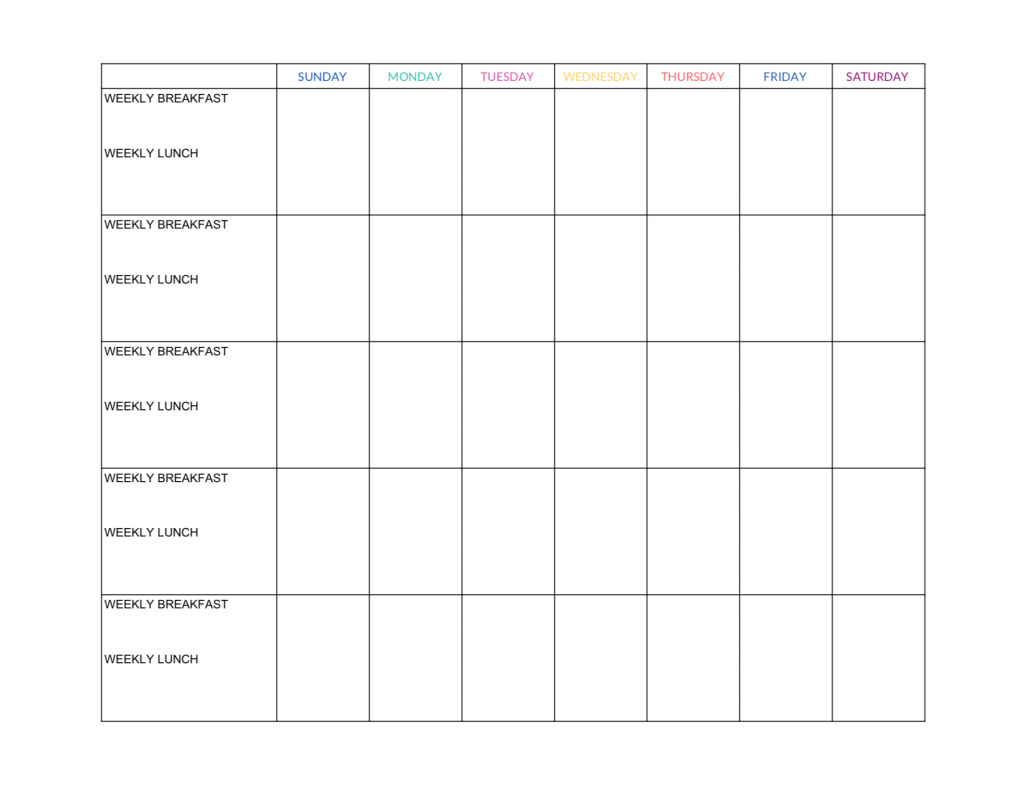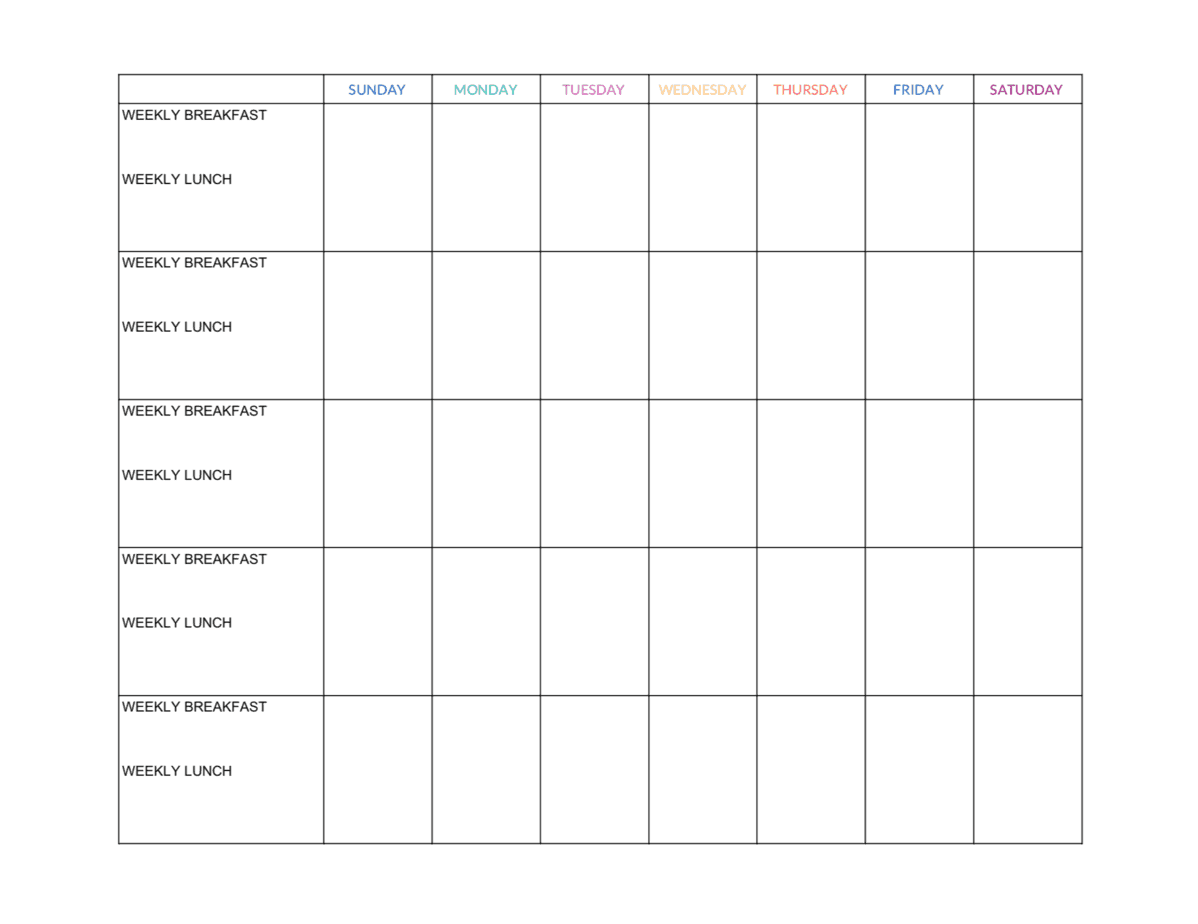 Print several at once to keep in the back of your recipe binder which we'll create in step 3.
Step 2 – Make Schedule Notes on Your Monthly Meal Plan Calendar
Some things to note when meal planning for the month are:
Hosting or bringing something to a friend's house for dinner
Holidays
Watching friends' kids during lunch/ snack times
Travel
Nights away from home
Nights we need to eat quickly
Use a pencil (or my new favorite mom tool, these awesome pens that actually erase!) and jot down notes about your schedule for the month right on to your meal plan calendar. (I explain this more around 2:33 in this video.)
Once you do this a few months in a row, you'll start to notice your family's schedules and rhythms more quickly.
For example, I try to have my babysitter do an easy dinner that can be made and thrown in the oven or on the grill on Mondays and Wednesdays.
On days I'm doing school at home with my kids, I want something fast and no-fuss. I either do a crockpot, pull from the freezer, or make something in the morning.
On Thursdays, I usually make a BIG main dish for our citygroup, and hope there are leftovers for the weekend.
On Fridays, we often do pizza with friends! I make sure to have paper plates on hand.
Step 3a – Make Your Recipes Easy to Access with a Binder
There are lots of ways to collect recipes… Many recipe websites even have digital recipe programs where you can save recipes by category to them.
But, most people I have talked to still prefer to cook from a piece of paper. Myself included! People have mentioned:
Pop up ads on food blogs get in the way.
Trying to remember where the heck you saw that delicious recipe – was it all recipes? Or pinterest? Or…?
Your phone/ ipad auto shutting off every 2 minutes while you're cooking.
I like to play music from my phone while cooking, so trying to go back and forth between Spotify and a recipe feels annoying.
Some people like to be "hands free" during the 4-8 pm hours for better quality family time.
So I suggest creating a recipe binder & cheat sheet.
This is only part of the meal planning process ONE TIME. Once I had my system in place, I could plan meals for the month in under an hour.
Making your recipe binder does NOT have to be a big, time consuming project up front (unless that is your jam and you want it to be.) I would set aside 30-60 minutes MAX to set this up. Or you can do it in as little as 10 minutes.
Related: Here are many of our family's favorite "tried and true" recipes, all in one list. You can pin the post for later.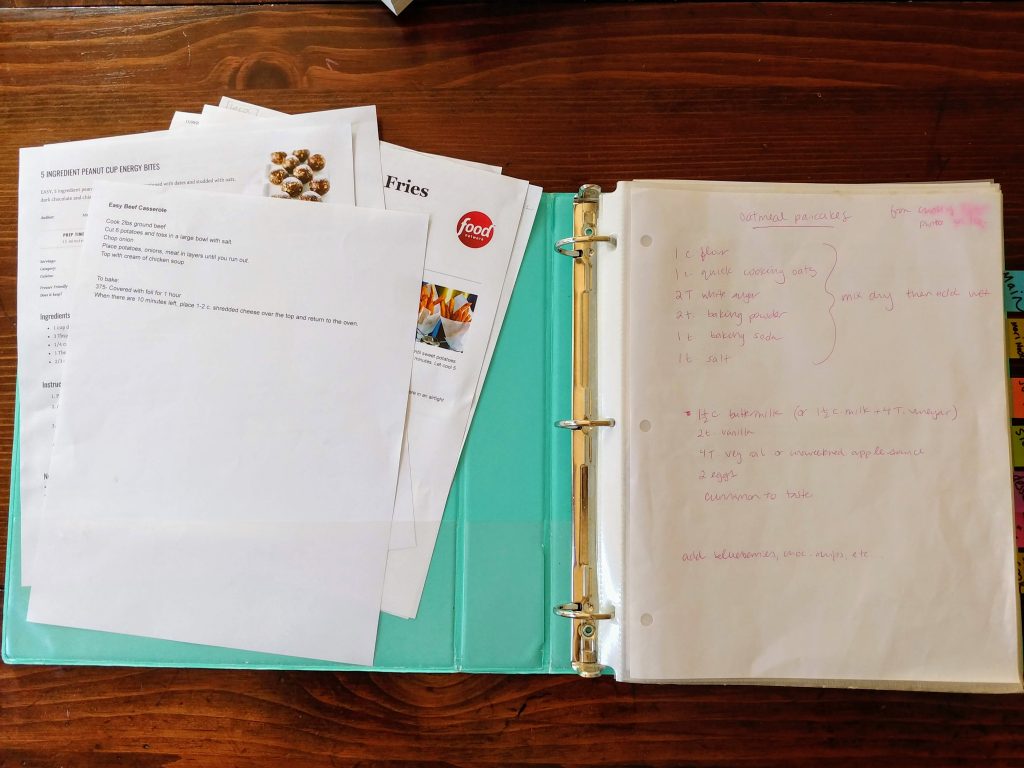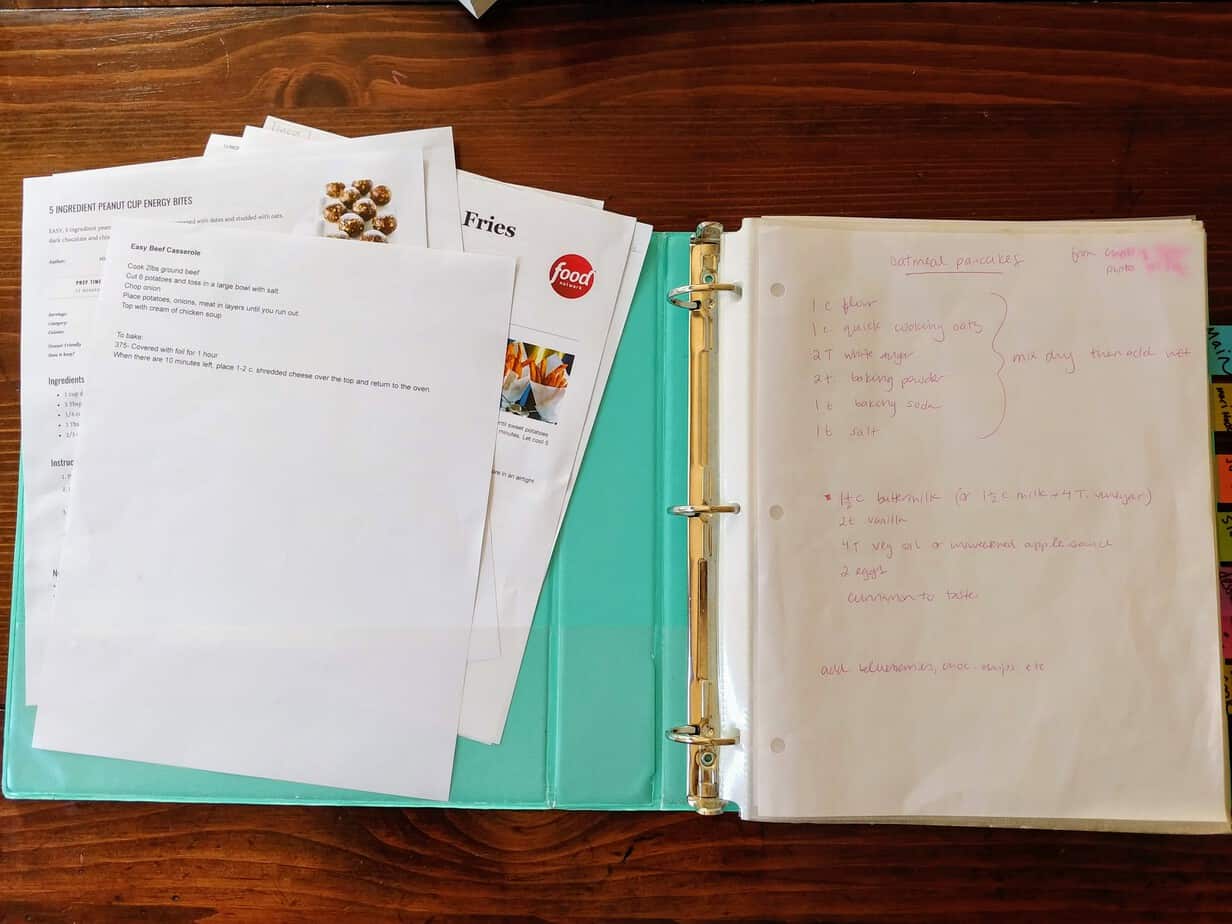 To create your recipe binder, you will need:
A binder (I have a 2 inch binder… size doesn't matter that much. Just use what you have.)
Some post it tabs for labeling your binder
Page protectors (those are the best priced ones)
A blank piece of printer paper labeled "Go To Meals"
I order stuff like that on Amazon or Target Drive-up (using the Target App) to save time and to avoid impulse buys at the store.
You have 2 options:
You can set this up with a handful of your favorite recipes in the binder, and then keep adding over time.
You can set up an empty binder and then add recipes to it as you make them.
I chose option 1.
Brainstorm 20-30 recipes your people like.
Find recipes for whatever you need. (If grilled cheese & tomato soup is a weekly staple at your house, you probably don't need a recipe. But if you love Grandma's Lasagna or that one Cajun Pasta dish from Allrecipes.com, you'll want to track those down.)
Print recipes on a single sheet of paper whenever possible. (TIP – scale down from 100% to 75% to shrink it to one page.)
Put one recipe in each page protector. Don't put them in back-to-back.
Here is how to set up your recipe binder:
Whether you printed off some family favorites yet or not, here is how to organize your recipe binder. (Showed mine at 6:30 in the video.)
Front pocket – for recipes you want to try or are putting in your meal plan this mont. (Printed, but not in page protectors)
Back pocket – for blank meal plan calendars (printed and ready to go for next month.)
Empty page protectors towards the back.
Use cheap, easy-to-rearrange post it tabs rather than fancy binder dividers to separate recipes in a way that makes sense to you! Mine are sorted like this: Breakfast // main dishes // sauces & marinades // desserts // snacks & appetizers //soups //slow cooker. (Slow cooker meals are from any category, but made in the slow cooker.)
Here's the key: ONLY RECIPES THAT YOU USE AND LOVE GO IN THE BINDER. The front pocket gets recipes you want to try… but you only put it in a page protector and file it away if you love it and are going to make it again. If it was just meh, toss the recipe.
I alphabetize behind the post-it tabs because it's the easiest way I can find stuff, and there aren't THAT many recipes behind each.
A Tip for Recipes on Pinterest
I have separate boards for meals/ recipes I want to TRY and meals/ recipes I have already tried, loved, and used over and over.
If you're a big pinterest recipe browser, that might be helpful for you too! Just start a new board and only pin recipes to it that you use and love.
In Step 4, when you plan for the month, you're going to print recipes that go on your meal plan calendar & put them in the front pocket.
Step 3b- Create a Recipe Cheat Sheet
A recipe cheat sheet is an ever-evolving list of your easy, go-to recipes. While it will probably have some overlap for binder recipes, it will be faster to glance at this paper (rather than thumbing through your whole binder) when thinking of what you want to add to your monthly calendar.
And many of your go to meals on the cheat sheet probably don't even need a recipe!
Here's mine for inspiration – as you can see, it's very boring and basic. Just keeping it real around here!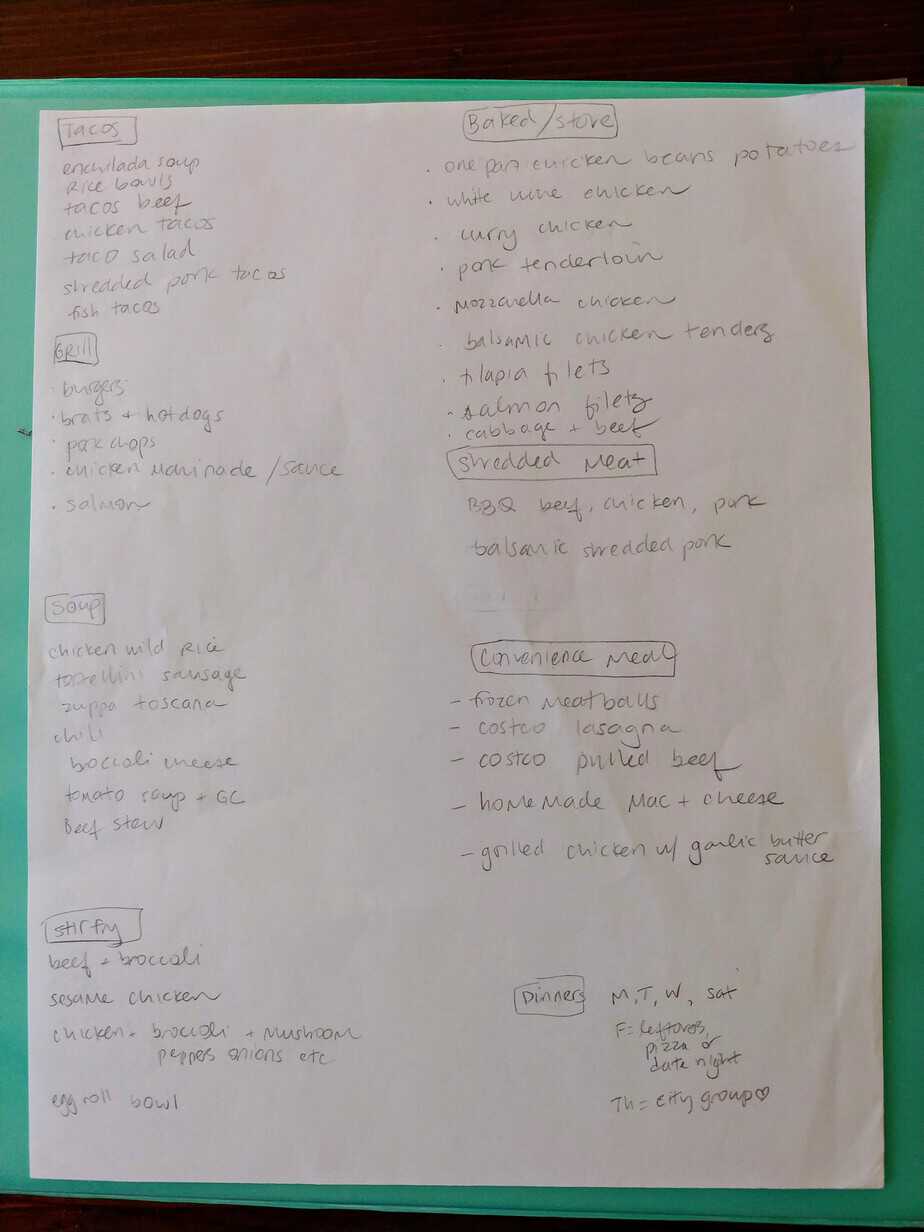 You can keep it in the front of your binder and use it when planning meals for the month.
Step 4 – Add dinners for the month to your monthly meal plan calendar
I focus on mainly planning dinners for the month… then, I add simple breakfast, lunch and snacks on a weekly basis. (Step 5).
Don't over think this – your meal plan calendar should have schedule notes on it already (from step 2), so just write the first thing that comes to mind for each day. The clip where I explain this starts at 11:14 in my video.
IMPORTANT: As you add a recipe to your calendar, print it out immediately and tuck it in the front cover of your binder.

Then, when week 3 rolls around and you see "enchiladas" on Wednesday night, you won't have to go find an enchilada recipe. You'll just be able to glance at the pre-printed paper in your binder and quickly add what you need to your list for that week (step 6).
This is another example of when "batching" comes in handy… it is faster and easier to think about, find, and print recipes all at once for the month rather than to do this every single week!
4 Ideas to Simplify Meal Planning Even More!
1. Stick to specific type of recipes each day.
I.e. Grill on mondays, taco tuesdays, crockpot wednesdays, leftover thursdays, pizza fridays, soup on saturdays. Every other Sunday could be a freezer meal – double something oneSunday and thaw it the next.
Pizza can be DIY to save money. We use these recipes: fast & easy homemade crust, quick pizza sauce.
2. Plan 2 weeks, then repeat.
3. Start a potluck night.
We have grown to love eating with others once a week. Maybe you know some people from church or some neighbors or some co-workers to reach out to.
Something like, "Hey want to do a potluck style meal once a month on Sunday nights? What about in 2 weeks? It'll be no pressure, nothing fancy. Everyone just bring something in their fridge to share."
If you love it, suggest doing it every week! I saw an AMAZING idea for a casual weekly dinner with your neighbors over on @busytoddler's instagram. She has an entire explanation under her "street dinners" highlight in her account.
4. Use supercook.com
The Supercook website lets you enter ingredients you have, then it spits out recipes that you can make with what you have on hand. Amazing for saving money by using what you have, and throwing less food out!
Step 5 – Fill in 2-3 simple breakfast, lunch, and snack options each week
We buy a lot of our food in bulk now (because … 4 kids!!) so we end up with a variety of breakfast, lunch and snack items on hand most weeks. We have our go-to's and I barely plan for these now.
As I am making my weekly list (step 6), I just make sure we have enough breakfast and lunch items on hand for the week. If we're running low, I add a couple to my list.
Back when we had 2 babies and I was shopping at Aldi for less than $100/ week, I would plan 2-3 breakfast and lunch options for the week plus 1-2 snacks we liked. I'd list them out and buy just enough to last the week.
Pause and think about your week and do what makes sense for you.
If you are hustling in the mornings to get everyone out the door, maybe you can do self-serve bagels or cereal. Or make an egg casserole on Sunday that lasts half the week.
If you hate making lunch like I do, do snack lunches as many days of the week that you can. Pull out a bunch of somewhat-healthy food on a giant cutting board and leave it out for the kids to eat as they please. We do this with: lunch meat, cheese, leftovers, nuts, fresh fruit & veggies & some quartered quesadillas. The kids love it and there is ZERO "I don't want that" drama because everyone just picks what they want.
Step 6: Make a Grocery List for the Week Based off Your Menu Plan
This is pretty straightforward…
You should have all your dinners planned out for each week (step 4), plus you've jotted down some breakfast, lunch and snack ideas for just one week (step 5).
And you printed out the recipes you added to the meal plan during step 4.
So now, just go one day at a time and list out ingredients you need to buy for each recipe. (Remember, your printed recipes are all in your binder!!) Check your freezer, fridge, and pantry as you plan and see what you already have on hand.
Over time, this monthly meal planning system will allow you to use ingredients more efficiently and throw less food out. Win!
Once you've added ingredients for daily dinners to your list, think back through breakfast items, lunches, and snacks. Add necessary ingredients to your list.
Look at your fridge list (explained below) and add items from there to your grocery list too.
Don't forget your staples: coffee, cream, milk, eggs, butter.
The Power of the Magical Fridge List
I keep a magnetic pad on my fridge and any time I run out of something, I add it to the list. I almost NEVER make a special trip to the store for an item, with the exception of coffee or cream or medicine/ sick kid items. #momlife
Rather, I just add it to the fridge list RIGHT AWAY WHEN WE RUN OUT and try to make do without.
Of course, sometimes we run to the store, or forget to put something on the list. Such is life and no system is perfect!
If you don't have a fancy schmancy magnetic pad, just tape a piece of paper up there this week and make the first item on your list, "magnetic list pad." 🙂
Step 7 – Order Groceries Online!!!
For most people, time is money. The combo of saving time AND not impulse buying makes online grocery shopping* a financial win for almost everyone.
The exceptions are:
For everyone else, ordering online will save you time and money. It might be weird at first, but once you get used to it, it's SO easy! And depending on where you live, you can probably get your food the same day you order it!
The internet is awesome.
*I'm going to recommend Walmart pickup, but if you don't have it nearby, then follow these basic steps for any other grocery store in your area offering online ordering and pickup. If you use the same store a few weeks in a row, you'll get used to the system and the app, and that will make your life easier!
WALMART GROCERY PICKUP
Walmart Grocery Pickup is my favorite for getting groceries online. It's almost everywhere, now, although still has yet to arrive in some more remote cities! I wrote a full length review of Walmart Grocery Pickup, but here's the gist:
The quality and prices are competitive, and it's so dang convenient.
You can inspect your produce and reject anything you want. They usually do a great job picking produce.
If they are out of something, they will substitute a better item (or you can say no thank you.)
You can "heart" your favorites in the app if you buy the same stuff all the time. Then just order from there really quickly.
They load it into your car for you!!
Pickup is free over $35. But you still get Walmart prices.
If you get home and realize you got the wrong item or the bottom half of the strawberries were moldy, there is a spot in the app to contact them. Explain the problem nicely and they'll quickly & gladly refund you. And no, you don't have to return the item. Honors system!
The other convenient thing about Walmart is you can get everything there… Any time we run out of anything in our house, it goes on the fridge list and I add it to my Walmart Pickup order next week.
You can even get that magnetic fridge pad in your next Walmart Pickup order. Then, put it on your fridge and write everything down that you run out of. Here's a $10 off coupon to try Walmart Pickup.
A Simple Weekly Meal Planner For You [Personal Favorites Next to Each Idea]
Don't forget to print any recipes you want to try & stick them in the front of your new recipe binder 🙂
Monday Grill
brats – we love Costco's brats available in the summers; I freeze half the package
burgers – fun toppings optional (bacon, guacamole, fancy cheese, mushrooms)
bbq chicken – marinade chicken breasts in plenty of Sweet Baby Ray's, then throw on the grill & brush a little more sauce on top.
cilantro lime pork chops – marinade int he morning, grill at night
pork chops – just brush with oil, add salt and pepper & grill
On the side with grilling, I like to do a salad or steamed veggies and some sort of potato. Our favorite potato options are: roasted garlic potatoes, homemade ranch fries, or sweet potato fries on the side.
The potatoes take 3x as long as grilling – so start those early or prep them in the morning.
Tuesday Taco Something
Burrito bowls – rice + beans plus taco meat & toppings of choice. We love fritos on ours!
Easy cheesy salsa crockpot tacos – 3 chicken breasts raw + a 16oz jar of salsa in the crockpot on low for 4-6 hours. Shred in your standign mixer, mix back into the crockpot and add cheese.
Standard ground beef tacos with homemade seasoning (I keep a big batch in a mason jar in the pantry so I don't have to think about buying taco packets.)
Don't forget chips + guac 😉
Wednesday Crockpot
Thursday Leftovers or Asian-Inspired
This is my favorite pan/ fake wok for any large stove top saute dish… everything from giant egg + hash skillets to any sort of stirfry meal.
Tikka Masala – this is new for us, but we are loving it topped with french fried onions and coconut.
Just google your favorite Asian takeout dish and add "at home" to the search
Friday Pizza Night
takeout or make your own…
tons of fun homemade pizza ideas here
our favorite homemade pizza crust & sauce recipe OR JUST BUY SOME AT THE STORE for goodness sakes
Saturday Soup or Sandwiches
Sunday Snack Dinner/ Clean out the Fridge
Eat random crap from your pantry/ fridge/ freezer!
Pull everything out, reheat as needed hand your kids a plate, and let them go to town 🙂
Side benefit – your fridge will be almost empty.
This is ideal for the day right before you grocery shop.
Ideas for 15 Minute Meals
Homemade tomato soup – (get all your ingredients ready first, this all has to be done FAST.) Melt 2 Tbsp. butter, whisk in 2 Tbsp. flour to make a roux. Slowly whisk in 2 C. milk and let it heat. Add 2 15-oz cans of tomato sauce. Add salt, pepper & parmesan cheese to taste. Serve solo or with grilled cheese.
Homemade mac & cheese – make a box of your kids' favorite pasta shape (for us, it's bowties or mini shells). While it's cooking, in a separate pan, make a roux: melt 2 Tb. butter, whisk in 2 Tbsp. flour. Slowly whisk in 2 C. milk and let it heat. Then add 2 c. (or a little more) of your. favorite shredded cheese. You can use a mixture too! I like cheddar or a swiss-cheddar combo. Mix the sauce with the cooked pasta. Add bacon, grated parmesan, and candles to the table for "fancy" mac & cheese. 🙂
Frozen meatballs with pasta & sauce – pop the frozen meatballs on a cookie sheet in the oven (parchment paper or foil saves cleanup time). Then make the pasta in a giant pot. After draining pasta, add a jar of sauce of your choice. Toss with the meatballs all in the same big pot & enjoy!
Cheesy beef & potato casserole – page 8 in the free cookbook on this website
Grilled ANYTHING – just marinade the meat early in the day. See my recommendations above!
Hot Roast Beef Sandwiches – get good hoagie style buns or sweet Hawaiian rolls and roast beef from the deli. (You can request deli meats on Walmart Grocery!) Make it like grilled cheese with whatever fillings you like. I like Roast beef + provolone + sautéed mushrooms.
Fast Breakfast for dinner – Next time you make pancakes, double the batch and freeze some. It's easiest to freeze them if you let them sit out on the counter on paper towels for a little bit after cooking. Then, grab some frozen sausage patties from the grocery store. Pop pancakes in the toaster & cook the sausage patties in a big skillet (or the microwave). Side of fruit!
Google – search 15 minute meals and you will have 174-million results in half a second. Gotta love the internet.
Meal Planning on a TIGHT Budget
We have been here. Staring down a mountain of student loan debt, I set out to try to feed our family for $100/ week. This was 2015, we lived right by Aldi (my first grocery store love) and our 2 kids were really little and barely ate anything. A regular bag of goldfish lasted a week of snacks; now, it would last a day. (Less if we have a friend over who also has 4 kids – lol. I buy almost all snacks in bulk these days!)
None the less, I wrote a 3-part series to help people figure out the right grocery budget for their families! I suggest reading the series in order and signing up for my 5-day grocery budget & meal planning over haul course.
Good luck! I hope this ridiculously long, step by step guide for how to meal plan was helpful to any meal planning beginners out there.