In this post, you will get all the details on each baby item and whether or not it's a "must have" for your baby registry.
Creating a baby registry is understandably overwhelming because, well, you've never had a baby before! It's so hard to know what you're really going to need or want. Plus, it's super fun to look at all the fun "must haves for new baby." After all, everything is so dang tiny and cute!
This list won't be the universal must-have list for every parent because everyone has different preferences. Although we are not hard-core minimalists, we've lived in a relatively small space with all our kiddos & just had to keep baby stuff to a minimum. #tinyclosetproblems
Plus, there is so much out there, it's just silly. And you have better things to do than spend all your time figuring out what you need for a baby, what you can skip for a baby, and what the most essentials baby things to buy before birth are.
That's why I created this relatively minimalist baby registry must haves list!
I try to explain every single thing and why we like it (or didn't like something). So, if you love details & research, you're in the right spot!!
If you want fewer details, just scroll through the pictures and click the links underneath.
I hope this helps you. Feel free to save it on Pinterest for later and share it on Facebook if you think it'll be helpful for others.
The categories in this minimalist baby registry are:
Gear
Clothes
Diapering
Diaper Bags
Snuggle, Sleep & Clean
Feeding
Toys & Play
But First: 3 Baby Registry Tips
1. Where should you register for baby?
I would do something like Amazon or Babylist. It might be fun to walk through Buy Buy Baby to see things in person, but their prices are almost ALWAYS more expensive than online options, and their selection is more limited.
Plus, online baby registries are just easier for most family and friends. If you really want to register at a store, I'd suggest Target's Baby Registry.
Many people live near a Target, ordering online is simple, prices are great, and returns are easy!
2. Don't Forget to Budget for Baby
While all the tiny things are so fun to look at, it's so important to budget for all the upcoming expenses!
Here is my complete guide about budgeting for a baby, complete with a super dorky but awesome + free downloadable, customizable spreadsheet for you to use to figure out how much baby is going to cost 🙂
3. Buy Some Baby Items Used
If you keep an eye on Craigslist and Facebook marketplace, you can find a lot of things for over 50% less than buying new.*
We've used a buy and resell strategy for most big ticket items instead of storing stuff. For example, we bought a nice fisher price swing for $50, then sold it for $50 four months later when baby outgrew it. Alternatively, my friends and I would all pass around a swing or jumperoo because the babies often only use each large item for 2-4 months.
Don't forget to take stuff you buy used off your registry.
*I'd buy anything used except a carseat!
Minimalist Baby Registry Must-Haves: Baby Gear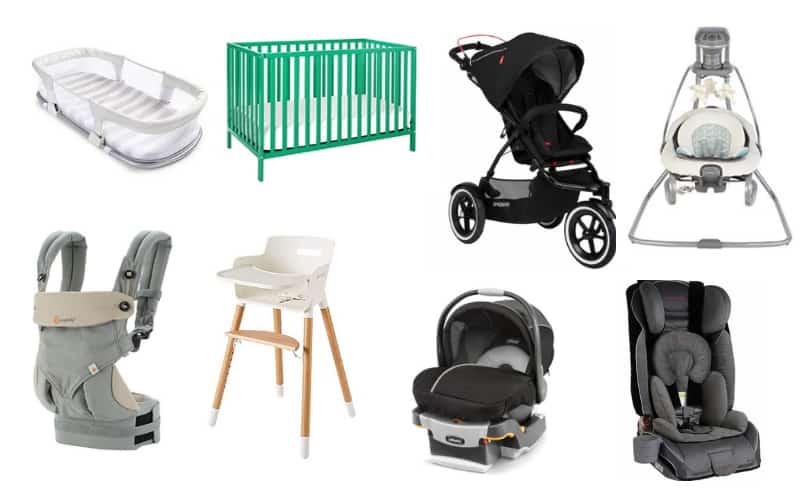 bassinet | crib | stroller | swing | ergo baby carrier | fun floor play baby seat |infant carrier carseat with a base | convertible car seat
Bassinet/ portable bed
We used this SwaddleMe By Your Side Sleeper on the floor at night, brought it to Grandma's, moved it around for nap-time, brought it outside for baby to sleep while the toddler played, or put it up on a table during the day so toddler couldn't attack. I tell everyone I know to snag one of these for baby's first 3-4 months. It almost folds flat completely.
These old fashioned Moses bassinet baskets are cute too. (If you live in an urban area and will be walking a LOT, it might make more sense to get a bassinet that clips in and out of your stroller like this City Select one or this Phil & Ted's one.)
Crib, mattress & cover
Obviously the baby will grow out of a bassinet. We've had 4 kids in 5 years and only ever used one crib. (We always had the baby in a pack n play until the big kid was ready to transition out of the crib.) These colorful Jenny Lind cribs sometimes dip under $200, and these more modern looking simple cribs come in lots of colors. If you see them under $105, that's a good deal!
Don't forget a mattress & waterproof mattress cover if your crib doesn't come with them. We have those cheap-ish ones and they work fine.
Stroller
Having lived in city and suburbs with various aged little ones, we've learned a stroller really depends on your lifestyle. We have owned several strollers including a Chicco carseat + stroller system, a City Select Double, a Phil & Ted's double and a MacLaren umbrella stroller. (I usually buy them on Facebook Marketplace, then sell them for the same price if we want something different.)
The City Select was really cool, but MASSIVE & very heavy. It could hold 3 kids with the kickboard but was very hard to push with all 3.
I ended up liking my Phil & Ted's pretty well… but, there were pros and cons.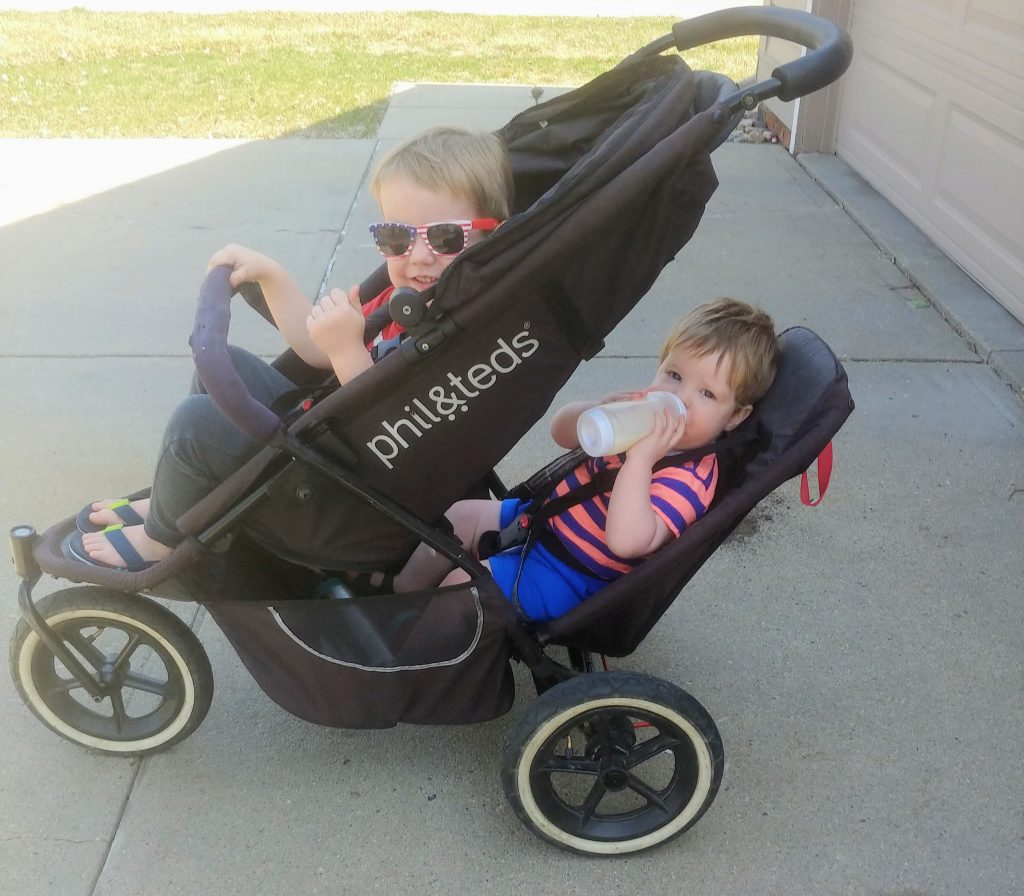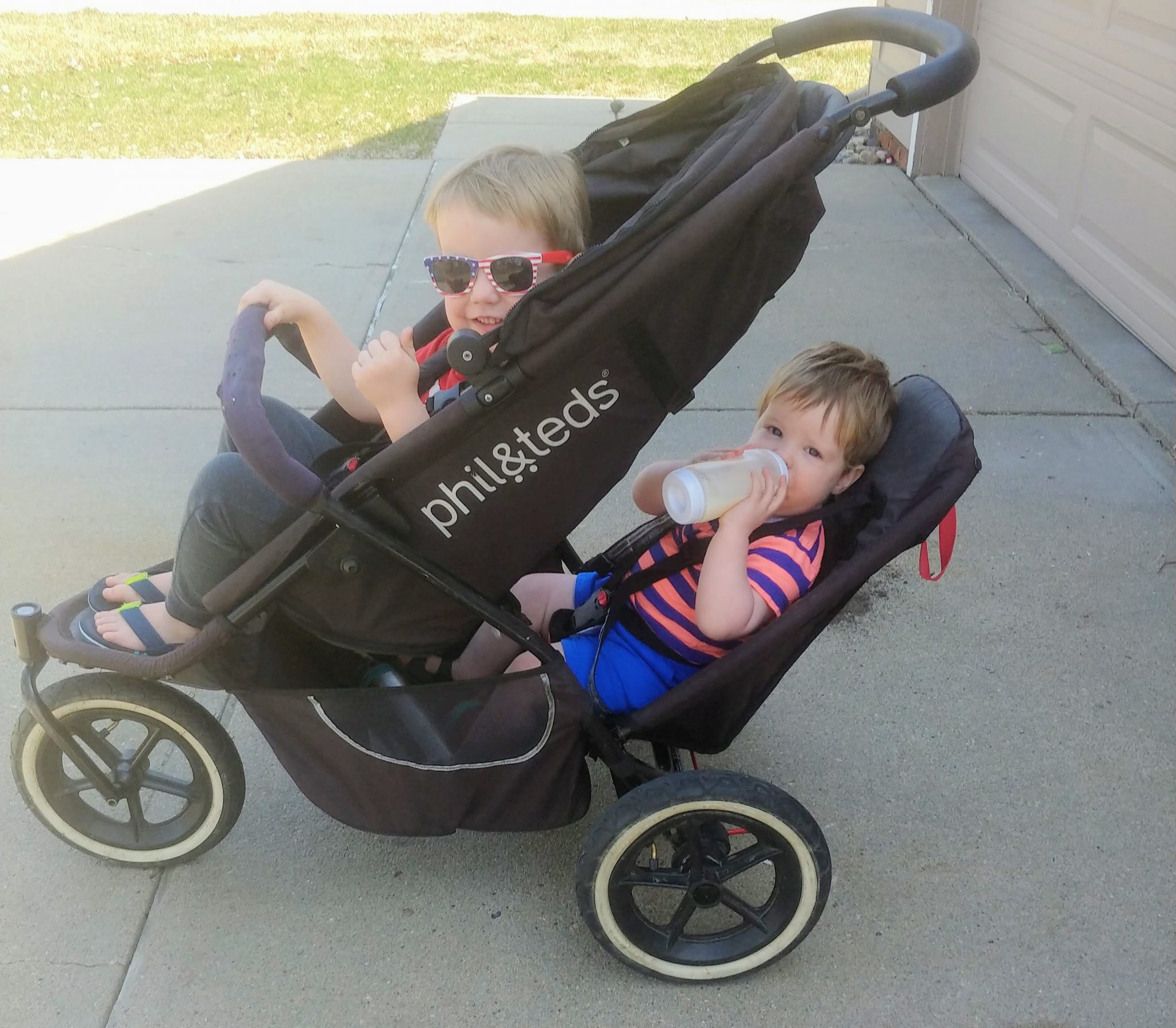 My all-time favorite stroller to this day is the MacLaren Umbrella Stroller I scored secondhand while living in Boston. It is AMAZING, and I will never get rid of it. Haha. I couldn't find our exact one online, but here are several other lightweight umbrella strollers that get more than 4 stars on Amazon!
If we'd had enough extra money during the baby season, I'd have gotten the Vista by Uppa Baby. It's supposed to be durable, lightweight & can hold up to 3 kids.
The strollers that come with the infant carseat as a system are also really nice these days! They are lightweight, easy to use, have a big enough basket, etc.
Target has good prices on the Graco Travel Systems, but I've heard they don't last super long.
Amazon has good prices on the Britax Travel Systems.
My brother & sister in law travel a lot and spend tons of time outside walking. The Graco system didn't hold up well to their lifestyle, so they exchanged it for a City Mini Carseat System from Baby Jogger, which they really like.
Infant Carrier Carseat
Most people will be well-served by an infant carrier carseat with 1 or 2 bases for easy snapping in. We've always just used one base, but if you're juggling daycare pickup with someone else, owning 2 carseat bases is worth it because they're so easy and secure.
We have a Chicco Keyfit, but it's super heavy. If I were buying again, I'd get a Graco Infant Carrier or Britax Infant Carrier Carseat.
Both of those are just as safe, slightly cheaper, and a little lighter weight to carry around. (If you get Graco, don't pay extra for the 35-pound Graco one, you won't need it. Your baby will outgrow the height before he hits the 35-lb weight limit.)
Swing (or one other big-ish resting place for baby)
Some sort of item for baby to rest in is really nice! The swing pictured above is flexible and the seat can be taken out and double as a baby bouncer.
They make tiny portable swings that sit close to the floor, but we preferred the larger, higher up swing (as pictured) so that it wasn't QUITE so easy for older siblings to sit in it. (They still managed sometimes…)
Other people swear by their rock n plays or bouncers too. If you have a smaller apartment or house, you probably don't need one of each. I borrowed a bouncer for our 4th baby when we moved into a 2 story house. We kept the bouncer upstairs and the swing downstairs so that baby had a safe, cozy place on each floor.
I'd wait until the last minute to buy a swing because you don't want to buy a $150 swing only to find out your baby hates it and you're past the return date. If you buy it right before baby arrives and baby hates it after a couple tries, you'll likely be able to return it for at least store credit. Whatever you do, get a swing that has a power adapter. If you use batteries, it runs out so fast!
Baby Wearing Wrap or Baby Carrier
I'm not a hard-core baby wearing momma (probably because we sleep trained our newborns and they took several 1-2 hour long naps in cribs or swings throughout the day), but we've used our Ergo for travel, walks, hiking, and the occasional fussy evening/ witching hour.
The new Ergo is super comfortable from newborn up to about 30 lbs, and super flexible for baby positions, size of grownup, etc…
Ergo carriers are pricey, but you can likely find one gently used. It will work for every stage of baby, and last through all your kiddos.
People swear by their various wraps, but I never really got the hang of them. I did like the baby K'tan for travel when my babies were teeny-tiny, but it hurt my shoulders and back once baby was past the 2-3 month mark.
Solly baby wraps were new on the scene when we had our 4th, so I never tried one. But I do know several people who a Solly Baby wrap and LOVED it!
If you think you'll LOVE baby-wearing, do some extra research or ask a couple friends to borrow their various wraps and slings.
Seat/ high chair of some sort
We have a booster that is really convenient and portable. It's extremely high quality and super secure (a surprisingly hard to find feature in booster seats). We just have it strapped on a chair, but honestly, it drives me nuts! And the chair gets super gross from baby being able to touch it.
Way back when we started having kids (ha!), they didn't have affordable alternatives to the fancy Stokke chairs. If I could go back in time, I would just get a high chair that converts all the way to toddlerhood and is relatively stylish. Because…
It's going to be a staple in your kitchen/ dining for YEARS if you have multiple children… might as well look good.
You need it to be super easy to wipe and scrub the whole thing. The learning-to-eat-table-food stage is DISGUSTING. Think mashed banana and soggy cheerios everywhere.
We have a discontinued booster seat, which is kinda nice for flexibility. (Here's a similar one.) But in hindsight, I'd have just gotten one of the highchairs below.
My 2, 4, and 6 year olds still LOVE sitting in a toddler height chair. We have these junior chairs from Ikea.

Might as well just grab the high chair that grows with the child.
Now, there are so many cute and affordable options! Here are my top 2 high chairs that get great reviews on Amazon: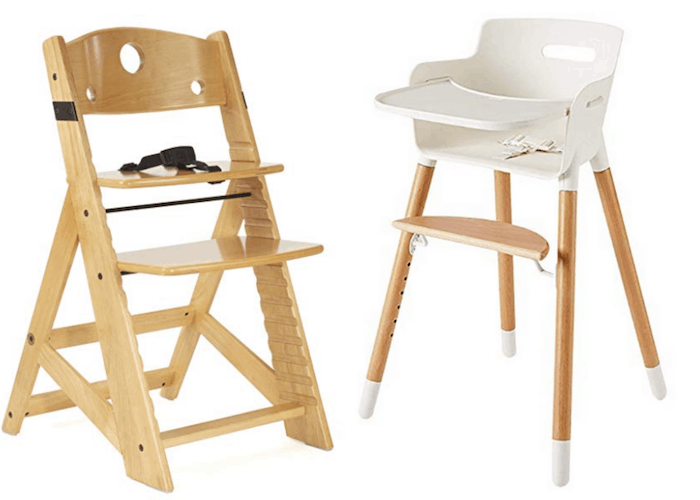 Convertible carseat
I'm 99.9% sure your baby will outgrow the infant carrier carseat in height before s/he reaches the 25-35 pound weight limit.
At that point, you'll need a "rear/ forward facing convertible carseat." (For our chubby 90%th percentile babies, it's been around 8-12 months old.)
Your baby will start out facing backwards in this convertible carseat, then turn around to be forwards in it eventually when they're closer to 2 years old… ish. They'll stay in it for a lonnnggggg time, until they switch to some sort of booster seat. Depending on the weight limit of the carseat you get and their maturity level, you can have a kid in this convertible carseat until they're 6 or 7!
We've tried a bunch of carseats, and I really wish I would have bought this Diono Radian 3RXT the first time. It's ultra safe, easy to install, has a cup holder, and can go from newborn* all the way until your 8 year old needs it as a booster with the regular car seat buckle. We now own 2 of them and will purchase one more! They are AMAZING.
*The Diono Radian 3RXT can be an infant seat for your newborn… but most people still like the convenience of the infant carrier carseat.
The Diono is expensive… it sits around $300. Keep an eye out for various colors to go on sale. We bought ours on Albee Baby for $60 off at around $240!
The Clothes You'll Actually Need for a Newborn
Technically, you can get by with a pack of onesies and a blanket. BUT, a little more than that is nice.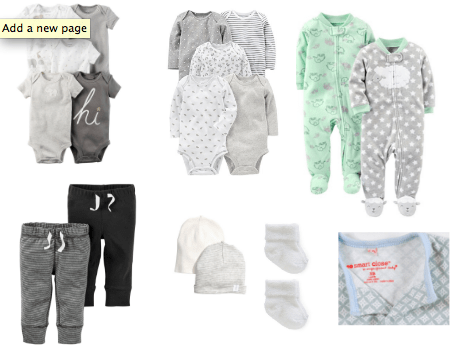 short sleeved onesies | long sleeved onesies | zip up footie pjs (sleep n play) | magnetic footie pjs| socks | hat | pants
I'm going to give quantity recommendations for what was my preference in terms of minimum amount. I preferred not to have gobs and gobs of baby clothes in the dresser, yet I wanted enough clothes to go about 5-7 days in between loads of laundry 🙂 The quantities are just a suggestion based off our preferences.
Onesies
Get 6-8 short sleeve onesies of each size because they're amazing. And, get 6-8 long sleeve onesies of each size because they're also amazing.
Zip up footie jammies
My 4th child lived in these until he was like 9 months old. Ha! 3-5 in either cotton or fleece, depending on what season baby will arrive in. If your child will wear them 24/7, get 6-8.
Skip the snaps. I repeat, no snaps. If you use snaps, you may find yourself crying in the middle of the night because you're so tired and hormonal and you did 14 snaps only to find at the 15th one you were off by one. Not that I speak from experience… 😉
Magnetic jammies
What the what!? Technology is amazing. If you can afford exclusively magnetic footie jammies, buy 8-10 of these in each size and skip all other clothing. They are that awesome. They are a total luxury, not a necessity.
If I knew I'd get 4 kids' use out of these, I'd totally have bought a few gender neutral ones in each size with the first babe. Because they make middle of the night feedings & diaper changes that much easier.
I love giving magnetic footie pajamas as gifts too! They're usually priced as follows:
Around $25 at Buy Buy Baby (I know I knocked Buy Buy Baby for their high prices earlier, but they happened to be the cheapest for Magnetic Pajamas! Sometimes they even have clearance deals around $17!! Like these cute lemon ones!! Sorry if you click through there and they're already gone.)
Socks
1 multi pack of 4-6 should do it because they don't get dirty. We use them as mittens too as some babies are prone to spontaneously scratching their eyes out.
Hat
1-2 hats is enough because they won't really get dirty and you just use it early on to keep baby warm. Here are a bunch of cute options under $25!
Pants
4-6 to go with the onesies. It's much more economical to buy one or two 5-packs of onesies & two 2-packs of pant than to buy 5 or 6 separate "outfits." Just mix and match the tops and bottoms rather than buying outfits.
Bonus outfit
1-2 at most. Let's be honest, babies are tiny and adorable and fun to dress. We always ended up being gifted extra totally unnecessary outfits like tiny dresses, cardigans, and blazers that were ridiculously cute. These are super fun & definitely not a necessity.
TIP: Buy first 2 sizes right before baby arrives
If you don't get gifted what you need, I'd buy everything pictured above in sizes newborn & 0-3 months (labeled "3 mos" at some stores). Buy it close to when baby comes and keep the tags on most things so that you can return sizes if you don't need them.
As baby grows, you can order what you need in size 3-6 month (6mos).
Also, check a local kids' resale store if you're up for it. I snagged 5 packs of onesies for $3.50 and zip up fleece jammies for $1.50 each. They look brand new because most babies are in these first couple sizes for less than 4 months.
Basically you need 6-10 of each item. Sometimes that'll get you through a week, and sometimes baby will explode so much bodily fluid you'll go through 5 outfits in a day.
Baby Registry Must Haves: Diapers & Wipes