Some of the links on this page are affiliate links. When you make a purchase through an affiliate link, I earn a commission at no cost to you. See my entire disclosure policy for all the boring details.
In this post, you will get all the details on popular baby registry items and learn whether or not it's a "must have" for your baby registry.
Creating a baby registry is understandably overwhelming because, well, you've never had a baby before! It's so hard to know what you're really going to need or want. Plus, it's super fun to look at all the fun stuff for your new baby. After all, everything is so dang tiny and cute!
This list won't be the universal must-have list for every parent because everyone has different preferences.
I've tried to narrow things down for you because you have better things to do than spend all your time figuring out what you need for a baby, what you can skip for a baby, and what the most essentials baby things to buy before birth are.
That's why I created this categorized baby registry must haves list!
I try to explain every single thing and why we like it (or didn't like something). So, if you love details & research, you're in the right spot!! If you want fewer details, just scroll through the pictures and click the links underneath.
Feel free to save it on Pinterest for later and share it on Facebook if you think it'll be helpful for others.
The Categories in this Ultimate Baby Registry are:
Gear
Clothes
Diapering
Diaper Bags
Snuggle, Sleep & Clean
Feeding
Toys & Play
But First: 3 Baby Registry Tips
1. Where Should You Register for Baby?
I would do something like Amazon or Babylist. It might be fun to walk through Buy Buy Baby to see things in person, but their prices are almost ALWAYS more expensive than online options, and their selection is more limited.
Plus, online baby registries are just easier for most family and friends. If you really want to register at a store, I'd suggest Target's Baby Registry.
Many people live near a Target, ordering online is simple, prices are great, and returns are easy!
2. Don't Forget to Budget for Baby
While all the tiny things are so fun to look at, it's so important to budget for all the upcoming expenses!
Here is my complete guide about budgeting for a baby, complete with a super dorky but awesome + free downloadable, customizable spreadsheet for you to use to figure out how much baby is going to cost.
Budget nerds unite! 🙂
3. Buy Some Baby Items Used
If you keep an eye on Craigslist and Facebook marketplace, you can find a lot of things for over 50% less than buying new.*
We've used a buy and resell strategy for most big ticket items instead of storing stuff. For example, we bought a nice fisher price swing for $50, then sold it for $50 four months later when baby outgrew it. Alternatively, my friends and I would all pass around a swing or jumperoo because the babies often only use each large item for 2-4 months.
Don't forget to take stuff you purchase secondhand off your registry.
*I'd buy anything used except a carseat!
Minimalist Baby Registry Must-Haves: Baby Gear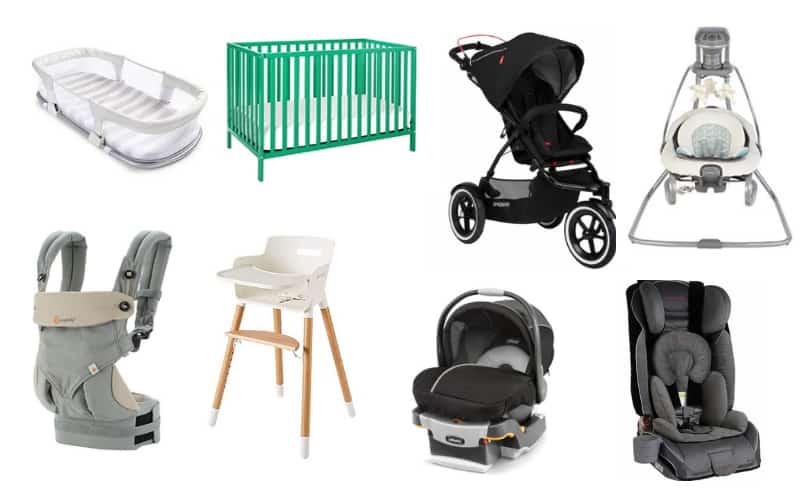 bassinet | crib | stroller | swing | ergo baby carrier | fun floor play baby seat |infant carrier carseat with a base | convertible car seat
1. Bassinet/ Portable Bed
We used this SwaddleMe By Your Side Sleeper on the floor at night, brought it to Grandma's, moved it around for nap-time, brought it outside for baby to sleep while the toddler played, or put it up on a table during the day so toddler couldn't attack. I tell everyone I know to snag one of these for baby's first 3-4 months. It almost folds flat completely.
These old fashioned Moses bassinet baskets are cute too. (If you live in an urban area and will be walking a LOT, it might make more sense to get a bassinet that clips in and out of your stroller like this City Select one or this Phil & Ted's one.)
2-4. Crib, Mattress & Cover
Obviously the baby will grow out of a bassinet. We've had 4 kids in 5 years and only ever used one crib. (We always had the baby in a pack n play until the big kid was ready to transition out of the crib.) These colorful Jenny Lind cribs sometimes dip under $200, and these more modern looking simple cribs come in lots of colors. If you see them under $105, that's a good deal!
Don't forget a mattress & waterproof mattress cover if your crib doesn't come with them. We have those cheap-ish ones and they work fine.
5. Stroller
Having lived in city and suburbs with various aged little ones, we've learned a stroller really depends on your lifestyle.
We have owned several strollers including a Chicco carseat + stroller system, a City Select Double, a Phil & Ted's double and a MacLaren umbrella stroller. (I usually shopped for them on Facebook Marketplace, then sell them for the same price if we want something different.)
The City Select was really cool, but MASSIVE & very heavy. It could hold 3 kids with the kickboard but was very hard to push with all 3.
These days, it seems like everyone raves about the Mockingbird strollers. They weren't available when we hd kids in strollers, but it sure does seem like Mockingbirde might have solved all the stroller problems… flexible to grow with your child, accomodates infant seats, lighter weight, folds up to standing, cupholders, basket, all the things. If I were buying a stroller again, I'd for sure look into this one!!
I ended up liking my Phil & Ted's pretty well… but, there were pros and cons. The second seat didn't fold up easily, and the compactness was a tradeoff with storage. I loved that it was on the small side & all-terrain. It worked well for 4 kids five and under, but I'm guessing that Mockingbird one would check a few more boxes.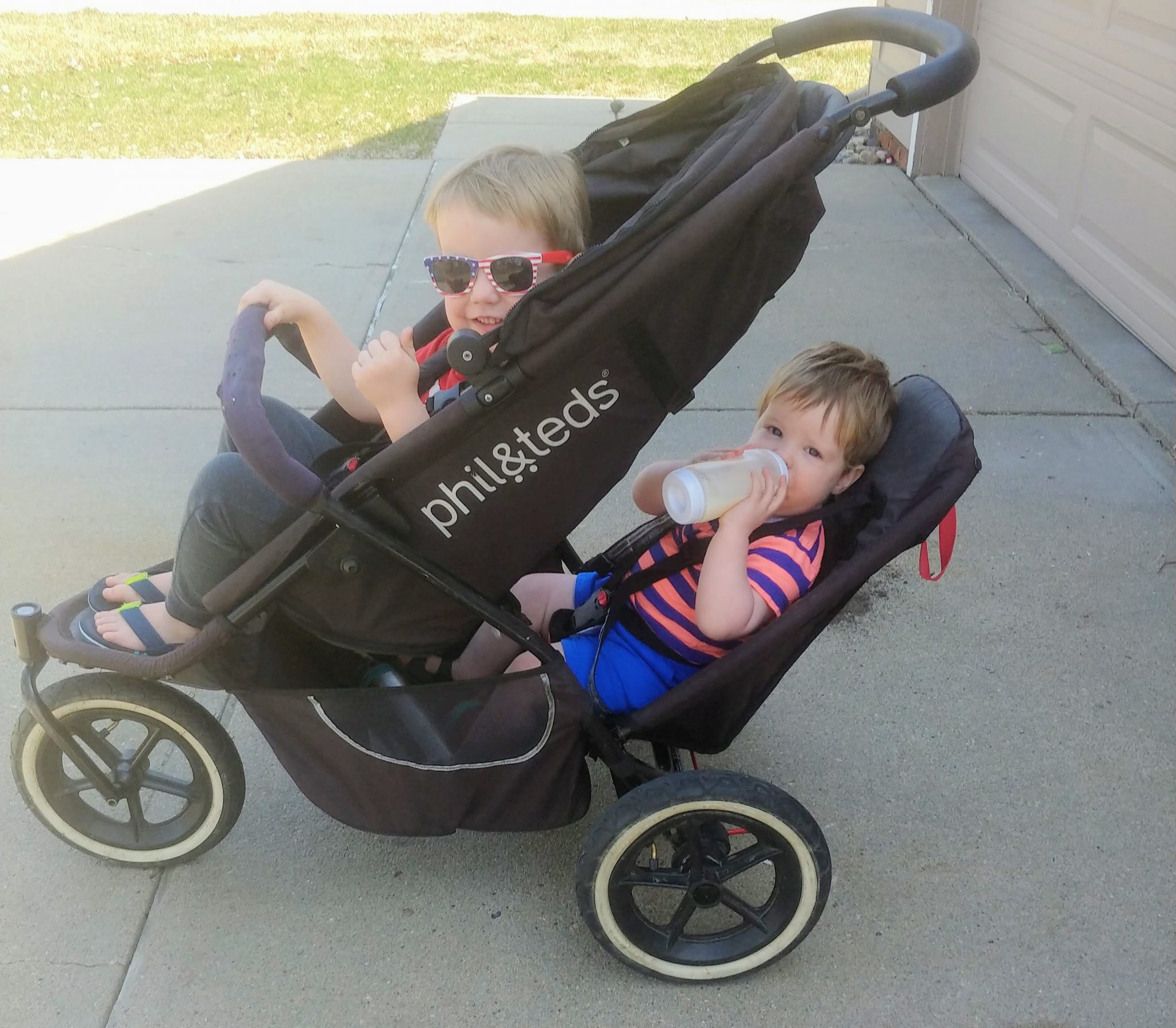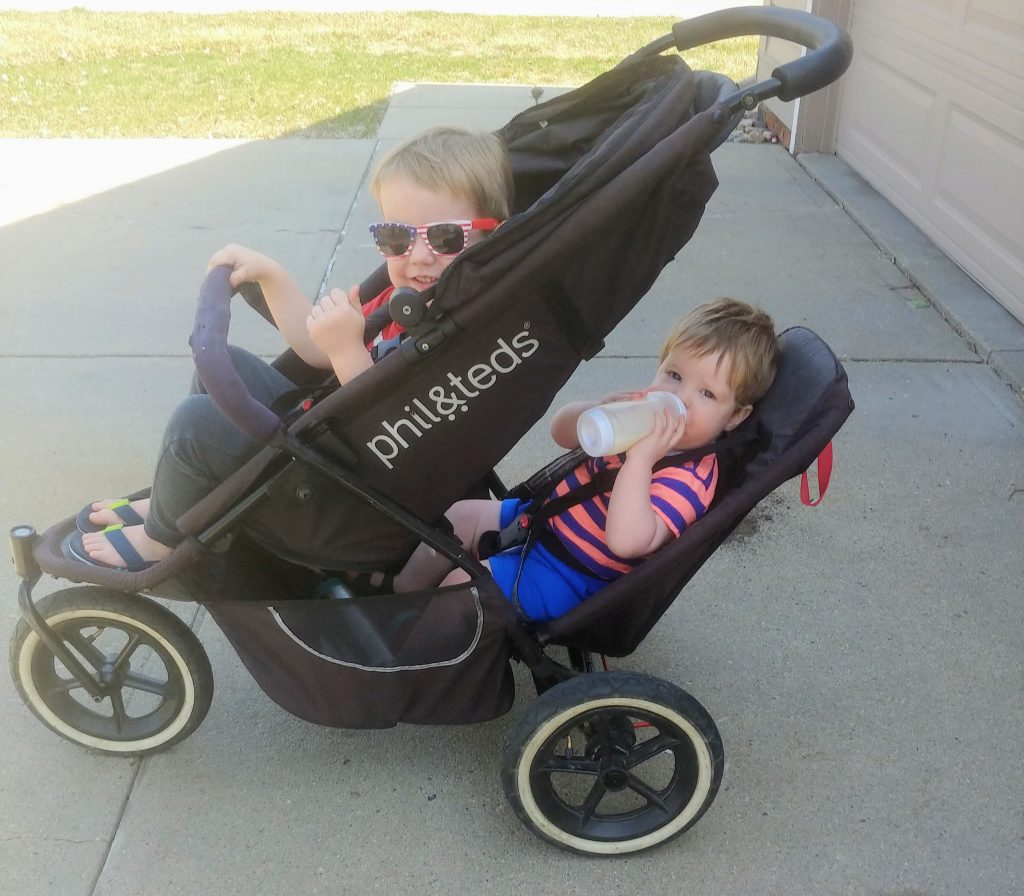 My all-time favorite stroller to this day is the MacLaren Umbrella Stroller I scored secondhand while living in Boston. It is AMAZING, and I will never get rid of it. Haha. I couldn't find our exact one online, but here are several similar lightweight umbrella strollers that get more than 4 stars on Amazon!
If we'd had enough extra money during the baby season, I'd have gotten the Vista by Uppa Baby. It's supposed to be durable, lightweight & can hold up to 3 kids.
The strollers that come with the infant carseat as a system are also really nice these days! They are lightweight, easy to use, have a big enough basket, etc.
Target has good prices on the Graco Travel Systems, but I've heard they don't last super long. We had the similar Chicco travel system and I didn't like it.
Amazon has good prices on the Britax Travel Systems.
My brother & sister in law travel a lot and spend tons of time outside walking. The Graco system didn't hold up well to their lifestyle, so they exchanged it for a City Mini Carseat System from Baby Jogger, which they really like.
6. Infant Carrier Carseat
Most people will be well-served by an infant carrier carseat with 1 or 2 bases for easy snapping in. We've always just used one base, but if you're juggling daycare pickup with someone else, owning 2 carseat bases is worth it because they're so easy and secure.
We have a Chicco Keyfit, but it's super heavy. If I were buying again, I'd get a Graco Infant Carrier or Britax Infant Carrier Carseat.
Both of those are just as safe, slightly cheaper, and a little lighter weight to carry around. (If you get Graco, don't pay extra for the 35-pound Graco one, you won't need it. Your baby will outgrow the height before he hits the 35-lb weight limit.)
7. Swing (or one other big-ish resting place for baby)
Some sort of item for baby to rest in is really nice! The swing pictured above is flexible and the seat can be taken out and double as a baby bouncer.
They make tiny portable swings that sit close to the floor, but we preferred the larger, higher up swing (as pictured) so that it wasn't QUITE so easy for older siblings to sit in it. (They still managed sometimes…)
Other people swear by their rock n plays or bouncers too. If you have a smaller apartment or house, you probably don't need one of each. I borrowed a bouncer for our 4th baby when we moved into a 2 story house. We kept the bouncer upstairs and the swing downstairs so that baby had a safe, cozy place on each floor.
I'd wait until the last minute to buy a swing because you don't want to buy a $150 swing only to find out your baby hates it and you're past the return date. If you buy it right before baby arrives and baby hates it after a couple tries, you'll likely be able to return it for at least store credit. Whatever you do, get a swing that has a power adapter. If you use batteries, it runs out so fast!
8. Baby Wearing Wrap or Baby Carrier
I'm not a hard-core baby wearing momma (probably because we sleep trained our newborns and they took several 1-2 hour long naps in cribs or swings throughout the day), but we've used our Ergo for travel, walks, hiking, and the occasional fussy evening/ witching hour.
The newest Ergo is super comfortable from newborn up to about 30 lbs, and super flexible for baby positions, size of grownup, etc…
Ergo carriers are pricey, but you can likely find one gently used. It will work for every stage of baby, and last through all your kiddos.
People swear by their various wraps, but I never really got the hang of them. I did like the baby K'tan for travel when my babies were teeny-tiny, but it hurt my shoulders and back once baby was past the 2-3 month mark.
Solly baby wraps were new on the scene when we had our 4th, so I never tried one. But I do know several people who a Solly Baby wrap and LOVED it!
If you think you'll LOVE baby-wearing, do some extra research or ask a couple friends to borrow their various wraps and slings.
RELATED: Check out my full review of the top 5 waterproof baby carriers!! If you love to travel, live near the water, or plan to get your intense hiking on with a baby in tow, one of these would probably work better for you.
9. Seat/ High Chair of Some Sort
We have a booster that is really convenient and portable. It's extremely high quality and super secure (a surprisingly hard to find feature in booster seats). We just have it strapped on a chair, but honestly, it drives me nuts! And the chair gets super gross from baby being able to touch it.
Way back when we started having kids (ha!), they didn't have affordable alternatives to the fancy Stokke chairs. If I could go back in time, I would just get a high chair that converts all the way to toddlerhood and is relatively stylish. Because…
It's going to be a staple in your kitchen/ dining for YEARS if you have multiple children… might as well look good.
You need it to be super easy to wipe and scrub the whole thing. Both the baby food and the learning-to-eat-table-food stages can be DISGUSTING. Think mashed banana and soggy cheerios everywhere.
We have a discontinued booster seat, which is kinda nice for flexibility. (Here's a similar one.) But in hindsight, I'd have just gotten one of the highchairs below.
My 2, 4, and 6 year olds still LOVE sitting in a toddler height chair. We have these junior chairs from Ikea.

Might as well just grab the high chair that grows with the child.
Now, there are so many cute and affordable options! Here are my top 2 high chairs that get great reviews on Amazon: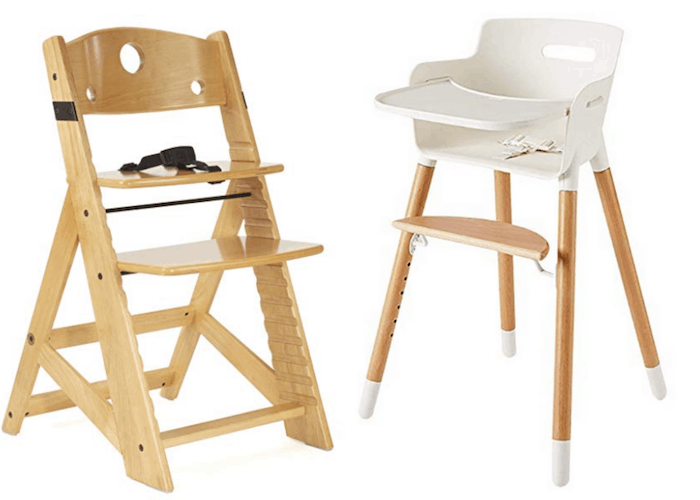 10. Convertible Car Seats
I'm 99.9% sure your baby will outgrow the infant carrier carseat in height before s/he reaches the 25-35 pound weight limit.
At that point, you'll need a "rear/ forward facing convertible carseat." (For our chubby 90%th percentile babies, it's been around 8-12 months old.)
Your baby will start out facing backwards in this convertible carseat, then turn around to be forwards in it eventually when they're closer to 2 years old… ish. They'll stay in it for a lonnnggggg time, until they switch to some sort of booster seat. Depending on the weight limit of the carseat you get and their maturity level, you can have a kid in this convertible carseat until they're 6 or 7!
We've tried a bunch of carseats, and I really wish I would have bought this Diono Radian 3RXT the first time. It's ultra safe, easy to install, has a cup holder, and can go from newborn* all the way until your 8 year old needs it as a booster with the regular car seat buckle. We now own 2 of them and will purchase one more! They are AMAZING.
*The Diono Radian 3RXT can be an infant seat for your newborn… but most people still like the convenience of the infant carrier carseat.
The Clothes You'll Actually Need for a Newborn
Technically, you can get by with a pack of onesies and a blanket. BUT, a little more than that is nice.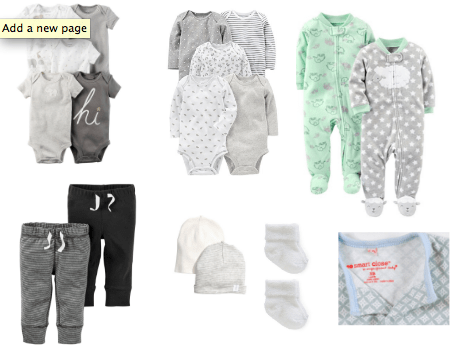 short sleeved onesies | long sleeved onesies | zip up footie pjs (sleep n play) | magnetic footie pjs| socks | hat | pants
I'm going to give quantity recommendations for what was my preference in terms of minimum amount. I preferred not to have gobs and gobs of baby clothes in the dresser, yet I wanted enough clothes to go about 5-7 days in between loads of laundry 🙂 The quantities are just a suggestion based off our preferences.
11. Onesies
Get 6-8 short sleeve onesies of each size because they're amazing. And, get 6-8 long sleeve onesies of each size because they're also amazing.
12. Zip up footie jammies
My 4th child lived in these until he was like 9 months old. Ha! 3-5 in either cotton or fleece, depending on what season baby will arrive in. If your child will wear them 24/7, get 6-8.
Skip the snaps. I repeat, no snaps. If you use snaps, you may find yourself crying in the middle of the night because you're so tired and hormonal and you did 14 snaps only to find at the 15th one you were off by one. Not that I speak from experience… 😉
13. Magnetic Jammies
What the what!? Technology is amazing. If you can afford exclusively magnetic footie jammies, buy 8-10 of these in each size and skip all other clothing. They are that awesome. They are a total luxury, not a necessity.
If I knew I'd get 4 kids' use out of these, I'd totally have bought a few gender neutral ones in each size with the first babe. Because they make middle of the night feedings & diaper changes that much easier.
14. Socks
1 multi pack of 4-6 should do it because they don't get dirty. We use them as mittens too as some babies are prone to spontaneously scratching their eyes out.
15. Hat
1-2 hats is enough because they won't really get dirty and you just use it early on to keep baby warm. Here are a bunch of cute options under $25!
16. Pants
4-6 to go with the onesies. It's much more economical to buy one or two 5-packs of onesies & two 2-packs of pant than to buy 5 or 6 separate "outfits." Just mix and match the tops and bottoms rather than buying outfits.
17. Bonus Outfits
1-2 at most. Let's be honest, babies are tiny and adorable and fun to dress. We always ended up being gifted extra totally unnecessary outfits like tiny dresses, cardigans, and blazers that were ridiculously cute. These are super fun & definitely not a necessity.
TIP: Buy first 2 sizes right before baby arrives
If you don't get gifted what you need, I'd buy everything pictured above in sizes newborn & 0-3 months (labeled "3 mos" at some stores). Buy it close to when baby comes and keep the tags on most things so that you can return sizes if you don't need them.
As baby grows, you can order what you need in size 3-6 month (6mos).
Also, check a local kids' resale store if you're up for it. I snagged 5 packs of onesies for $3.50 and zip up fleece jammies for $1.50 each. They look brand new because most babies are in these first couple sizes for less than 4 months.
Basically you need 6-10 of each item. Sometimes that'll get you through a week, and sometimes baby will explode so much bodily fluid you'll go through 5 outfits in a day.
Baby Registry Must Haves: Diapers & Wipes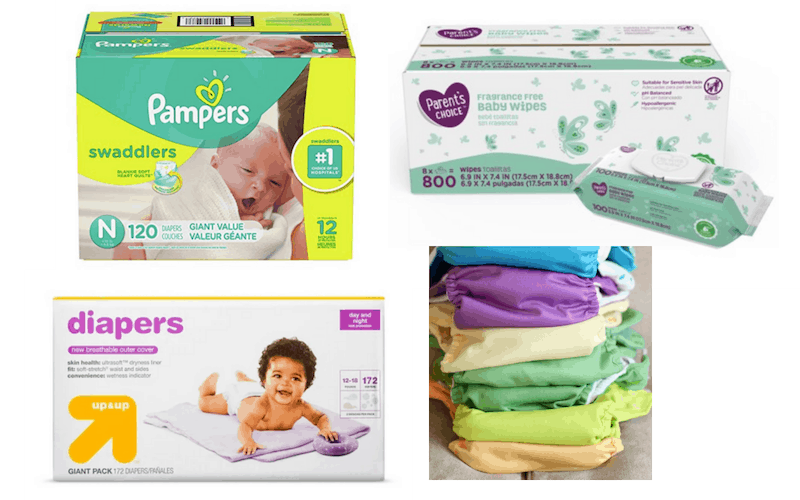 18. Which brand of diapers to use?
We have tried all the brands of newborn diapers because I'm all about using the cheapest diapers that actually work. Pampers Swaddlers are the best diapers for blowouts – hands down. They for sure contain the explosive newborn breastfeeding poop better than other brands! I always buy pampers swaddler's for NB & size 1, then I switch over to Kirkland Diapers, Target Up & Up Diapers, or Huggies Snug & Dry Line.
The best cheap diapers are the Up & Up store brand diapers from Target. They're almost always cheaper than everything else of similar quality.
Size 2 Target store brand diapers are usually approximately 13 cents each
Size 3 Target store brand diapers approximately 14 cents each
Size 4 approx. around 15 cents each
Size 5 around 17 cents each
Plus you get an extra 5% off and free shipping if you're using a Target Redcard Debit Card… which I use all the time and love!
You'll need about one large box each of Newborn and Size 1. (~150 each size). You might end up using more, but don't majorly stock-up in these sizes. Baby grows out of them very fast. He will be in size 2 for a bit longer, size 3 for a bit longer than that, and size 4 for a WHILE.
Diapers go on sale a lot! So you probably don't need to stockpile them 🙂
Amazon is usually the cheapest for Pamper's Swaddlers, unless you have a store specific coupon. But often, Amazon still beats the coupon price for other stores.
You figure out the best price by comparing UNIT PRICES.

If a box of 150 diapers is $24.99, the unit price sis 24.99/150 = .17 cents per diaper. Compare unit prices when trying to figure out the cheapest diaper.
Other cheap diaper brands
Huggies has various lines of diapers (Little Snugglers, Little Movers, & Snug and Dry). Huggies cheapest option, the Snug & Dry line, is about the same price as Costco's Kirkland brand, but Kirkland brand diapers are better quality, in my opinion. Pampers are the most expensive option on the market.
19. Best Baby Wipes
We like the Parent's Choice brand wipes at Walmart – they're almost half the cost of most other wipes. Otherwise, I like Costco's Kirkland Baby wipes. Wipes are totally personal preference that varies from parent to parent. 🙂
If you have a baby with sensitive skin, Pampers Sensitive Wipes are great too!
Unless you have a particular reason you need to buy expensive baby wipes, I say buy the cheapest ones possible… after all, these are literally for cleaning up poop and throwing in the trash. No need to splurge!
Diaper Buying Tip#1 : Don't stock up on diapers and wipes too far in advance, on the off chance your baby has a weird reaction to a certain brand and you need to exchange it!
Diaper Buying Tip #2: If your baby is wetting through his diaper overnight, instead of buying "overnight" diapers, just size up one!
20. Cloth Diapers
When we were living as frugally as humanly possible to pay off student loan debt, I used cloth diapers. While there are entire websites dedicated to cloth diapering, I found the overload of information to be overwhelming. Once we figured out what worked, I wrote a simple cloth diapering guide for beginners: Cloth Diapering 101.
While those cloth diapered bums are super cute, I don't really miss it. Once you have a good system in place, cloth diapering isn't that bad, but it is more work than just throwing diapers out… I was very happy to be using disposables with our 3rd and 4th babies! Haha 🙂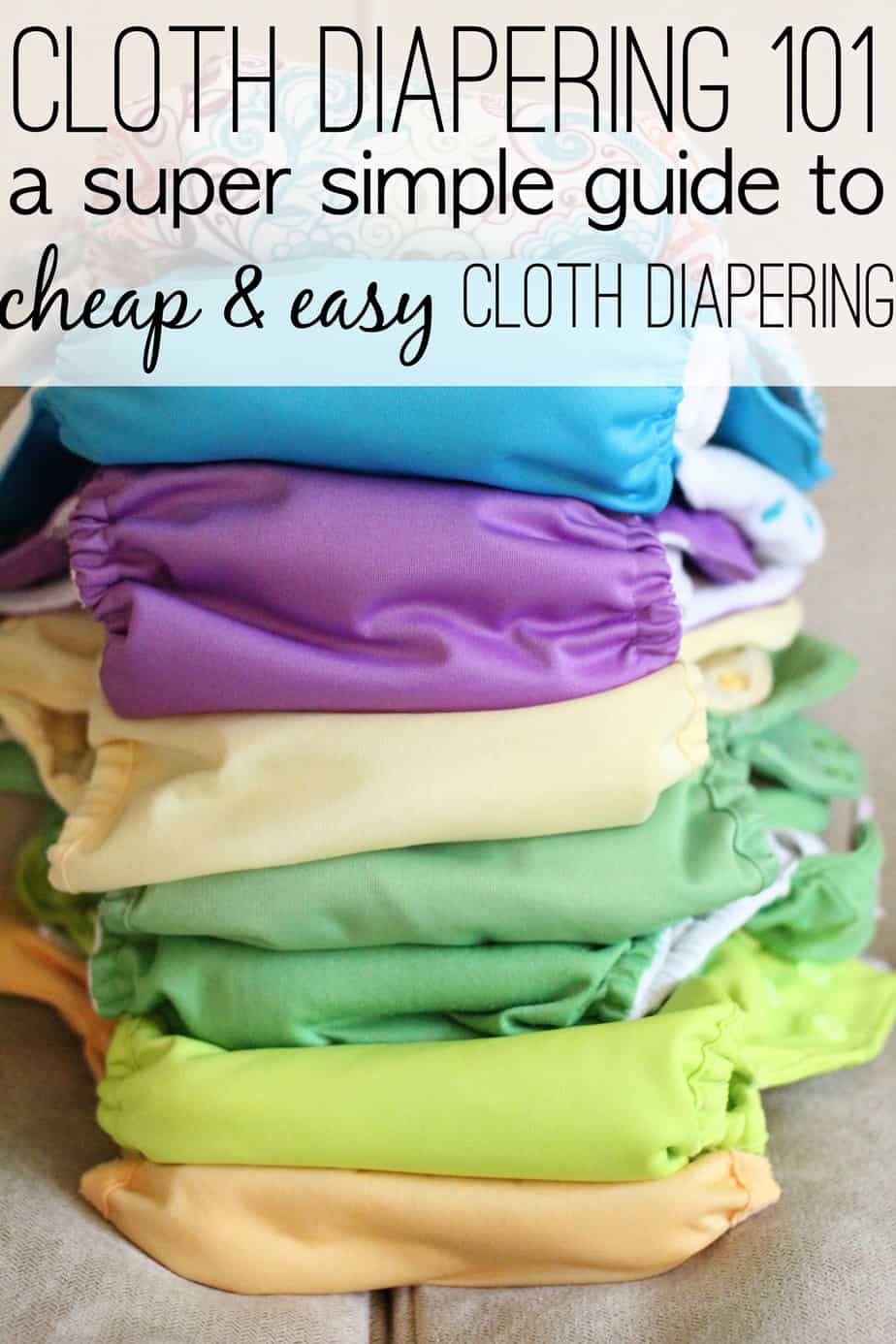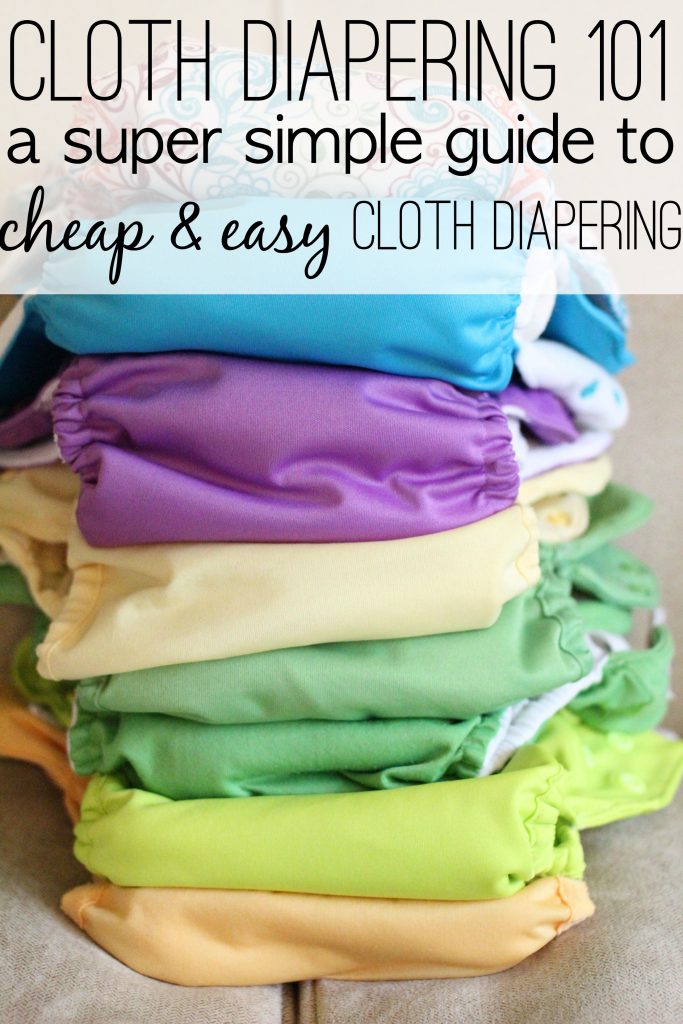 21. Diaper Changing Pad
When we lived in a 1 story house, we kept a diaper changing pad with covers in the baby's room, just on top of a horizontal dresser. I have always preferred this to a changing table. Now, in a two story house we also keep diapers, wipes, an old towel, and plastic bags on the main floor as well – it all gets stored in an extra kitchen drawer.
22. Diaper Pail
This is a SKIP for us… We owned a fancy diaper pail at one point, but it always stunk! And the bags were expensive and it felt hard to use.
Eventually, we switched to double bagging the diapers and throwing them in the garage trash. We tie the stinky diaper off in one plastic bag, and then put that in a second tied plastic bag. It's a good use for our Walmart pickup bags too. We just keep a bunch of them in a drawer or ikea bag holder near where we do diaper changes.
You can double bag the stinky diapers and put them in any trash can with a lid that closes well and it'll be fine for the room! Way easier than dealing with those diaper pails, in my opinion.
23. Best Diaper Bags for New Momma!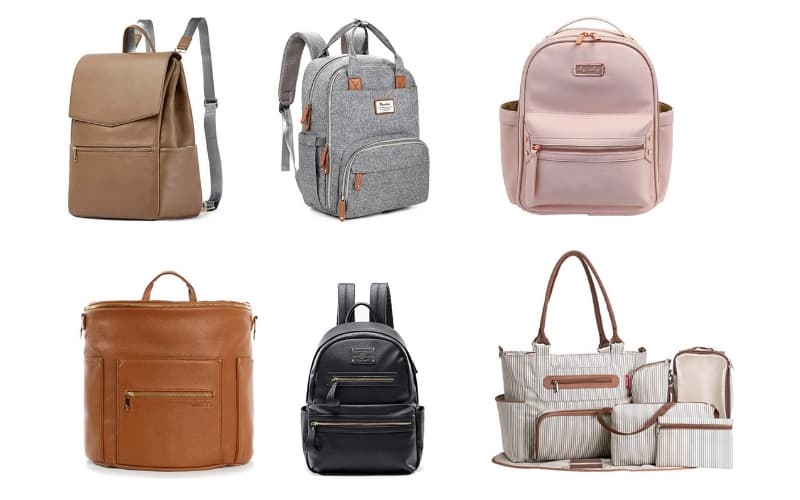 Clockwise from top left: 1 | 2 | 3 | 4 | 5 | 6
Here are all the diaper bag backpacks on Amazon, under $50 with a rating of 4 stars or higher.
I used a diaper bag backpack exclusively with our first child for about 2 years. When our second child was born, I snagged a cute purse/ tote that I used as a diaper bag/ mom bag for a couple years. But, once we had 3, I needed all my hands again and went back to a backpack.
Think through your lifestyle and make a diaper bag decision based on that.
I think that bottom right Skip Hop one is super cute! But, in general, I don't carry that much around with our kids because they just don't need that much.
A large multi-pocketed diaper bag comes in handy when you will be traveling or gone for an entire day. I keep diapers & wipes in the car, or grab one on the way out the door.
You might also find a large diaper bag useful if you're using daycare or childcare outside your home and you want to bring a handful of things each day to the childcare provider – backup clothes, diapers, wipes, cups, bottles, etc.
All that said, I rounded up my favorite cheaper diaper bags on Amazon in the above picture. If I was buying one, I'd grab one that:
I thought was cute
Wasn't too bulky or humongous – I tend to lose everything in bags like that and get irritated trying to dig through them.
Had an easy access pocket for my wallet & keys – Here's my favorite crossbody wallet that holds cellphone, keys, etc. – perfect for toting around in a diaper bag, or using alone if you're running out by yourself.
Was under $50 – Do you really want to pay more than $50 for something that will smell like formula & baby wipes, get cheerios smashed in it, and potentially hold poopy diapers? 🙂
If your husband is going to lug around the bag for you, you might be kind and consider a more gender neutral style backpack 😉 I usually would carry the bag and let my husband tote the baby in that carseat carrier. That thing is heavy!
MINIMALIST BABY REGISTRY MUST HAVES: Snuggle, Sleep, & Clean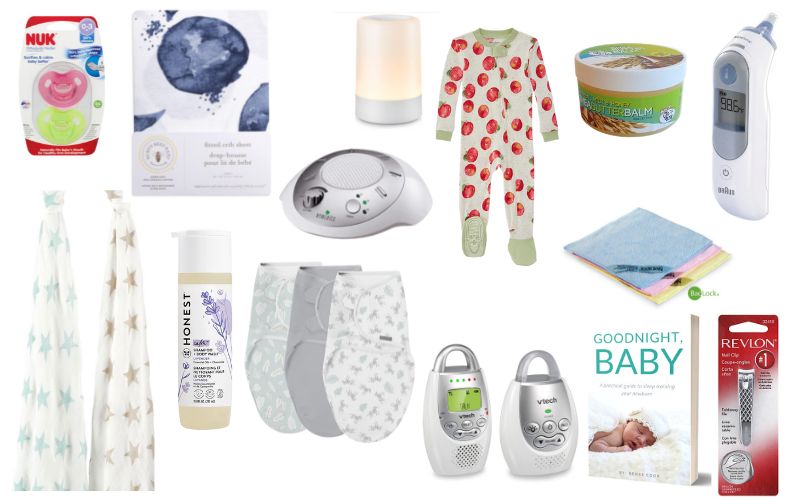 24. Pacifier
I like the nuk brand because they have a little curve that I think helps baby hold on to them better. (Double check age/size of what you buy!)
Some babies have a stronger urge to suck than others. I couldn't figure out why my 1st little one seemed to NEED to be nursing all the time. Then a seasoned mom friend suggested a paci to soothe her suck urge. Turns out she did have a strong urge. She chowed on the paci so hard she would get lines on her face, and eventually became our only thumb-sucking baby.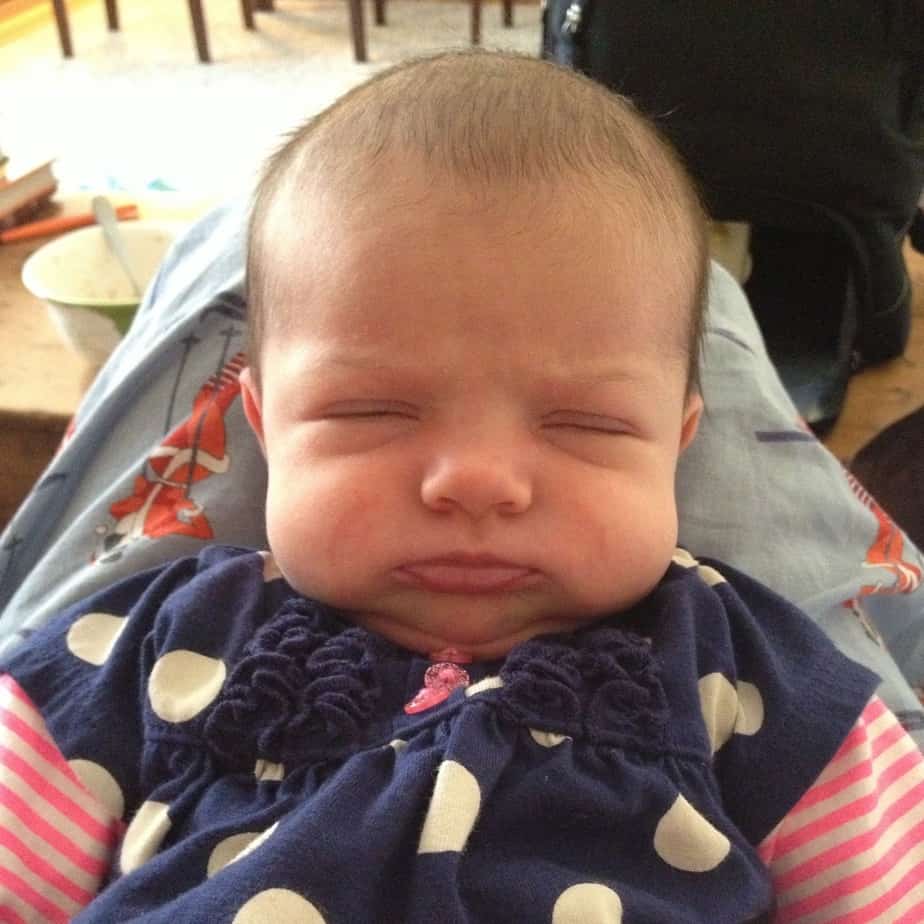 And, yes… your baby can nurse & have a paci. All 4 of ours did!
25. Sound Machine
At first I was all worried white noise was a sleep-crutch. Then I had kids and realized white noise makes a load of difference with how soundly kids sleep. They are way less likely to startle awake with some white noise in the background. Any sound machine is fine.
26. Velcro Swaddlers
Get a 2-3 pack in size small. (We didn't like the "pod" one as much.) We have LOVED these swaddle me velcro swaddlers with all of our kids. I never could quite figure out how to swaddle a baby tight enough with a blanket, but the velcro makes it easy.
Swaddling is great because it makes the baby feel cozy AND keeps them from startling themselves awake every 10 minutes. Game changer for newborn sleep, in my opinion!!
All our kids ended up sleeping in a velcro swaddle until they learned to roll over to their tummies. They would squirm in it and grunt and wiggle and sometimes cry a little bit, then suddenly give into the straight jacket baby burrito vibe and end up sleeping so much more soundly.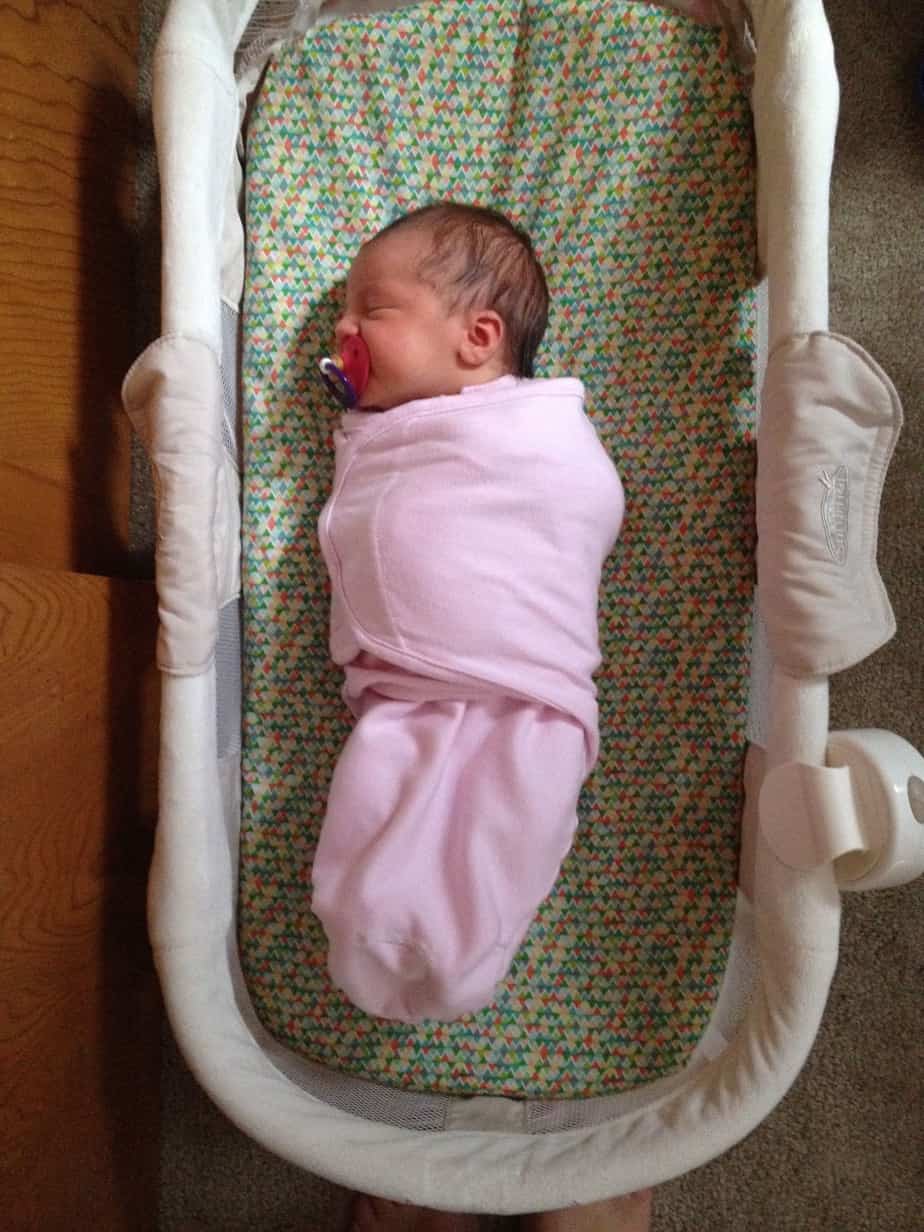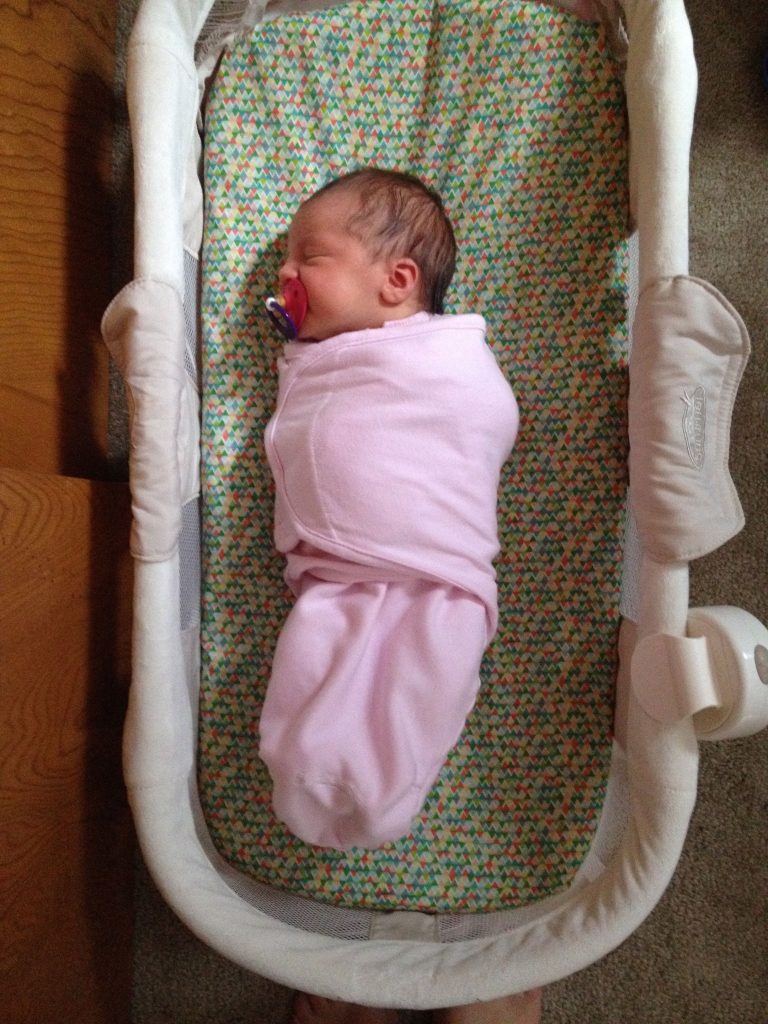 27. Blankets
The quantity that will be useful is 3-4 soft muslin swaddle blankets, 1 "favorite" blanket, and 1 baby quilt. Granted, if you get gifted more or just love blankets like we do, you might end up with more 😉
Aden + Anais swaddle blankets are the classic go-to swaddle blankets. These original ones are softer than the cheaper "Aden by Aden + Anais" ones at Target or Walmart.
And I love these "dream" blankets for a splurge!
28. Crib sheets
Having 4 sheets has served us well. For a long time we had only 2… then we had a massive stomach flu virus run through our house. Ha! Minimalist Fail!
From then on, we've always had at least four. Any cheap sheets will do, but I really like the jersey material sheets, like Burt's Bees makes because they're easier to get on the mattress and super soft.
29. Nail Clippers
We're weird and like grownup nail clippers for babies… the baby specific nail clippers feel too dull… You know how it's hard to cut food with dull knives? That's how using baby nail clippers feels to me.
Maybe we just had a bad brand of baby nail clippers. But now, we always gravitate towards the smaller size Revlon nail clippers. They're the best
30. Thermometer
We've tried several including the forehead beeping one. It stunk. This ear thermometer is the way to go. Easy, accurate, and super fast! (For very small babies, the best way to get an accurate temperature read is rectally. The baby will barely feel it.)
31. My Baby Sleep Guide
I have a whole slew of sleep training posts on this blog. I also wrote a short guide that provides an overall plan and guide for helping your baby establish healthy sleeping & eating habits from birth. It's a wholistic approach that worked well with of our kiddos and it's been downloaded thousands of times over the past several years. You can snag it here!
Whatever method you use, I highly highly recommend figuring out a plan for how you're going to teach baby to sleep at night. Because, as we learned the hard way, babies come out all mixed up about their days and nights. They sleep all day, want to be awake at night,
And as we figured out (and then turned into that sleep training guide for you!), you can actually teach your baby how to sleep and get on a schedule from the very beginning! You actually don't have to wait until they're 4-6 months old to start thinking about sleeping through the night.
All 4 of our kids were sleeping 12 hours through the night by 3-4 months old.
If sleeping through the night by 12 weeks old sounds pretty darn good to you, snag my sleep training how-to guide!
32. Soap & Lotion
I prefer to use non-toxic lotion and soap on our kids these days. Anything with fewer ingredients… The Honest brand is good.
33. Soft Wash Cloths
The tiny patterned baby ones in the baby aisle usually don't wash/ absorb anything. Really, you can just use your own regular wash cloths, but I like muslin ones because they double as burp cloths; or I like these super soft baby wash cloths that you can use with just water.
34. Baby Monitor
We've never really been baby monitor people, so this was a skip for us. I know the fancy baby monitors are super popular, we just never felt the need for one. This one is extremely highly rated if you do choose to get one.
We lived in small houses for most of the baby-having years, so we didn't really need one to hear the baby. I sleep terribly with a monitor nearby anyway. We do have an inexpensive one that we take to other places, like my parents' house.
35. Infant Tylenol
You'll need this sometime in the first few months for an ear infection or teething or something! Generic brand is fine.
Mom Life Hack: stores sell "infant" Tylenol (Acetaminophen) and "children's" Tylenol. Infants' and Children's used to be different concentrations, but now they're the same. Stores still sell the infant stuff for 4x the cost. As long as the container says 160mg per 5mL you're good to go. Verify your baby's dosage with your pediatrician, obviously. Dosage will depend on WEIGHT of your baby.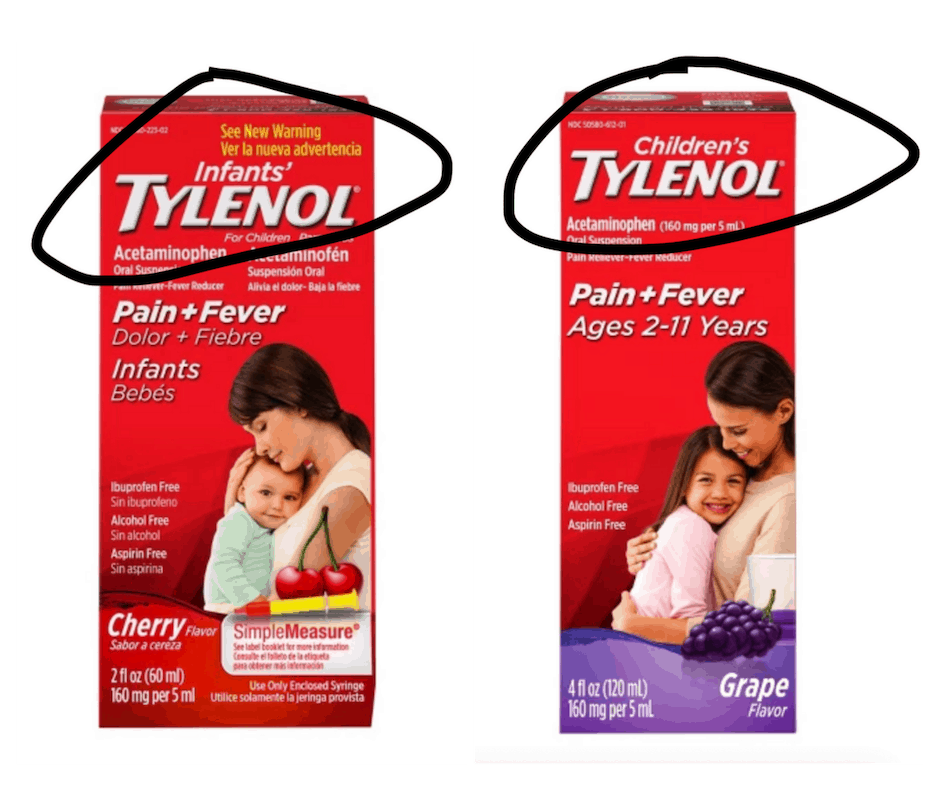 OPTIONAL Snuggle, Sleep & Clean Stuff
36. Baby Bath
We didn't use a baby bathtub for our first baby because we both were free to be on baby bath duty. Ben would hold her with two hands and I'd wash.
As we've added to our crew, we've found the tub to come in handy because whoever is bathing the baby is often working solo. Here's the baby bath tub we have, and here's a cool space-saving bath tub that we probably should have used since all of us shared one bathroom for years!
37. Snot Sucker/ Nose Frida
aka: Nose Frida. I just could never make myself do it – EW!! But many of my real life momma friends swear by it, so I had to include it here. They'll send you home from the hospital with the little blue nasal aspirator, but allegedly, they don't have nearly the snot sucking power of the Nose Frida.
Things You'll Need for Feeding a New Baby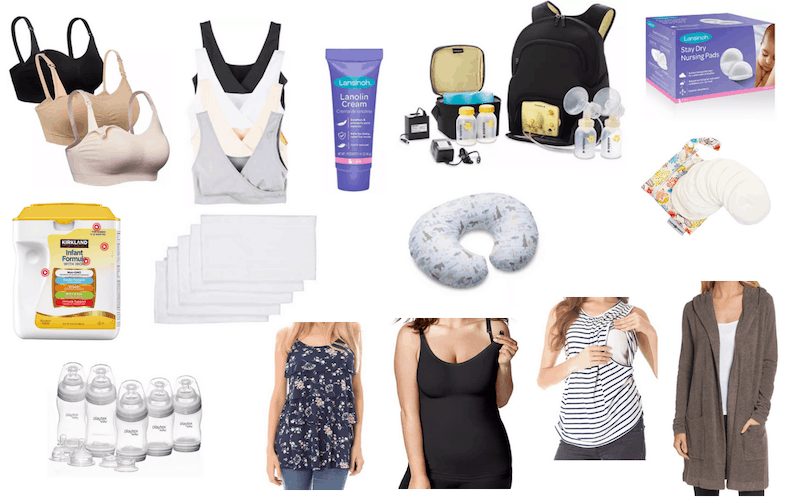 best cheap wireless nursing bras | best nursing bras for sleeping | nipple cream | Hands free breast pump | disposable nursing pads | soft & comfy reusable, washable nursing pads | Kirkland brand formula is cheapest | white burp cloths | boppy (optional, but awesome!) |Our favorite bottles | floral nursing tanks (tons of options!)| black basic nursing tank | striped nursing tank | coziest cardigan for over nursing tanks (you will live in this!!)
Related: Complete Guide to Building a Capsule Maternity Wardrobe on a Budget
38. Bottle Feeding Supplies
What you need for feeding baby will depend on whether you plan to breastfeed or bottle feed. Hold your plans loosely, because you might intend to do one and the other is more feasible. (I was devastated when my first baby lost interest in nursing around 6-8 months old. Then I realized, she was fed and healthy and it was okay. I was not a worse mom for doing one feeding preference over another.)
I nursed all our babies until around 6 months, then they switched to bottles kind of on their own timing.
If you're bottle feeding, you'll want bottles + formula. The brand of bottles doesn't really matter. We've always used these Playtex Ventaire bottles and changed out the "speed" of nipples at each stage.
We've also always used generic formula. Costco formula is cheapest, Walmart and Target are close seconds. Do NOT stress over bottles and formula brands. It just doesn't matter.
Absorbent burp cloths. These simple white ones are very absorbent and multipurpose, and you can bleach them when they get stained. Protip: Do not spend tons of money on the thing your child will puke all over. Ha!
Breastfeeding/ Nursing Supplies
If you're planning on breastfeeding, you'll want nursing bras, nursing tanks, nursing pads, and nipple cream. I would grab a pack of our favorite Playtex Ventaire bottles too in case you have issues nursing or want someone else to help out with feeding. (I like these 9 oz ones because they're easier to mix and grow with the baby.)
You may think you don't want to bottle feed for now, but you never know what things will be like after baby comes, and it's nice not to have to run to the store for an emergency bottle. You can always return it.
39. Nursing bras: best nursing bras for sleeping| best super cheap wireless nursing bra |if you're looking for something higher quality, Bravado Designs® Women's Body Silk Seamless Nursing Bra is bomb!
40. Nursing Tanks: Some that go under everything and are tighter | I like cute, loose fitting nursing tanks too, for wearing out and about!
41. Nursing Pads: bamboo ones are the most comfortable
42. Nipple Cream: this stuff is a lifesaver!!
43. Casual, loose, flowy cardigans that are easy to throw on over tank tops! You will live in one of these while nursing. Splurge | Save
44. Cute Tanks: These ruffle nursing tanks are super cute and have hundreds of 4 and 5 star reviews on Amazon!
45. Pumping Supplies
Your health insurance company should supply a breast pump. Usually you can't get it until 30-60 days before your due date. Call the number on the back of the card during your first trimester, and ask what the process is and what your options are. (Jot down the brands and model numbers they give you and do some research.) The Medela pumps are pretty standard and work really well. They have a few different styles for convenience, but insurance companies will often only cover the very basic option.
These days, they make awesome hands free pumps! They didn't have these when I was nursing babies, but friends of mine swear by them!
The breast pump usually comes with all the supplies you need except milk storage bags. The up & up milk storage bags at Target are GREAT. (Freeze them laying flat on top of one another to save space!)
If you end up exclusively pumping, or pumping when you go back to work, you'll want extra supplies. This website has a great list of essentials for successfully pumping at work.
Toys & Play for Baby's First Year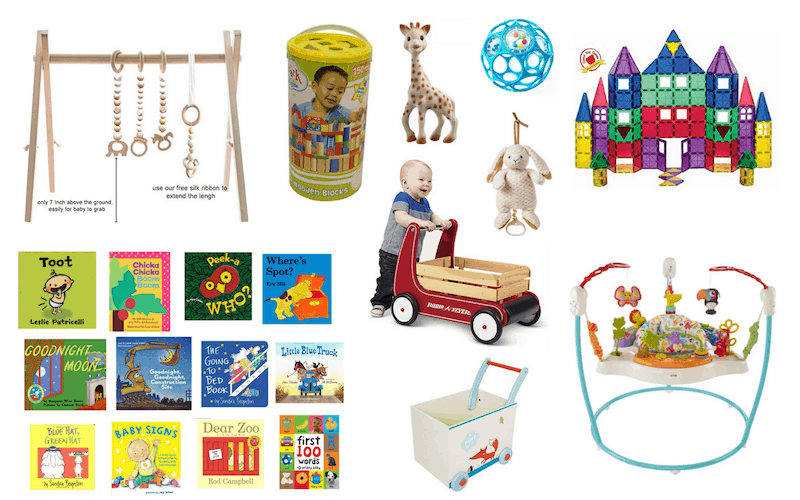 baby gym | best blocks for baby & toddler with shape sorter top | Sophie giraffe teether| these o-balls make the best rattles! | all 4 of our kids have loved a pully musical toy| these Play Mags magnetic tiles are AMAZING. Fun for kids ages 8 months to 35 years old. 😉 Seriously, though. Best toy ever! | All of our kids have liked the jumperoo more than the exersaucer. | Self-paced walker | board books (more details below)
46. Baby Activity Gym / Play Mat
You can get something with a colorful mat or a wooden toy that rests on any blanket.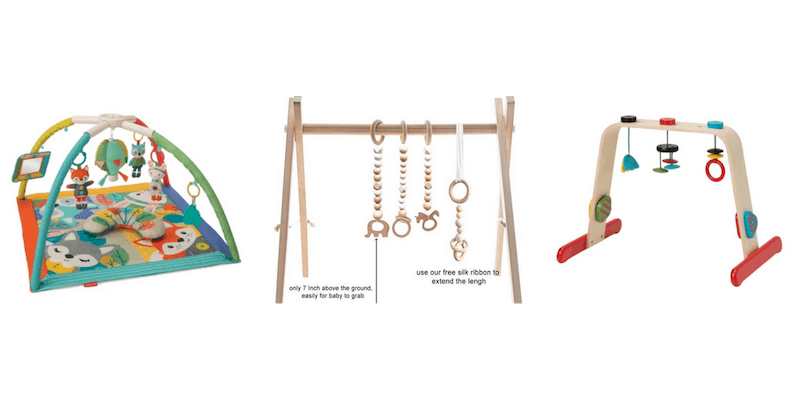 Baby gyms (aka: baby play mats) are a great baby toy for development in the first few months. Baby will stare at all the dangly toys for a while, then around 6-12 weeks, s/he will start reaching for the dangling toys. It is so fun to watch babies figure out the world around them.
If the baby gym or activity mat you choose doesn't come with a mirror, try attaching a portable mirror like the ones made for a car. Mirrors are another fun developmental toy for baby!
47. Jumperoo vs. Exersaucer
All of our kids have preferred a jumperoo to the exersaucer. We owned an exersaucer and borrowed a jumperoo. The kids would quickly get bored in the exersaucer, but go to town jumping in the jumperoo for a long time!
The brand/ style of jumperoo doesn't really matter, so I tried to find the cheapest jumperoo! Which happens to be the exact one we've borrowed in the past.
They're huge and obnoxious to store, even though they kinda sorta break into smaller pieces. You could try to borrow one or buy second hand and resell (our favorite method for minimizing large baby gear).
If you end up owning one, baby will probably use it from about 4-5 months until 10-11 months. Just lend it out to a friend when your baby outgrows it so you can help them out and avoid storing it!
48. Wooden Blocks with a Shape Sorting Top
NOT like this…You've perhaps seen shape sorting toys marketed for babies. We have actually found them to be very overwhelming and frustrating for our kids before the age of 2 or 3.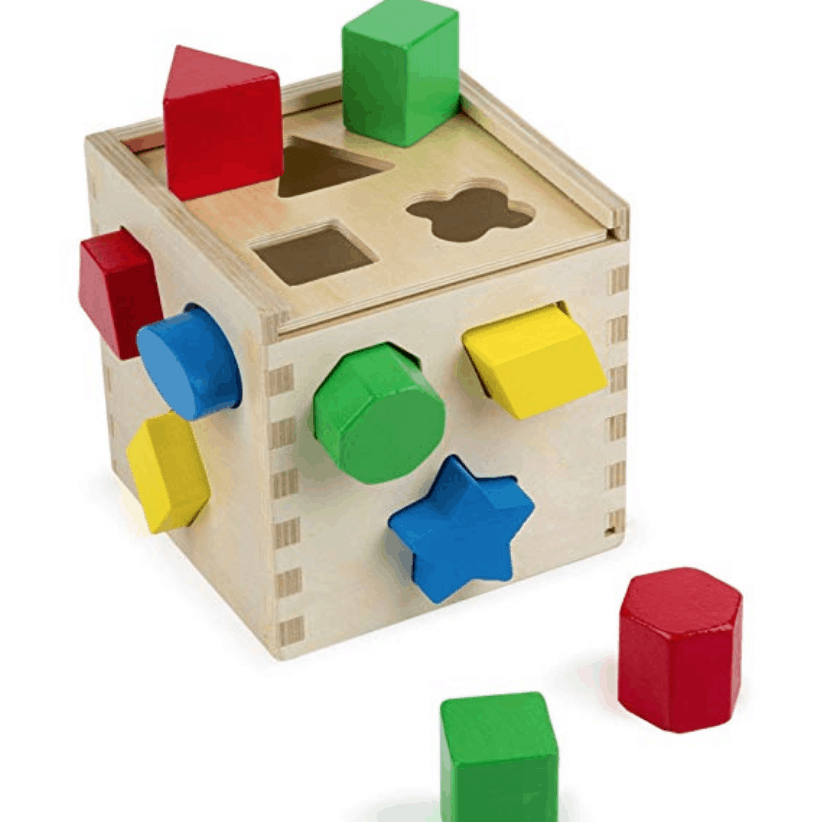 But YES like this one. Our 1 year olds have LOVED a shape sorting block bucket, like this. Your 1 year old will likely figure out the square or round spot first… it's very easy to put painters tape over the rest of the top, isolating only the one s/he knows how to do at first.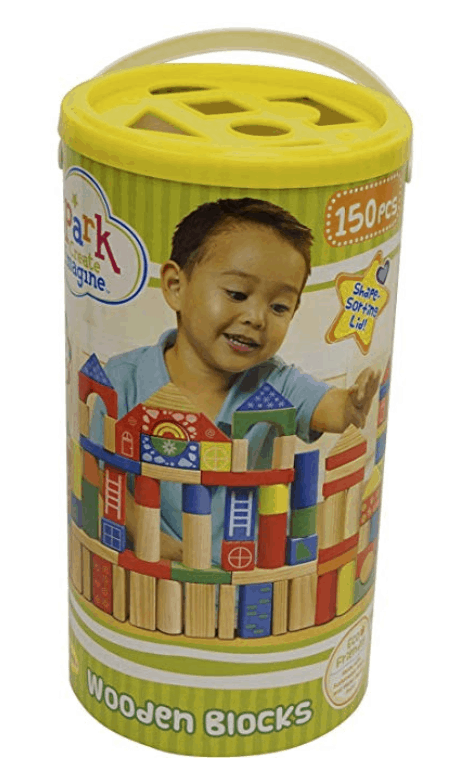 It's so fun to watch the little tots try to find the right shape to fit through the only available hole.

Plus, wooden blocks are timeless so this block bucket lasts longer than other shape sorting toys that kids grow out of. As your baby grows, you can add larger wooden unit blocks to your block collection.
49. Sophie Giraffe Teether
We have found that, in general, our kids always wanted to chew on things that weren't for chewing AND ignored all teethers we owned. Haha!
The popular Sophie Giraffe toy was still a hit at our house – and one of the few remaining baby toys by the time we had the 4th baby! It's probably fun because it squeaks and is rubbery, which feels good to baby.
But honestly, our kids have all been happy with a spatula or wooden spoon! They just didn't really care about teethers.
And when we know the baby is teething, we make sure to give tylenol (or ibuprofen over 6 months) to relieve the pain. Medicine has been the only thing that consistently relieved teething pain for our kids, despite what the hippies say 😉 (I love the hippies!! So many of my mom friends do all kinds of cool natural things for their kids! Not me though – ha!)
50. Other Baby Toys
We used to have tons of random baby toys (mostly gifts received). But our kids never played with them, really. They got dumped out and carried all over the house and then I rage-cleaned them up at the end of the day.
SO, now we have 1 small basket of baby toys. And mostly, the baby prefers to empty tupperware drawers, clank measuring cups together, and play peekaboo anyway.
The few toys that all 4 of our kids have gotten legitimate use out of are pictured above:
O BALLS – these are so fun! I don't know why. But they're easy for baby to grab and throw and the ones with a rattley noise in it are very satisfying.
PULLY MUSICAL TOY – This started out hanging from our baby gym/ play mat thing. The baby figured out it played music and was OBSESSED. So, we clip it on the infant carrier carseat for long trips. Or to the stroller straps, grocery cart, whatever! Our current 1 year old just carries it around shaking it to make it sing.
MAGNETIC TILE TOYS – I can't reiterate enough how much we love this toy! I think we got our first set when our oldest was around 2 or 3 years old. Since then, we've added to our collection with the Play mags brand! They're way cheaper than the Magnatiles and work better. (We have both brands.)
The baby won't really know what to do with them except carry them around. But they're fun to knock down, put on and off the fridge, and they grow with the kids forever! As of this writing, our 1, 2, 4, and 6 year olds all love playing with them over and over.
SELF PACED WALKER – Any sort of walker is fun for baby around 9-11 months, when they start learning to pull themselves up and cruise around while holding on to furniture.
We really loved this self-paced one that was a gift to our 3rd little guy It didn't move faster than he pushed it, so it was perfect for all the stages of learning to walk. He could even pull himself up on it without it tipping over or making him fall. And he could put toys in and out of it! So fun!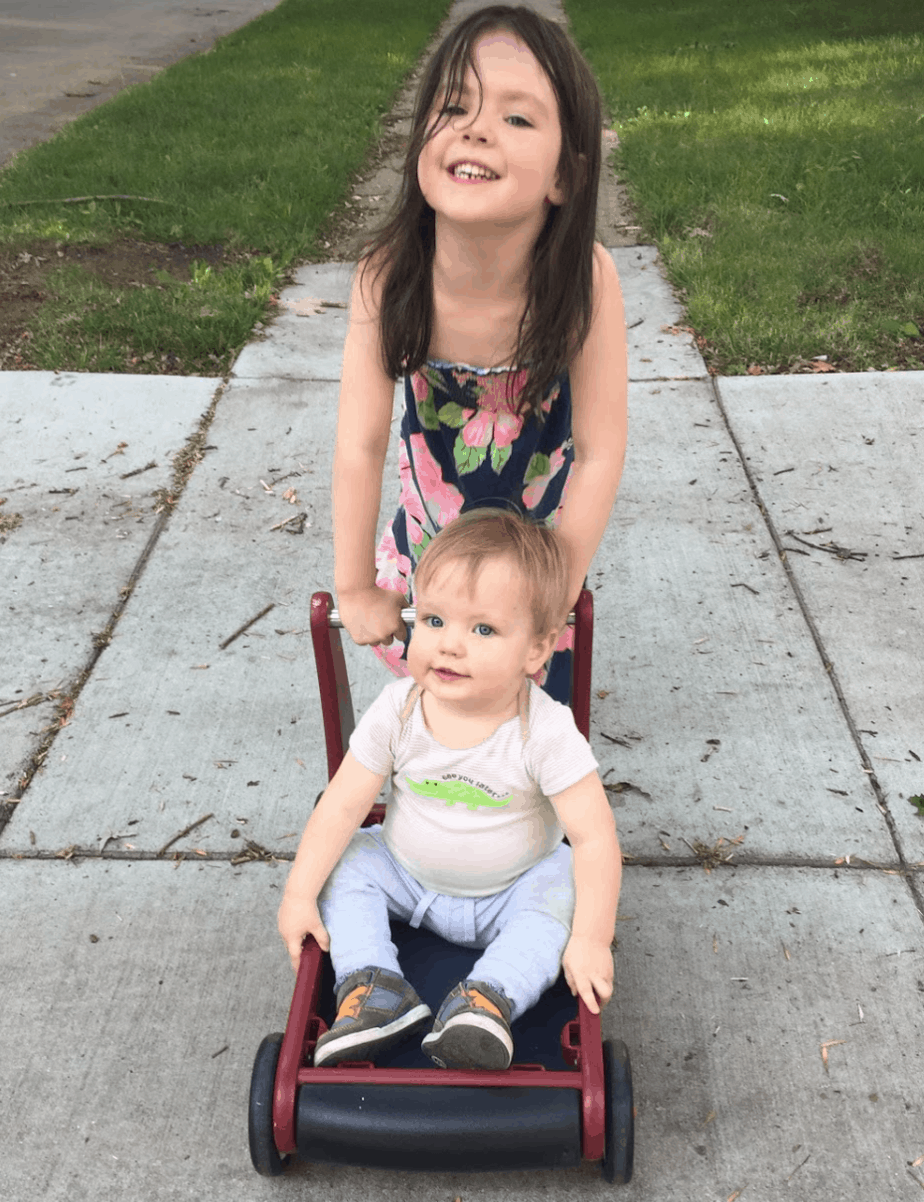 There are several fun walker options on Amazon. Just pick one 🙂 Baby will have fun pushing it around, and putting things in and out.
52. Best Board Books for Baby
A fun way to build your board book collection is to ask for them in leiu of cards at a baby shower! Otherwise, just budget $5/ month and order one at a time on Amazon Prime. Marshalls, TJ Maxx, and Homegoods often have a pretty good board book selection on the cheap too.
Ask for specific board books for Christmas and birthdays too! I use Amazon Lists for this and make it public so I can easily share the link with Grandma 😉
Here are some of our kids favorite board books! I could go on and on about our favorite children's books, but I'll just share the top 12 all 4 of our kids loved and requested over and over!
RELATED POST: Complete Guide to Preparing for Delivery of First Baby
Printable Baby Registry Checklist PDF [Updated 2020]
Whew. How's that for a baby registry must haves list!? LOL
I hope that this baby registry checklist helps you register confidently for your first baby.
You can grab a free printable baby registry checklist pdf right here.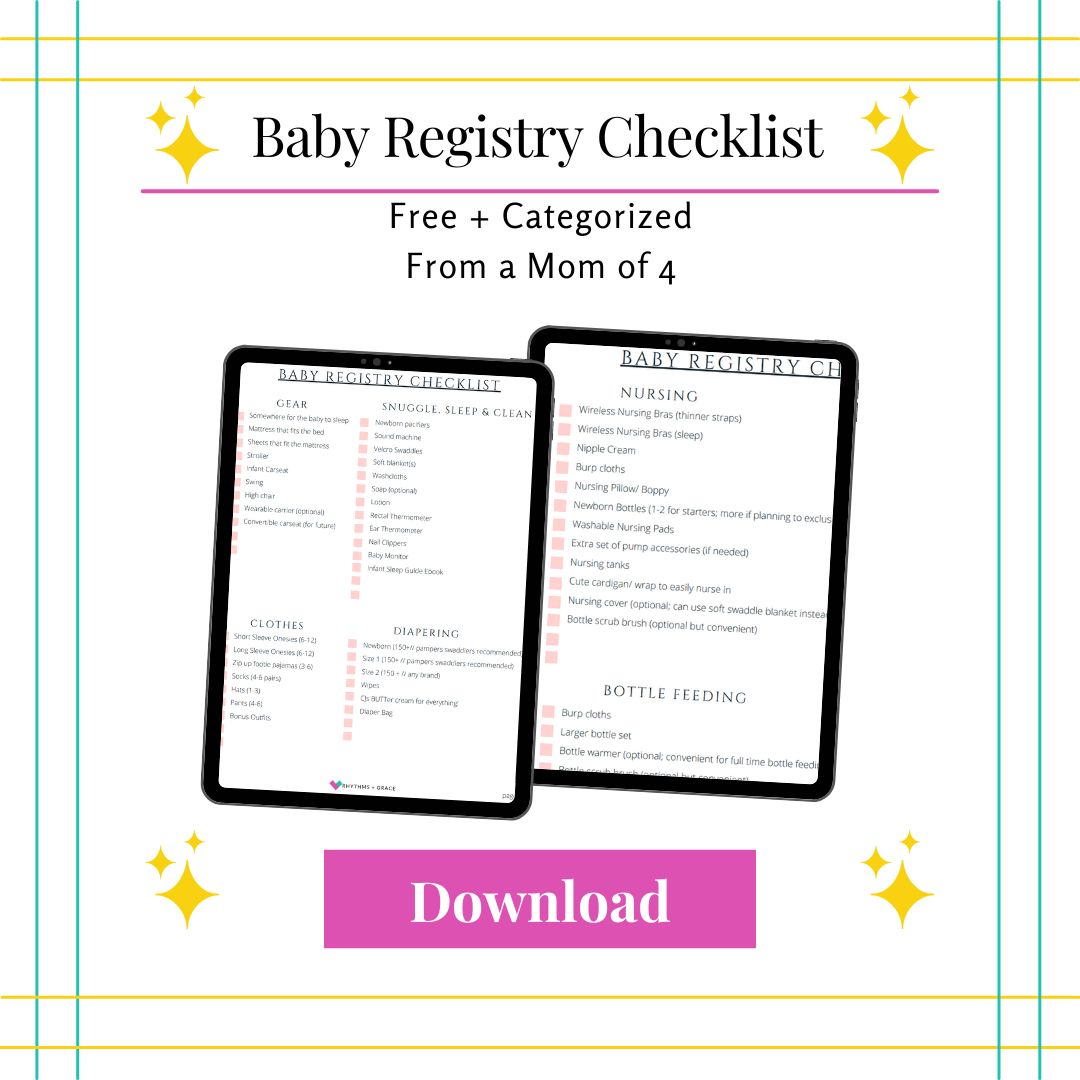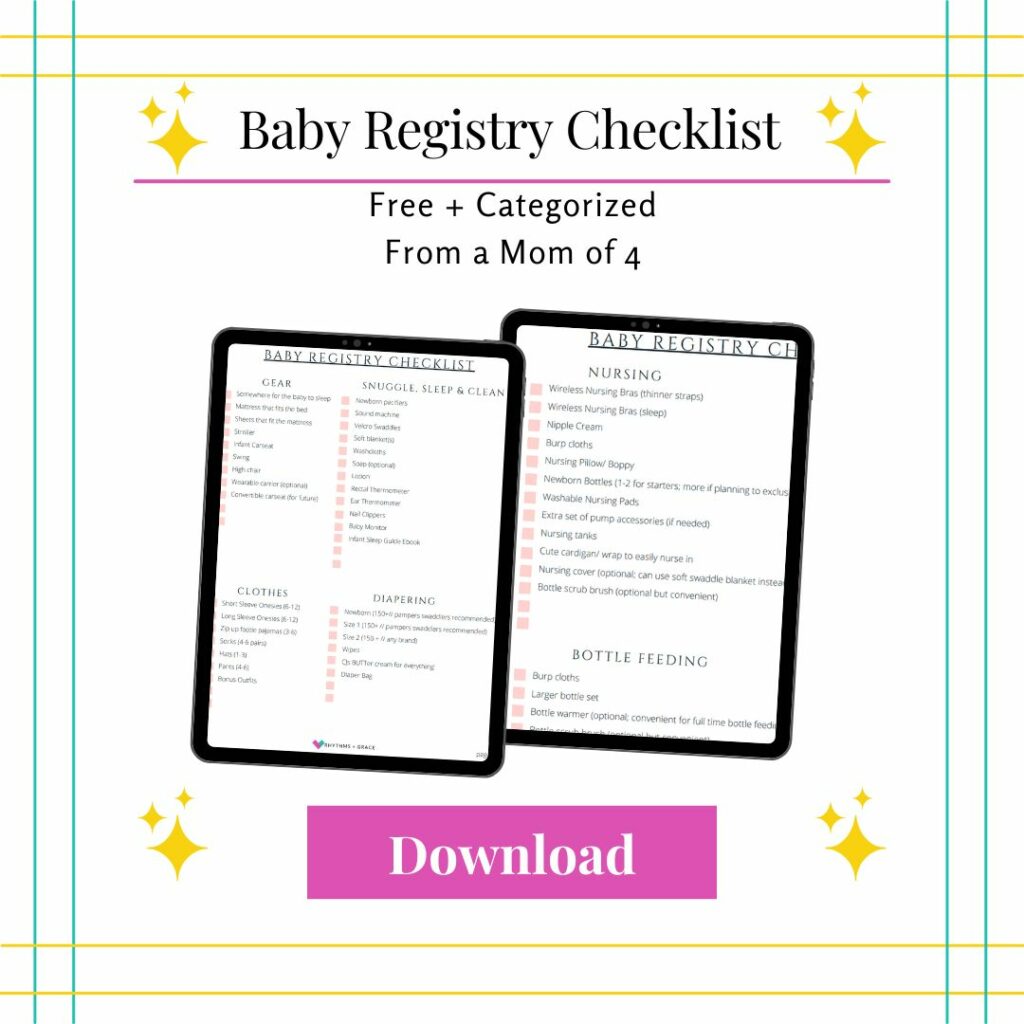 Hopefully this is the best baby registry for 2022 that you've seen so far!
Don't forget to check out this guide to setting your newborn up on a happy, healthy eating & sleeping routine!!