Some of the links on this page are affiliate links. When you make a purchase through an affiliate link, I earn a commission at no cost to you. See my entire disclosure policy for all the boring details.
I don't know what it is about the darn grocery budget, but it seems like something everyone wants to spend less on. If you have little kids, meal planning and grocery shopping might sound about as fun as repeatedly poking your eyes with dull colored pencils.
But, this process can become relatively simple if you try it a few times and tweak it as necessary to make it work for you. Regardless of why you want to save money on groceries, this process works. When I meal plan this way, I can save about $50 on a week's worth of groceries. (And no, I'm not an extreme couponer. In fact, I hate coupons.)
So, let's get to it! Here's the biggest way we are saving money on groceries.
USE A LOCAL DEAL BLOGGER'S WEEKLY AD LIST TO PRICE MATCH AT WALMART.
Update: My Walmart no longer price matches, but I used this system for YEARS to save tons of money on groceries!! Now, I meal plan monthly and use Walmart Grocery Pickup once a week to save tons of time & money.

Here's my complete review of Walmart Grocery and here's how I meal plan once a month.
Here's what I mean.
There are money saving/ bargain shopping bloggers all over that post a list every week of all the grocery store deals from the ads in the Sunday newspaper. And Walmart will price match all those sales within 50 miles of the store.
So, if you want to meal plan around what's on sale, no longer do you have to flip through all the grocery store ads in the Sunday paper!
In Omaha, I use Mom Saves Money. I just pull up her site when I make my grocery list. She lists 7-10 local stores' ads' sale prices. (Red = super duper sale price.) She posts this list every week and includes every store in the Omaha metro area.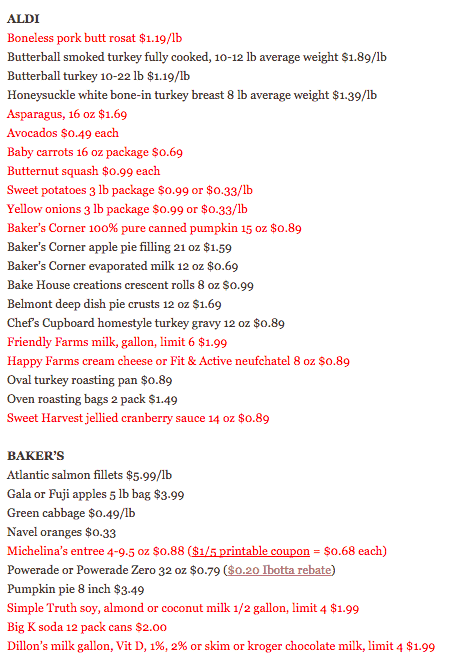 HERE'S A SIMPLE MEAL-PLANNING PROCESS:
You will need:
1. Open the current week's list and browse what's on sale.
Double check the dates! It stinks to make a whole price matching grocery list only to find out that was the wrong week… I know from experience.
Walmart only matches exact brands and quantities. You can't price match a Kroger brand item (or any other store's generic brand) at Walmart because they don't carry other store's generic brands. Plus, Walmart's generic brand is almost always as cheap as any other store's sales on non-fresh food.
I buy the following things generic brand from Walmart or Aldi, so I don't price match these:
Canned & boxed goods – canned tomatoes, cereals, broths for recipes, etc..
Snack food – goldfish, chips, crackers, trail mix, almonds, etc…
Baking ingredients – I always get these at Aldi
Regular milk & eggs – always cheapest at Aldi and Walmart anyway.
Price matching saves a lot of money on these things:
Meat
Produce – whatever fruit or vegetables are on sale that week are what we eat for snacks & sides
Yogurt, Almond milk
Frozen Pizza
Coffee
2. Jot down food items and sale prices/ locations on a piece of paper.
This will become your grocery shopping list.
Make sure to include quantities if specified. For example, Birdseye frozen vegetables come on sale every so often, and the ad list specifies "10-14 oz for .79/each." I make a note of that on my list because you can't price match a giant bag if the small bag is on sale.

3. Meal plan according to what's on sale – here are some recipe ideas!
Use a monthly meal planning calendar to write down meal ideas from the sale list you just made.

Tip: I write down anything semi-grocery related for the week on our meal planning calendar since schedule related things affect the meals I make. Things that affect what I meal plan and buy are:
Bringing food to a gathering
Bringing a meal to someone
Double a freezer meal
Someone is visiting from out of town
People are coming over for dinner
If we have a playdate that I plan to feed a bunch of kiddos for
A weeknight activity or special-event
Sometimes I can glance at the sale list I just made and favorite meals come to mind that use those on-sale ingredients. If you keep doing this week in and week out, it will get easier to plan around what's on sale.
This website, Supercook.com, will suggest meals based on what you have and what's on sale.
4. Don't plan every single meal around what's on sale.
Ain't nobody got time for that! Figure out how many dinners you're going to meal plan for per week based on your schedule. If half of those are planned around what's on sale, great.
Once you start doing this regularly, you'll find a rhythm that works for you. This is meant to help you save money and make your life easier, not stress you out!
5. As you meal plan, make sure to add extra ingredients to your grocery list.
When you add a dinner to your list, glance over the ingredients required, and make sure you either have them all on hand or they're already on your list.
6. Print the recipes (optional)
Every night, I would see something like "chicken in white wine sauce" on my meal-plan calendar and then spend 5 infuritating minutes trying to find the exact recipe I meal planned around. Was it on allrecipes.com or food.com? Or Pinterest? I don't freaking know!!!!
Seriously, this problem was raising my blood pressure.
Then I realized – there's this thing called a printer! Now, when I add a meal to the calendar, I print it off and stick it in my recipe binder.
I love cooking from a printed recipe! It is so much easier than using a recipe on my phone. No more phone turning off while I'm trying to read the instructions.
If we love the meal, I save the paper. If not, I toss it.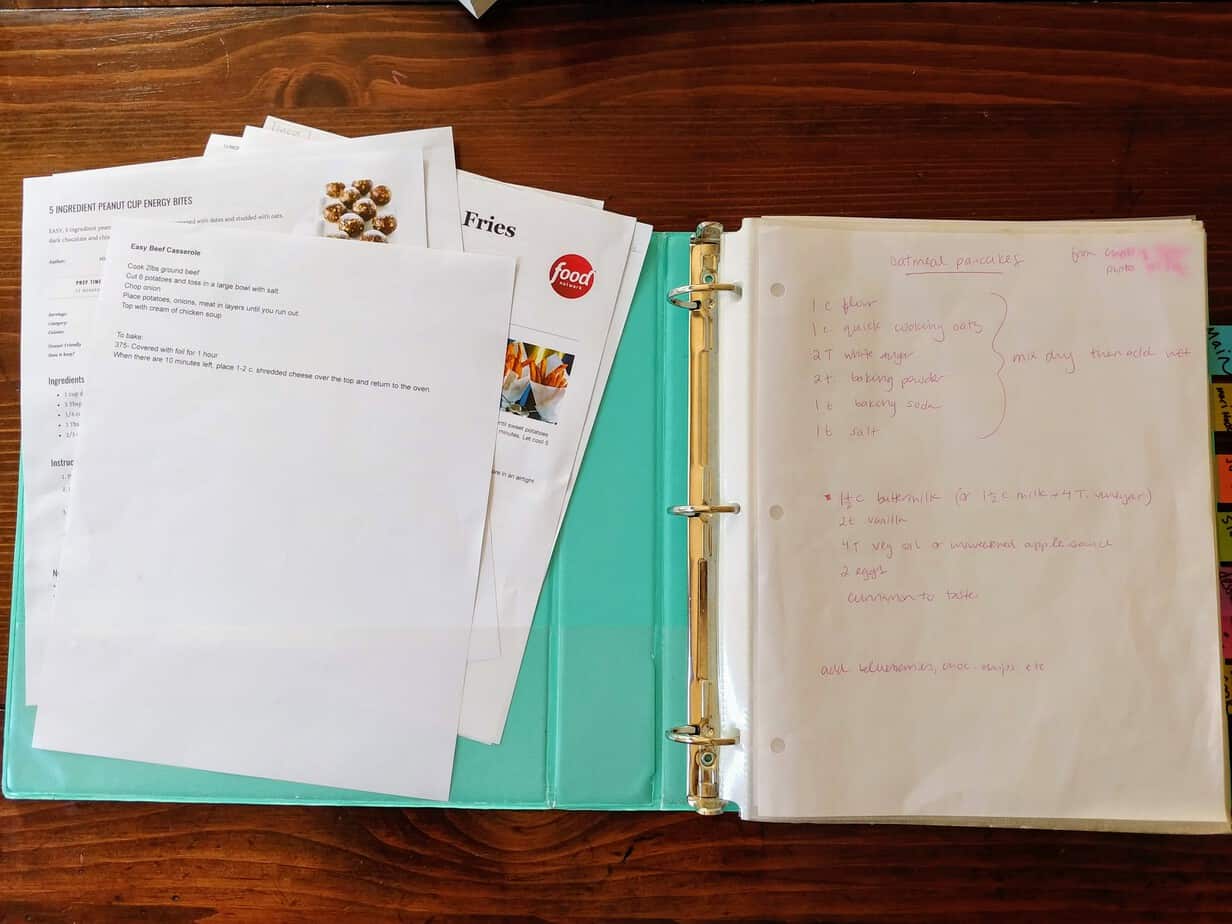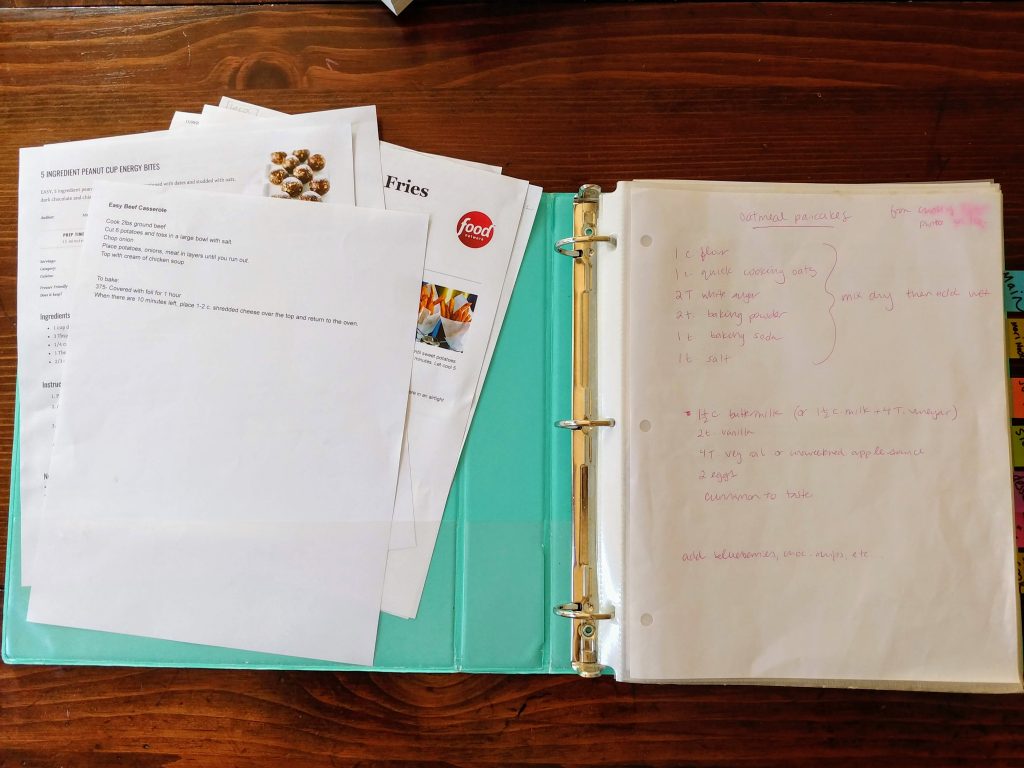 7. If you are OCD, make a new list.
By now, my list is super sloppy and the things I need to buy aren't in the right order. I cannot get through Walmart with my kids & a disorganized list. I end up going back and forth all over the 27 aisles. So I always write my list in sections based on the layout of our store.
Produce & deli
Bread, coffee & frozen
Meat
Cans, cereal, broths, salad dressings, condiments, sauces, etc.
Baby food & formula & baby products
Snacks
Dairy
Paper products, kitchen stuff, cleaning
Toiletrees
Seriously, if something is in the wrong spot on my list, I will for sure forget it. When I rewrite my OCD list, I put the quantity, brand, price and store next to the item so that I can quickly and easily price match at checkout.
When I re-write my list, I make sure to check the staples I always need to have on hand & see if there's anything I need to add to my list. Examples:
Olive oil, salt, pepper
COFFEE and cream!!!!!!!!!! THIS IS VERY IMPORTANT.
Milk & eggs
Formula
I also check my magnetic pad on the fridge. If we run out of something or if I use the last bit of a random ingredient during the week, I write it down here. Otherwise I will for sure forget it.
8. Tips for checking out & price matching:
Walmart's price matching policy is they will match any current exact product price for any store within 50 miles, no ad needed. I always say the price and store, but I don't think you technically need the store name.
Four times EVER in the last 4 years that I've been price matching, I've had an employee say the deal sounded too good to be true, and check the ad book that they have in the store. One of those times, I had accidentally grabbed the wrong size item. The other times, it just really was a great deal, and they honored it.
In order to make price matching easy, I do the following:
Double check the size/ exact specs & write it on my list so that I don't cheat the system. If the 20 oz bottle is on sale for $1.00, you can't get the 30 oz bottle for $1.00.
Put all the price matching items at the end and before they get to those items say, "I'd like to price match everything behind the lettuce," or whatever.
Be REALLY nice to the checker because it's slightly more of a hassle for them. We should be nice to the cashiers anyway.
I now recognize a few cashiers who have made price checking really easy, so I go to their line if they're working when I'm there.
If you have anything that is SO SO SO much less than regular value (like 75% or more), you might have that store's mobile ad pulled up on your phone in case the cashier asks to see the ad. I never do this, but all those 4 times they had to look up the ad, I wished I just had it with me.
ALDI
Aldi is the cheapest for almost everything. If you shop there exclusively, that will probably be the cheapest. I used to think Aldi was gross and weird, but here's why I changed my mind.
I usually end up alternating between Aldi & Walmart because there are a few things we don't buy at Aldi:
Meat
Coffee
Toiletrees
Brand name salad dressing- we are salad dressing snobs. It's weird, I know.
Random things Aldi doesn't have.
What do you think? Do you price match? Does this sound like it'll make price matching easier for you?
p.s. In order to make this work for you, google something like "price match list blog [your city]" and see what comes up. Once you find a good site, flag, favorite, or bookmark it, then get in the habit of checking it as you make your list.
If you find or use another site in one of those cities, or a different city, let me know in the comments and I'll add it to this list for other readers' convenience!