Some of the links on this page are affiliate links. When you make a purchase through an affiliate link, I earn a commission at no cost to you. See my entire disclosure policy for all the boring details.
Today, I'm going to tell you exactly what you need to make a cheap grocery list that your family will love. And yes – healthy options are included!
If you're tight on funds and trying to save money on your grocery bill, I can totally relate. I also know personally how hard it can be to stay creative with meals while figuring out how to keep the food budget low. I worked hard to keep our grocery expenses LOW for several years while living on student loans in grad school (with a baby) and while trying to payoff the debt from grad school!
First, I'll share ingredients that will work whether you are making a cheap grocery list for college students, a budget grocery list for family, or just a cheap grocery list for one person. These are the essential foods for a relatively healthy grocery list on a budget.
Then, I'll share several simple meal ideas for cheap meals that even our kiddos love.
Finally, all these grocery list ideas will be available as a printable grocery shopping list at the very end of the post!
Read on to see which foods made the cut for a basic grocery list for a tight budget.
Dry Foods
1. Canned or Dried Beans
Beans are a must-have because not only are they nutritious, but they can be used in so many ways! From vegetarian tacos to soups and salads, they're not only healthy but budget-friendly. I prefer working with canned beans, and they're not that much pricier. I love this slow cooker chicken enchilada soup with black beans.
2. Bread
Bread is one of the cheapest foods to buy that can be incorporated into any meal of the day… from yummy PB&J sandwiches to savory garlic toast. Stick with whole wheat for a healthier option; it's usually only a dollar or two more than white bread.
3. Rice
Whether you prefer white or brown rice, it's a must-have budget food, especially if you're vegetarian. You can use it as a side, or as part of a main dish such as a veggie stir fry. You can even get creative and incorporate it into a dessert like pudding. Brown rice is a more nutritious food option since you get some whole grains in while eating it. Here's the secret to perfect brown rice.
4. All-purpose Seasoning
You can give an extra kick to any dish with this kitchen staple. Goya all-purpose seasoning is one of the most versatile. Fresh seasonings are great–but when you're on a budget, processed ones are a good alternative as they will last you much longer!
5. Flour
If you really want to learn how to eat cheap, you will want to have some flour on hand in your pantry. Flour can be used for a variety of homemade dishes like pancakes, dumplings, or flatbread. It's also a key ingredient if you plan on baking desserts!
2 budget-friendly flour based recipes we love are: these easy pancakes & simple beer bread
6. Pasta
Tasty, filling, and cheap–pasta is one of the easiest items to use for an easy-fix dinner. You can top it with your favorite ready-made pasta sauce or get creative and throw together a pasta salad with some veggies.
7. Lentils
For less than two bucks, you can buy a bag of lentils to whip up a healthy meal for your family. Lentils pair great with veggies like green peppers, potatoes, cilantro, and onion.
8. Oats
There are so many ways to use dried oats! From breakfast oatmeal to oatmeal cookies, you just can't go wrong. An enormous $7 bag of oats can last us months. My dairy-free friend told us she uses oats to make creamy oat milk using a blender. Who knew!?
9. Ramen
This list wouldn't be complete without pre-packaged ramen noodles. It's a super cheap option that you can spice up by adding veggies, meat, or your favorite seasonings. Channel your inner college student and buy your kids some ramen. They'll probably think it's hilarious!
Budget Bytes is an awesome food blog for cheap recipes & they have some fun "upgraded" Ramen recipes here!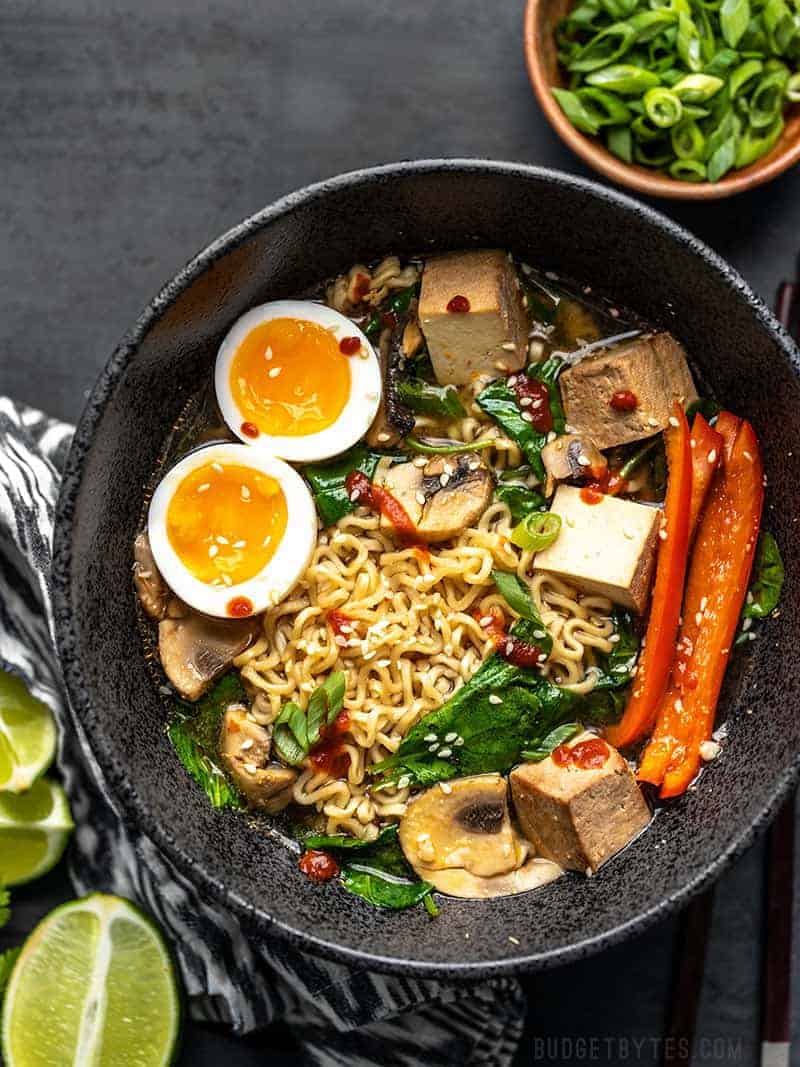 Dairy Products
10. Eggs
If you only eat eggs at breakfast time, you're seriously missing out! Eggs are a perfect topping for salads and can be used for a variety of dishes like egg rolls or soup.
11. Milk
Milk is a great choice not only for drinking, but other uses as well such as baking or sweetening tea. For a tasty treat, have it with a side of home-made cookies.
12. Yogurt
Most grocery stores will carry an affordable yogurt brand and it can be a great snack for you and your kids. You can add cereal or fruit to it for a breakfast option or mid-day snack. I love plain yogurt with some honey & granola.
13. Cottage Cheese
I wasn't sure whether to put this in the dairy or snack category. But it's one of the more nutrient-dense foods you can count as a snack. Check out these ideas for different ways to enjoy cottage cheese too.
Fruits & Vegetables – Best Tip!
I know fresh produce can add up, so I'll try to help you think through some of the cheapest fruit options for a healthy diet. A great way to eat healthy meals on a budget is to plan multiple meals with the same produce. That way, you'll minimize food waste. Think of 2-3 main fruits or veggies to meal plan around for an entire week and that'll stretch your food dollars the farthest.
One of the best ways to get a lot of produce for a reasonable price is to check your local grocery store ad for their produce loss leaders. Look up the lowest price fresh food options on sale that week & meal plan around those few items.
14. Cabbage
If you're opting for healthy food on a tight budget, you want to make sure that cabbage is on your grocery list. It's a great addition to soups or salads, and also tastes amazing when lightly fried.
15. Lettuce
Lettuce can be used for salads, wraps, and a variety of other simple recipes. Try a classic caesar salad, or crunchy chicken lettuce wraps with some teriyaki sauce. Skip the pre-packaged lettuce to save money! If you wash and chop your own lettuce, you get way more bang for your buck.
15. Potatoes
Potato salad, mashed potatoes, home-baked fries–the possibilities are endless with this budget-friendly food. Potatoes are one of the best cheapest foods to live on because of how filling and versatile they are. If you have a large family, you can buy a large sack of potatoes for a good price and use them throughout the week in a variety of dishes.
IDEA: See if your kids want to scrub the potatoes to save yourself time! They might think it's fun to be included in a legitimately helpful task for making dinner. Otherwise, I sometimes pay my kids $1.00 to help with stuff like that – outsourcing at it's finest 🙂
16. Sweet Potato
Not only are sweet potatoes super nutritious, but you can eat them as a side dish or stand-alone meal. For an easy lunch option, just top a baked or boiled sweet potato with a fried egg and yummy ranch sauce.
17. Zucchini
Zucchini is pretty mild and very flexible in recipes. My kids were skeptical at first but they've grown to like it in most dishes I make. Here are several ways we use zucchini:
As "zoodles" in place of noodles if trying to eat healthy
Chopped in half slices and sauteed in oil, salt & pepper as a side veggie.
Food processed and added to any homemade sauce or soup. (A good food processor has been an AWESOME addition to our kitchen. If you're making most of your food at home, I highly recommend getting a high quality food processor. It goes a long way in food prep!! This Hamilton Beach one has over 12,500 5-star reviews and is under $60! Worth it!!)
18. Chickpeas
With the right seasoning, chickpeas are a delicious and flavorful dish. They can be used in soups and salads, as well as a variety of international dishes. This is the homemade hummus recipe I use 🙂
19. Spinach
Spinach is a must-have if you want to keep a healthy diet while eating cheap. Highly nutritious, you can serve it raw or cooked. Spinach is rich in vitamin A,C, and K, as well as magnesium, iron, and manganese. It has a slew of other health benefits and is a great add to fruit smoothies. I buy the cheapest big bag of fresh spinach & freeze it for a long time to add to smoothies and soups.
I make a green smoothie several days a week that all 4 of our kids LOVE! It's water + green grapes + banana + pineapple + ice + spinach. I buy frozen pineapple in a huge bag and just thaw it for this recipe. We were gifted a Vitamix one year for Christmas that I love, but if that's not in your budget, any high quality blender will do.
20. Carrots
Carrot sticks and ranch sauce are a great healthy snack for kids. You can also roast or saute carrots with garlic and onion powder and serve them with rice or chicken on the side.
21. Onions
Packed with flavor, onions are a kitchen staple! Not only are they low-cost, but you can use onions to bring any dull-tasting dish to life. I hate cutting onions, but my "tricks" are to only breathe through my mouth while handling them and then toss big pieces in my Ninja chopper as fast as possible. (That thing is awesome!! It's like a mini food processor, and I use it all the time for onions, nuts, fresh herbs, veggies, etc.)
I try to do 1-2 large onions at a time and refrigerate the amount I don't need for the current recipe. That way, I always have onions ready to toss in something quickly.
22. Bell Peppers
This vitamin-C rich veggie adds amazing flavor to your dishes, but can also be eaten as a healthy snack. Look for them in 3-6 packs to save money.
23. Canned Tomatoes
Buying fresh tomatoes can get a bit pricey, so if you're on a budget canned tomatoes are a great alternative. You can get a larger quantity than what you normally get for the same price!
24. Cucumbers
Pair this refreshing veggie with some tomatoes and cilantro for an easy salad option, or slice them up and eat it with your favorite dip! Sometimes I grab a bag of the mini cocktail cucumbers and my kids gobble them as a healthy snack!
25. Mushrooms
Mushrooms are uber delicious and can be cooked with chicken, pasta, or your favorite stir fry combo. So rich in flavor–you won't want to leave them out of your grocery list!
26. Oranges
Oranges are a perfect budget-friendly option if you want to add some fruit and vitamin C to your diet. We love the mandarins or clementines through fall and winter, when they're in season. Buying fruit that's in season is cheaper and it tastes better!
27. Banana
Bananas are probably one of the cheapest fruits you can buy–and they are very filling. Use them to satisfy your sweet tooth by cutting them up and mixing with some almond butter, or freeze and blend them to make homemade "ice-cream."
28. Apples
Apples are THE staple fruit in our house. You can buy whatever variety is on sale. When I shopped at Aldi more regularly, I always sprung for the Honeycrisp apples because they had amazing flavor and Aldi carries them at a relatively low price compared to other stores.
Sliced apples and peanut butter is a go-to snack for kids. You can also use apple bits as a tasty topping for your salad.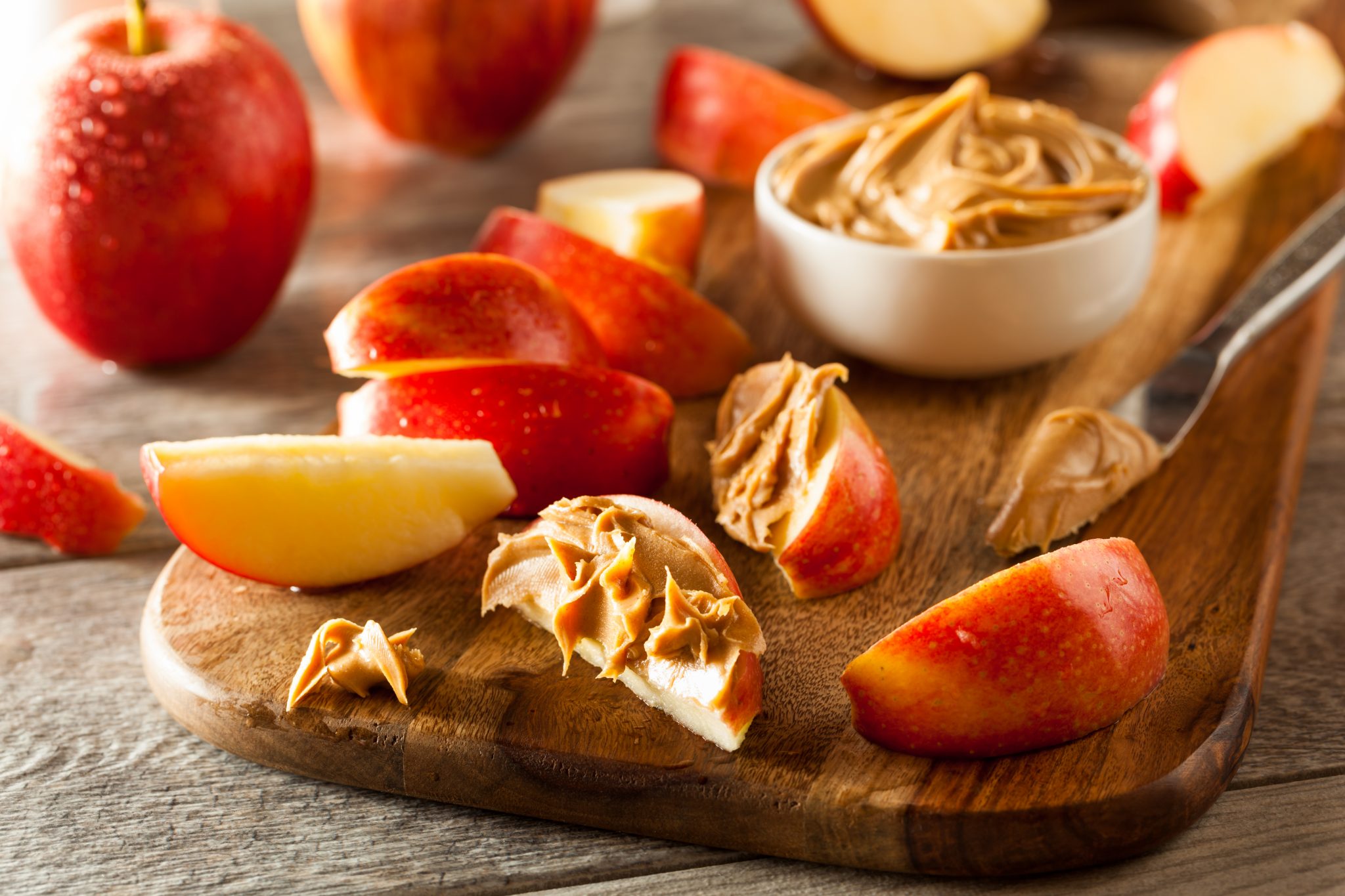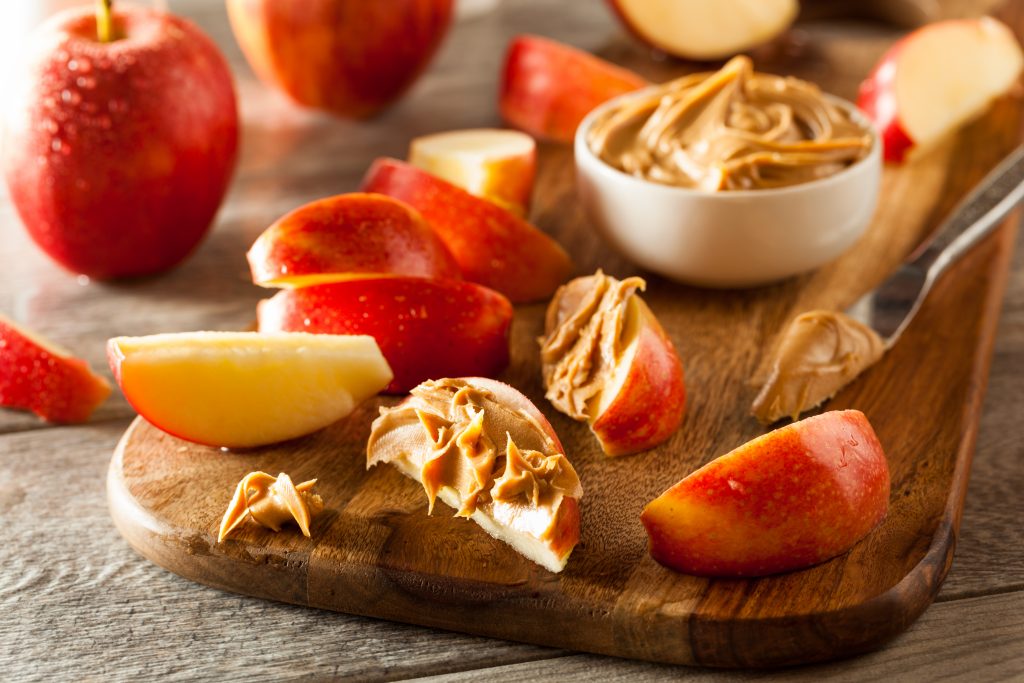 Foods For Quick Meals
29. Frozen Fries
Frozen french fries are fast & easy and can make basic grilled/ baked chicken extra fun! You can toss them in your oven with some oil and pair with your kids favorite veggies. Lately, we've enjoyed sweet potato fries too!
30. Frozen Vegetables
Fresh vegetables are great, but when you're on a budget buying frozen veggies can help you save even more. They will also last longer, so you don't have to worry about them going bad in the fridge if you didn't get to cook much that week.
31. Mac and Cheese
The number of ways you can use Mac & Cheese are endless. Spice up this classic american dish with veggies, sriracha, tuna or nearly any topping. If you have a large family, you can buy the family size box or a few extra boxes to eat leftovers throughout the week.
32. Frozen Pizza
I try to always have a couple frozen pizzas on hand for the nights I don't like cooking. Our favorite cheap ones are the Sam's brand (at Walmart) rising crust pizzas. They are under $3 where we live, and actually really good! Way cheaper than last minute takeout.
Meat
In general, the name of the game for meat is:
Shop around the sales
Buy meat that's on clearance because of expiration dates being close & freeze it immediately
Fill in some whole grains & veggies so you can consume smaller portions of meat
33. Ground Beef
Ground beef isn't the cheapest item on this list, but it's easy to work with and it can be frozen or cooked ahead of time to make for easy meal planning & prep. Plus, a $3 pound of ground beef can be stretched a long way in sauce.
If you buy the family size (5lbs or more), the price goes down. You can divide it up into 1-2lb portions and freeze the extra for another night.
34. Chicken Breast (Cheaper in bulk)
My biggest grocery budget tip for using chicken breasts is to buy them in bulk. You can trim the fat off all of them in one 15-minute session and freeze them in packs of 2. Then you have the convenience of pre-portioned out chicken at a low cost. AND you're not paying for all the things they add to the ones you can buy frozen at the store.
You can defrost the chicken in the morning, lather in your favorite sauce, and bake in the oven. Here are some other ideas for prepping dinner in the morning.
35. Canned Tuna
Canned tuna is perfect for lunch sandwiches or tossing in your favorite salad mix. You can also use it as a dip with some whole grain crackers. Since fish can be a bit pricey, it's a great alternative to get your seafood fix for the week.
36. Ground Turkey
If you want an easy, protein-packed dinner, marinate your ground turkey in your favorite sauce and serve over freshly boiled pasta. You can also use ground turkey to make delicious tacos and wraps.
37. Pork
My new favorite thing to make is shredded pork in our Instapot. (You can buy them for under $100 now… or check Facebook marketplace/ craigslist. I scored mine brand new secondhand!) You can search for something like "easy Instapot pulled pork" and get a bunch of good ideas. Typically this is easiest with a pork butt roast cut of meat. For $6-12, you can get a pretty big size. The result is super flavorful meat for very little work.
Plus, it reheats really well so you can even plan to make enough for 2 different meals or leftovers.
Or if you're cooking for only 1 or 2 people, you can freeze the cooked meat (always label your bag) and thaw it for an easy ready-made dinner another time.
SHREDDING MEAT TIP– at the recommendation of a friend, we bought Bear Paws Meat Shredders. They make the dreaded meat pulling task tolerable! It's such a random kitchen item, but we use them weekly & I gift them to people too 🙂 So worth the $13.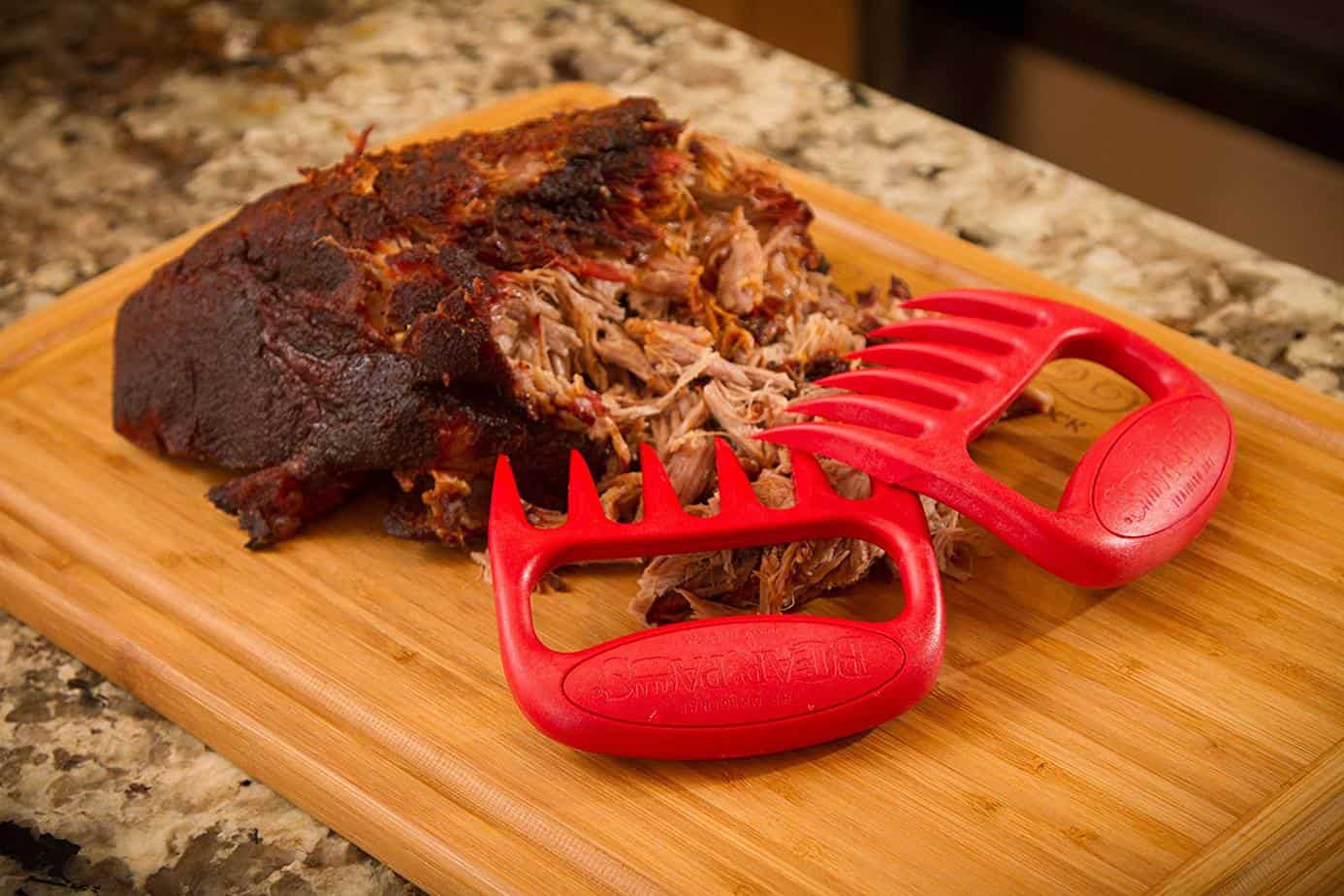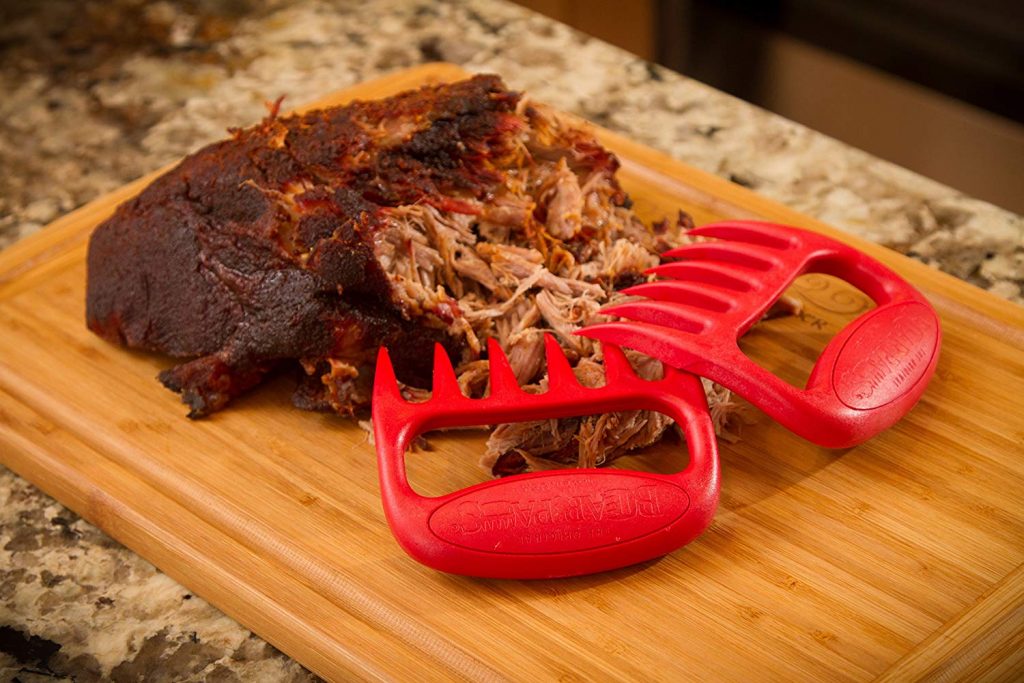 Drinks & Snacks
38. Cookies
If you're craving sweets, you can find a package of cookies for under $2 at almost any grocery store. My kids love the generic brand of vanilla wafers! Not as good as homemade, but hey, 1-2 packages of store bought cookies could last a family of 4 a week for only $2-4.
39. Homemade Popcorn in the Microwave
If you're looking for cheap treats that your kids will love, this popcorn popper is so cool! If you have one of these, you can have amazing homemade popcorn any time. You can buy a jar of kernels for around $3.00, and it'll last way longer than a box of microwaveable popcorn. Plus it's way healthier & tastier, especially if you grab some special popcorn seasoning.
I love gifting this popcorn popper with a jar of kernels and this 4 pack of seasoning.
40. Water
I know this sounds silly and obvious, but if you're on a tight budget, stick to tap water. Juice, soda, flavored water, bottled water, etc are all unnecessary expenses. Juice & soda in particular are full of sugar and get expensive quickly! We bought all our kids a stainless steel refillable water bottle and they use it at all meals, bedtimes, & outings.
41. Generic Brand Snacks
Store brand "corn chips" are like half the price of Fritos. And Aldi is by far the cheapest place to buy snack food! (Or Costco if you only buy the snacks that are on sale. But I typically don't recommend the big membership grocery stores for people on an extremely tight budget. It's too easy to overspend at those stores.)
Seasonings & Condiments
42. Salad dressing
Dressing is great not only for salads, but marinating meat or using as a veggie dip. You can even make your own from oil + vinegar. I started out making homemade dressing for convenience & to save money. But now, we're kinda homemade dressing snobs. It tastes so much better than store-bought alternatives. Plus, homemade dressing usually has less sugar too!
Here are our favorite homemade dressings:
And this is my all time favorite kitchen tool for storing home made dressing.
43. Chicken Broth (Large Size)
I keep several 32 oz containers of chicken broth on hand for homemade sauces & soups. Sauce and soup are both good ways to stretch your meat.
44. Peanut Butter
You can use peanut butter for a classic PB&J, or use it as a dip for healthy snacks like apple slices or bananas.
45. BBQ Sauce
We keep BBQ on hand at all times because we grill meat a lot. Our kids love to dip the meat in BBQ sauce, especially the kids who don't like meat as much. Haha!
46. Pantry Staples Seasonings
The basics I always have on hand are: salt, pepper, garlic powder, onion powder, season salt, and a multipurpose seasoning. I usually also have some of the other staples like dried oregano, dried parsley, and dried basil. You can buy most of those (except a multipurpose seasoning) for $1.00 and they're great for making your own sauces or seasoning a basic recipe.
47. Olive Oil – Cheapest, Healthiest Oil
It seems like there is more research every year about things that are considered unhealthy foods. Seed oils are up there these days… namely, canola oil. Avocado oil and coconut oil are the healthiest oils, but they're pricey too. A high quality olive oil is one of the most affordable options.
Printable Cheap Grocery List PDF
I put all these items on a free printable grocery shopping checklist if that's helpful to you! Plus, there is a blank grocery list template and a couple meal planning templates you can print.
There you have it friends. I hope you find my list of cheap groceries helpful! The bottom line is you have to get a little bit creative & disciplined. But if you do a little planning ahead around what's on sale, you can shop the perimeter of the store on a budget and still make meals that your family will love!
Now that you know what cheap foods to focus on at the grocery store, there are 2 other keys to saving money on groceries:
Hope these posts help you cut down that grocery budget!!