Some of the links on this page are affiliate links. When you make a purchase through an affiliate link, I earn a commission at no cost to you. See my entire disclosure policy for all the boring details.
Confession: I've use to think Aldi was gross. I thought that you would only shop at Aldi if you had to. And if you could possibly afford to shop anywhere else, you obviously would, because ew, Aldi.
I don't know why I thought that, and seeing as how I've done most of my grocery shopping at Walmart the past several years, I definitely don't consider myself a grocery store snob.
But still, I turned up my nose at Aldi.
Oh how I was wrong! Aldi is now one of my favorite grocery stores which of course is why I'm going to write this ultimate Aldi review for you – complete with our favorite Aldi products, hacks and tips. Plus, a few Aldi products to avoid!
FYI – the first version of this post was originally written in 2015, when we had 2 small children and were paying off mounds of student loan debt. I had JUST discovered Aldi and switched to shopping there for my regular grocery trips.

It saved us SOOOO much money during those years.

I expanded and updated this post in 2020 and still LOVE Aldi!!
First, I'll explain all the reasons Aldi is awesome.
Secondly, I'll answer all the Aldi FAQs I've heard and give some tips for shopping at Aldi for the beginners out there!
And finally, I'll list the best Aldi products and what NOT to buy at Aldi.
For those of you that just want to jump down to your specific question, here's a fancy schmancy table of contents, at your service!
PART 1 – 7 REASONS ALDI IS AWESOME
#1 – Aldi is Easy to Get Through
The Aldi stores are small. And all the moms with small children said, "Hallelujah."
You know those tiny city markets that all those super cool city dwellers have to pay extra money to shop at? Aldi is like that. But cheap.
Seriously, there are 5 aisles.
If I am shopping at any other store, and realize that I've forgotten something towards the end of the trip, I usually begin having a nervous breakdown. Because look at my cart…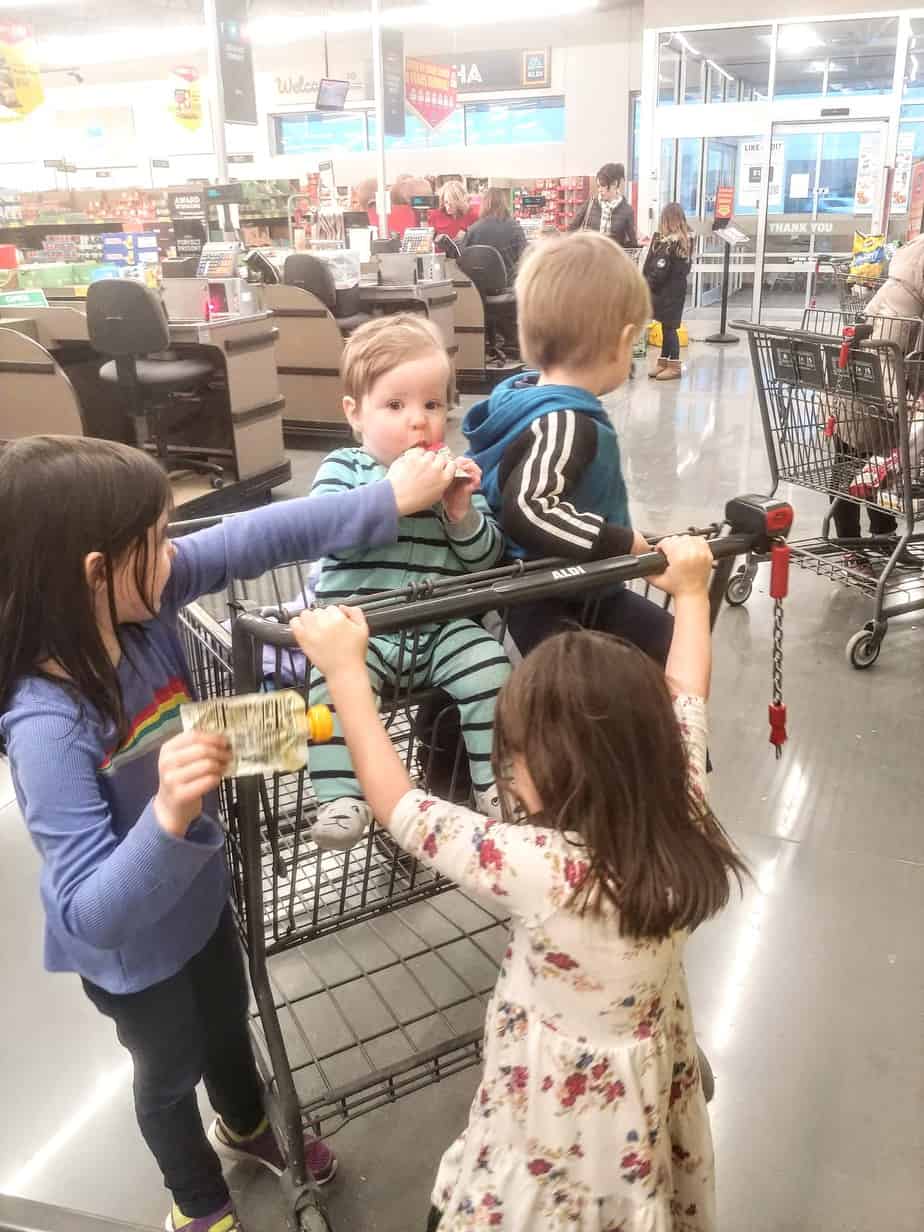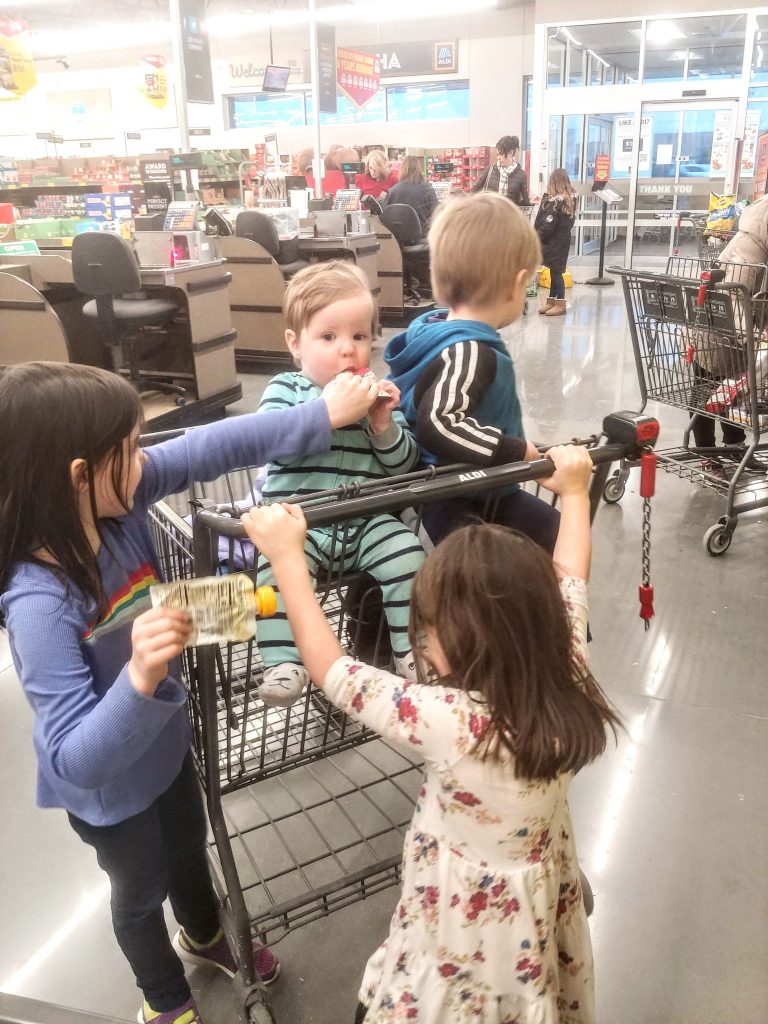 I mean, I've gotten to the checkout line at a Super Walmart – after walking 1.2 miles around the whole store, stopping at the bathroom for a potty break, and answering "no" 5,291 times to requests for candy – and realized I forgot something.
Nope. We just do without. Not worth it.
But say, the item I forgot is something essential like diapers or wipes or hummus…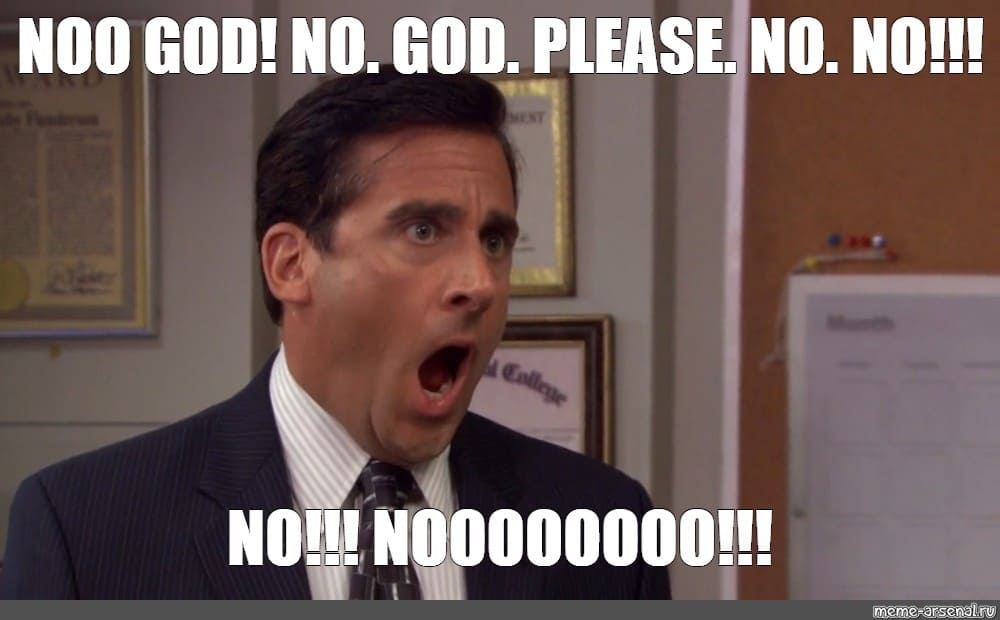 I would break down in tears, forfeit my spot in line to go fetch said item, thus adding another 15 or 20 minutes to our trip.
I cannot tell you how much I love the size of Aldi.
Especially when I have my littles with me. Usually, it takes less than 30 minutes to get all our groceries AND BAG THEM.
30 minutes, y'all. I WOULD NOT JOKE ABOUT SUCH MATTERS!
And in case you think I'm being dramatic to make a point… this lady confirms it. See her second point – 30 minutes, she claims!
2. Aldi has cheap organic options.
Now some of my all-time favorite people and best friends are of the organic or keto or gluten-free or paleo-eating variety.
I am not.
We just try to keep snacks relatively healthy, eat veggies at every meal and call it good.
That being said, Aldi has a lot of organic options that are cheaper than their non-organic counterparts in other grocery stores.
A couple years ago, Aldi expanded "their organic-food brands, removing some artificial ingredients from its products, and adding more gluten-free items in hopes of attracting more health-conscious shoppers" (source).
These days, they're in the middle of a massive expansion and widening their healthy products offerings! Amazing! (Source.)
If you have food allergies, or don't like dyes or whatever… Aldi is your place. Heck, you can even eat Fruit Rounds because all the cheerios are "dyed" with vegetable powder.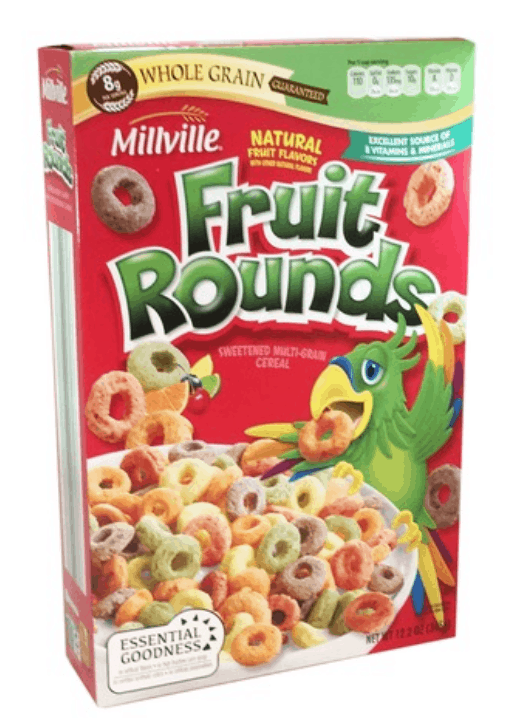 Peggy Woodward, a dietician shared some of her healthy favorites at Aldi including:
Greek yogurt (30-70 cents cheaper than name brand at other stores),

Chia seeds

Dried fruit and nuts – typically Costco is still cheaper for these but a lot of families won't eat through Costco portions

Produce – their produce prices can't be beat!

Dried Pasta

Chicken Sausage
Even if you're not into organic-everything… Aldi's prices on basic, real food are really hard to beat! Especially if you don't want to buy in bulk!
3. Aldi has fewer choices. This is a huge pro!
At most big grocery stores, there are SO many choices.
At our Walmart, there are 11 varieties of peanut butter, 4 brands of cheese, & 5 brands of sour cream. I counted. (Not really, but you get the idea.)
Even if you know exactly what you like, it still takes a fair amount of time to find the one you want. And if you're on a tight budget, you might be like me… busting out my phone calculator to quick compare unit prices!?
Enter Aldi. There is 1 choice for everything.
Maybe 2 at most.
Peanut butter is peanut butter. Just grab it and go.
One brand of tortilla chips, one brand of coffee creamer, one brand of eggs, one brand of butter. Just one.
No price comparing or coupon cutting or searching the 7 shelves of soy sauce for the perfect kind.
We love almost all the Aldi foods we've tried. Some I like even better! (Like their tortillas, hummus, ice cream, fancy cheese, cucumbers, snacky foods, and sourdough bread!)
The only 2 things I REALLY didn't like there so far were the coffee, salmon, and ground beef. And they gave me a refund.
Because they have an awesome double guarantee that if you don't like a product of theirs, they'll replace it with the brand name & give you your money back.
They only sell store brands exclusive to Aldi, kind of like Trader Joe's. But we love a lot of Aldi's store brand food.
4. Aldi's checkout is so fast.
Depending on where else and what time of day you shop, you may or may not have to wait in long lines. I hardly ever have to wait in long lines at Aldi. And even if the line is crazy long, their cashiers are INSANELY fast.
The longest I've waited is 5 minutes. Maybe. From what I've observed, Aldi's crazy-fast checkout lines are mainly caused by a couple things.
For one, Aldi is not a one-stop-shop. While they have a lot of basics, you can't buy EVERYTHING the average household uses, so people tend to have smaller loads to purchase. Granted, I'm the exception to this…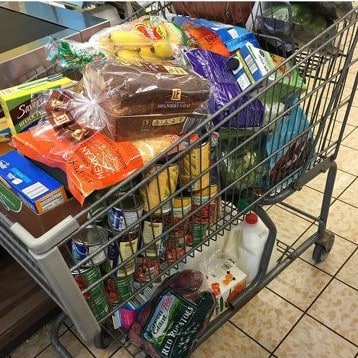 (The people behind me might have had to wait longer than 5 minutes… oops!)
Also, they have a separate area where you bag your own groceries after you pay, which cuts down on checkout time.
Plus, every employee in the store knows how to ring and is supposed to help keep the lines short. If the lines get long, the guy restocking milk hops on and opens another lane.
Which brings me to reason number 5 for why Aldi is the bomb.
5. Maximum Efficiency = Saving Money on Groceries
Aldi is super efficient. As someone who appreciates efficiency, I love their philosophical reasons for doing what they do.
One of the reasons Aldi is cheap is because they are an extremely efficient organization. (This, by the way, is the fascinating article that convinced me to jump on board the Aldi train. She talks all about their efficiency.)
Their food isn't cheap because it's lower quality. It's cheap because they cut costs elsewhere and pass the savings on to the customers.
6. Random Acts of Cart Kindness
One of those cost-saving policies is the rent-a-cart thing. All the carts are corralled right in front of the store instead of throughout the parking lot.
This cart corral saves Aldi from having to pay employees to collect them. You bring a quarter with you, use it to unlock the cart from the others, and then you get your quarter back when you return the cart.
For me, with small children, the whole return-the-cart-thing was a big hassle.
After all, I am an expert at finding parking spots next to the cart corral in the parking lot so you can unload your cart, your kids and return the cart all in one quick motion.
Is it annoying to carry my purse and the baby's 27 pound car seat while holding my 2 year old's hand across the Aldi parking lot in the 15 degree weather? (Midwest problems.)
Yes.
But, most of the time, I don't have to. Because Aldi shoppers are so stinking nice.
Somehow this inconvenient-money-saving-cart-policy encourages smiley customers & frequent random acts of cart kindness.
No one is grumpy while trying to get carts out – people help each other and give away quarters if needed. If someone is finishing up unloading their groceries in their car and sees me coming, they'll just walk their cart over to me and I give them my quarter.
Often people don't even accept my quarter though. [Something about my yoga pants, spit-up stained tee, and yesterday's make up smeared under my eyes must scream "please just give me your cart for free or I might accidentally squirt you with the pear-prune puree pouch my toddler is eating."]
I get their cart to transport my kiddos safely across the parking lot & they don't have to put it back.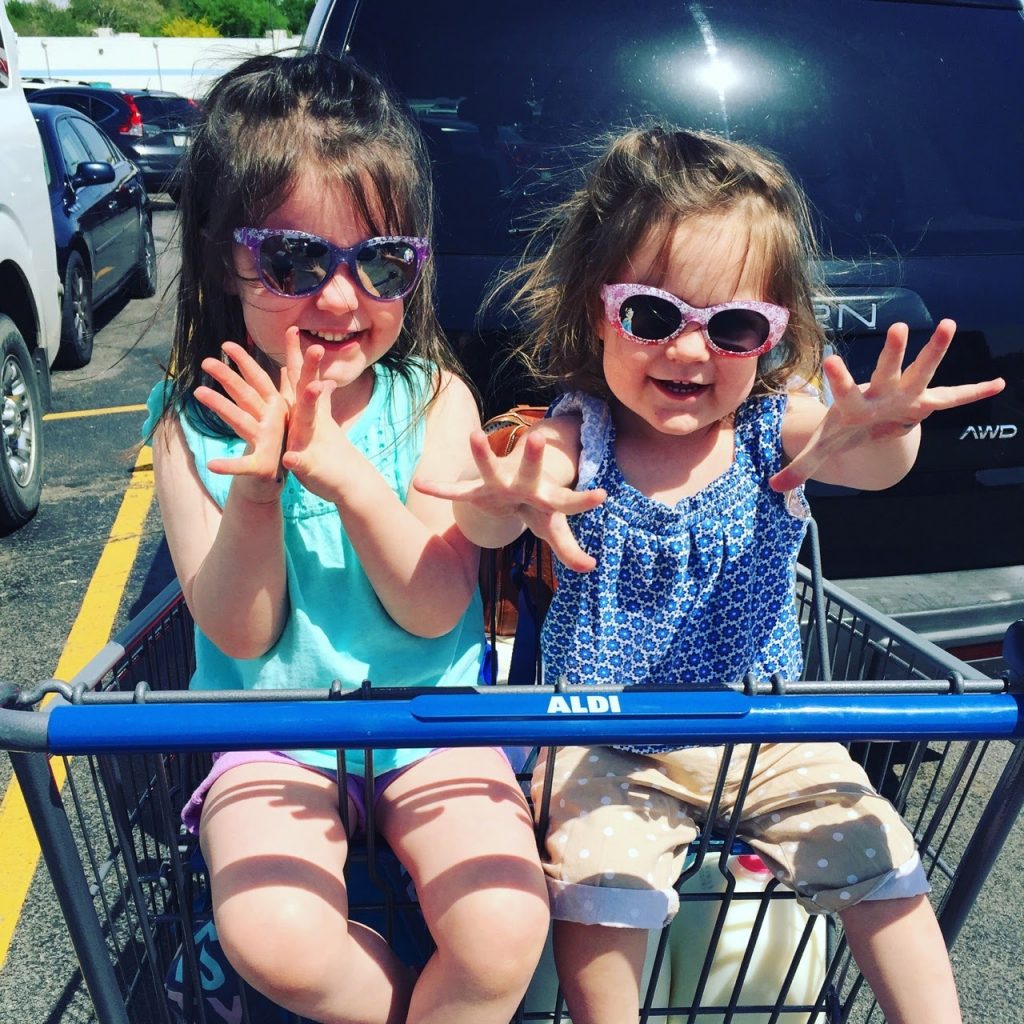 Everyone's a winner at Aldi.
One time when I was at Aldi with my 3 month old and almost-2 year old, a man gave me his cart and wouldn't take my quarter.
He started to walk away but then turned around.
He said to me, "I just came from visiting my wife of 63 years. She has bad alzheimer's and doesn't remember anything of our life together, except that she likes these suckers. (He took a lollipop out of his pocket.) I go see her every day and bring her one of these every day. I have extras at home though. Would your daughter like one?"
Yes I'll take your lollipop and your cart and your inspirational long-suffering-marriage stories.
Can I hug you? Now excuse me while I get in the car and sob all the way home.
7. Aldi is Cheaper than Every Other Store
While all the other reasons are things I like about Aldi, the low prices take the cake for me. When I first started shopping at Aldi, we were on a crazy-tight budget, attempting to pay down our student loans at unprecedented speeds.
So, I would pinch pennies and buy most of our groceries at Aldi.
And when the speedy cashier rings up my 47 items for $32, I gladly fork over the cash (we used THIS cash envelope system) as I try to fend off my toddler from hitting that 'cancel' button at the register.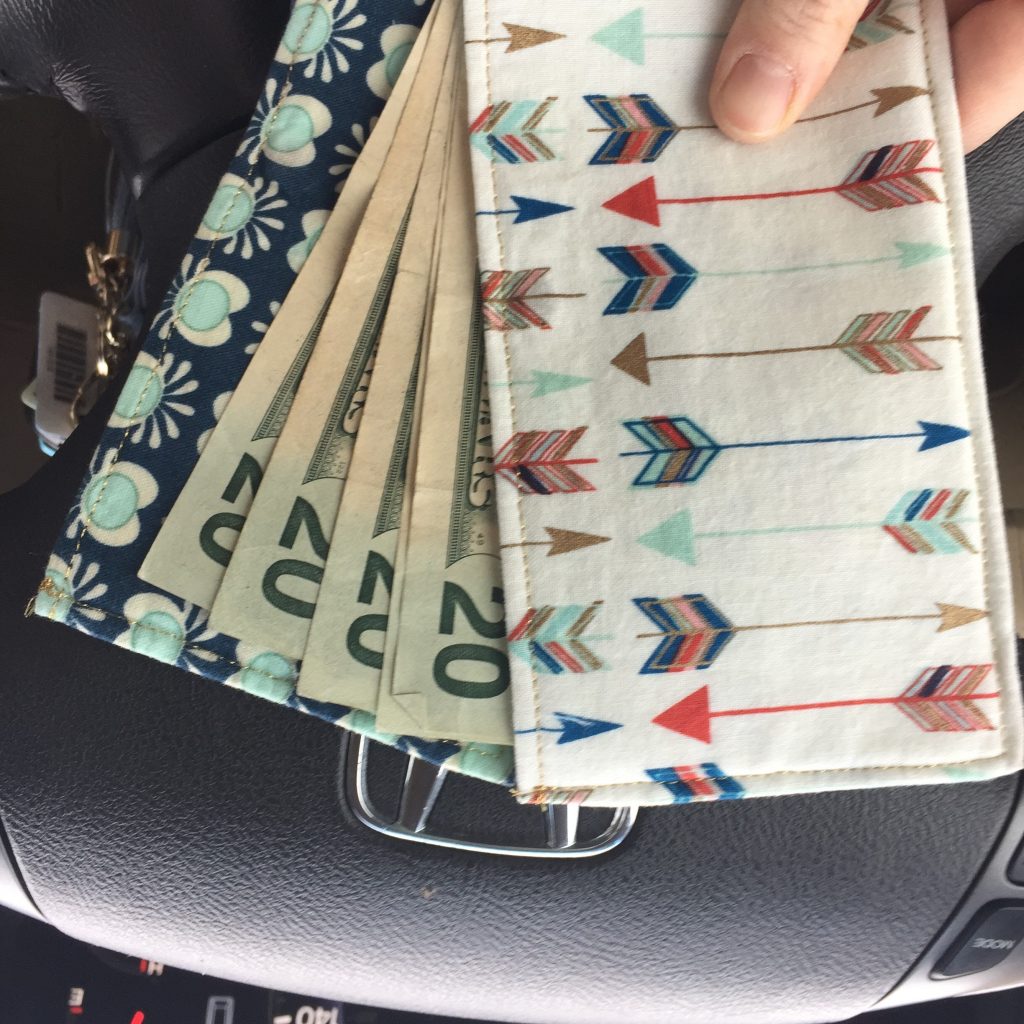 Aldi, you can have my money and my smiles and my heart. Because you are small, and well-stocked, and efficient.
And you have friendly workers and polite customers and my grocery budget loves you.
Related: How much should I spend on groceries?
---
PART 2 – ALDI FAQs + TIPS
8. Do you need to be a member to shop at Aldi?
Nope.
9. How do you pay at Aldi?
However you want! (Almost)
Aldi used to only take cash & debit cards, but now, according to their website, "We welcome cash, Visa, MasterCard, Discover, American Express, most debit cards, the Electronic Benefits Transfer (EBT), Link cards and contactless pay such as Apple Pay and Google Pay. At this time, we do not accept checks or the Women, Infants and Children program (WIC)."
10. Why is Aldi cheap?
Namely because of the way they run the store…
11. A few number of employees are hired to do lots of tasks.
12. Lots of employee tasks are streamlined or eliminated, making the store operate for less $$. (For example, employees don't shelve individual items, or chase carts in the parking lot.)
13. They have 2 bar codes on every item which makes ringing up products FAST.
14. The stores are TINY compared to other big grocery stores, lowering overhead costs to keep the building open.
15. Speaking of which, Aldi is only open during peak business hours, rather than 24/7 like many large American grocery stores.
16. etc etc etc.… tons of things like this make Aldi's operating costs lower, and they pass on the savings to their customers!
Related: Step by Step Guide to Monthly Meal Planning – it's faster & easier than weekly!!
17. How does Aldi work? Here are beginner tips for shopping at Aldi.
It mostly works like a normal grocery store…
Go, pick out food, pay for the food, take it home.
Here are the Aldi-specific things that might be unique to Aldi, depending on where you live and what's typical in your area:
18. Bring your own bags (or buy them for 7 cents there).
19. There are no self-checkout lanes.
20. If you want to use a cart, bring a quarter. You put the quarter in the cart slot to unlock it, then when you're finished using the cart, you lock it up again, and get your quarter back.
21. They don't have EVERY SINGLE GROCERY item. Especially uncommon ones. But, Aldi carries almost all of the basics.
22. Bag your own groceries after the cashier rings them up.
23. Be prepared when you get up to the checkout. It moves really fast and there is a cart swap! They keep an empty cart next to the cashier. You load your groceries onto the conveyor belt while the cashier scans them at lightning speed and loads them into the empty cart. Then you pay and take the new fully-loaded cart, leaving your empty cart behind for the next person's groceries.
24. Does Aldi take coupons? What about credit cards?
No coupons, but you can use checkout 51 to save a little extra if that's your thing.
YES – Aldi takes all major credit cards.
25. How much are Aldi bags?
High quality plastic bags at Aldi cost around 7 cents each – they can hold a lot and be reused for future trips.
Paper bags at Aldi are around 10 cents.
They sell giant reusable bags for $1.00-$2.00. The super large ones are perfect for light weight, bulky items like cereal, snacks, broccoli, etc.
26. Is the meat good at Aldi?
Yes and no and it depends.
27. Here are my "YES" meats

:
28. I LOVE buying the top of the line Aldi steak. The most expensive cut of steak at Aldi is REALLY good and half the price of standard grocery stores.
29. I used to buy their chicken breast in the family sized packages (for around $1.69/ lb!!). I would trim it all and separate it into bags for the freezer with 1-3 chicken breasts per bag.
Now, we have a Costco membership for buying food more cheaply in bulk and I prefer the Kirkland brand chicken breast since it is pre-trimmed and packaged in quantities convenient for individual freezing.
30. Aldi's frozen breakfast sausage is good! Both ground raw and cooked in links or patties.
31. Their bacon is good and cheap! Costco is cheaper though.
32. The quality and price on their fresh, organic, grass-fed beef is AMAZING!
33. Aldi's giant pork loins are a good value – again, can be cut down and frozen based on the quantity you need.
34. Chicken sausage – people RAVE about this!!
35. Here are my "NO" meats:
I do not like Aldi's…
Seafood or fish of any kind.

Lunch meat (except, we do like their Salami)
---
Part 3a – What to buy at Aldi, What NOT to buy & the Best Aldi Products!
Obviously, this section of the Aldi guide will depend on what you like and don't like. But here are our family's Aldi faves!
We already talked about meat in section 2, so I'll skip that!
36. Junk Food
Anything "junky" or boxed is probably cheaper at Aldi – chips, cereal, crackers, etc. all of it is cheaper at Aldi and almost all of it tastes good! Their salt + pepper kettle chips are AMAZING.
37. Their cereal is WAY cheaper than name brand. (Unless you're buying at Costco…)
38. THEIR GLUTEN FREE CHOCOLATE BAKING MIX MAKES AMAZING BROWNIES!!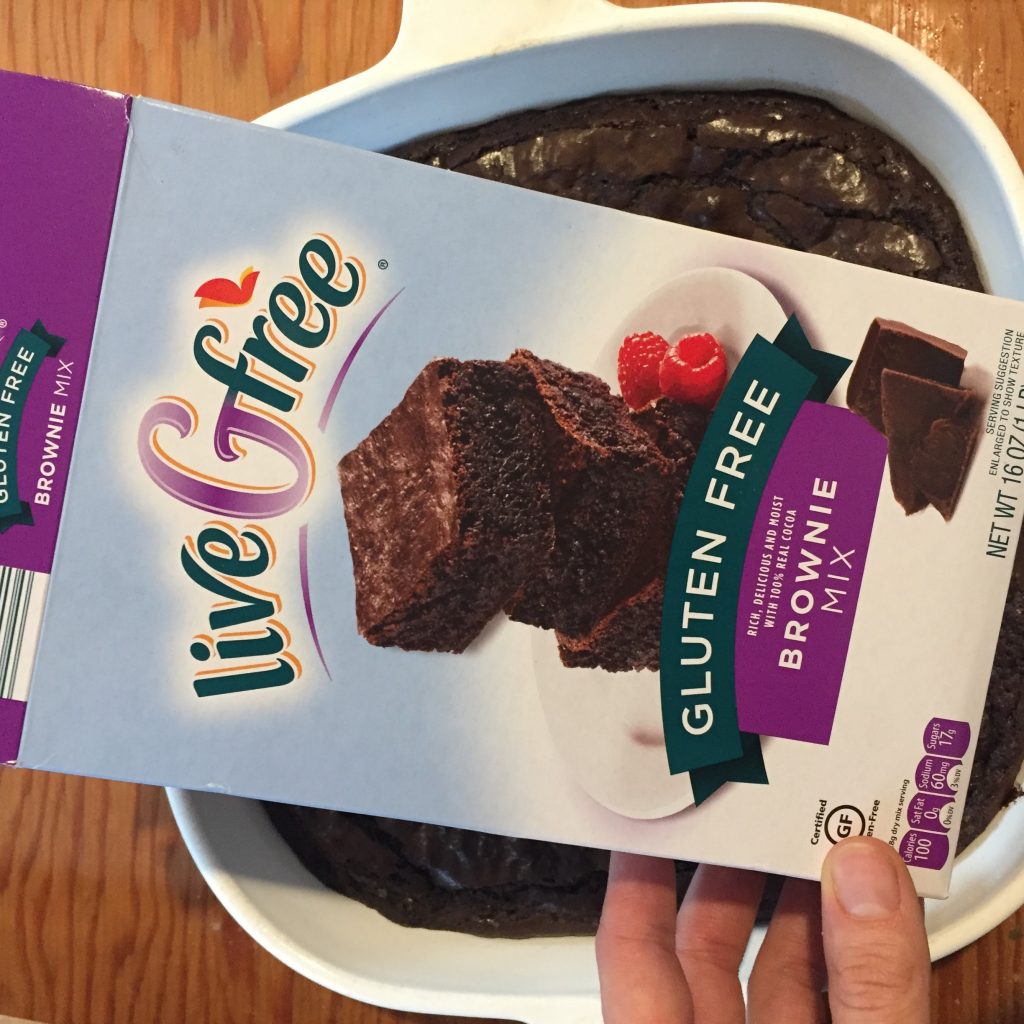 39. Oh and they have these little salted caramels that are deeeeelish.
SHELF/ PANTRY STAPLES
40-46. All of the following is cheaper than other stores and tastes great! Unless you are extremely particular about one type of item.
(For example, I know some people have a strong preference for name brand peanut butter, or fresh preserves or, whatever.)
Peanut butter

Jelly

Cans and jars of anything!!

Chips + salsa

Baking stuff

Basic spices – They have 9-12 basics in the spice department, nothing unique though! The 2 spices I use a lot that they don't carry are thyme and ginger. Womp womp!

Maple syrup
47-51. CARBS
Tortillas

Bagels

English muffins

Bread

Pasta
All of it yummy and cheaper!
DELI
52. "Fancy" cheese is a great price at Aldi – parmesean, blue cheese, feta, fun cheese for charcuterie boards, whatever!
53. Their fresh salsa is yummy, as is their pre-made guacamole (Large or in packets).
Related: How to Cut Your Grocery Bill
PRODUCE
54. Their "bargain buys" and "hot deals" for produce each week are insanely cheap. Like 16 oz of strawberries for 99 cents. Or blueberries or pineapple for the same price.
55-61. Most other produce is just priced between 5-40% below regular stores. It really depends! Near us, some our favorite Aldi produce items are:
Lettuce – $1.99 compared to $3.29 for the same size bag
Honeycrisp apples – $1.69/lb compared to $2.99 or even $3.29 per pound **PSA these are the best apples EVER. Crazy expensive everywhere except at good ol' Aldi!
Fruit/ veggie hot deals – this almost always dictates what fruit we keep on hand for snacking. Pears, pineapple, oranges, grapefruit, strawberries… whatever Aldi has on hand is what we snack on that week.
Bags of spinach – we add this to smoothies a LOT!
Avocados are often WAY less here.
Watermelon, cantaloupe & pineapple
Bags of those Halo clementines
If I'm there, I just buy all my produce there. Most of the other produce is pretty close to the price of Walmart though!
If you are accustomed to shopping at a local grocery store besides Walmart, you will be SHOCKED by how cheap the Aldi produce is!
Just a note – Some people complain their local Aldi has low quality produce – ours is almost always good!

If yours is consistently low quality, you might politely mention it or ask the manager! Just be friendly and say something like, "Hey I love Aldi for the deals but I've noticed the produce isn't a very good quality lately. I'm bummed because I love shopping here! Do you know if there's an issue with the supplier or anything!?"
FROZEN
62. Again, Aldi's junk food prices are hard to beat. So, sugar free popsicles, ice cream, chicken nuggets, frozen pizza, etc… All of that is cheaper at Aldi and yummy! Their ice cream is amazing, actually!
63. My family also loves breakfast sausage. (oops – this is a repeat of number 30. We just really like sausage I guess.) So I usually grab several boxes of their frozen, cooked sausage links too.
64. They have frozen fruit & vegetables at a good price too, although we buy a lot of that in bulk Costco.
Part 3b – What Not to Buy at Aldi
65-68. The few food items I've purchased at Aldi & REALLY not liked are:
Cheesy penguins (goldfish knockoff) – pale in comparison!

Aldi brand coffee – YUCK! I am not a coffee snob either. I like Costco's Kirkland brand coffee just fine. It's just personal preference.

Salmon

Seafood
69. Also, I don't buy toiletrees at Aldi unless I'm there and out of something I really need! Their prices aren't terrible, but they don't have a great selection.
70. Most prices for household items are more expensive at Aldi than ordering online. Target Restock, Amazon Prime, and Walmart Pickup have the best prices for toiletree and household type items. Plus sales at Costco!
So, are you an Aldi convert?
What do you think!? Clearly my Aldi review is A++++
What about you? Aldi, Costco, Walmart? (Are there even other grocery stores?) 🙂
(Just kidding – I actually also REALLY love Walmart Pickup!!)
[thrive_2step id='9767′][/thrive_2step]