This post is part 3 of a 3-post series to help you simplify & get control of your grocery budget once and for all!
In part one, I explain how to figure out a realistic grocery bill amount that works for your family. If that number is lower than what you've been spending, part 2 explains how to cut your grocery spending slowly and simply.
Regardless of how much you spend on groceries, if you want to stick to the budget you've decided on, you have to know how to track your grocery spending. And that brings us to this post: How to Track Your Grocery Spending.
After all, if you have a budget, but don't know how much you're spending, then do you really have a budget? (Implied: no.)
I have tried a zillion budgeting apps and methods for tracking spending, and I've narrowed them all down to the ones that I think are the simplest & most effective.
OPTION #1 – HOW TO TRACK YOUR GROCERY SPENDING WITH CASH
Cash doesn't lie.
If your weekly grocery store budget is $100, carry that around with you until it's gone. Then, don't spend anymore. You can take out cash weekly, bi-weekly, or monthly – whatever works.
I used a cash grocery system for a LONG time. I stopped at the ATM on the way to the grocery store once a week. I took out $120 in cash and spend less than that at the store. Anything I ended up with leftover was bonus fun money to eat out, or buy the kids a treat during the week. That's motivating!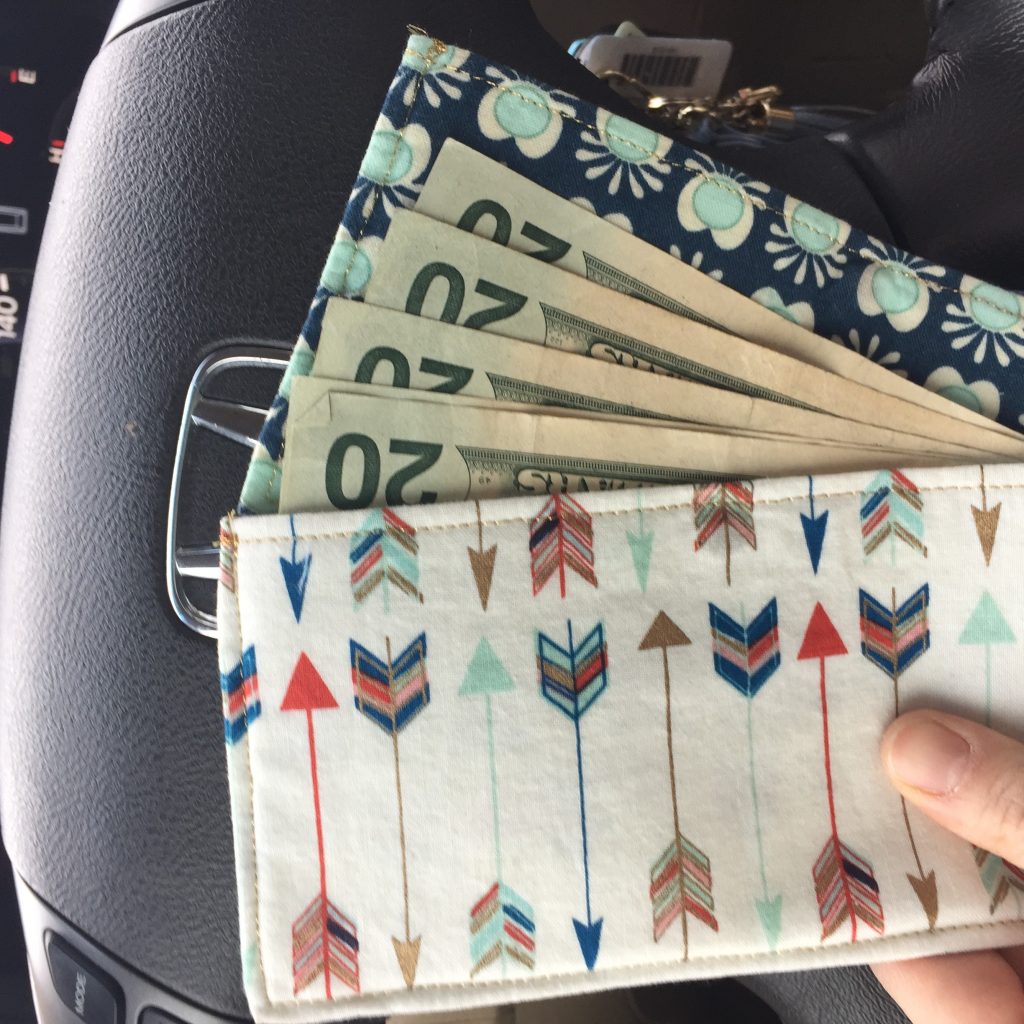 I kept my grocery cash in one of those cute fabric magnetic "envelopes" pictured above. A friend made them for me! (Here's a tutorial, if that's your thang.)
If I bought anything in a different budget category at the store (i.e. gardening stuff, household products, diapers, clothes, etc…), I asked the cashier to do 2 separate transactions. I paid cash for the food and used my debit card for everything else. This probably added 2 minutes to my overall time at the register. #worthit
If you want to have a bunch of different cash envelopes, here's another tutorial on making your own sturdy cash envelopes that fit in your wallet.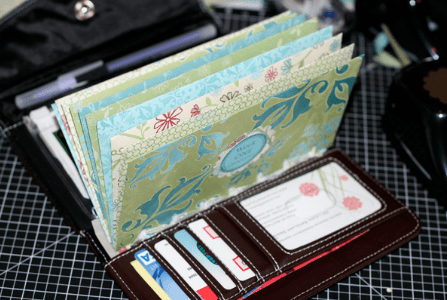 Her picture, not mine.
I really liked using cash for groceries. I'm a spender by nature and I like how concrete cash is. When it's gone, it's gone. In that sense it's easy to track.
There are a lot of drawbacks to using cash though.
Some people feel like it's harder to track because they just kind of randomly spend it. My husband is in this category – he hates having cash!
If you're saving for something in cash, you're piling up a lot of cash in an envelope either in your wallet, purse, or house. Your wad of dough could get lost or stolen.
You have to hassle with going to ATMs or the bank more too.
OPTION #2 – HOW TO DO THE ENVELOPE SYSTEM WITHOUT CASH
I originally saw a version of this idea from Jordan Page @ Fun, Cheap, or Free. She tracks most of her spending with an envelope method that's really simple. It didn't work for the way we do our other spending categories, but I like it for tracking groceries!!
Here's how I tweaked the no-cash envelope system to be for groceries only.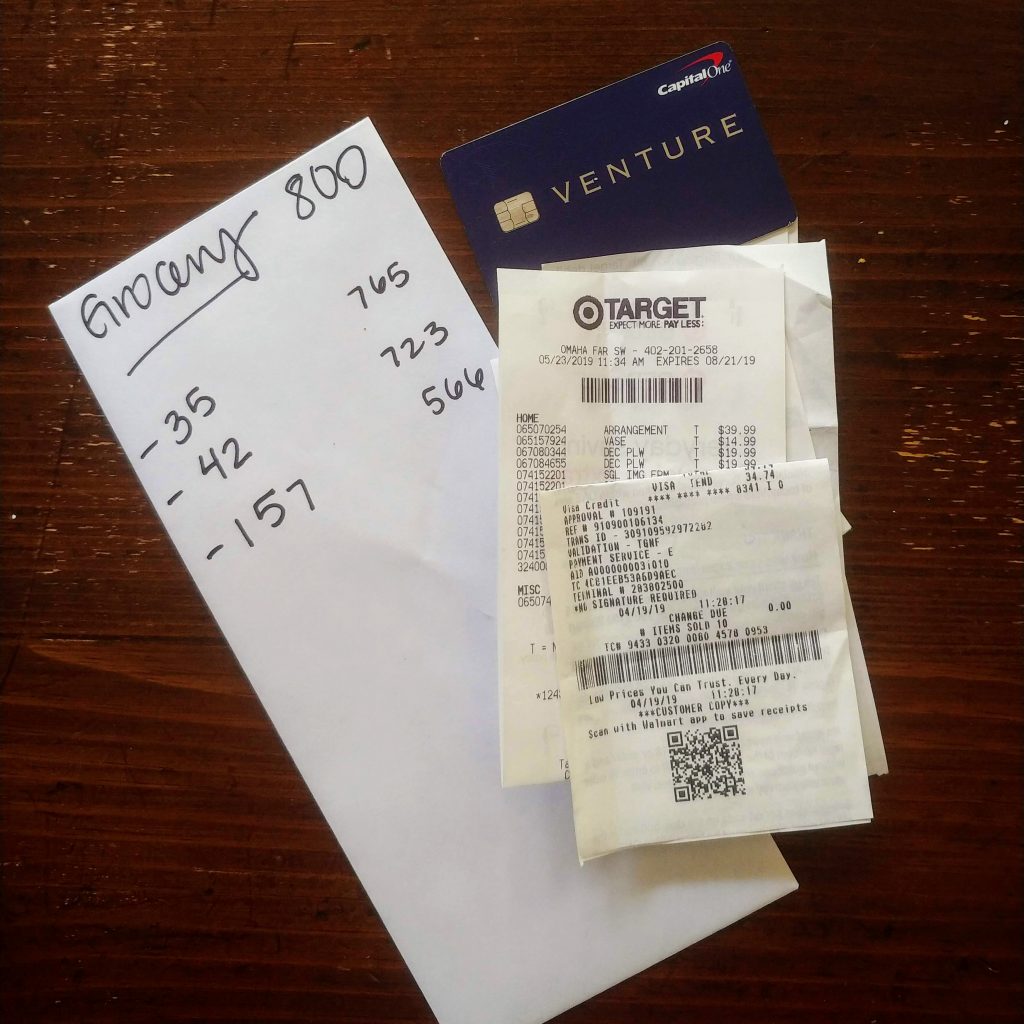 Write your grocery budget on the top of the empty envelope.
Carry it around with you.
Put any grocery receipt in the envelope and write down how much you spent. (i.e. minus 35)
Track your total grocery budget left on the envelope too! This way you'll always know how much you have left.
OPTION #3 – HOW TO TRACK YOUR GROCERY SPENDING WITH YNAB
YNAB is an online budgeting tool that functions like a virtual cash envelope system of sorts. WE LOVE YNAB!!!! (Here's my entire YNAB review.)
You can choose to connect your cards to your account or to enter all your spending manually.
We use YNAB for our entire budget. It's connected to both our credit and debit cards. We also track net worth in YNAB by connecting savings, retirement accounts, etc.
YNAB is amazing for budgeting because it forces you to actually budget money you have instead of spending money on a card first, and hoping you can pay it off at the end of the month.
By budgeting first, then spending, you will know exactly where your money is going. I used to manually track our spending in a spreadsheet, but YNAB saves me so much time.
If I am at Walmart or Target and I buy clothes, diapers, household stuff, and groceries, I can easily split that spending into multiple categories.

Whether you connect YNAB to your bank or enter your spending manually, you have to categorize each transaction. As you categorize transactions in the GROCERY BUDGET category, that number goes down.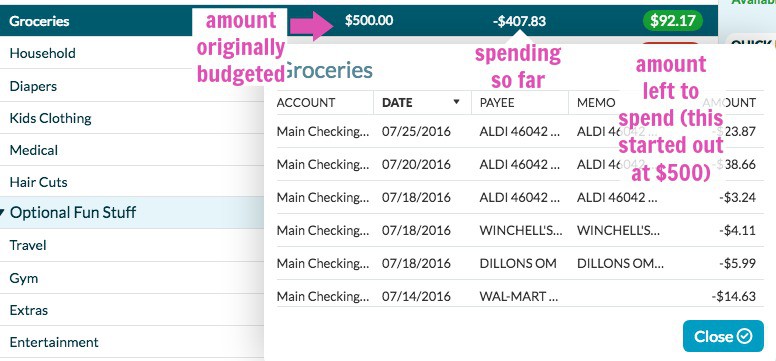 Did I mention I really really really really like YNAB? HA! (Here's my detailed review of it..)
We've tried every budgeting tool out there, and this one is worth it's weight in gold. It's $6.99/ month (after the free trial), which you will more than make up for once you start using it to track your spending. Plus you can do a free 34 day trial without even entering a credit card.
Seriously, try it. It's awesome.
SIMPLE ISN'T ALWAYS EASY
Whether you use one of these options for tracking your spending or come up with a totally different method, successful budgeting always comes down to willpower. If you want to stick to your budget, you can figure it out.
If you have a different method for how to track your grocery spending that works well for you, I'd love to hear in the comments below.
RECAPPING THE WHOLE SERIES
This post is part 3 of a 3-post series to help you simplify & get control of your grocery budget once and for all!
Post #1: What Should Your Grocery Bill Be? | Figure it Out with This Formula!

Post #2: How to Cut Your Grocery Bill

Post #3: How to Track Your Grocery Spending | 2 Simple Methods That Work Every Time
To recap the whole series, here's the entire grocery bill overhaul process. Start to finish.
Determine a realistic grocery budget based on your income, needs, and season of life.
Figure out what you've been spending.
Decide how you're going to stick to your budget and track your spending.
Adjust as needed.
Email me if you have questions!!!
I'm serious about that last step. Let me know if there's any way I can help by commenting on one of the posts or shooting me an email!
Good luck & happy budgeting.
p.s. Want my favorite monthly meal planning calendar!? Grab it by clicking here or on the image below!