Some of the links on this page are affiliate links. When you make a purchase through an affiliate link, I earn a commission at no cost to you. See my entire disclosure policy for all the boring details.
Looking for ways to keep your littles occupied this fall? Today I'm going to share 42 fun and easy fall activities to keep your toddlers and preschoolers busy all season!
We've had a toddler in the house for the last 7 years, and I totally get the struggle to find something that will actually occupy your busy tot's attention for more than 3 minutes.
Bonus points if the activity counts for some sort of educational value.
Guess what?! Toddlers are learning ALL THE TIME. Sorry for shouting, but seriously. No mom guilt over whether or not your toddler's activities are educational. 100% of the research on the topic shows children learn through play. All of these activities are play based, which means every single thing on this list can count for an educational activity. 🙂
This list includes everything from sensory play activities, to arts and crafts, some outdoor fun, and delicious toddler approved recipes!
Fall Sensory Activities
1. Sensory Bins – Corn kernels, Leaves, Rice, Beans
Exploring the world by touching and grabbing is what toddlers do best. That's why sensory bins are such a huge hit with the littles, especially 2 or 3 year olds. To create a sensory bin of your own, fill a shallow tote or plastic bin half full with corn kernels, rice, lentils, or some other sort of dried bean. You might include a few little treasures for them to hunt for and enjoy!
Setting Up a Sensory Bin for the First Time
Lay a couple scoops/ measuring cups & a couple medium sized containers next to the bin.
Resist the urge to "teach" through this activity & explain everything or show your child how to do it.
The best way to get your kid interested in a new activity is to "set it and leave it." Meaning, set it up when they're not around, and leave it out for them to "discover." Try to answer their questions in an open-ended way.
For example:

Kid – What's this?

Parent – Oh, it's a bin of corn kernels.

Kid – Can I play with it?

Parent – Sure. The only rule is you can't purposefully dump the kernels all over the ground.

Kid – What do I do?

Parent – Hmmm, I wonder…?
Let it be quiet for a minute while the child thinks. Wander away absentmindedly, or say, "Feel free to play with it, I'm just going to get something in the kitchen and I'll be right back." (Give them a couple minutes to explore on their own.)
We have a 1-and-done rule for dumping sensory bins… Yes, you should expect some mess! A broom will work well to clean it up at the end of the day. But, if a large amount gets spilled or it seems like there is purposeful dumping, I give 1 warning. "Remember, the only rice bin rule is no dumping it on the ground on purpose. You need to be careful with the supplies or we'll put it away for today." Then I follow through matter of factly if necessary.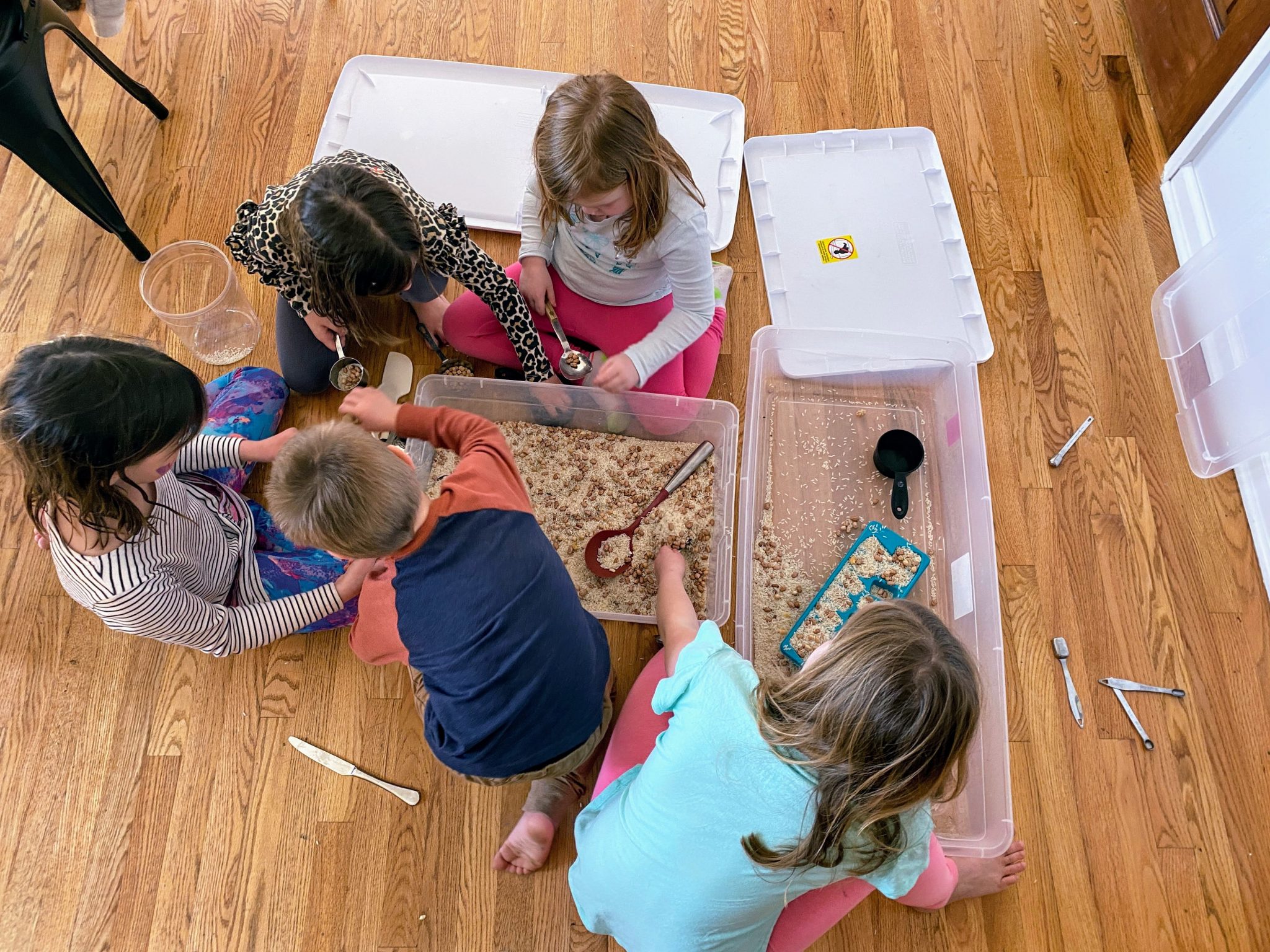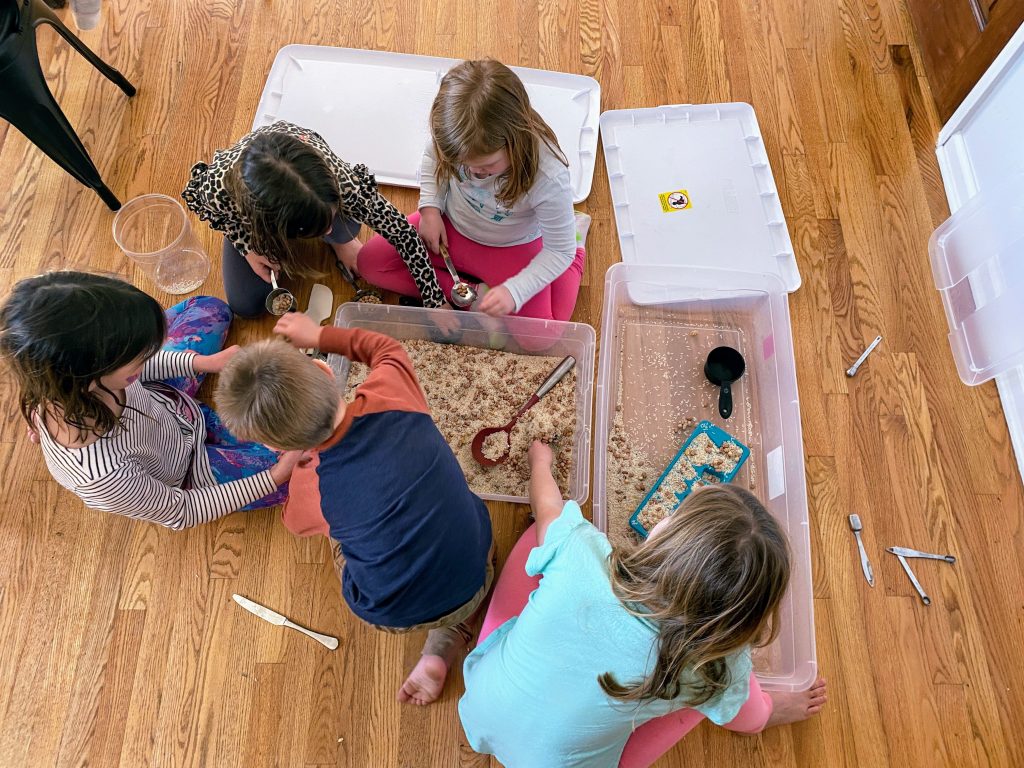 TIP – To adapt a sensory bin experience for a 1 year old, just set up a VERY simple version of the process above. Use a bigger item too, like penne pasta noodles. Put out 1-2 scoops, 1 bowl, and 2 bins. Put a smaller amount of noodles in one bin. Less is more with 1 year olds, but they can learn to enjoy and play with sensory bins too.
2. Using Leaves to Explore Senses
Incorporating falling leaves into your child's playtime can make for a great fall activity for toddlers! Here are a few ideas:
Go on a leaf hunt – look for 3 different colored leaves and 3 different shapes.
Put the leaves you found in between 2 pieces of contact paper to make a placemat.
Give your child a small basket with a handle to collect as many leaves as he can on a "leaf finding walk." When you get home, have your child sort them by color, shape, or "crunchiness" if he's interested.
Show your child how to do a leaf rubbing – place the leaf in between two pieces of paper. Use a crayon to color over the leaf on the top piece of paper.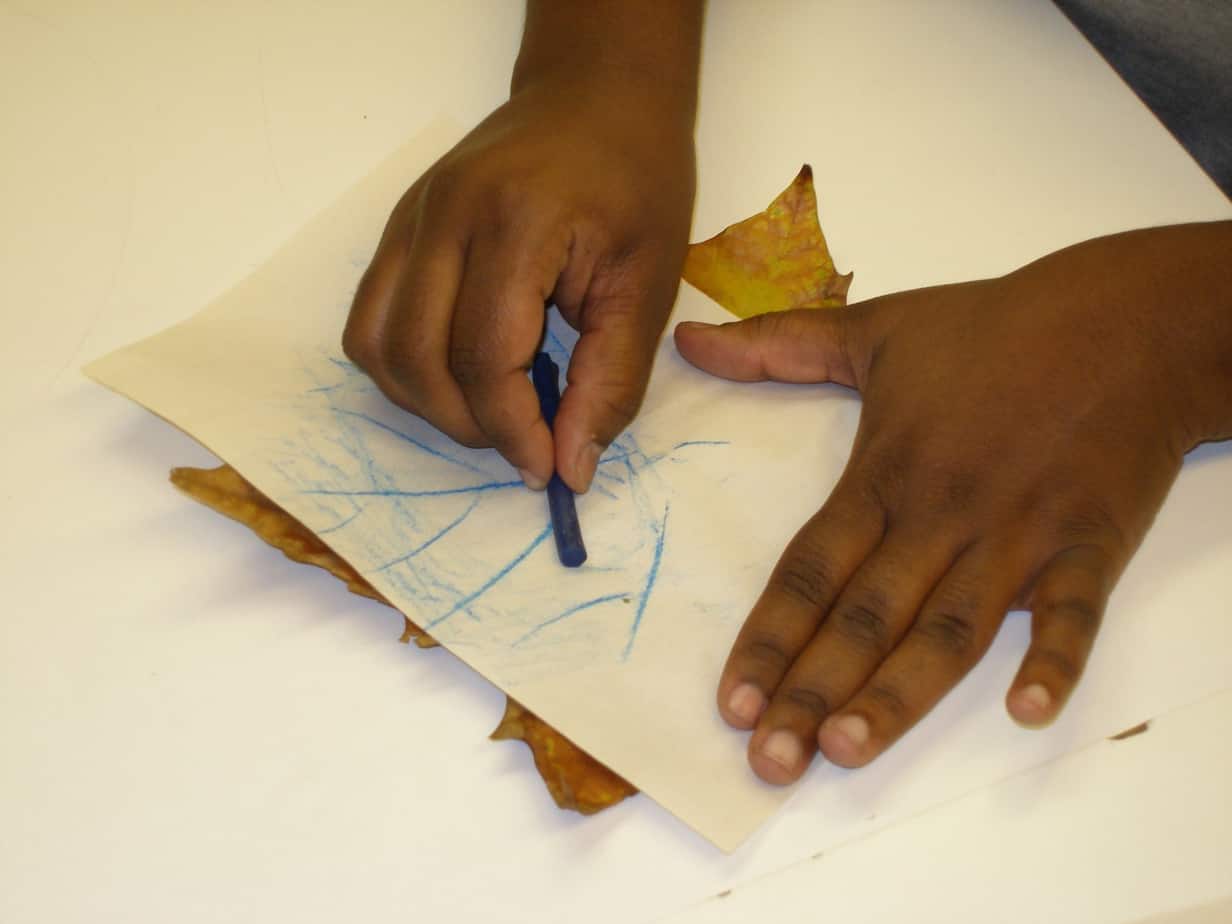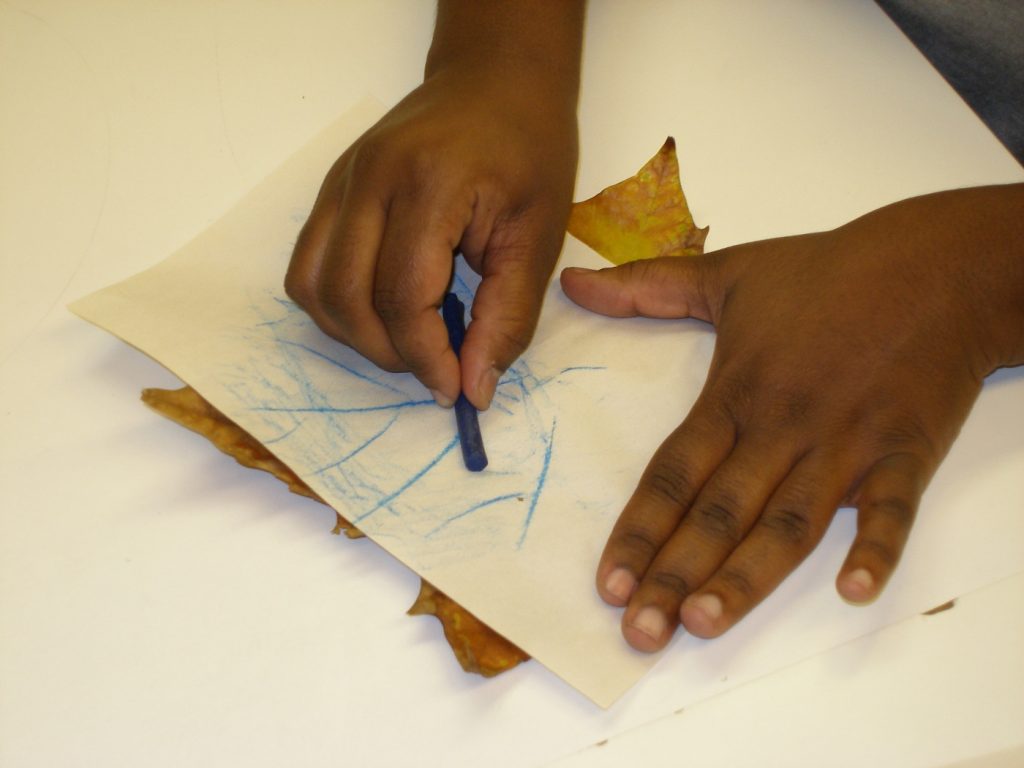 Or you can just rake a pile of leaves and send them outside to jump in it. That's probably the most fun anyway!
3. Apple Cider Cloud Dough
Making and playing with cloud dough is fun itself, but add some powdered apple cider packets for a real autumn-scented treat! You can also add some faux apples to the dough and let them loose at digging. Check out Teaching Mama for the full how-to.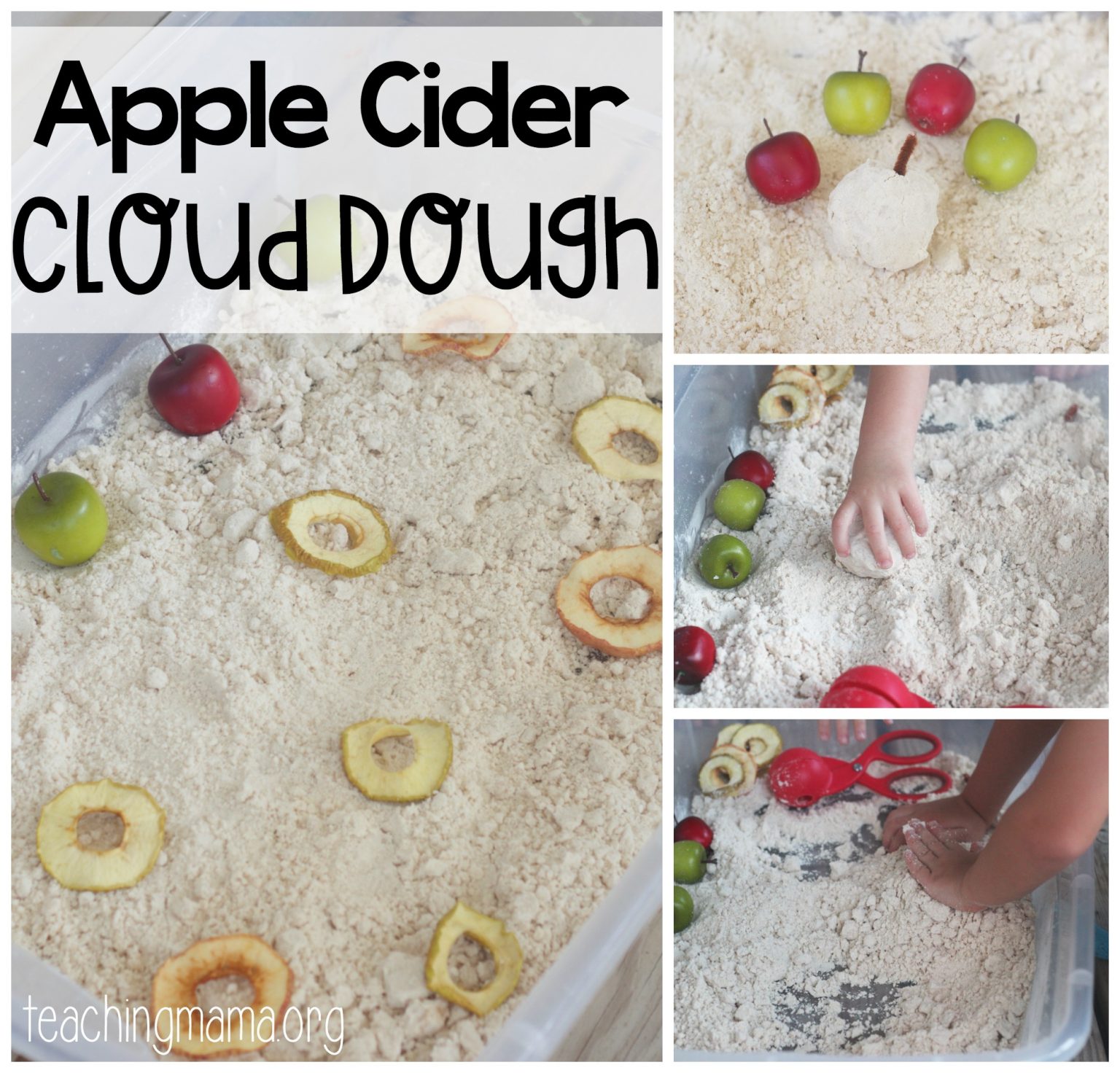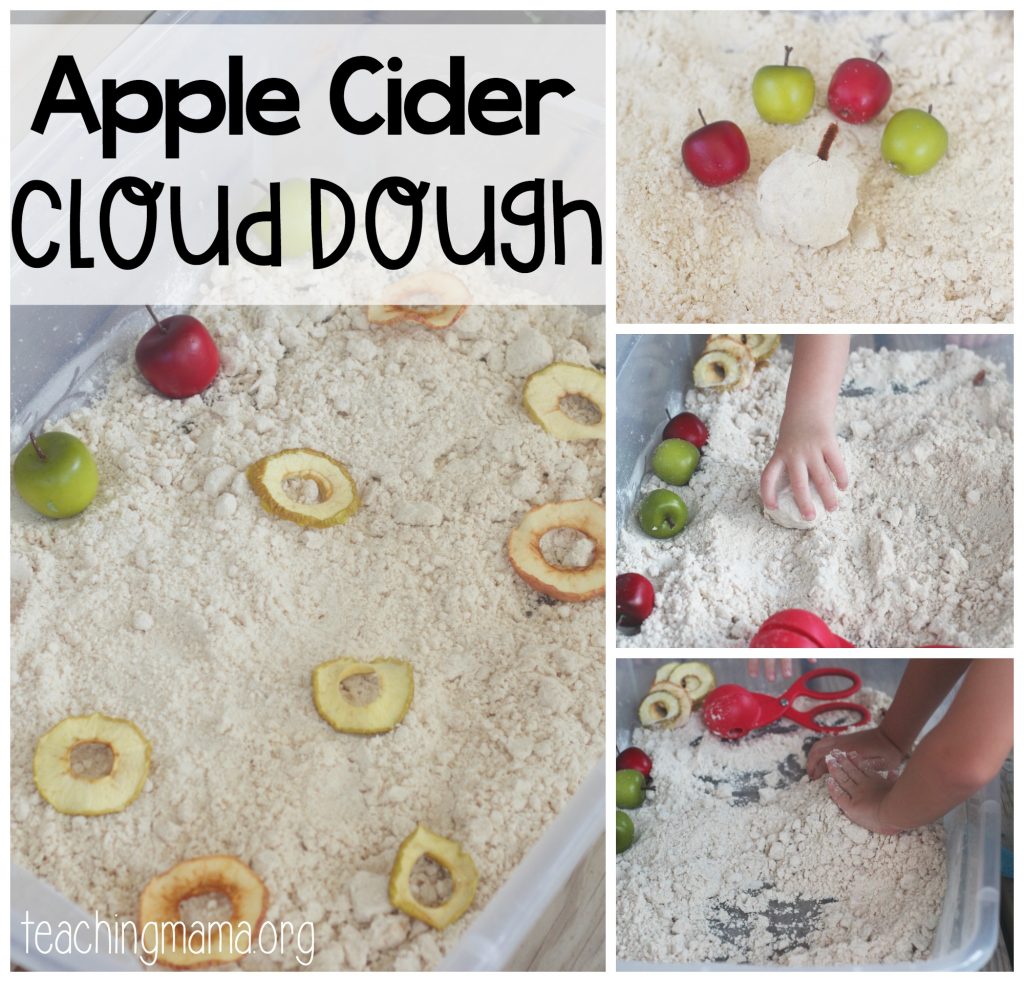 Pre-Reading Activities
4. Button Worm Name Activity
This activity allows toddlers to build on their small motor skills by threading buttons onto string and helps with letter and sound recognition. It's a super cute activity to teach your child his or her name while the little "worm" eats his way through it! Get the full instructions for this fall language activity over at Fantastic Fun and Learning.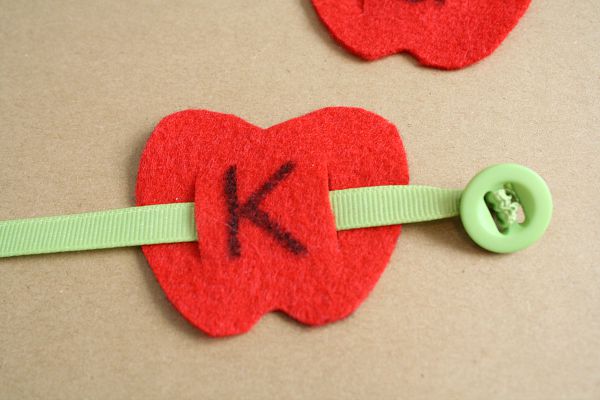 Don't expect an 18-24 month old to be able to do this independently at first. It's more of a 30-36 month old activity. When a younger child wants to participate, I start the ribbon through the apple for them, and let them pull it the rest of the way through.
IDEA – We have always sung the spelling of our kids' names with a made up tune & a little rhyme. You can also borrow the tune from a children's song like "Twinkle Twinkle," or "Baa Baa Black Sheep." So, when you're putting the button through the letter apples in the above activity, you could sing your child's name spelling while you do it.
5. Read Fall Books
Looking to keep your little one busy on a rainy autumn day? Cuddle up under a blanket or even make a simple fort and spend some quiet time reading together with your toddler. Use silly voices to ensure lots of precious giggles! There are plenty of books with fall stories from well-known series like The Berenstain Bears, or Pete the Cat.
if your child has a favorite character/ series, just search that series + fall books.
Here are some of our family's favorite fall children's books for 1-3 year olds.
Never underestimate the power of reading aloud to your young children, even if they don't appear to be listening. One of my all time favorite books is The Read Aloud Handbook. I prefer the 6th or 7th edition. It's full of research about how influential reading aloud is, AND it has hundreds of books to recommend for all ages.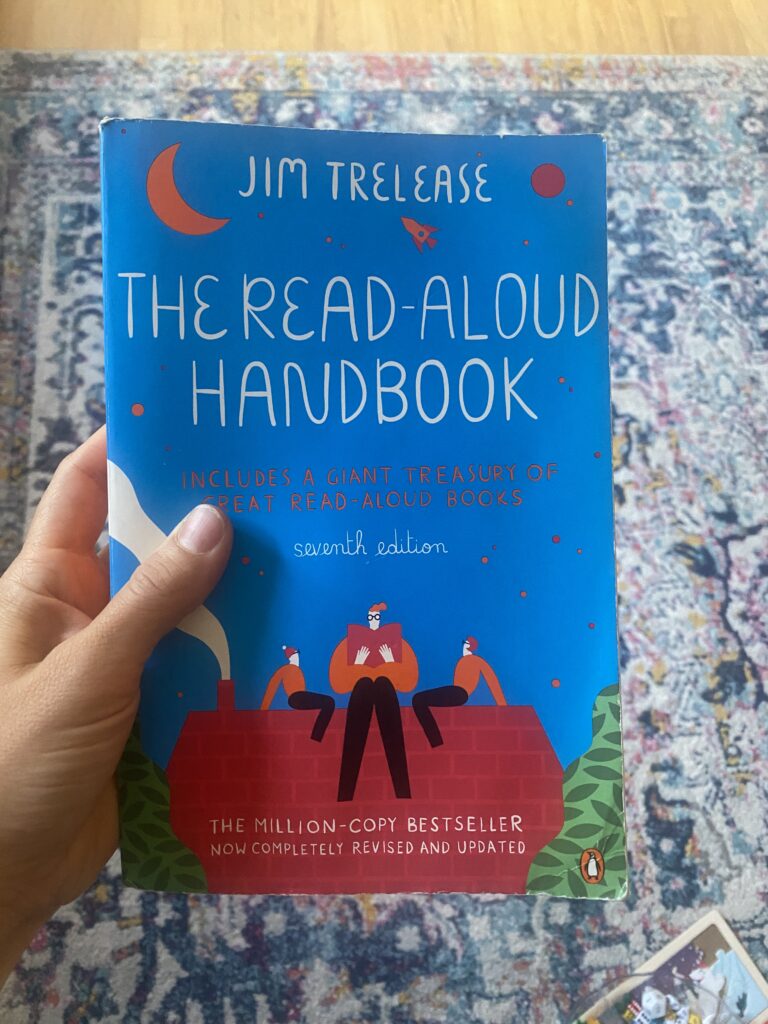 6. Alphabet Apple Tree
Making this tree with apples and letters can be a simple project for Mama during nap time, and your 2-3 year old will be so excited to wake up and play while starting to learn how to recognize letters. No Time For Flash Cards provides all the info on how to get started!
Personally, I wouldn't actually cut out apples… I would do squares with my paper cutter or use a giant circle punch and say "let's pretend these are apples." Haha!! I do NOT have time to cut out 26 apple shapes 🙂
Your 2 year old will probably just do whatever the heck they want with it. You could modify it to be just the first letter of your toddler's name. A 3 year old would probably be ready for the letter recognition version of the game she explains on her website.
7. Salt Tray
Grab a simple tray and some salt. If you want to go all out on the fall theme, dye the salt orange. But that isn't necessary if you don't feel like it. Pocket of Preschool has a cute fall themed version of this pictured below that's perfect for 3-5 year olds.
You could modify this activity by:
Leaving out a few big cookie cutters for your child to try tracing or "stamping" in the salt.
Lay out a toothpick, q-tip, chopstick, and spoon for them to experiment with
Draw simple shapes on index cards for the child to try and copy.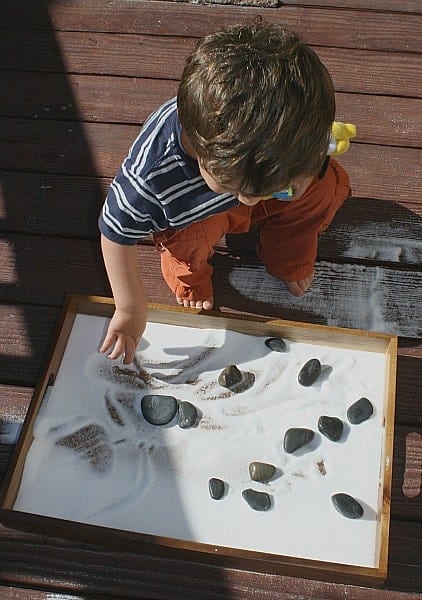 Outdoor Activities
8. Leaf Hunt
Preschoolers can enjoy leaf hunting with tasks in mind:
finding a certain number of leaves
finding as many of a certain color of leaves as possible
making a number lines with the leaves to hop and count.
Edventures With Kids has several fun math-related ideas for preschoolers who want to do a leaf hunt!
9. I Spy – Nature Trail Edition
Head to a local park or trail. Explore for a while, and when your children inevitably get tired on the walk back, start a game of "I spy" or "Can you find…?"
a big rock
a tiny rock
a dark brown stick
a light brown stick
2 leaves
a crunchy leaf
a smooth leaf
a tree that's lost all it's leaves
a squirrel
a nut
a bird
a nest
etc…
10. Throw the leaves, sweep & repeat
This one's simple. Bring a bag of leaves into the house, preferably an area without carpet, let your toddler throw the leaves as high as they can, then help them sweep the leaves back into a pile and repeat! Your 2 year old will absolutely love making the mess!
11. Apple Picking
Apple picking is a family favorite for sure. Find the nearest apple orchard and enjoy taste-tasting all the different varieties of apples. Pick some apples to enjoy as a snack and reserve some for some delicious pie-making. Many local orchards have hayrides, petting zoos, and an abundance of family-friendly fun, so make a day of it!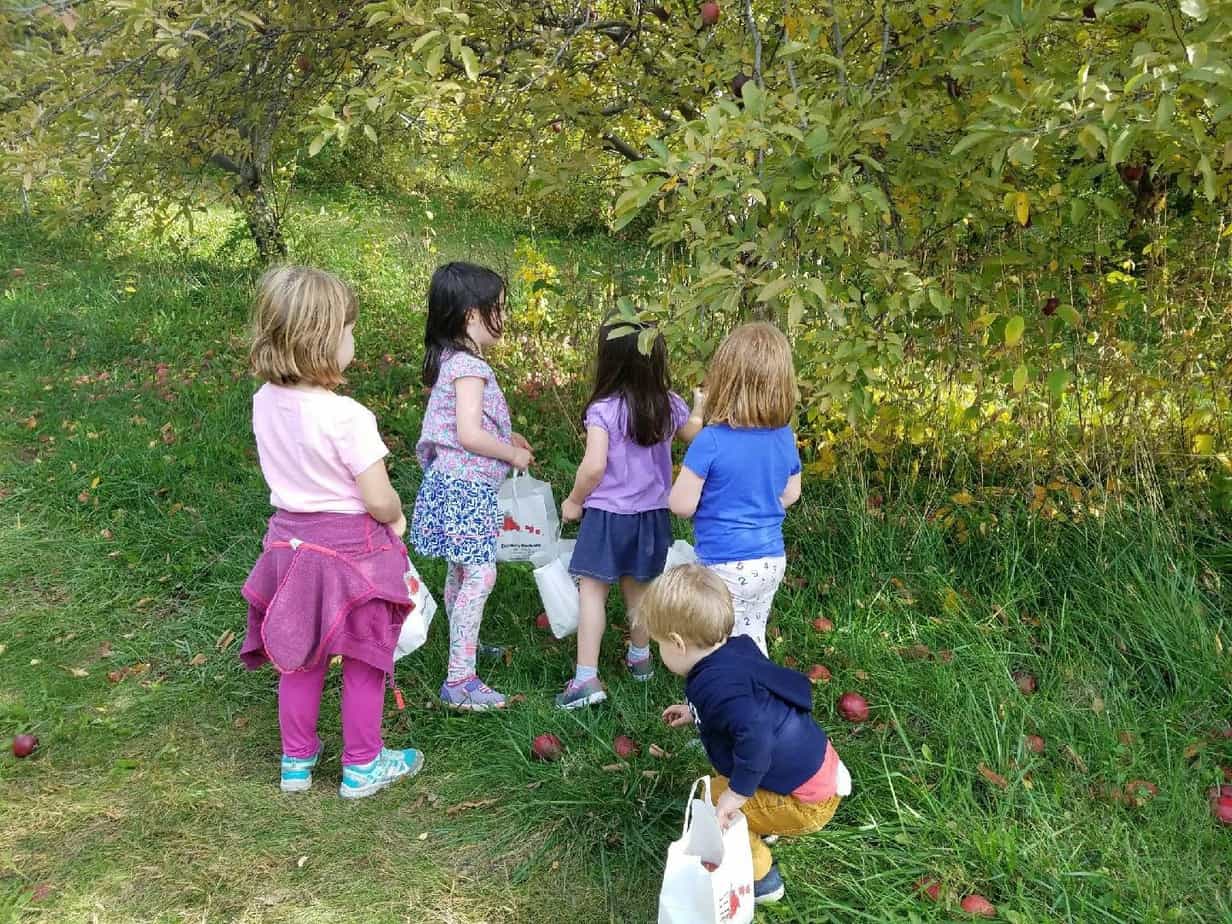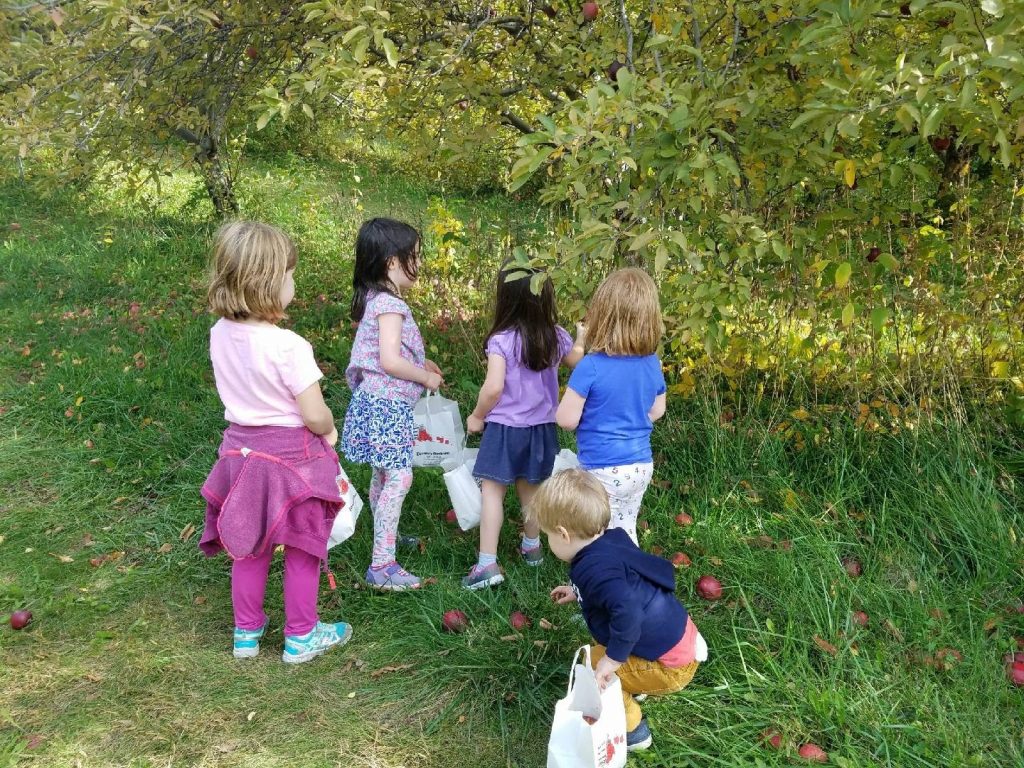 12. Nature Walk in a New Place
This is a fun tip! Check out Trip Advisor for your city and check out the "Outdoor/Nature" section. You'll likely find an idea for a new spot you haven't been yet. Find a neat spot, pack some snacks and hit the road. Try sitting somewhere for a while to watch for birds and other wildlife for a fun family day.
13. Visit a Farm
Taking a trip to your local farm can help your kiddos understand that food doesn't just magically appear in the fridge (or in the grocery store)! You can let your little observe some ins and outs of how the food gets to our table.
14. Collect Pine Cones
After gathering a collection of pine cones, you can sort them by size or color shade with your little one. With preschoolers, you could introduce the cycle of how a seed becomes a plant. Use this book to help!
You could make a pine cone bird feeder too. Just add peanut butter & bird seed to your pine cone and hang it from a tree in your yard. My kids LOVE watching birds come to our backyard bird feeder year round.
Indoor Activities
15. Laminated Rainbow Leaf Sort
Older toddlers can sort laminated leaves in order of the colors on the rainbow. Younger toddlers can simply explore and wonder at the fact that leaves can be so many different beautiful colors.
Nicole @ The Kavanaugh Report has cute ideas for modifying this activity for toddlers vs. preschoolers.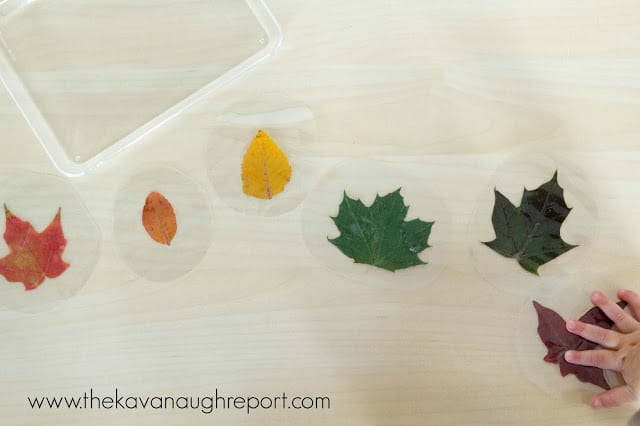 16. Clean Your Pumpkins
Toddlers love cleaning things! (Ironic since they also love to make messes.)
Give them a few pumpkins or gourds from the grocery store bins (or a pumpkin patch trip), a bucket of soapy water, and a scrub brush.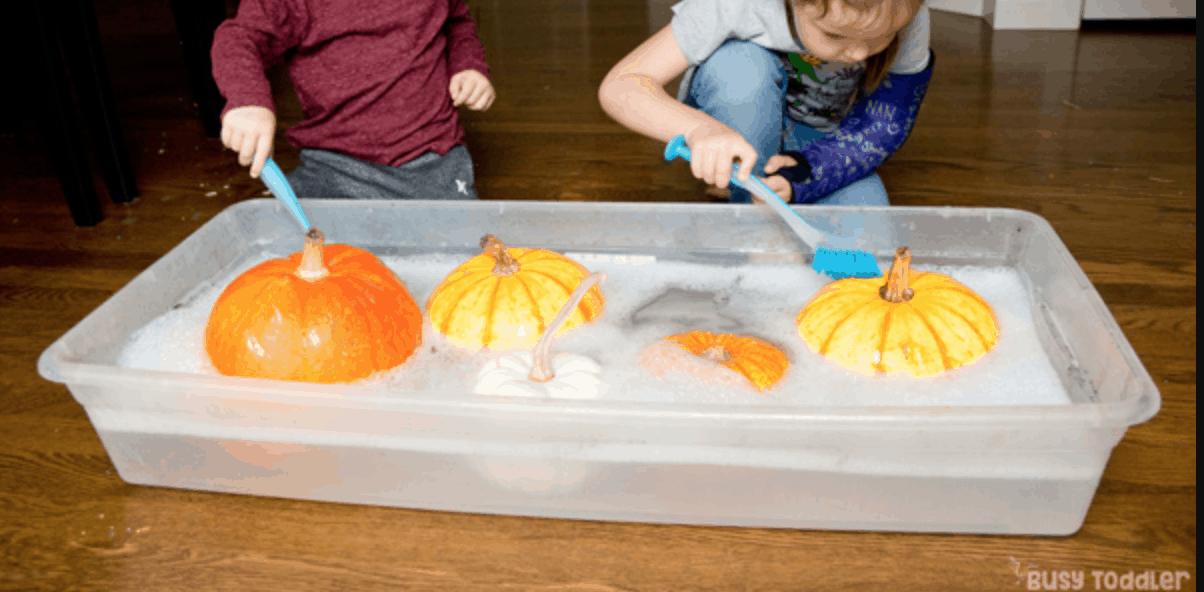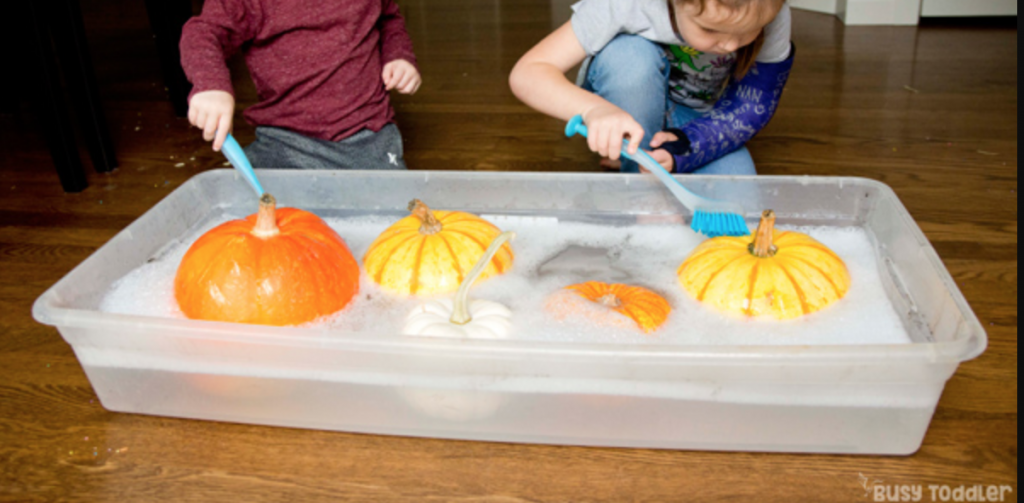 17. Paint the Pumpkins
We've done this every year since our oldest was about 21 months. Somehow it's become a tradition that even my 8 year old still enjoys!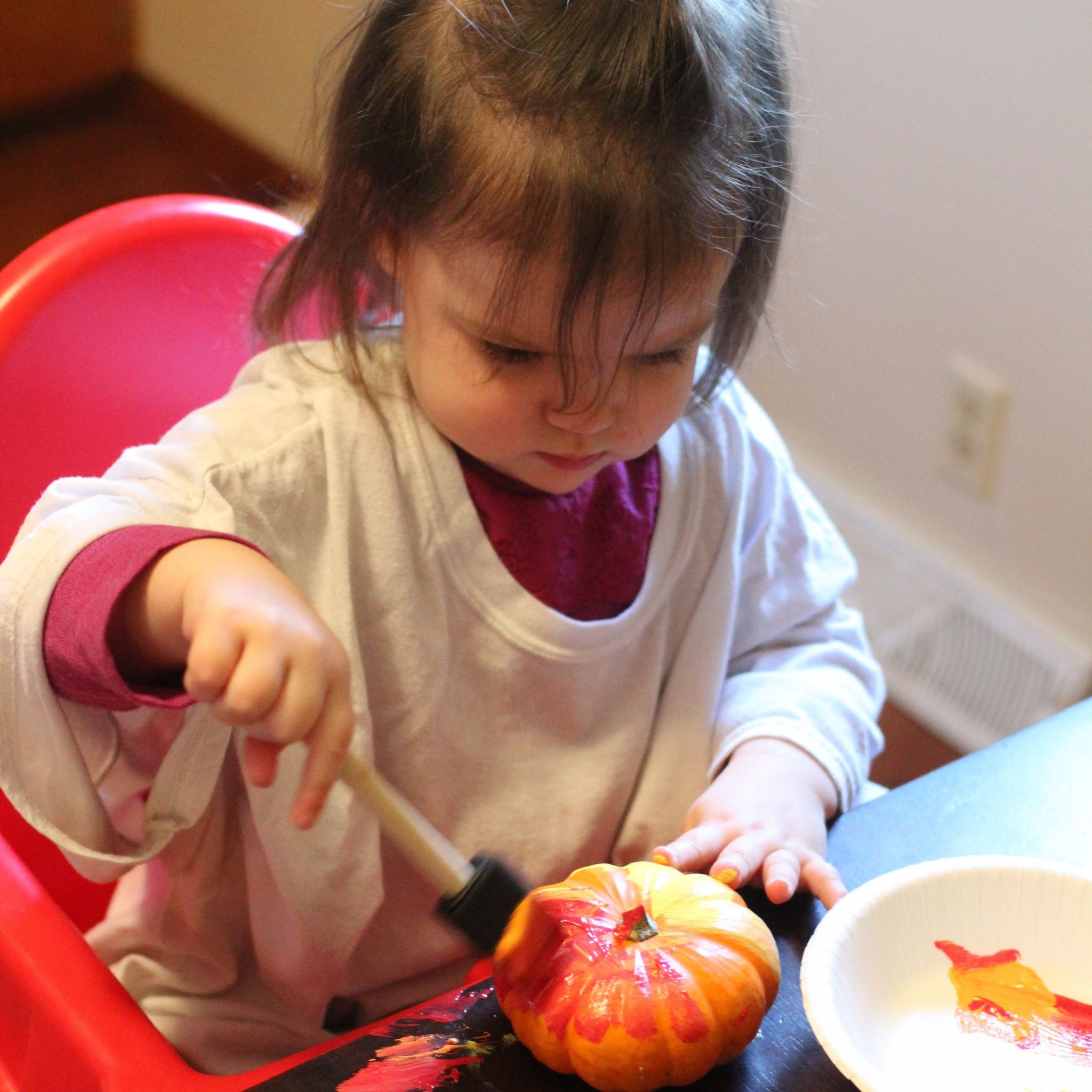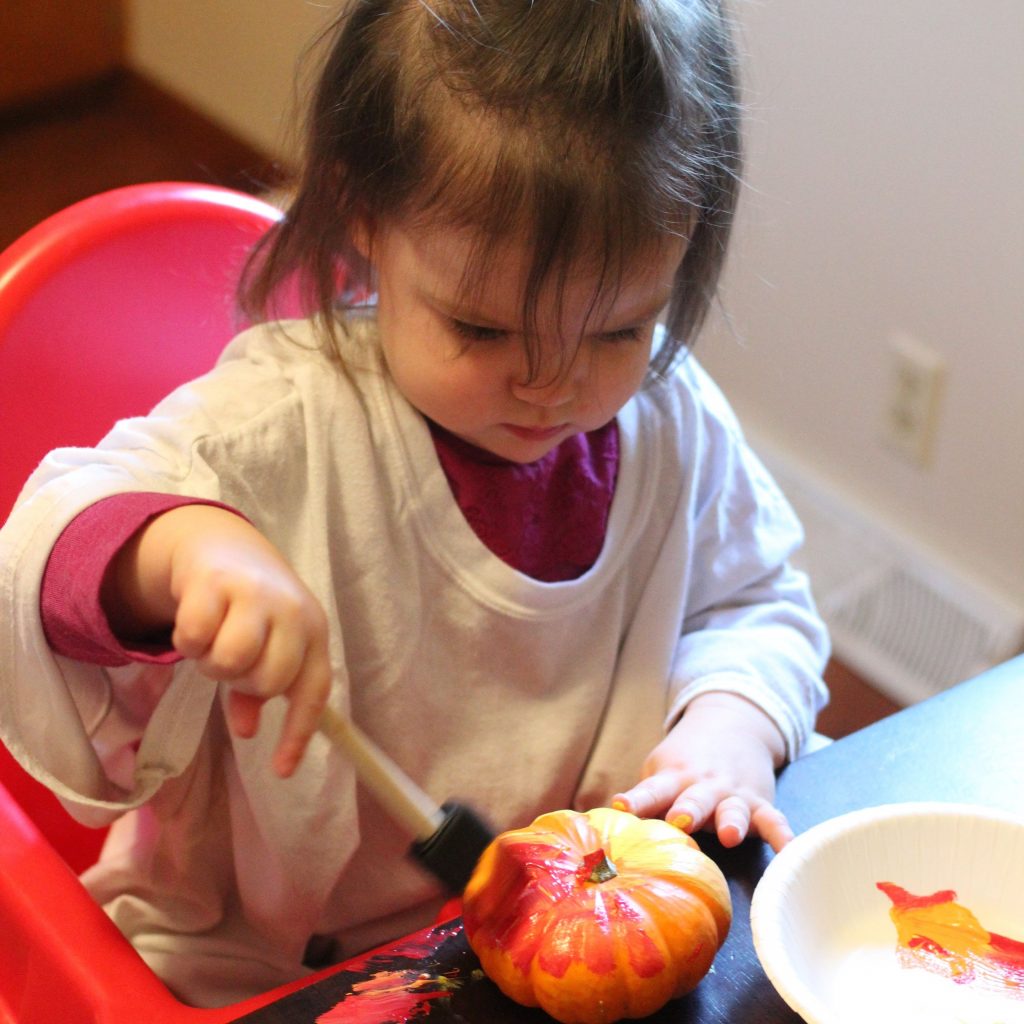 18. Hide the Glow Stick
This is perfect for when it starts to get cold and dark earlier in the day… Grab some glow sticks from the local dollar store and play hide and seek with them. Depending on your toddler's age, it will probably help to darken the room a bit with black out blinds or drapes.
19. Indoor Picnic
If it's too cold or rainy for a picnic at the park, take the picnic inside. Lay out a blanket indoors next to a window, and enjoy a lunch of "picnic" snacks. Think easy finger foods like sandwiches, crackers, cut up fruit and veggies with dips.
For bonus picnic fun try one or more of the following ideas…
give your child a lunchbox and encourage her to go on a pretend "trip" and meet you at the picnic. If you have multiple young children, they'll especially enjoy this type of pretend play together.
use a cookie cutter to cut the sandwiches
cut everything into bite size pieces and let the kids use toothpicks to eat them
cut everything into stick sizes
grab food prep style containers and make each kid an individual box lunch
20. Apple Cider Tea Party
Put on some dress up clothes, lay out the table cloth, and enjoy a tea party…with apple cider! To make it even more special, decorate some placemats for the family using leaf rubbings and create a fall foliage table centerpiece. If you lay out some individual stemmed flowers and a couple small vases, your toddler or preschooler will LOVE arranging them.
Let the child help set the table for the tea party. Once in a while, we do read aloud or poetry tea parties, where I also grab several picture books or children's poetry books, and the kids take turns picking one for me to read. You could do a fall themed reading tea party with some of the books mentioned above.
Just don't be surprised if they ask to do it again the next day!
21. Press leaves into a photo album
Collect the most beautiful leaves you can and press them into a photo album, or use a cheap dollar store album like Rose from Wisdom for Mom suggests.
22. Toast Pumpkin Seeds
This is a fun one if you carve pumpkins… instead of throwing away the "pumpkin guts" with seeds intact, rinse the seeds and dry them overnight so you can roast them in the oven. Roasted pumpkin seeds are delicious with a little oil and seasonings like salt, pepper, cayenne, cinnamon or brown sugar.
23. Caramel Apple Slices
Making caramel or candied apples is a bit labor intensive, especially with a toddler at your side. Instead, melt some soft, chewy caramels or meltable chocolate at nap-time. When it's cool enough, let your toddler help you dip slices and sprinkle them.
24. Make Stamps out of Wine Corks
Using wine corks, you can make your own home-made stamps in no time! Create fall stamp shapes like leaves, acorns, footballs, pumpkins, etc. Grab some ink pads in an autumn-colored palette and let your toddler make placemats or cards to mail distant relatives. This is a fun fall craft that your little will just love! Find out how you can try this at home at DIY Candy.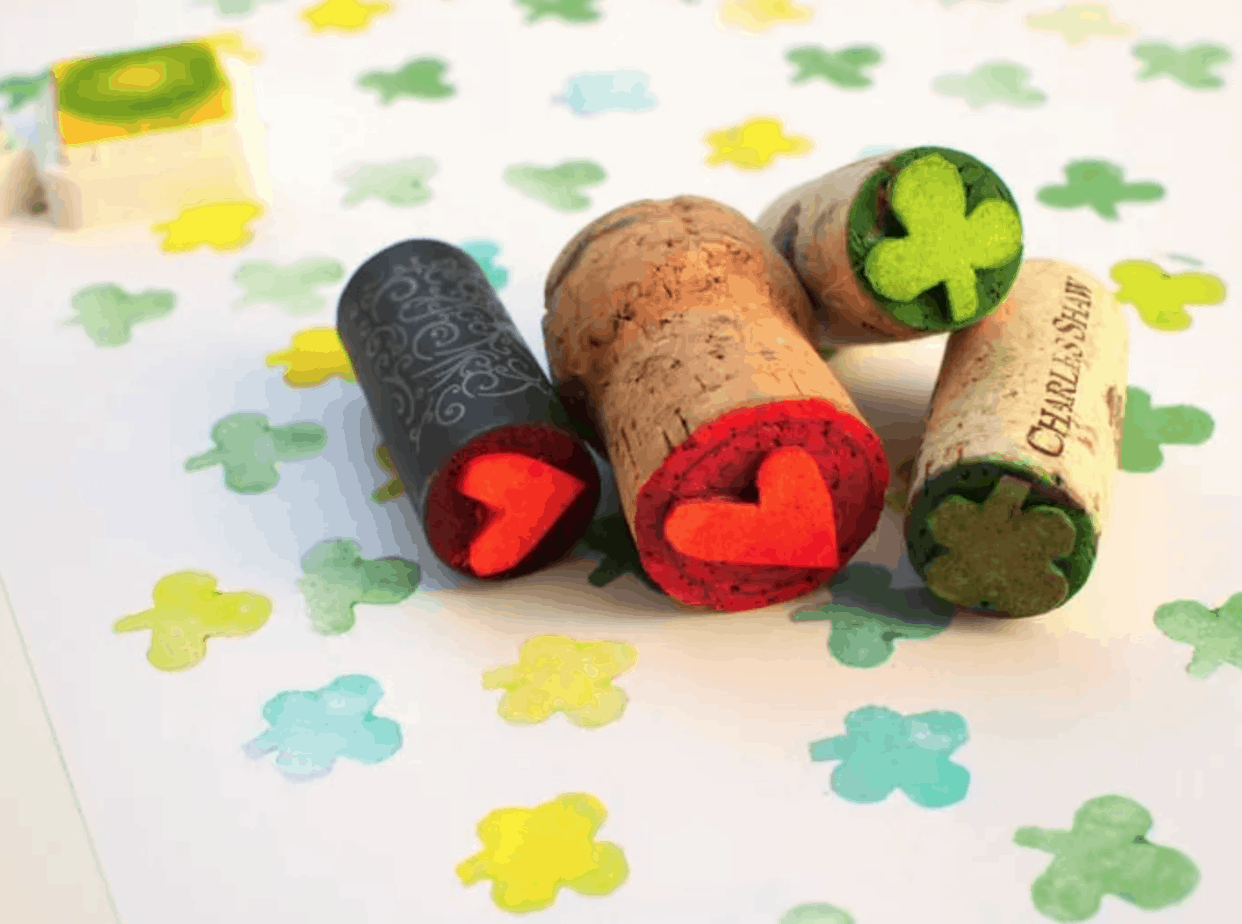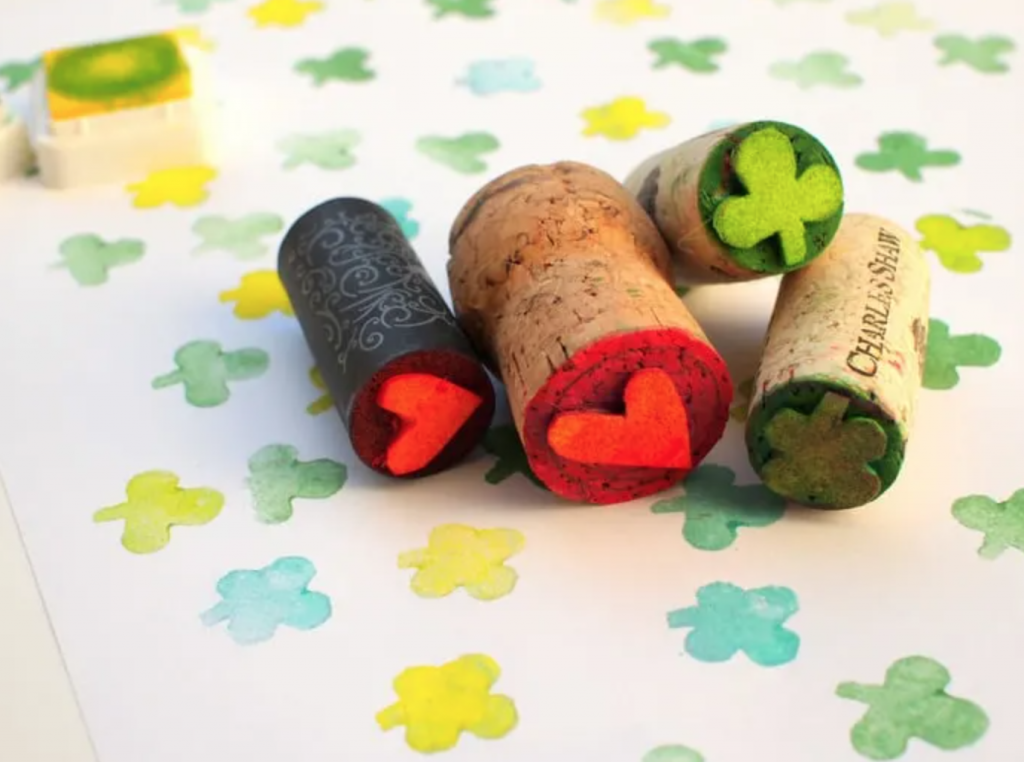 If you're short on time or you hate crafting, just grab these cute woodland animals stamps instead 🙂
25. Build an Indoor Fort
As the weather gets chilly & everyone gets stir crazy, you have to get creative.
Our favorite fort supplies are bed sheets (top sheets) & heavy duty clips. These wooden fort clips are nice because the kids can squeeze them. OR these heavier duty ones are nice because they're a little cheaper and they stay put off! (Downside is – they require adult help. But I guess most toddlers need help building their forts anyway.)
Our kids love to pack up their rolling backpacks like they're going on a trip and head into their fort! If they get bored too soon, I offer a snack or a flashlight 😉 #protip
26. Drink Hot Chocolate
Whether you make it from scratch or from a tub of mix, hot chocolate is always a fun treat to celebrate cooler nights. You can even take your mugs outside for some star gazing before it gets too cold!
Arts & Crafts
27. Paint with leaves
A great idea for fall toddler crafts is leaf painting. There are lots of simple ways to paint with leaves.
Put double-sided tape on the back of the leaves and place them on paper. Then paint over and take them off. You'll have leaf prints!
Use the leaves as paint brushes
Use the leaves like stamps
Paint the actual leaves
Use a cotton ball create fall leaves on a tree
Trace leaves with paint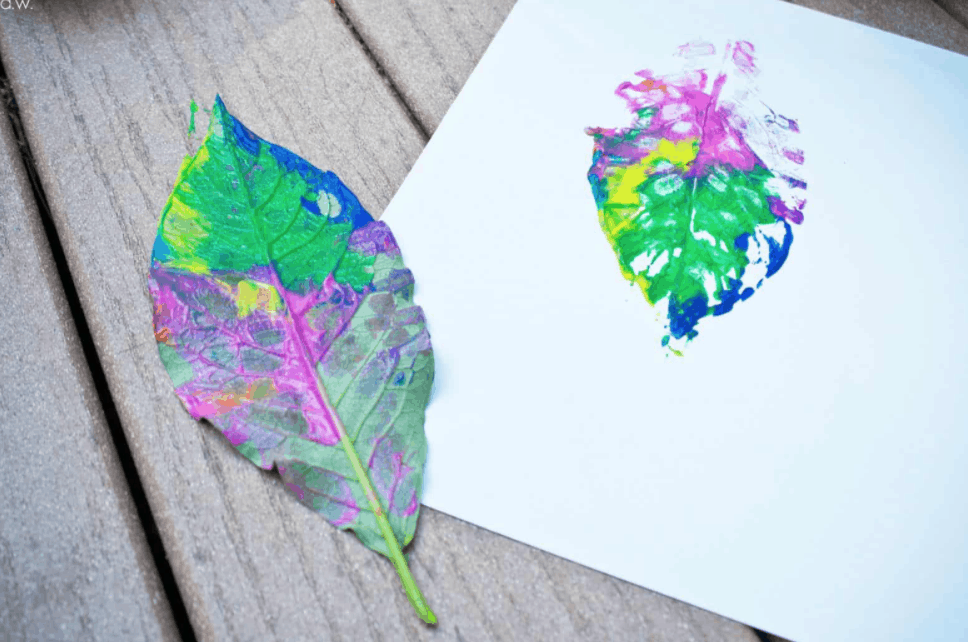 28. Fall Play Dough – Cinnamon & Nature Props
Use any home-made play dough recipe and add cinnamon, nutmeg or even apple pie spice to make it "fall" play dough. Bring in some leaves, twigs, pine cones, etc. and use them for stamps. You can head over to Playdough To Plato for a great fall inspired play-dough recipes!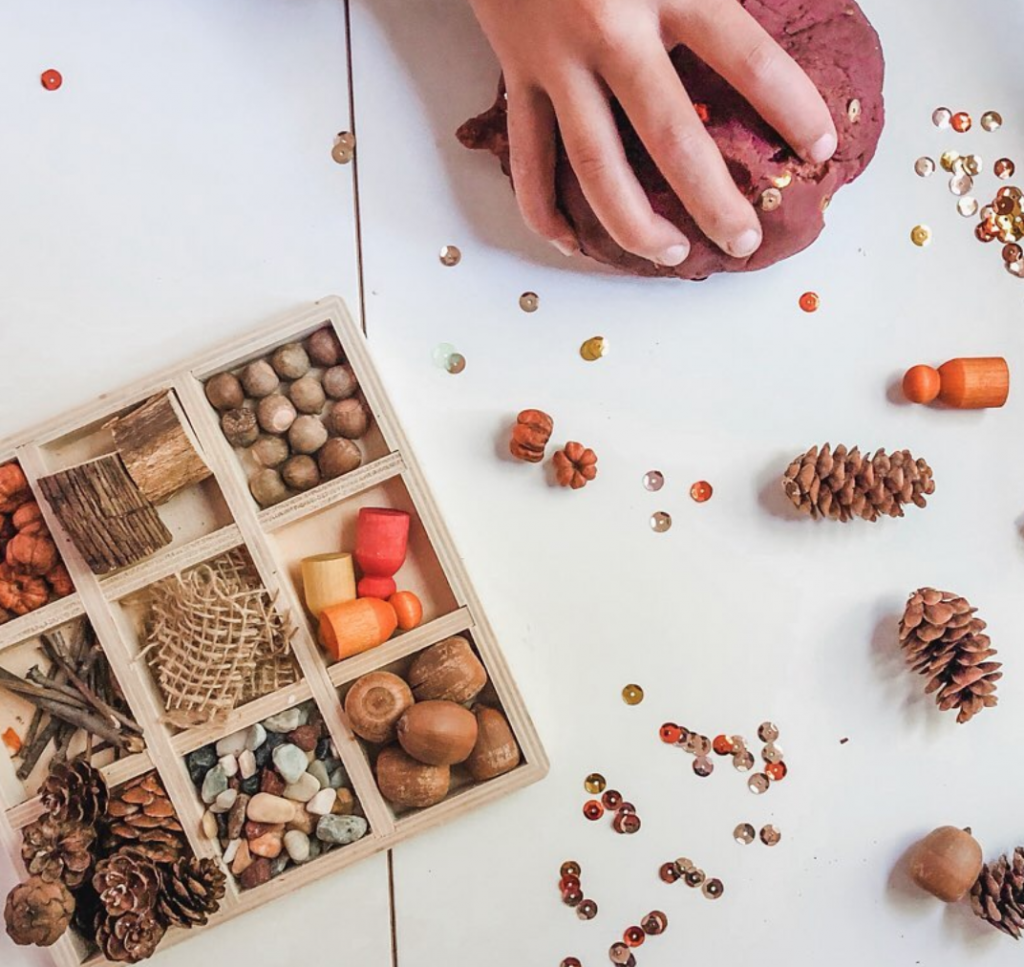 Note – my play-dough set up NEVER looks this cute. 🙂 #realmomlife But I do think a little bit of setup sometimes inspires kids to play for longer.
If I am doing a fun play dough setup, I'll have the kids help me make it in the morning. While it cools, I'll send them out with little buckets or baskets to gather some small nature items they think would be fun for playing with play-dough. Or if your child is very young, you could say, "Let's go find some small sticks, rocks, pinecones & nuts to collect." Don't even mention why.
Then, at nap time, set up a tray or shallow dish with some items and lay the play dough out. I like to have a few cutting tools on hand – we have some of these play dough tools below that the kids love!
You might already have some things on hand that will work well: cookie cutters, silicone or plastic rolling pin, scissors, butter knives, pizza cutter, etc. I like having separate ones for play-dough that aren't as sharp 🙂
29. Fall Themed Coloring Printables (Free)
There are endless fall themed coloring pages that you can print for free at home. These printables make for a fun coloring activity that your toddler can do using crayons, makers, or colored pencils. Check out some free printable options from Super Coloring.
30. Pinecone Painting
If your child enjoyed leaf art, they will love painting pinecones too! Pick some up off the ground and enjoy painting them with fall colors. If you feel like adding a bit more pizazz, consider sprinkling some gold glitter over the cones to make them really festive. You can use the new pinecone art as decor for our dining room table or to add a fall touch to your fireplace mantle.
These are my go-to washable tempera paints for all these types of projects.
31. Paper Plate Apple
Using a few paper plates, some colored paper, and a set of googly eyes, you can make a pretty darn cute apple and worm craft with your toddler. I Heart Crafty Things gives us all the details to try it at home.
32. Fall Wreath Craft
This is a fun activity that you can later use to decorate your front porch or back deck. It let's your toddler explore their creative side while experiencing different colors and textures. Mommy's Bundle gives all the steps on how to replicate it at home!
Glue Tip for Toddlers/ Preschoolers – We have taught all our kids around age 2-4 to "dip and wipe" the glue with a q-tip. I pour some Elmer's glue in a small dish, and place it on a paper towel with a Q-tip next to it. I show them how to dip the q tip a little bit (but not too much), wipe it on the edge of the dish, and then put it on the object/ paper they want to glue. I usually help with the first couple and they get the hang of it pretty quickly.
33. Apple Stamps Craft
If you remember making potato stamps in elementary school, this activity is pretty similar! Cut an apple in half, dip it in paint, stamp the paper.
The next day, you could let your child add eyes with markers or glue on googly eyes for extra fun. Check out One Little Project for more detailed instructions.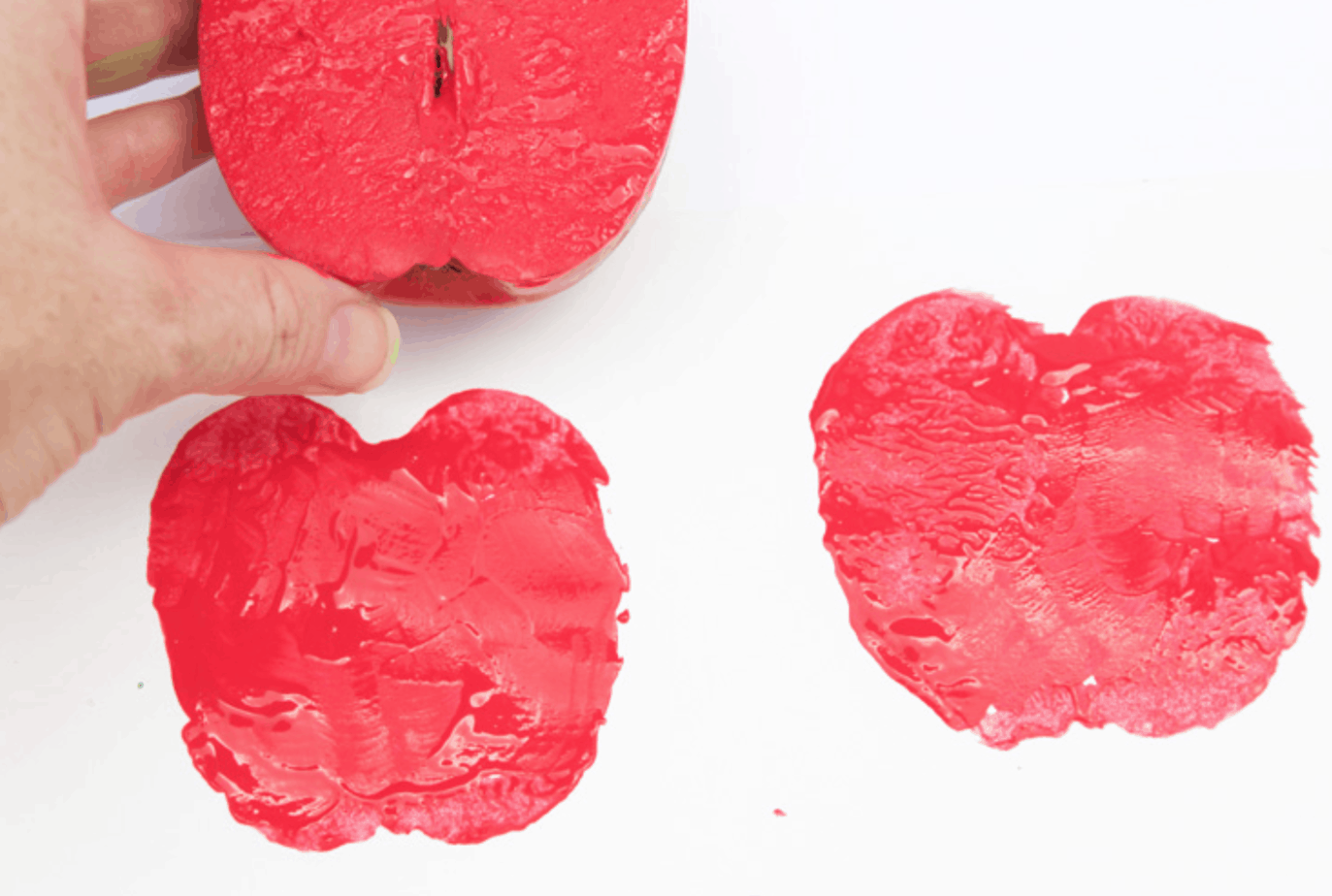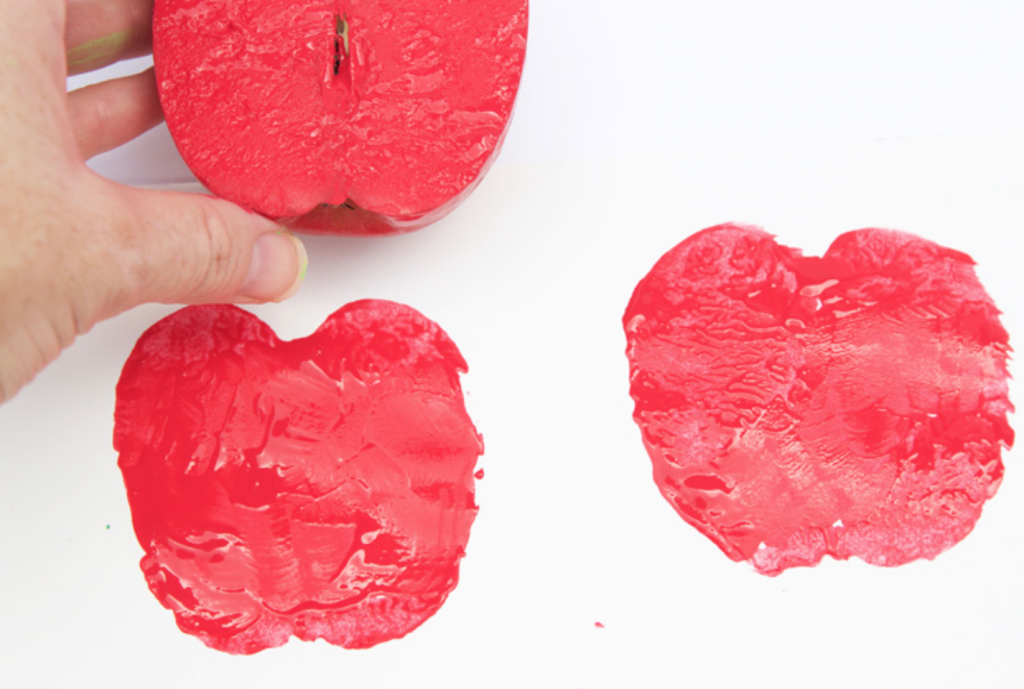 34. Fall Tree Painting with Q-Tips
My kids ages 2-8 enjoyed this one. I drew the trees for the littles, and the bigs drew their own. We set out some q-tips and paint in fall leaf colors. You'll notice the shape of the Q tip is perfect for making a leaf shape.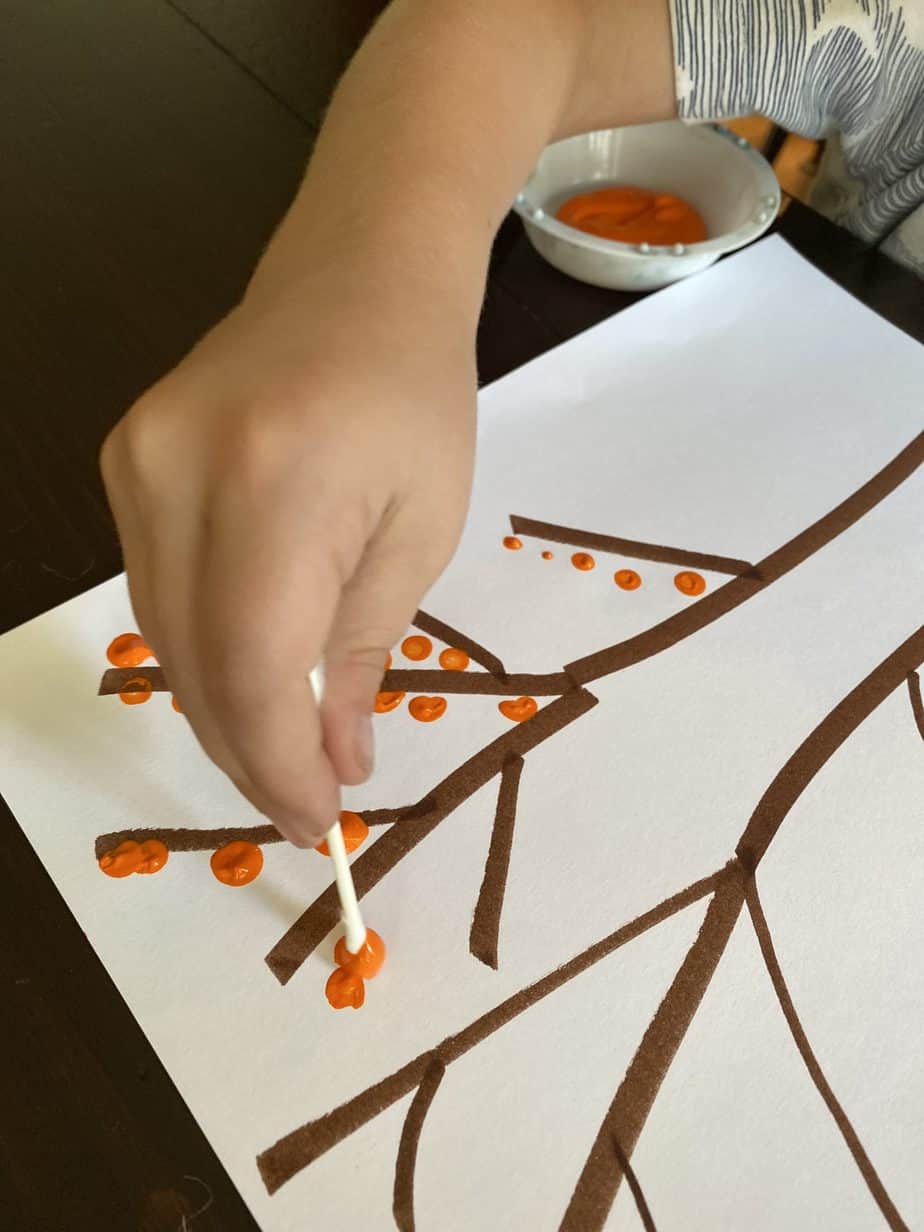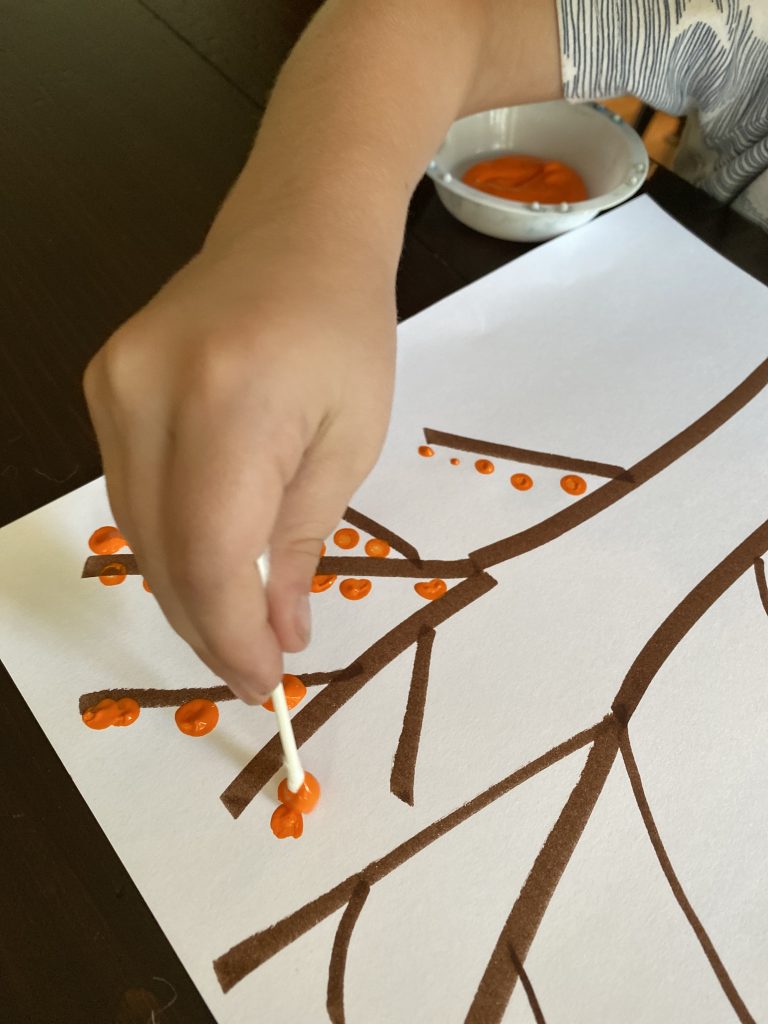 I have more tips for Preschool at Home Resources in this post on my homeschooling site!
Fall Recipes to Make with Kids
Baking with toddlers and preschoolers is messy for sure! But it's SO good for them. Kids work on math, motor skills, vocabulary, and responsibility when they're allowed to actually contribute in the kitchen with adults.
Choose simple recipes for starters. Demo each step before you let your child try. Our 3-4 year olds have learned to crack eggs, "bulldoze" the flour off the top of a measuring cup (make bulldozer noises while you slowly scrape the flat side of the knife), and pour the flour in a bowl without it exploding everywhere.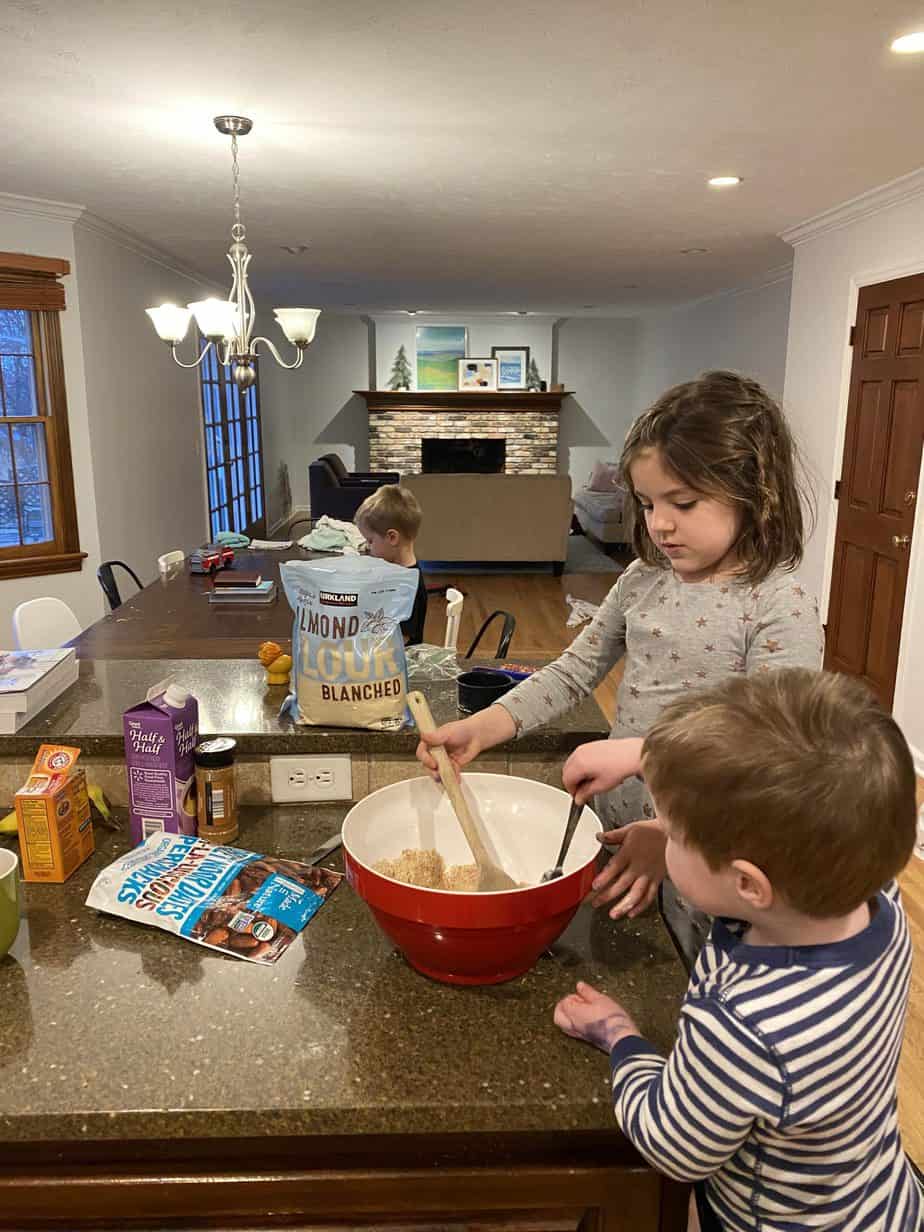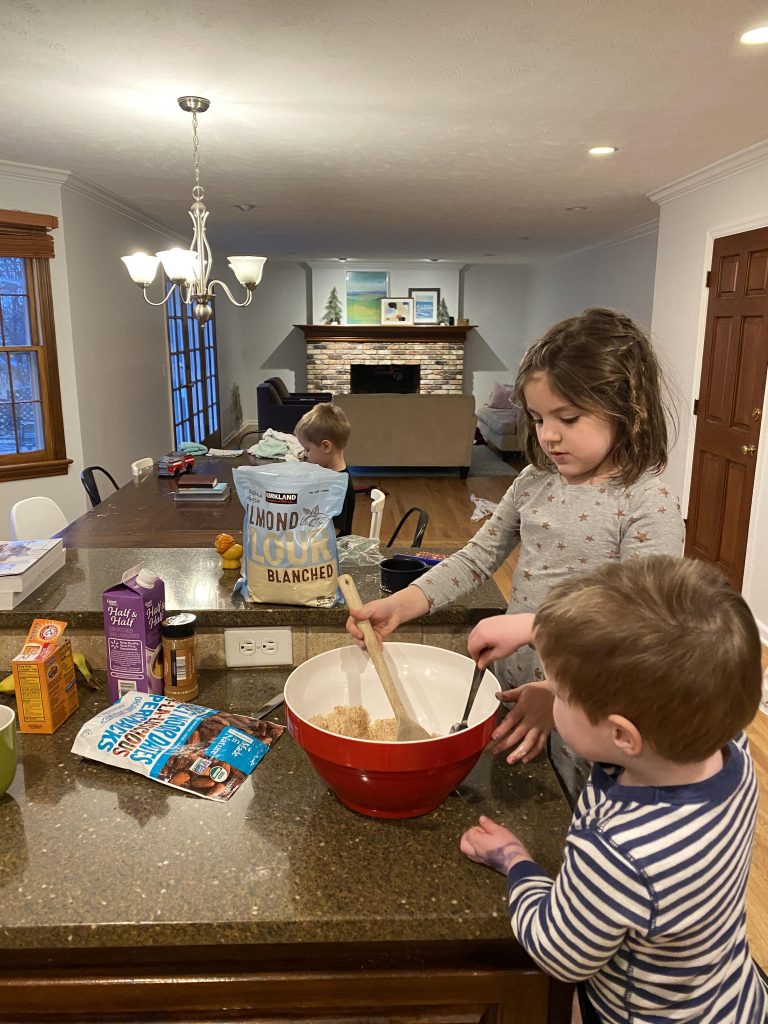 35. Pumpkin Spice Cookies
These seasonal cookies are straightforward and smell 100% like fall. To prepare beforehand, you can measure out ingredients into toddler-friendly dishes so your little helper has everything they need to get involved… Check out Two Sisters Crafting for the delicious recipe!

36. Apple Muffins
These apple muffins are scrumptious and the author even has a few suggestions for reducing sugar and oil. My toddler's favorite part was sprinkling the brown sugar crumbles for the top! The Girl Who Ate Everything will give you the whole scoop on how to replicate these at home!
37. Make Apple Cider
This simple drink will fill the entire house with a delicious aroma. If you have an older toddler, they can get really hands-on with this project by using an apple slicer and vegetable peeler to prep the apples. Check out Kid Stir for the easy step by step instructions.
38. Dough-Nuts Fall Treat
This kid-approved recipe uses doughnut holes and frosting to resemble acorns. Not only is this a delicious treat for your toddler, but makes an adorable dessert for your next family gathering. Food.com gives us the full recipe.
39. Easy corn-on-the-cob
If you're looking for an easy, delicious staple for the fall season–corn on the cob is it. Let your little help you fill a pot with water, squeeze in lemon juice, and dump sugar into your kettle before boiling this super sweet corn on the cob. You can pair it with some pulled pork for a filling fall meal. If you need the full recipe, All Recipes has you covered!
40. Classic Apple Crisp
This list would just not be complete without classic apple crisp! You can measure out ingredients beforehand, and let your toddler sprinkle the crumble topping. Your kiddos will love this treat with a scoop of vanilla ice-cream. Head over to Kid Friendly Things To Do if you'd like to try out this recipe at home.
41. Bake Apple "Chips"
Looking for a healthy-ish snack you and your littles will love? Slice up some crispy apples, sprinkle them with cinnamon, and get to baking! At least they're more nutritious than potato chips! Find out more about making this snack courtesy of Well Plated.
Want to Make Kids Activities from Trash?
I have a whole other post all about creating activities for your 1 and 2 year olds from junk around your house. Like, no-prep, no money, super simple!! Check that out here.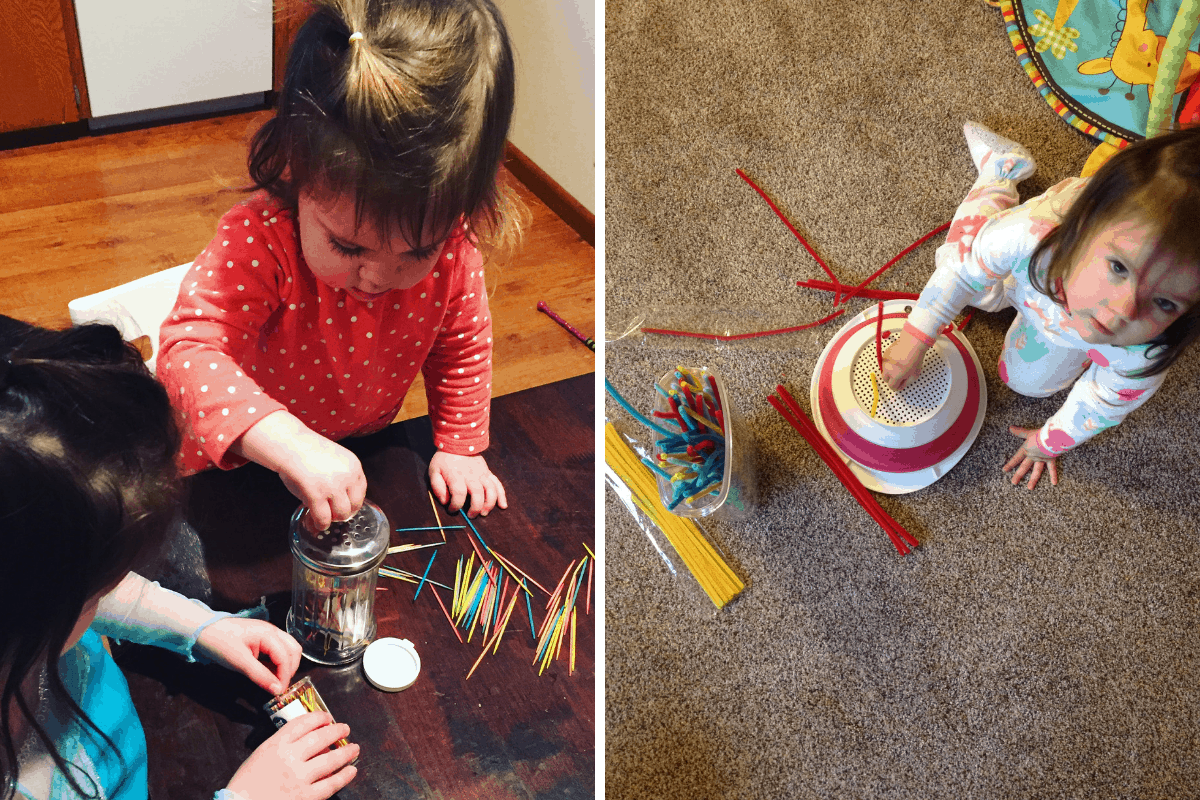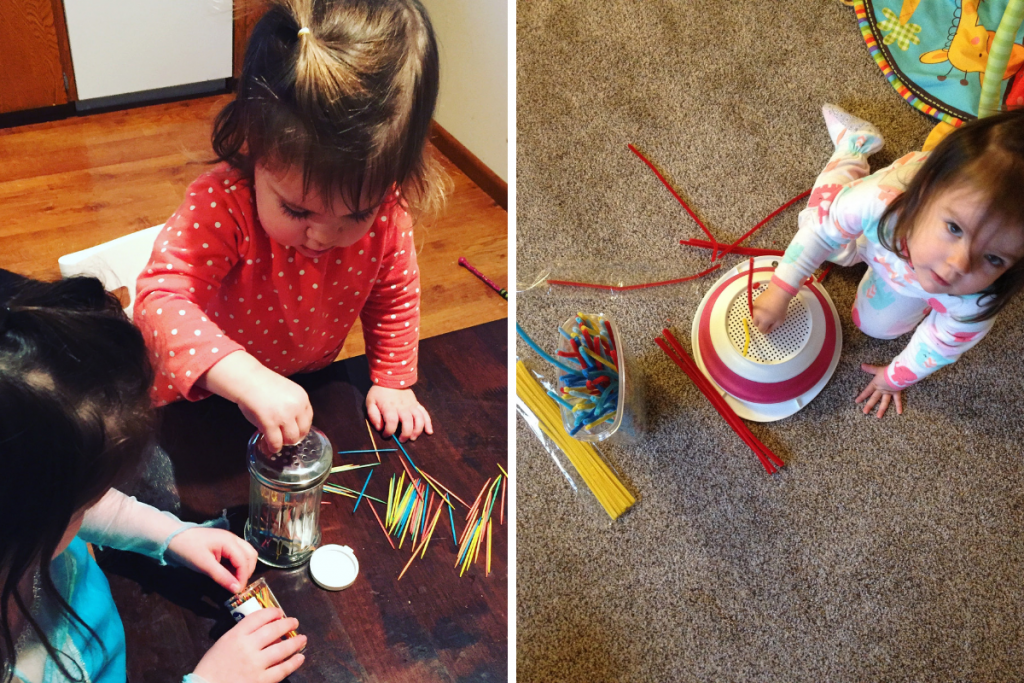 RELATED POSTS YOU MIGHT ENJOY:
50 Gift Idea Your Tots Will Play with for Years to Come
21 Ideas for Surviving a Road Trip with Toddlers