Some of the links on this page are affiliate links. When you make a purchase through an affiliate link, I earn a commission at no cost to you. See my entire disclosure policy for all the boring details.
When we got pregnant with our first baby, I was a private piano teacher making approximately $26,000/ year (before taxes) and he was a full time graduate student. Then, I landed a luxurious public school teaching job that was a slight pay increase with health insurance. (Can somebody say sugar momma?)
When we got pregnant with our second baby, we were living 100% on student loans with a medical sharing alternative to health insurance. My husband was in a super intense 1-year masters program and I was staying home full time caring for our 1st child. (Not a financial success plan I'd recommend…)
By the time we were pregnant with our 3rd, my husband had a job that paid him a real salary!! Living large. But, in order to pay off all that aforementioned student loan debt, we're living on quite a bit less than we make. (Role reversal – sugar daddy.)
All that to say, when I say it is possible to spend very little on a baby, I am speaking from experience 😉 times 3. times 4.
Update: we had baby #4. This all still holds true… you just don't need that much and you can definitely do it on the cheap!!
There are of course, some non-negotiable costs to having a baby: diapers, wipes, carseat, maternity and pediatric medical copays, an insurance deductible, some clothes, a bed.
But at the end of the day, you don't need that much. And, you can definitely figure out how much it costs to have a baby and plan ahead financially!
There are MANY flexible costs to having a baby: extra outfits, professional photography, different convenient gadgets, nursery decor, etc…
So, how much does it cost to have a baby? What does baby really need? And how do you budget for it?
I'm so glad you asked!
How much you want to spend on a baby is really up to you. You can buy baby items second hand for a fraction of the retail price or you can buy high end baby gear like the movie stars. (Most parents land somewhere in between.)
I wrote a very detailed post about baby products you'll need or want for the first year or so: a complete minimalist baby registry guide. There are some non-necessities on the list, but not very many! We've become kid stuff minimalists, so my baby registry must haves list only includes things I would buy if we were having our first baby all over again. And every single item on that list has an explanation for why you may or may not want/ need it.
The important part is to have a plan and make a budget that is within reach for you.
The bottom line strategy to budget for baby is create a sinking fund:
List every item with the price
Divide the total by the number of months you have to save.
We originally created baby budget spreadsheets for our kids. We're long past the baby stage now and we actually do all of our sinking fund style planning in YNAB. Here's how it works. I highly recommend checking it out!! Especially since kids only get more expensive over time 😉
The screenshot below explains it.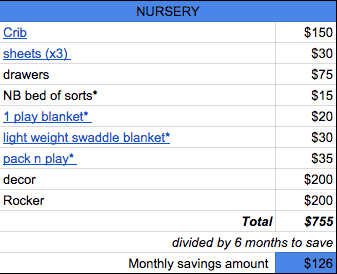 This is actually the strategy for every single thing you might ever need to save up for. This type of savings fund is sometimes called a sinking fund, and I've written more about it here.
Know you'll need to replace your car in 2 years? $10,000 new car in 24 months = $417/ month.
Want to be debt free in 3 years? $30,000/36 months = $834/month (plus some extra for that darn interest)
Want to do a kitchen remodel next year? $12,000/12 months = $1,000/ month.
You get the point.
Free Baby Budgeting Spreadsheet
Like the true budgeting nerd I am, I made a Google spreadsheet that you can download and use for free to help you with your planning and budgeting for baby.
This budgeting spreadsheet includes recommended items in every category, low and high end price points, and a spot for you to enter your own prices. It will even add up the totals for you.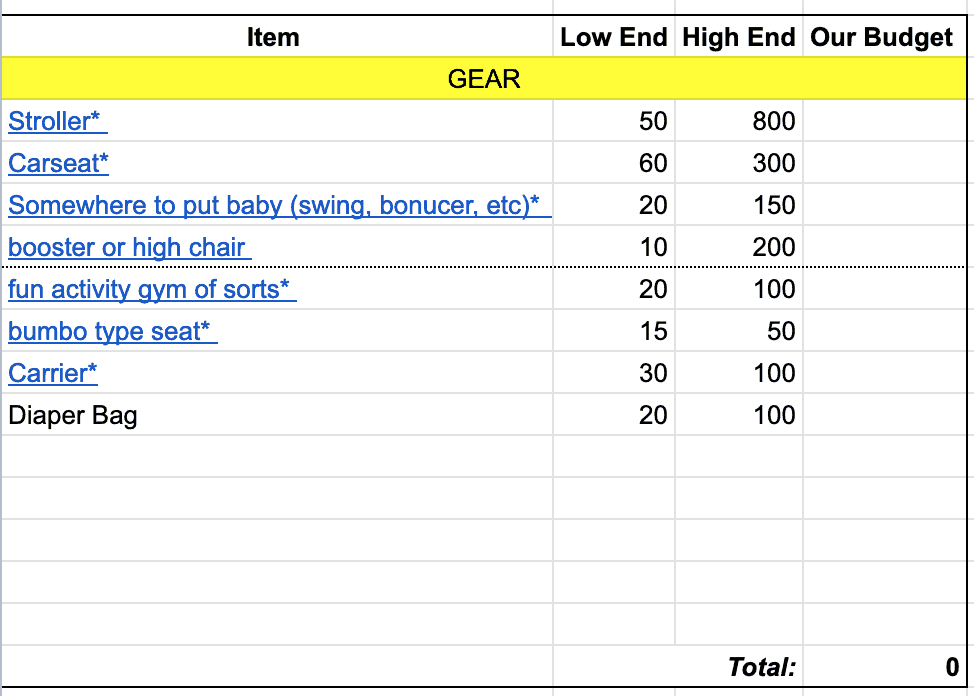 You will see more detailed instructions and tips about how to use this spreadsheet when you open it. Hope you find this budgeting for baby spreadsheet helpful.
Also, make sure you know the 10 questions you'll want to ask your insurance provider once you find out you're pregnant!
Related: How to Create a Capsule Maternity Wardrobe on a Budget!
If this IS helpful for you, please share on Facebook or Pinterest! You can even choose "tried it" on Pinterest and upload a picture or comment of how it worked for you. THANK YOU for sharing!!