I've grown to really like celebrating Advent the past several years. The word "Advent" comes from a Latin word meaning "coming." There's something about the anticipation. The set-aside time and space to look at the Giver of all good gifts. To remember that He became the greatest Gift we've ever known.
I want my little kids to experience the anticipation and fun surrounding Christmas in a way that is both meaningful & simple. But, since we've had a baby, or toddler, or preschooler (or all of the above), we have to keep activities simple. Kids THRIVE in simple celebrating, and I think we as parents often over complicate it by wanting to do ALL THE THINGS.
We really strive for a less-is-more mentality. Now that we have 4 kids ages 1-6, I try to finish up most of my planning, organizing, and shopping in November so I can just enjoy the Advent season with our kids. But the first year I wrote this post and tried Advent (back in 2015), I figured it all out on like December 3rd. Better late than never 🙂 Tweak my ideas to work for your family.
Here is what has worked for our family's simple Advent with toddlers.
The Basics
Print a calendar & buy some awesome stickers from the dollar section at Target
Mount plain calendar on cardstock with enough of a border for decorating
Let your kids go to down decorating it.
Fill it in with 2 things each day: 1 "special" activity and 1 Bible Story.
Remember – special does not equal complicated and "pinterest worthy."
We keep the calendar decorating really simple. Construction paper, markers, stickers.
Here's a calendar my 1.5 and 3 year old made… I remind the kids to color/ decorate mostly around the boxes and not too much in the box.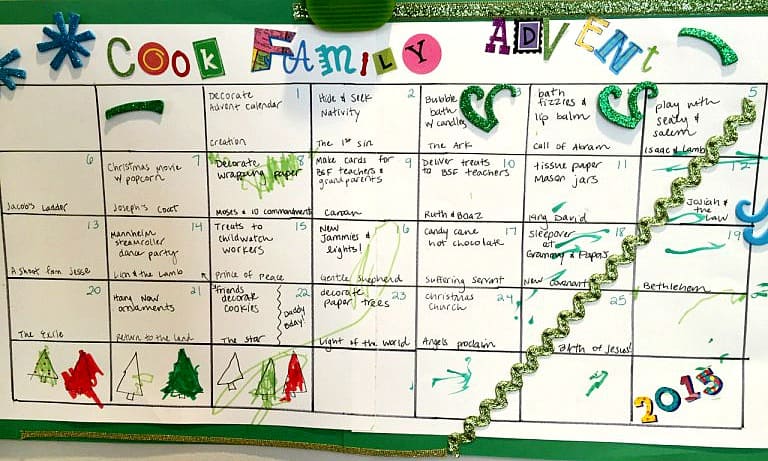 TODDLER ADVENT BIBLE STORY IDEAS
1. JESUS STORYBOOK BIBLE
The Jesus StoryBook Bible is our pick for Advent readings. There are 24 stories in the Jesus Storybook Bible leading up to the birth of Jesus. Perfect. Read one a day.
This is my favorite kids Bible. Hands down. My husband and I have learned a lot from it too, so I even recommend it to adults; especially if you're new to the Bible. Be forewarned though, this Bible will bring you to tears a lot. It's usually $10-ish on Amazon, and it makes a great gift too!
*Note: The stories in the Jesus Storybook Bible are a little long for 1-2 year olds. If your toddlers are 18-30 months old, I would recommend doing the second option below.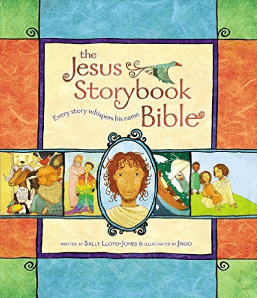 2. READING FROM LUKE 2
Another idea: read a different verse from the Christmas story (in Luke 2) each night. Here's a cute free printable set – you have to go to her site to print them.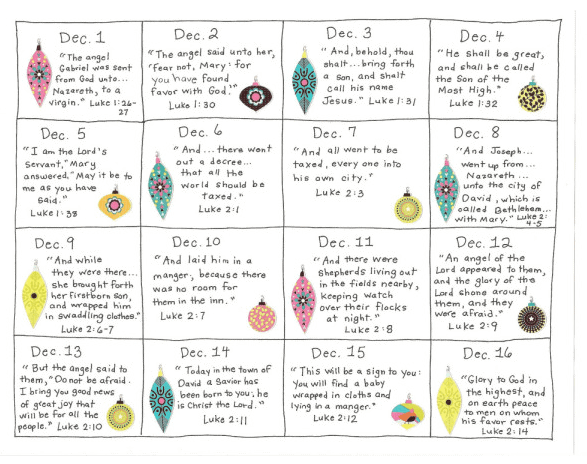 Do what you can and call it a day. Read one story or one verse. It's the habit, and the waiting, and the anticipating that they'll catch on to. It doesn't have to be any more complicated than that. And if you miss half the days, it's okay. Give yourself some grace.
JESSE TREE WITH TODDLERS (ADD-ON)
If you're feeling really crazy, or if you also have older kiddos around, you can add a Jesse tree to the Bible reading time. I have a whole separate post with details about trying a Jesse tree for Advent!
ADVENT ACTIVITIES FOR TODDLERS
As far as the activities go, we keep things REALLY REALLY simple. Take a day time bubble bath or play with Christmas stickers.
One of the best things about little kids is they get excited about anything you're excited about, even if it's not a big deal.
Some other super easy, almost zero-effort, activity ideas are:
Decorate the calendar (that's always our Day 1.)
Christmas movie with popcorn
Mannheim Steamroller Dance Party with flashlights.
Make Christmas cards for grandparents
Church on Christmas Eve
Open new jammies and read in them by the Christmas tree
Drive around looking at lights – don't spend too much time doing this with littles. Research the BEST neighborhood in your area and then try to go on a weeknight right when it gets dark so you're not out too late past bedtime. Remember, less is more. 3 fun, amazing houses or 1 cool neighborhood can be a HUGE win with little kids.
Go get donuts in our jammies – this has become a family fave!
Hide and seek the nativity set – I save the box and leave it out so the kids know how many pieces they have to find.
Take a family picture in front of the tree
Decorate cookies
Bring decorated cookies to teachers and say thank you
Have friends over for lunch
Christmas Jammies Play dates
Giving Manger – I am contemplating trying this for the first time this year as I've heard AMAZING things. I'll keep you posted.
Christmas bubble bath – dye the water red or green with bath tablets. Bonus if you want to include the nativity set characters for playing
Read a few new Christmas books – here are some of our favorite children's picture books about Christmas.
PRO TIP FOR KEEPING THINGS SIMPLE
Anything you were already planning on doing counts as a special activity if you call it special and put it on the calendar. Bam. That's a win!
For example, if we have plans to go hang out with friends on Saturday, the calendar activity is "play with friends."
Another day, we're driving 8 hours to Grandma's house and watching movies in the minivan, so that is the fun activity for the day. (Here are 22 ideas for surviving a road trip with toddlers.)
Some of our calendar things involve giving to other people, sharing with friends, and inviting people over. I want my kids to love giving and to cultivate that spirit around Christmas time! And to remember life isn't always about them.
Pick one new thing to try this year:
Maybe you buy the giving manger, follow the plan and call it a day.
Or wrap 24 books (some from the library) and tape a printed out verse above from Luke 2 on each book. Read the verse, unwrap the book, enjoy it and that's it!
Or, draw a grid and fill in the calendar dates, and fill in 3 no-prep, at home activities per week
Or do a Jesse Tree.
But don't try to do it all. This post is full of ideas – just pick one.
REMEMBER THE BIG PICTURE & DO WHAT WORKS FOR YOU
Remember, the big picture of things like celebrating Advent is helping point your child's heart towards Jesus. You are simply trying to take advantage of your child's innate curiosity and ability to soak up all the little "learning seeds" you are planting.
To that end, pray and ask God what might work for Advent with toddlers in this season of your family's life. And then, do what works for you.
If what works for you is a beautiful hand-sewn calendar with tiny felt pockets, great.
If what works for you is no advent calendar, then great!
Or, if what works for you is your kids fighting and crying while reading Bible stories by the half-lit Christmas tree, then you and I have something in common.
NO MOMMY GUILT!
I assume you're reading this because you want to do a simple Advent with toddlers. If you don't have time or energy, then don't do it. No mommy guilt allowed. I loved this article "10 Things Our Kids Don't Need This Christmas." She writes:
[Our Kids Don't need] an Elaborate Advent. If you haven't thought twice about Advent activities with your kids, you're in good company. It's overwhelming getting dinner on the table, much less planning 24 kid-friendly moments that are worthy of preparing little hearts for the coming of Jesus. Talk about pressure. My Advent Rule: Try something. Anything. Read one Scripture. Light one candle. Pray one prayer. Direct one heart to Him.
I like that: try something… Direct one heart to him.
So, do you do Advent? What does it look like for you?
Related Post: Complete Guide to Christmas with Kids: What to Give, How Much, and the BEST Open-ended Toy Gifts that Last for Years