Some of the links on this page are affiliate links. When you make a purchase through an affiliate link, I earn a commission at no cost to you. See my entire disclosure policy for all the boring details.
In this post, I'm going to share several ideas for preschool advent activities to do with your 3-5 year olds this year. We've had a preschool aged child in our home for the last seven Decembers & our youngest child is 4 1/2 this year.
Having celebrated the Advent season with 4 kids over the past several years, we've grown to find our favorite advent traditions that are a perfect mix of fun activities & celebrating the true meaning of Christmas.
I hope some of these suggestions are helpful to you!
Less is More
Everything in this season is screaming "more is more" at you. More activities, more parties, more presents, more stocking stuffers, more Christmas concerts… and on and on.
Remember, sometimes the easy ideas are the best ones. Create a simple advent calendar, start 1 or 2 sweet family traditions, and linger together on the beautifully good news of the advent story.
After several years of fighting for a simple season of advent with our kids, their favorite traditions this season are truly the simple things… Decorating the tree, watching The Star, reading the Jesus Storybook Bible, hanging a homemade ornament, etc.
Advent Meaning & Scripture Reading
I always teach the kids that Advent means "coming." During December, we celebrate the Christmas story – that Jesus came to earth as a baby, and we also anticipate him coming back.
We love to read children's Bible stories that emphasize the entire narrative of scripture with our younger children. As a homeschool mom & Sunday school preschool teacher, I've read a lot of Children's Bibles. Ha! My favorite Bibles in general for children are: The Beginners Bible, The Complete Illustrated Children's Bible, The Jesus Storybook Bible, The Young Reader's Bible, & for older kids, The Action Bible (God's Redemptive Story).
For Advent in particular, though, our whole family loves the Jesus Storybook Bible (JSB).
We read 1 story from the JSB each day of December. It's perfect for preschool children, but my older children love hearing it too. The stories are familiar to us now, and we really love the tradition of enjoying it together during Advent. The subtitle of this book is Every Story Whispers His Name & the Old Testament stories really focus on the gospel narrative throughout scripture. The publishers actually didn't realize there were 25 stories leading up to the birth of Jesus until after they published it, but reading a story each day from here has become a simple & meaningful part of our Advent celebrations.
Some other popular choices for Advent readings are The Greatest Gift, The Names of Jesus, and 25 days of scripture reading. I review all those and 6 more in this post about creating a kid-friendly advent reading plan.
Special Christmas Ornaments for Advent – Jesse Tree
We have a set of ornaments that correlate with the stories from the JSB and the kids take turns each night hanging one on the Christmas tree. We store the ornaments in a special box so they can be hung one night at a time. Some people actually do a separate tree for their advent ornaments, traditionally called a Jesse Tree. A Jesse Tree is a tree where you hang ornaments to remember the Bible stories that follow the lineage of Jesus… who came from the line of David & Jesse.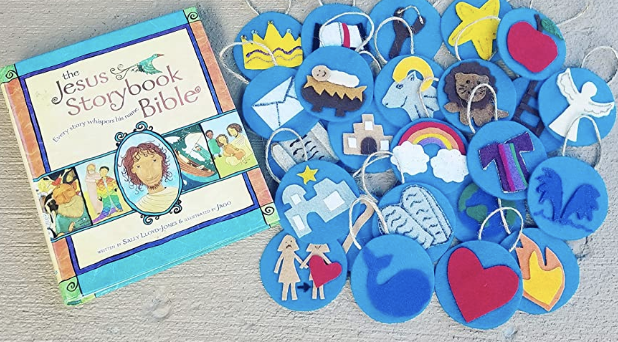 Homemade Christmas Cards & Wrapping Paper
I like to cut out green construction paper triangles & brown stumps and let the kids decorate homemade cards. You can even modify this activity to get a little fine motor skills practice in. Draw the triangle lines on the paper and let your child cut the trees out.
Your preschooler could write his or her own name on the trees, a family member's name, or just decorate the little tree. You could have the child tell you a "Merry Christmas" message to write on the back if you want. Making cards is a great way to include little ones in giving.
We've also sometimes bought the big brown butcher paper rolls to use as wrapping paper. I love letting 3-4 year olds go to town decorating the plain paper with paint markers & stickers.
Nativity Scene Ideas
We have this nativity scene & my kids love setting it up by our fireplace and playing with it all of December. Sometimes we play hot and cold with the baby Jesus… haha, is that sac-religious?
Last year, we received a wooden paint-your-own nativity scene one year that was really cute.
Sometimes I say something like, "I wonder who can tell me the nativity story with the characters!?" It really cements stories in kids' minds when they retell it back to you.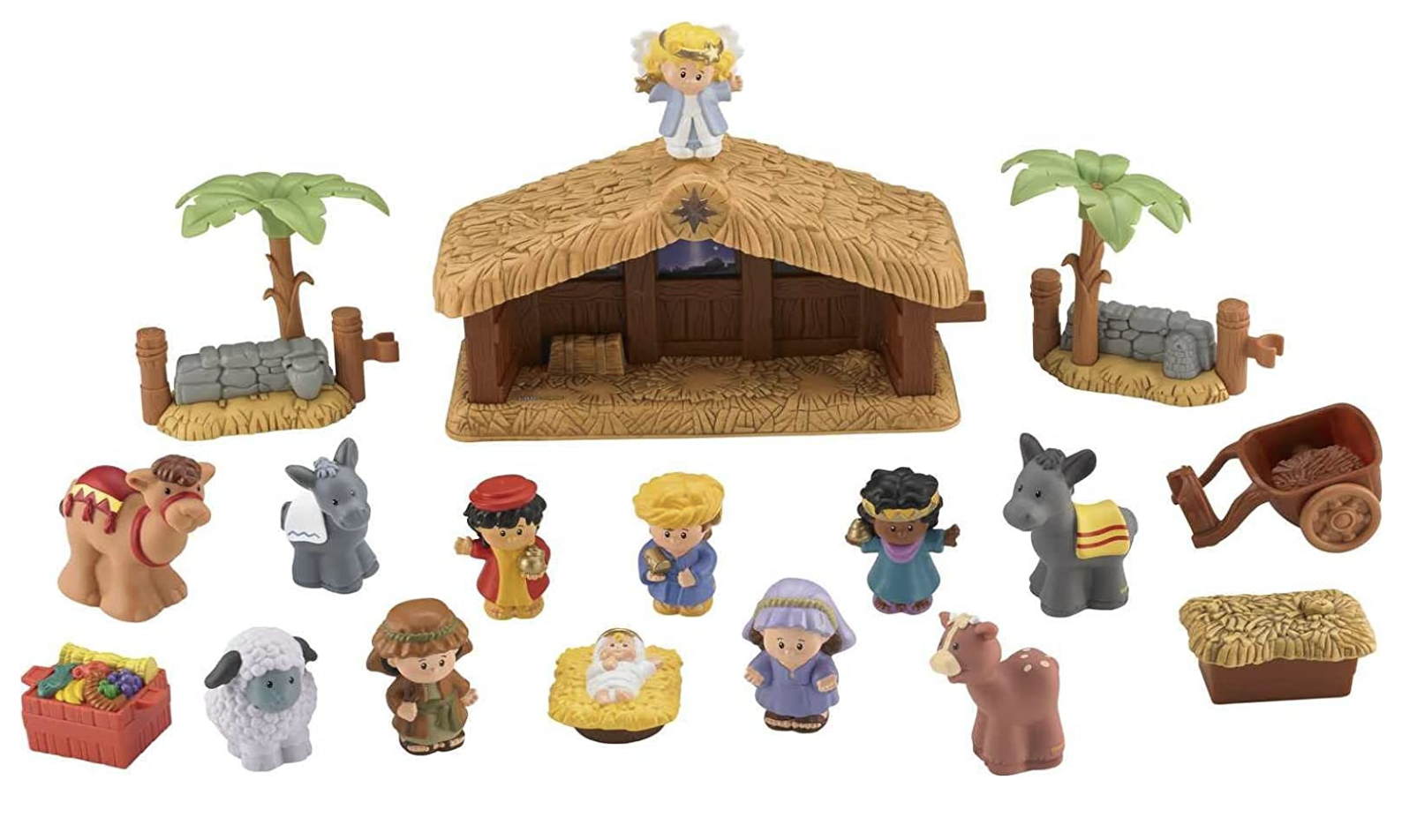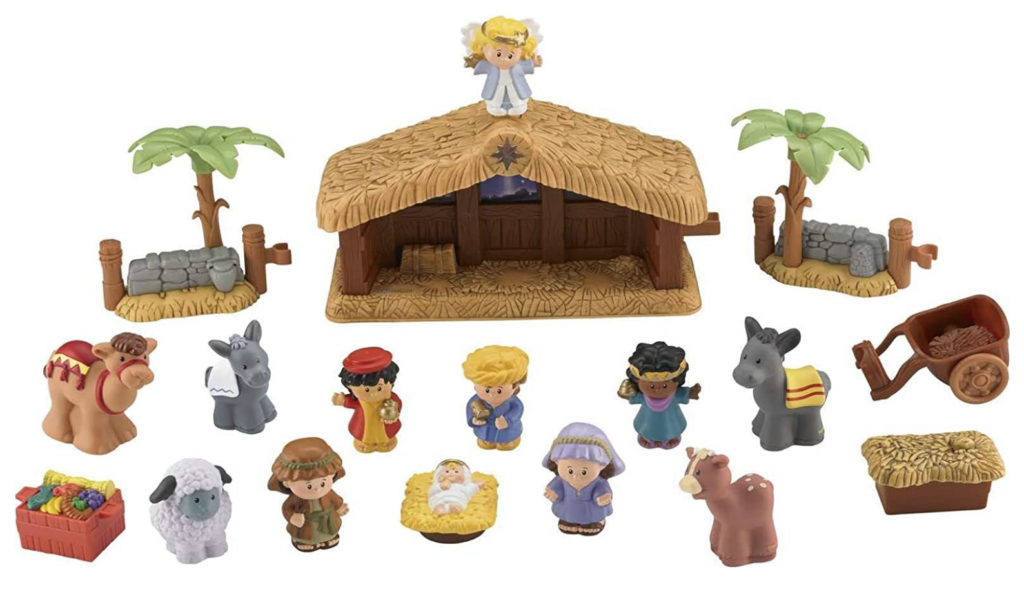 Service Project Ideas – Keep it Simple!
It's hard to know how to include young kids in serving others & this time of year gets so full. The primary way we exemplify & teach serving in our home is through serving our family & close friends… year round. An older, wiser mom friend suggested using a language of service as we work together in our home. When friends are coming over, I might say, "We're going to clean up our toys so that it's more fun for friends to come play here. If you room is a huge mess, your friends might not have that much fun. But if we set everything up in a nice way, then they'll be so excited to come over and play & we can serve our friends by letting them play here."
Or, "Today, you can serve one sibling by doing one chore for her as a secret." Or, "Let's serve Dad by moving his clothes to the dryer for him so they're nice and clean and dry when he gets home from work." Don't discount the little ways to teach serving in your home on a daily basis. It matters.
BUT…. I know it's awesome to include kids in Christmas specific service projects too!
Our favorite thing to do at Christmas time is to adopt a single momma through our local crisis pregnancy center. The center gives us the names/ sizes/ requests/ information & we do all the shopping & wrapping. We remain anonymous and drop it off at the center so the mom can give the things to her own children.
Picking out gifts for other children (and not buying ANYTHING for ourselves during that shopping trip) is the perfect way to introduce our kids to giving generously.
It's a good chance to talk about the real meaning of Christmas & what it means to imitate Jesus, the ultimate sacrificial giver.
If you don't have time to figure out how to support a local family this year, another idea is to look through the World Vision catalog. Helping pick out a goat or chicken to gift to a 3rd world family will be more abstract for a young child, but it's a simple way to start a giving tradition that you can do each year.
Candy Cane Book & Activity Day
Each year, I love reading this picture book about the candy cane legend. We drink hot chocolate, eat a candy cane & put candy canes on the tree this day too!
Putting candy canes on a different day in December is a fun way to spread out the fun of decorating the tree.
Countdown to Christmas Day
We spend a lot of time with extended family on Christmas Eve & Christmas Day, so those days are super fun for our kids to countdown to.
When your oldest child is preschool age, the idea of a countdown can be very abstract. I think the BEST way to visualize counting down is to use both a paper chain AND a simple Christmas Advent Calendar.
I always just do a diy Advent calendar – drawing the grid on a big piece of paper & let the kids decorate the margins with stickers, glitter glue, and other basic supplies. But you could totally snag a printable advent calendar off Etsy, or get one of those fun advent calendars with small pockets too!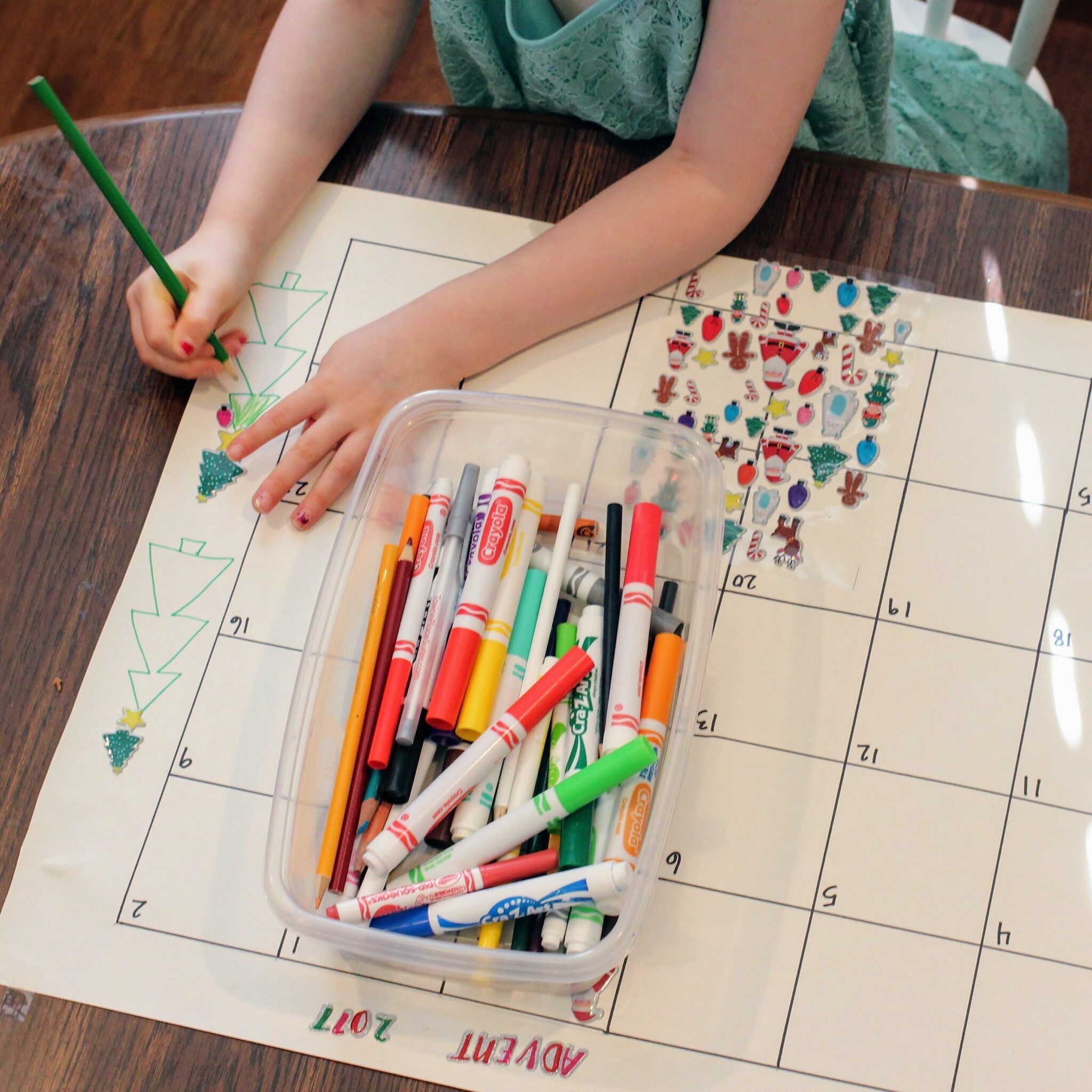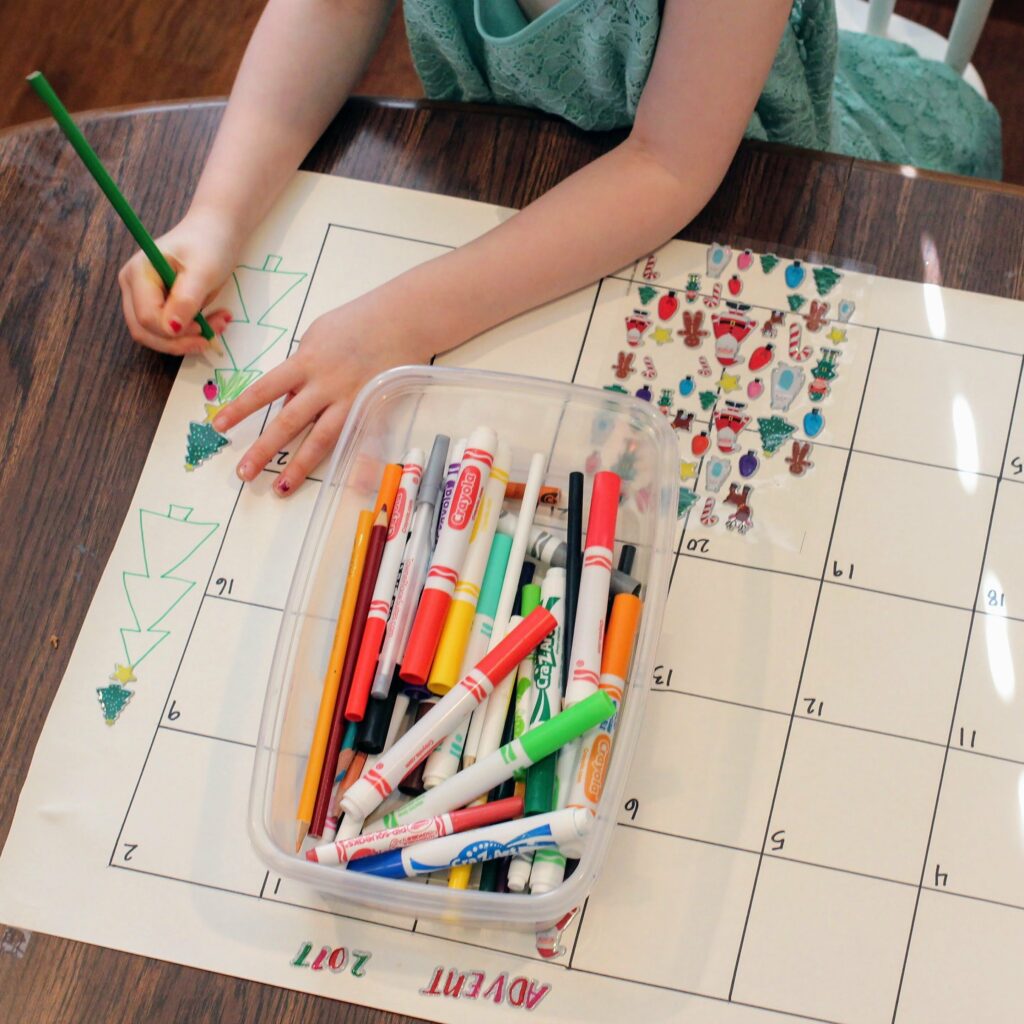 Making a paper chain is easy & practically an advent preschool lesson plan! This advent activity is full of learning opportunities for preschool aged kids.
You could draw lines on the red & green paper for them to practice cutting in straight lines
Have the child line up the paper strips in an ABAB pattern – red, green, red, green
Little hands love squeezing the stapler or putting on tape to make the chain too.
Little kids will have a hard time making a paper chain independently so you'll have to help.
We usually make the calendar on Nov 30 and the chain on December 1. After a few days of crossing out the calendar boxes and ripping off the paper chain, the child will understand the Christmas countdown concept a little better.
Christmas Music
I always wait until after Thanksgiving to turn on our favorite Christmas songs. Here's my Spotify playlist if you want to hear our family's favorites.
We also have this AMAZING old book of Christmas carols that my kids love. I've been singing a hymn-of-the-month at bedtime to the kids for years, but during December, each child gets to pick what Christmas carol bedtime song they want.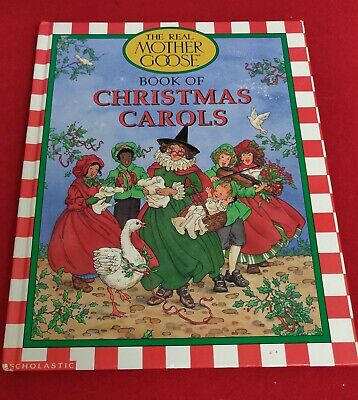 We also have this awesome 12 Days of Christmas picture book. The kids think this song is so funny! Sometimes I snag a couple versions from the library too. They love seeing the different variations of illustrations for the same silly song.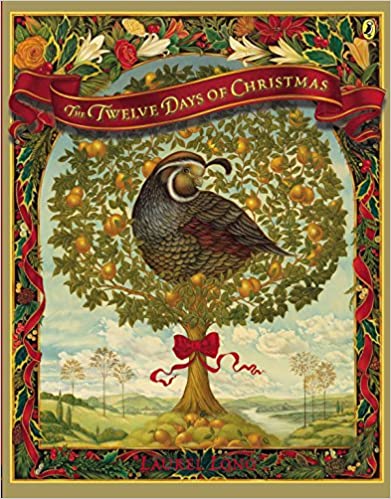 If your preschooler is new to Christmas carols, introduce them to a few this year. Kids love hearing familiar songs, so if you sing them every day, your kids will start to love them. You can always find fun recordings of the songs if you don't want to sing alone. 😊
Christmas Movie Ideas for Preschoolers
Our top 4 favorite Christmas movies for 3-5 year olds are:
The Star – this is probably our favorite one. All 4 of our kids love this movie & so do my husband and I
The Polar Express
The Grinch (the newest animated one)
A Charlie Brown Christmas
As our kids have gotten older, we've added Elf, It's a Wonderful Life (in a few viewing sessions), and Home Alone to our Christmas movie list.
Christmas Picture Books
Years ago, I started a Christmas picture book collection and it's grown into a such a fun tradition.
Don't feel like you need to run out and buy 25 Christmas books. Just grab a few this year, and budget for a few more next year. I love buying from Thriftbooks, although I usually price compare with Amazon.
My other 4 favorite Christmas books for preschool aged kids are:
Mr. Willowby's Christmas Tree
The Night Before Christmas (illustrated by Jan Brett)
Room for a Little One
The Polar Express
Other Fun Ideas & Daily Activities
The Christmas season can get CRAZY. We try to strike a balance of enjoying the holiday season while not going insane. Haha.
We always set aside a night to open new pajamas, go out for donuts after dinner, and drive around looking at Christmas lights. The donuts + pjs + lights night is a family favorite for sure.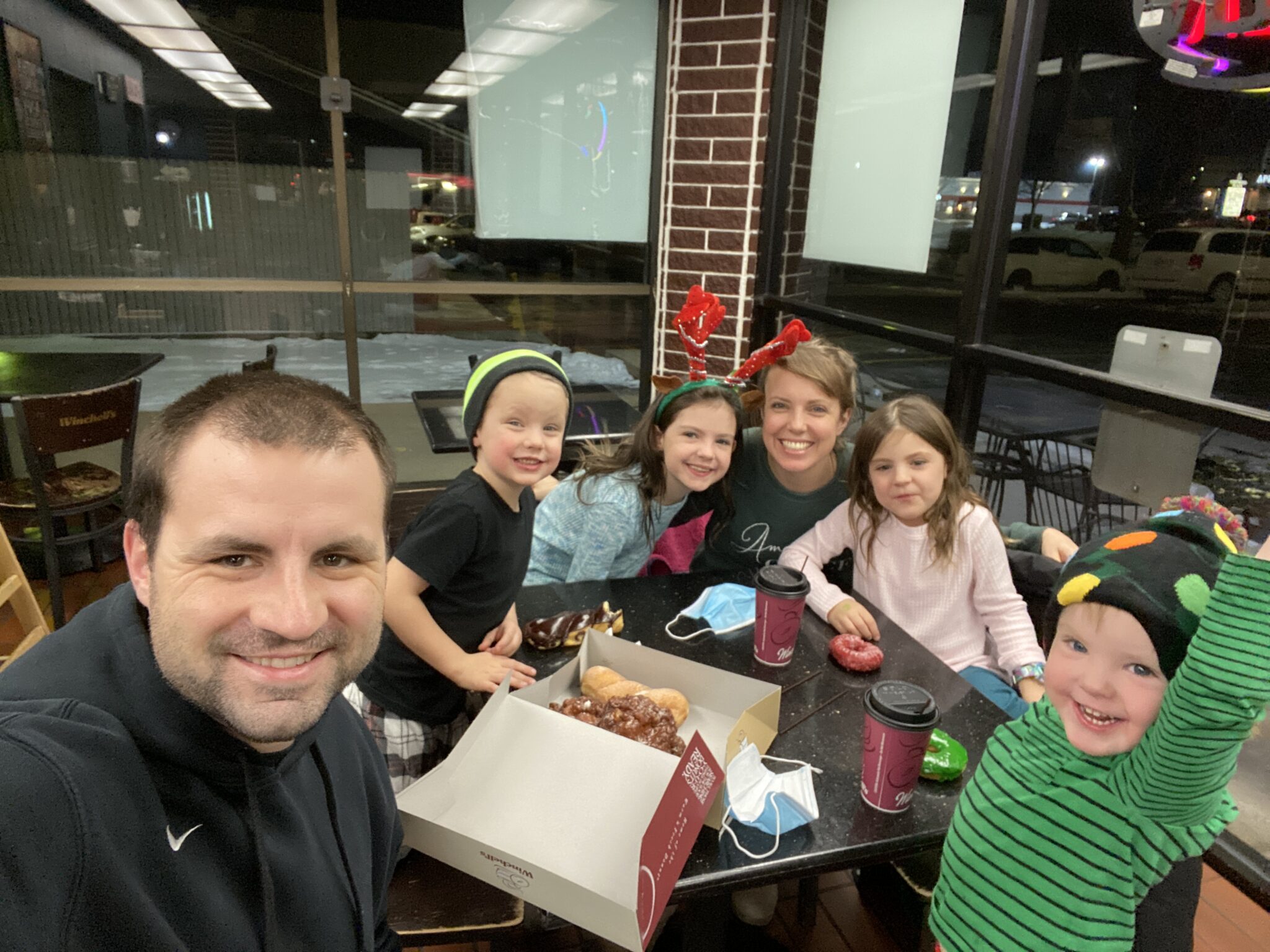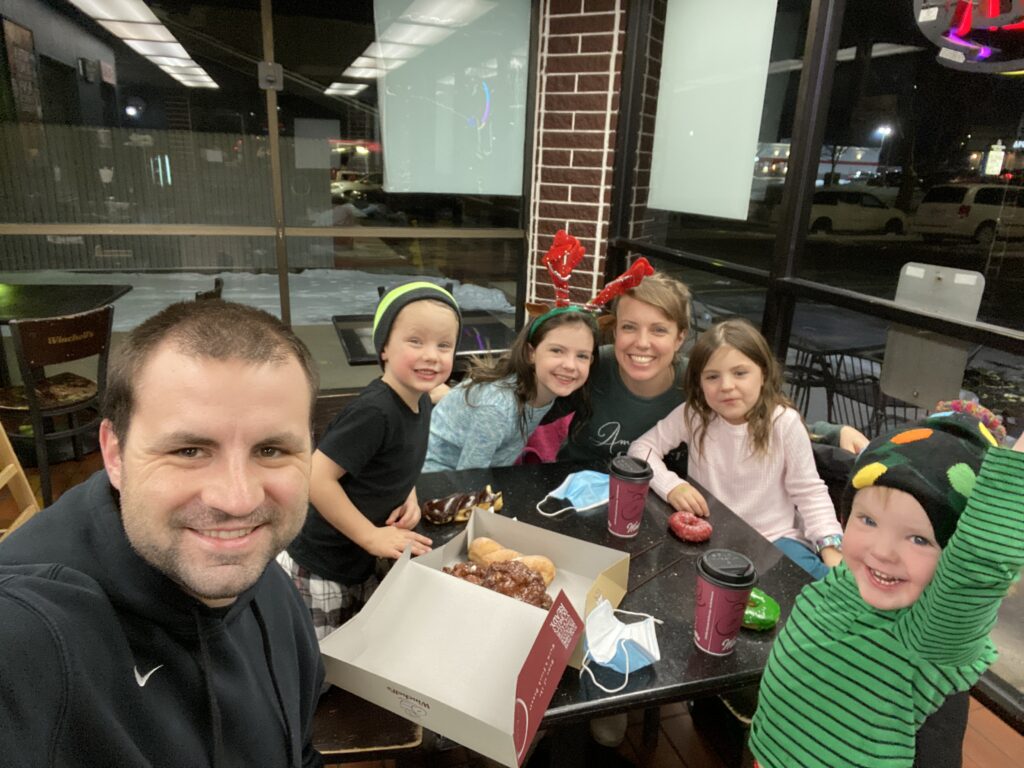 Paper Snowflakes
Even though I'm a homeschool mom, I'm not big into guided craft projects. Haha I'm more the mom who has a lot of art supplies on hand and the kids play freely with art!
BUT, a favorite Christmas craft around here is making paper snowflakes. Every year, I precut a bunch of circles out of white computer paper & show the kids how to fold them into a cone shaped paper and cut the borders. Here are my favorite preschool scissors for this activity!! Don't fold the paper too many times or it's hard for little hands to cut through.
Ornament Crafts Kits
Michael's crafts store always has a ton of discounted ornament craft kids that are perfect for preschoolers. I love to pull them out on a cold mid-week December day.
Gingerbread House Kits
When I was a kid, we went to this one family's house and made epic gingerbread houses every year using graham crackers & canned frosting. There were skyscrapers and 2 car garages and bridges with moats.
I'm not nearly that elaborate as a mom (and boy, do I have a LOT more appreciation for how much effort that tradition took!!)
Anyway, the kit is a fun thing to do with friends or neighbors. Put down a bunch of that brown butcher paper. Make sure to grab extra frosting cans & bags of candy too! The kits never have quite enough.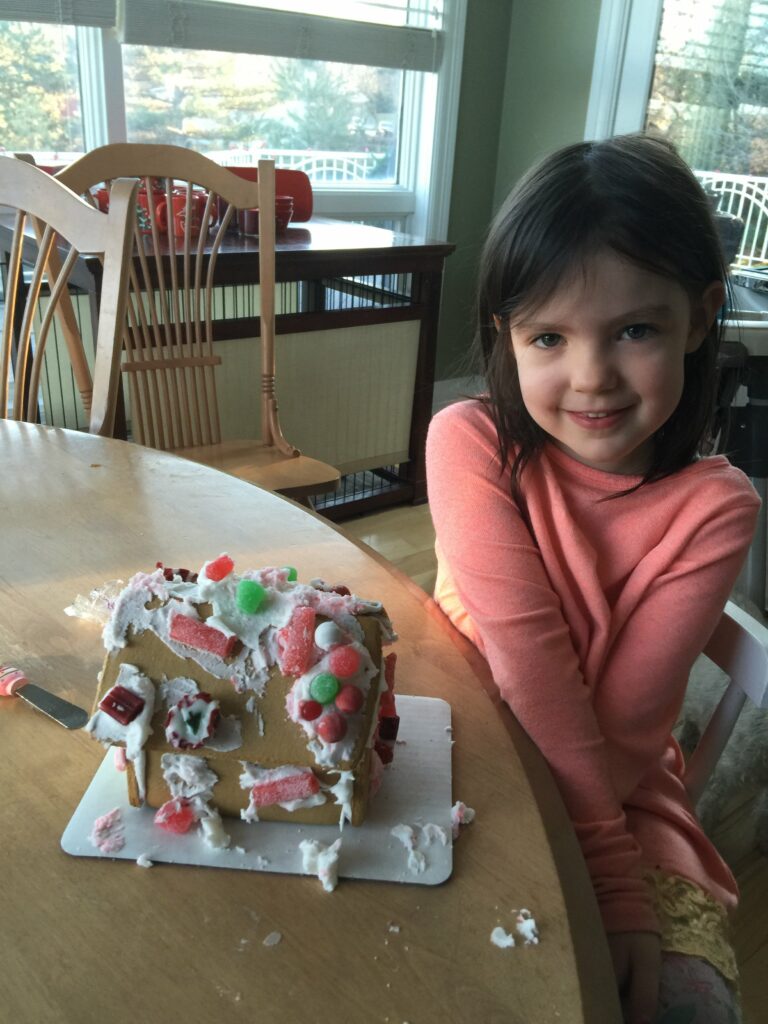 If you want even more inspiration for simple & fun advent activities, here's 31 more to help you brainstorm.