Some of the links on this page are affiliate links. When you make a purchase through an affiliate link, I earn a commission at no cost to you. See my entire disclosure policy for all the boring details.
Today I'm going to share about how to survive a long road trip with toddlers.
We had 4 kids in 5 years, and always lived out of state from one side of our extended family. We've also done several family road trips of really long distances with newborns, babies, toddlers, and/or preschoolers. (1000 miles or more!)
This post includes everything related to little kid road trip essentials: from planning & packing the car to book & activity recommendations… and more!
Hopefully these tips will help all your family members have the best road trip!
Real Mom Life Disclaimer: These tips for surviving long drives with little ones aren't fool proof. Even if you do every single one of these things, there is still a 17% chance that your 6 month old will projectile vomit all over the back seat when it's negative-10 degrees outside at midnight. #SpeakingFromExperience If it's baby's first road trip, you'll likely have some stressful moments. Hopefully the trip will be quality family time anyway. Kids become better travelers over time. Don't give up!
1. First Thing: Plan Accordingly
I usually start kinda-sorta thinking about our upcoming trip a few weeks in advance, depending on how long of a trip it will be. I think through the following:
How far are we driving?
How many activities do I want?
What do we have on hand?
Do I need to order anything for the activities?
Do I want to put any toys in the house away in hiding so that they're fun and new when we hit the road?
Are there any important things to remember for this particular trip?
2. Best Rest Stop & Meals Tip EVER
We tend to pack snacks and buy meals when we're on the road.
We used to make stops for each meal, but it's nearly impossible to make a meal stop in less than 30-45 minutes with little kids. (Especially with more than 1!)
So, we've switched to eating in the car and stopping 30-60 minutes later for a quick potty break & a little bit of run around time. Here's how this looks:
Get off the road and drive through when people are getting hungry.
Get back on the highway while I dish out everyone's food in the car.
Eat and chat for 30-45 minutes in the car.
After an hour or so, when everyone has to go potty, we stop for 20-30 minutes at a highway rest stop or a gas station/ fast food place near some grass. That way the kids can run around & go potty.
Get back in the car and keep going!!
This is a great option & has made our pit stops faster and fewer. It also is nice to occupy some of the car time with a meal.
The last time we did our 500 mile trip to Grandma's, we drove through for breakfast on our way out of town, stopped 3 hours later for 15 minute potty + run around, and drove the rest of the way without stopping. It was AWESOME!!
3. Diaper Bag for Rest Stops Only
We generally try to make 3-4 hour long time segments in the car before stopping. After many stops at a gas station where I've had to run back to the car in the freezing cold to get a change of clothes or diapers or wipes or cheerios or baby food or whatever… I now pack a "rest stop bag" with the following:
3-4 diapers of each kid's size
Travel pack of wipes
Formula + bottle if we have a kid of this age with us (which we have had almost continuously for the past 2 1/2 years….)
Baby food + spoon + puffs or cheerios if we have a kid of this age (the baby food age is the WORST age to make long road trips with…)
Extra set of clothes for each kid
My wallet
Hand sanitizer & toilet paper – in case the rest stop is out!
The key to the rest stop bag is don't put anything in it that you need to get out while driving. Rest stop items only in this bag.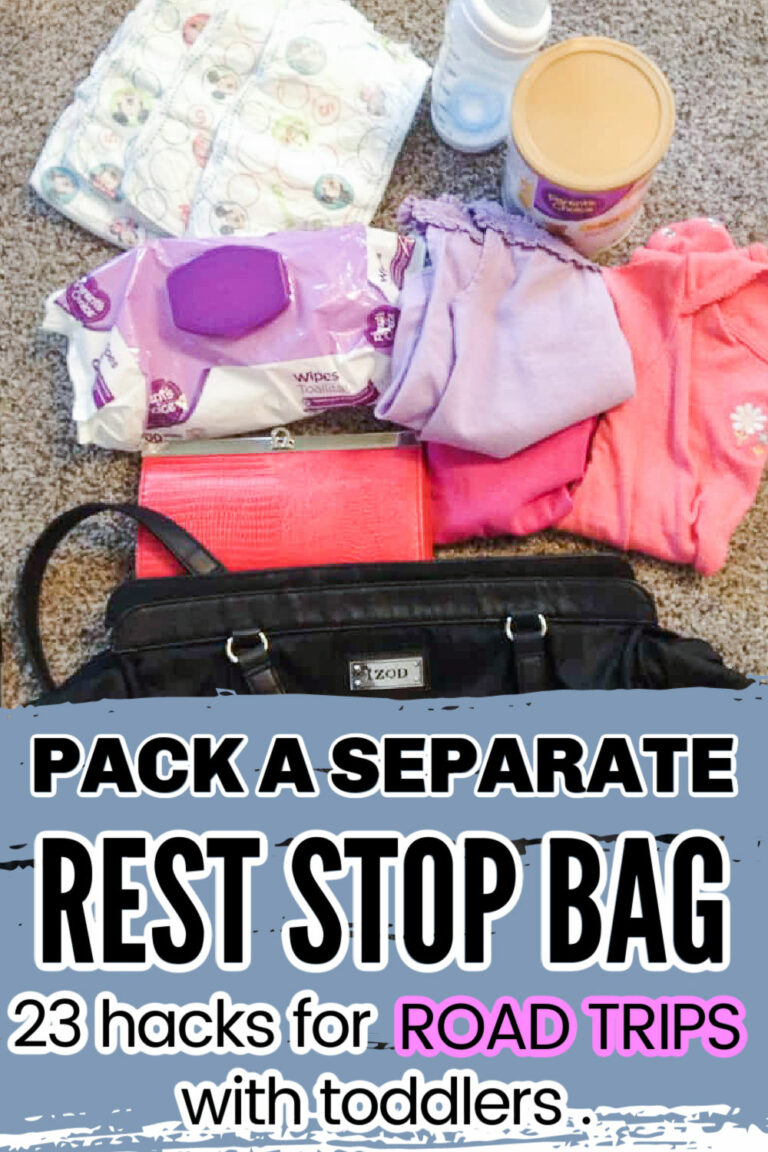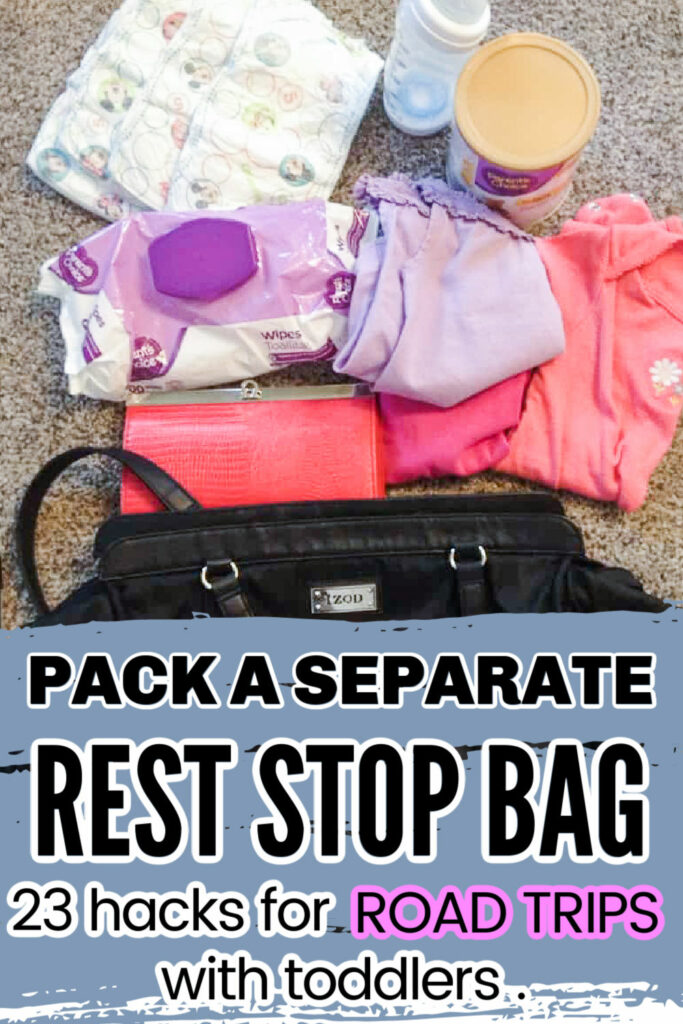 4. Book Basket Recommendations
Put a book basket within reach of your child!! Make sure they have easy access even while buckled, if possible. For a 2 year old, I'd put mostly old favorites because they like the same thing over and over.
We also let our older kids check out fun new library books. It's a bit risky traveling with library books because of the aforementioned eating-in-the-car tip. But, hey, you gotta keep it exciting. Living on the edge, folks.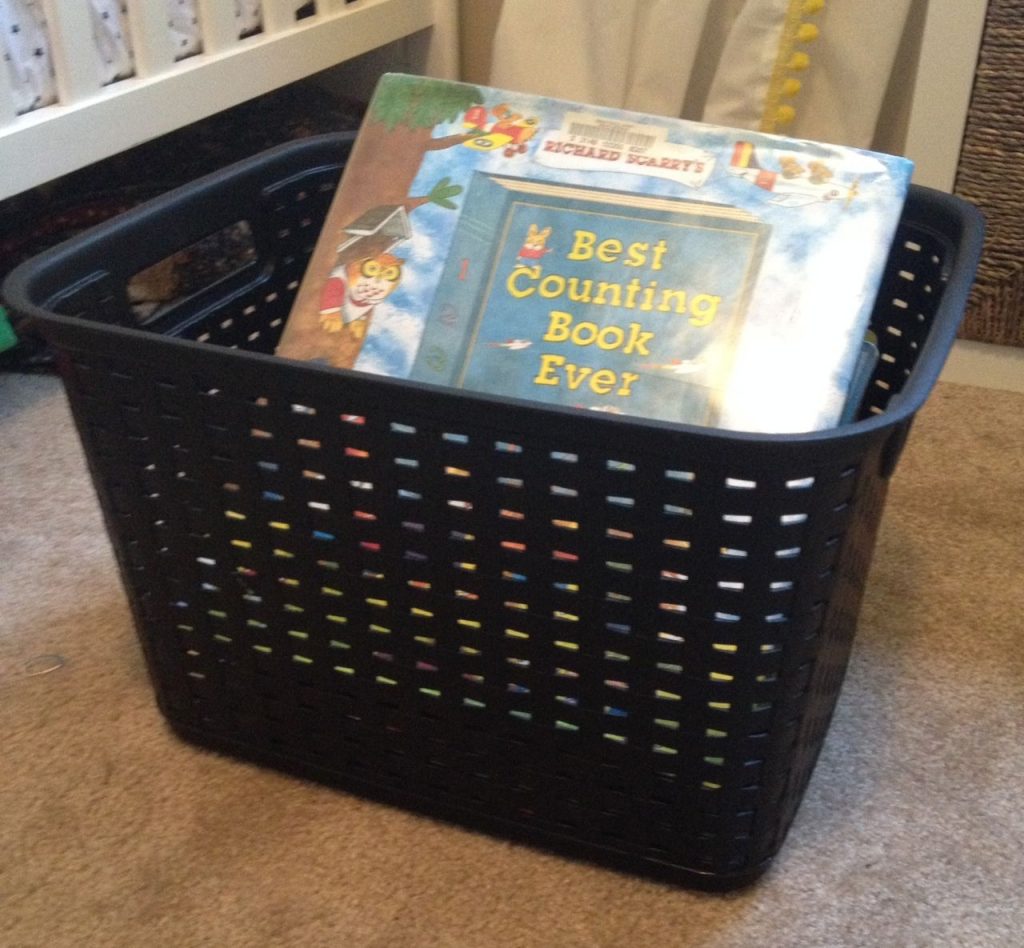 Besides your kids' favorite books, any 'finding' or flap books are fun for young kids in the car too.
Some of our go-to's toddler age finding and flap books are: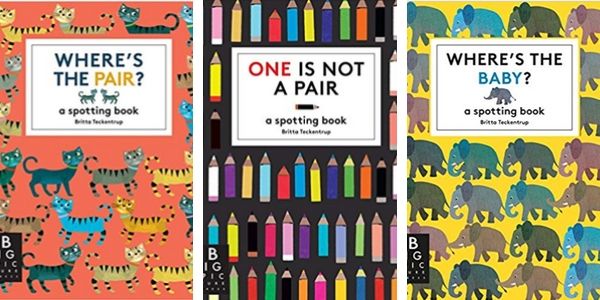 My big kids (5 and 6 yrs) have enjoyed these other finding/ spotting books too:
(We often grab them at the library before we go so they're fresh and fun!)
5. Secret Hidden Box of Toys
Put a mix of old and new "hands on" activities in a box and keep it out of sight. I usually ride in the front passenger seat and keep it by my feet.
I used to put this box right next to our toddler for easy access, but I've found it all provides more entertainment if I dole out one new activity at a time. It's a fun way to keep the surprises going throughout the trip. (I will detail what toys we've liked the best later in this post!)
Honestly, before kids turn 2, we just bring a couple favorite baby toys, a portable white noise machine (although the highway noises are great for nap time), and any regular blankies/ pacis that the baby is used to. Our babies have generally been pretty happy in the car except for the projectile vomiting incident I mentioned earlier. My theory is that sleep training from birth helps babies travel well in the car!
6. Let The Child Pack a Bag!
I also let the kids pack a small bag of toys for themselves! They love having the choice of what to bring and occasionally entertain themselves with the most random toys for long stretches of time.
7. Activity Binders
For older toddlers and preschoolers, a sticker activity book is really fun! We have found putting lots of papers in a binder, with some stickers in the front pocket or a zipper pouch works pretty well.
I always recommend peeling the backs off the sticker sheet as pictured below. This makes it easier for them to get their own stickers. And that is a great thing. I keep these binders in the aforementioned hidden basket-of-fun and bust them out when needed later in the drive.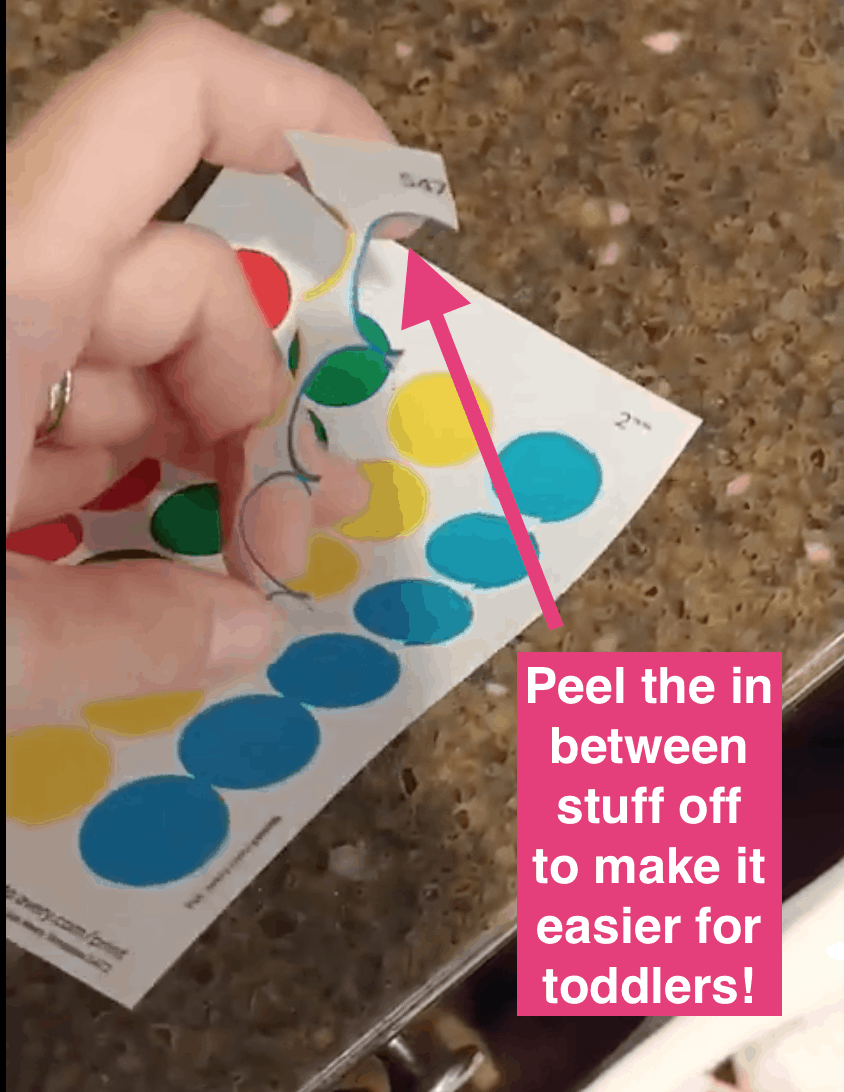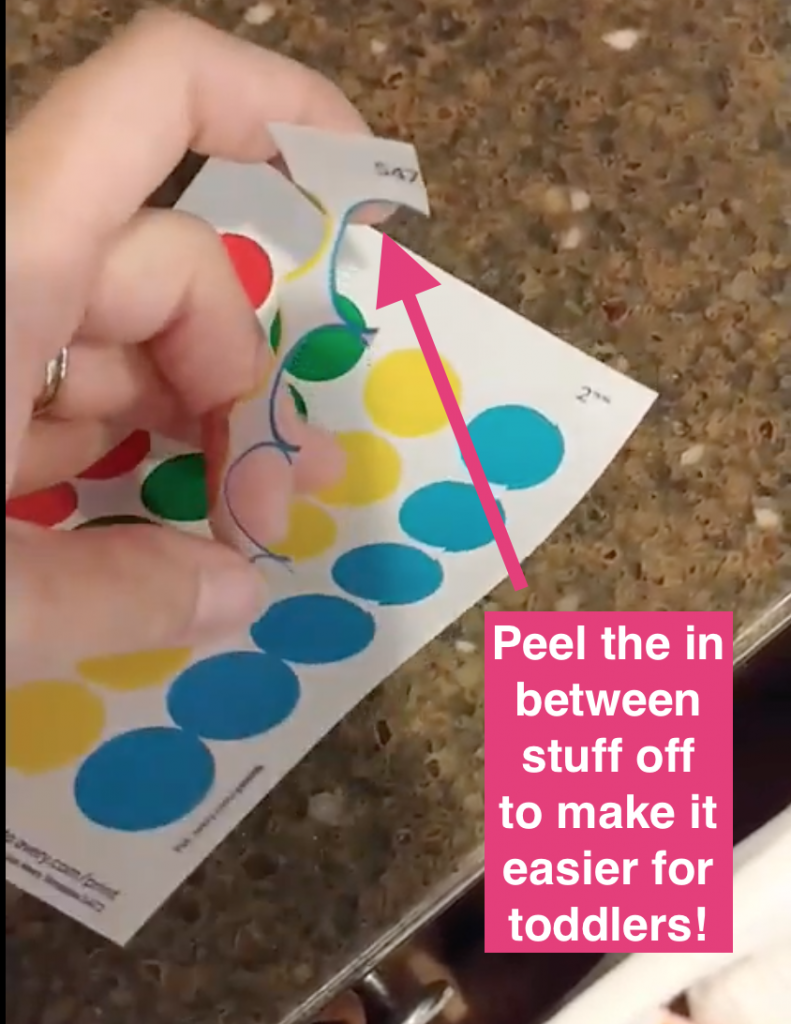 8. Plastic Bags for Trash
Cheese-stick wrappers, apple cores, fast food wrappers… you'll definitely want to be able to easily get rid of trash in the car. I give one plastic bag to the kids in the back row of the minivan and keep one in the front seat.
I throw the trash bags out at every gas station and get new ones out. I just keep a stash of grocery store plastic bags in the glove box so we have plenty.
9. Wipes of Some Sort
It doesn't matter what you bring, but bring something to wipe up hands, spills, etc. Paper towels, microfiber cloths (to use with water) or baby wipes will work fine. But there will probably be an epic spill of some sort. Our biggest to-date was a GIANT smoothie.
10. Carsickness Bags
If this is baby's first road trip or you haven't travelled much with your kids, you may not know that your child gets carsick. We learned early on one of our kids gets carsick. Ay ay ay! I wish I'd thought to bring these carsick bags on our first 5 road trips with her.
Speaking of carsick, even if you're going to use baby wipes for general wiping of hands, I'd recommend a roll of paper towels just in case.
11. Ziplocks for snacks
More about snacks below, but ziplock food storage bags falls under the random items to bring that will for sure get used in some way! For travel, I like the zip-top seal ones because they're easy for toddlers to open and close.
12. First Aid Kit + Emergency Stuff
I'm not a huge saftey-concerned mom, a quality which has screwed me over a couple times in life. Speaking from experience, I'd recommend grabbing a car emergency kit & a first aid kit. Hopefully you won't ever need to use them in your car travel experiences, but if you get stranded on the side of the road with a flat tire or a child jams their finger in the car door, you'll be glad you had it.
Recommended – Car Emergency Kit | First Aid Kit | 4 pack of blankets for cold weather emergency
13. Hand Sanitizer & Toilet Paper
Those public restrooms don't always have soap or toilet paper or a great place to diaper change. We try to hit decently clean looking places, but sometimes there isn't a great option. I'm looking at you Mississippi Highways…
Highly recommend bringing your own just in case.
14. Travel Potty (Optional for Toddler)
For years, I carried around a portable toilet in the car. Friends teased, but then they would ask to use it at a park playdate. Ha! I even had strangers ask to borrow it at the playground.
Newly potty trained toddlers don't often give you much time or notice when they have to go. Our boys have learned to go outside easily, but our girls have had a harder time… So, the toddler potty came in handy on the road.
Snacks
After almost 9 years of feeding kids in the car, here are all my best snack suggestions:
15. Cooler, Bags, & Containers
Bring a cooler like this one to keep healthy snacks fresh!
We mostly buy large bags of snacks instead of pre-packaged snacks because it's SO much cheaper… then, I bring a handful of ziplock bags with sliders or reusable snack bags. I just stick them in the cooler and dig out snacks as requested. You could use kid-friendly containers too.
If I was driving solo, I'd make sure all snacks were ready to go before driving, and then I'd probably dish them out at rest stops.
16. Healthy Snack Ideas
Our favorite healthier snacks are: string cheese, apples, grapes, berries, raisins, nuts, trail mix, and beef sticks.
17. Fun Snacks
I always buy some fun surprise snacks that we would never buy at home too!
18. Use Snacks as an Activity to Pass the Time
when the kids are hungry, I have them set down whatever they're working on and eat their snack. Then when snack time is over, they go back to activity of choice… it buys you like 15-30 minutes per snack 🙂
19. Leak Proof Water Bottles
We love these stainless steel kids sized water bottles!! We let the kids keep them next to their bed at night, and use them when we're out for a whole day in the summer. I have the grownup size too.Favorite Travel Toys & Activities
20. Favorite Road Trip Toys & Activities
New coloring books
New mini pack of markers or crayons
LCD drawing tablets – pro tip: get one like this, with the string attached.
Puffy stickers (easy to peel and come off anything!)
A small blank notebook with a new fun pen, pencil, and pack of stickers.
Small amount of duplo squares in a ziplock
Lacing cards (Sometimes the dollar store has these! They're great for 2-4 year old fine motor skills.)
Do-a-dot markers (I give 1 or 2 at a time with a piece of cardstock or a notebook)
Small baggie of a couple figurines or character toys
My kids loved using these 4-color-click pens on our last road trip. (Probably too hard for a kid under 2 to use…)
These water wow things are AWESOME. You might need a way to refill the water… I used a plastic water bottle from a gas station with a sports type lid.
Dot Stickers– If your child has never played with dot stickers, introduce them before you leave, so that he knows how to do them independently. Otherwise, the experience will be frustrating! I buy the dot stickers super cheap on Amazon! But if you're in a pinch you can find them at Walmart or Target.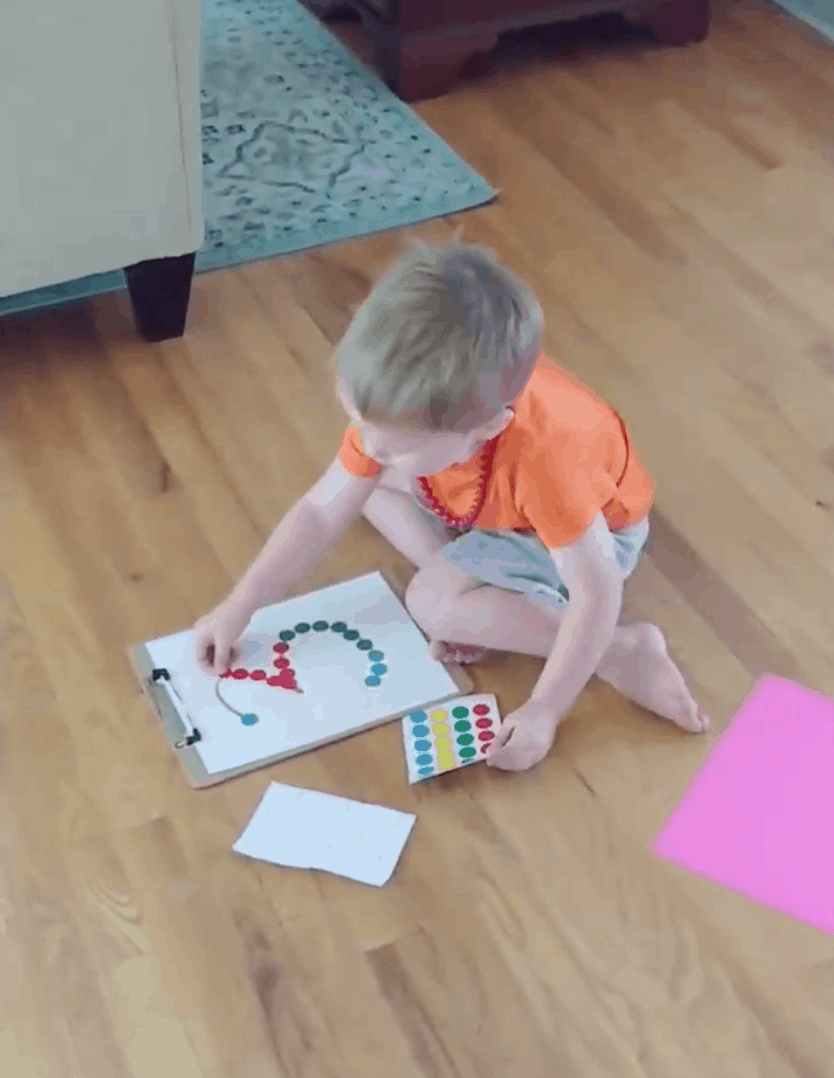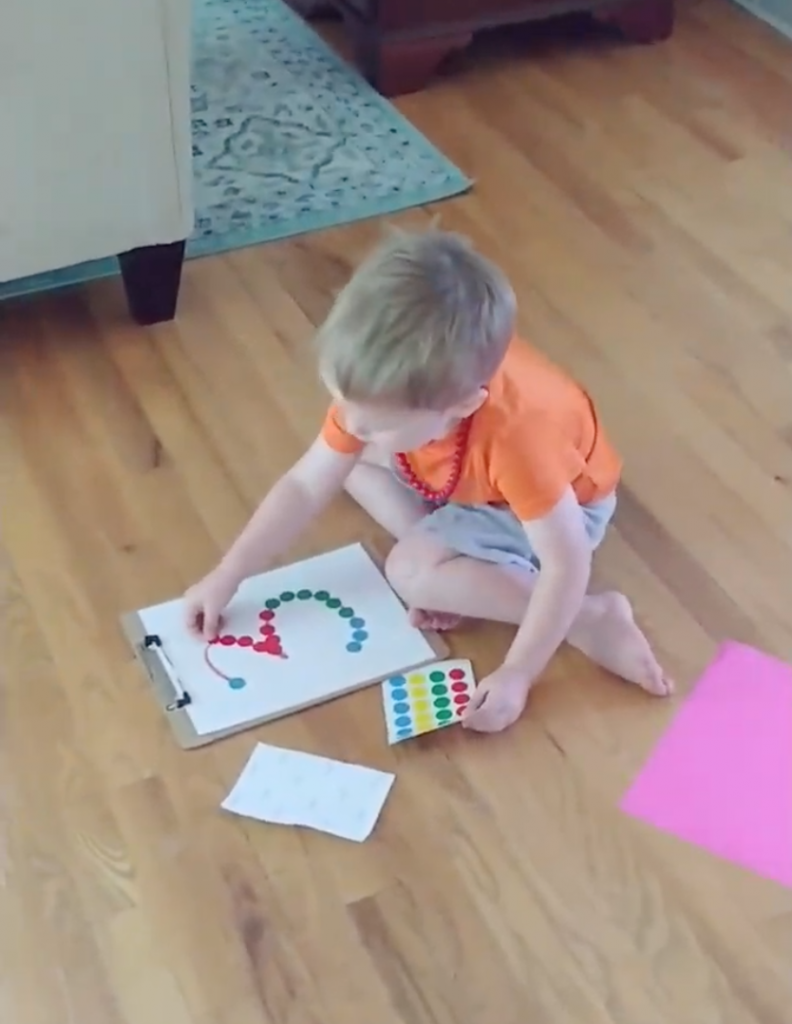 Magnetic Tiles – I usually give 2 or 3 to a one year old and 10 (ish) to a 2 or 3 year old 🙂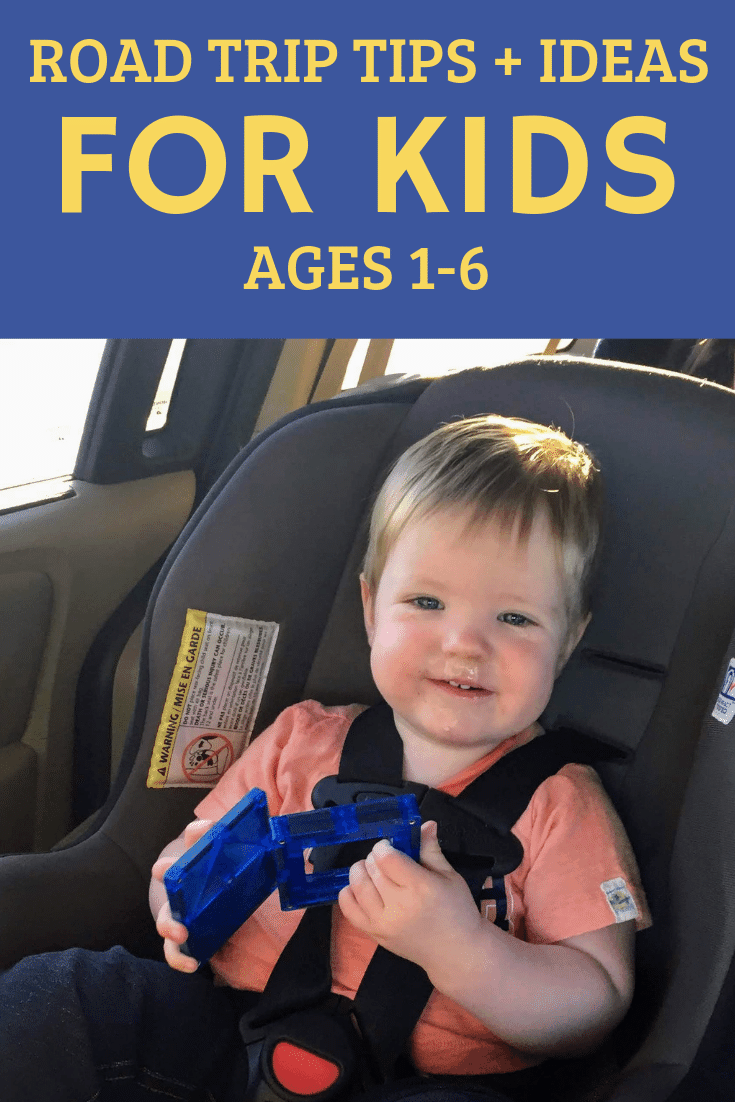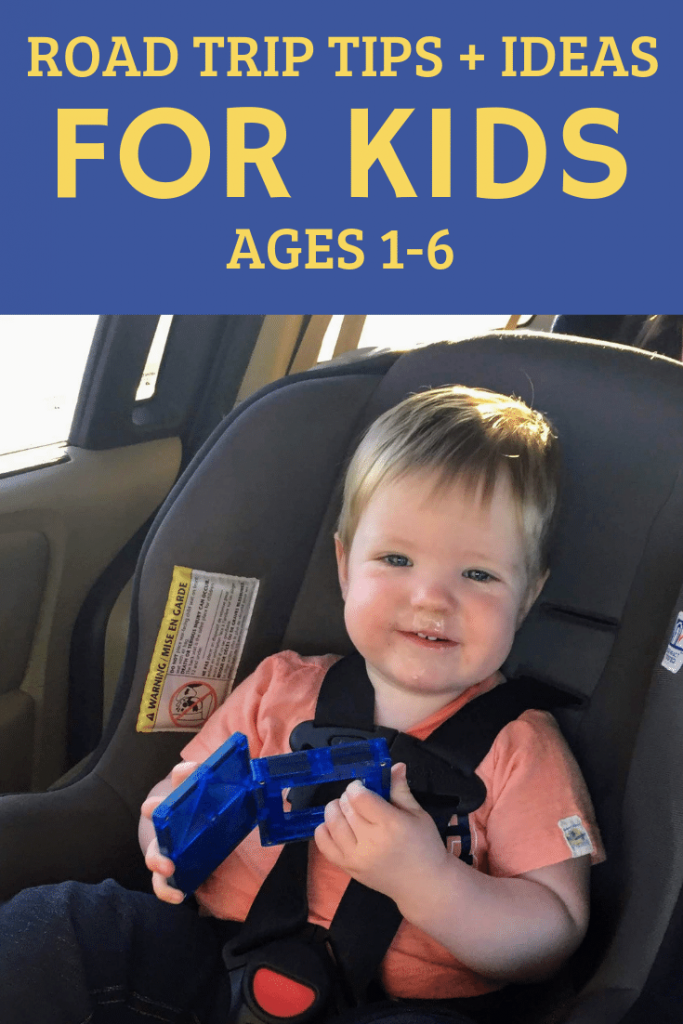 Use your discretion on what would work for your kids depending on age/ responsibility level…. If they can't unscrew and re-screw a top, don't give them do-a-dots. It only took 1 road trip with our 3rd child to realize markers were not a good idea for him. (Our first two kids hadn't thought to color all over the backseat.)
Just do what works for your kiddo!
21. Special Road Trip Toys
I usually buy one or two new toys or activities per trip. Over time, we've built up our road trip activities stash. The key is, remember, to keep these put away until your next trip so that they're new and fun each time. (Those prized LCD tablets got put away for the next road trip as soon as we got home!)
Rather than list all of them here, I put them on a list in Amazon!
22. Create Binders O' Fun
Sticker Binder (Age 2-5 ish)
I mentioned activity binders earlier… these are awesome and end up fun for a long amount of time!!
Make a binder filled with dot sticker pictures, letters, numbers. The neon ones are from Walmart, or if you plan ahead, you can order some on Amazon.
I had a bunch of page protectors from my teaching days and put each letter in a page protector. This makes it easy for your OCD child to take the stickers off and put them back on if they don't line up right.
Also, you can just peel off all the stickers and reuse them without reprinting the whole alphabet. Heck, maybe your toddler will even enjoy peeling them off herself!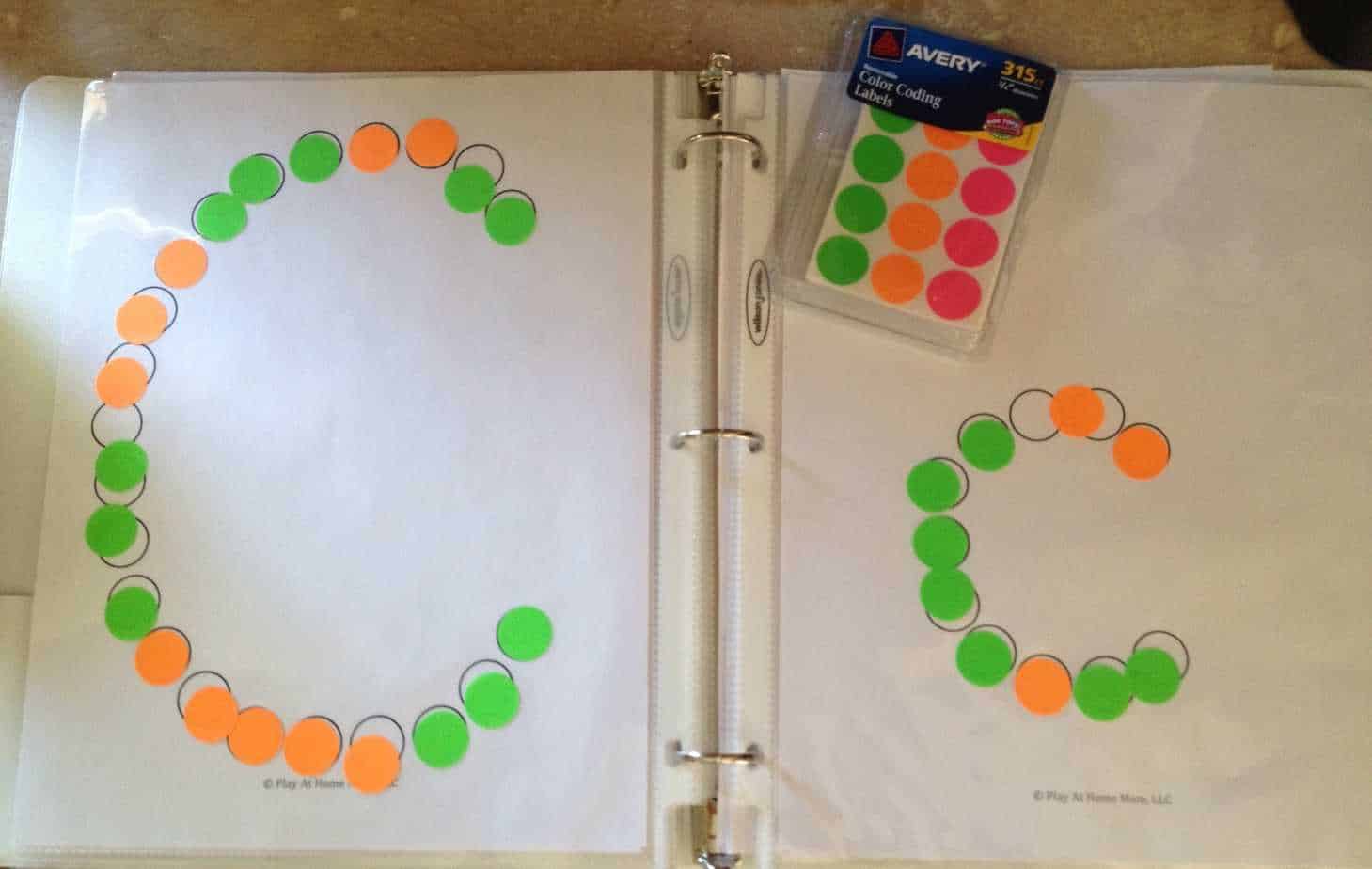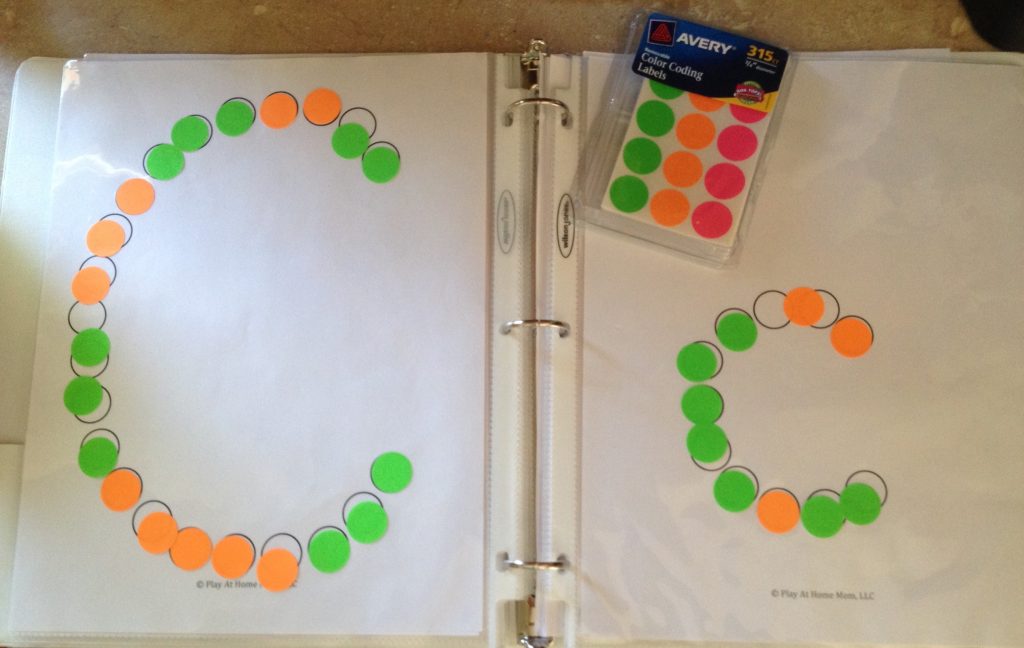 The page shown above is from Play at Home Mom. I purchased the downloadable file for $5 – it included the uppercase and lowercase alphabet as well as some various numbers and counting activities.
Shortly after purchasing that file, I stumbled on this free file from Confessions of a Homeschooler. The letters are a little smaller but it still works. And it's free.
Palmer Practicality has a ton of great free printables designed for Do-a-Dot paints*, but they also work well with these $1 stickers for in the car!
You can also skip the printables and just write large letters or numbers on blank pieces of paper. Put them in a folder and hand out one at a time with a clip board and one piece of paper.
The other day, my 3 year old did this at home for 35 minutes…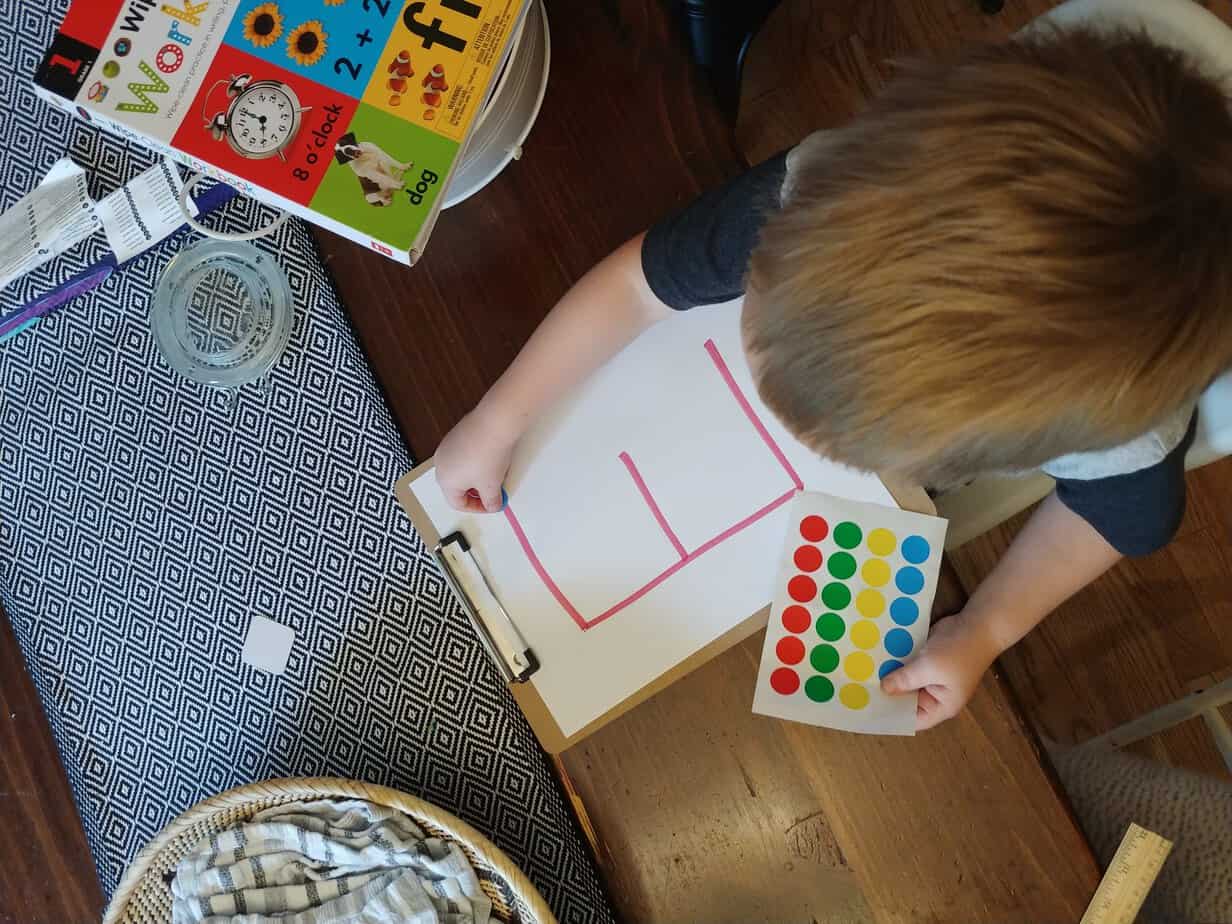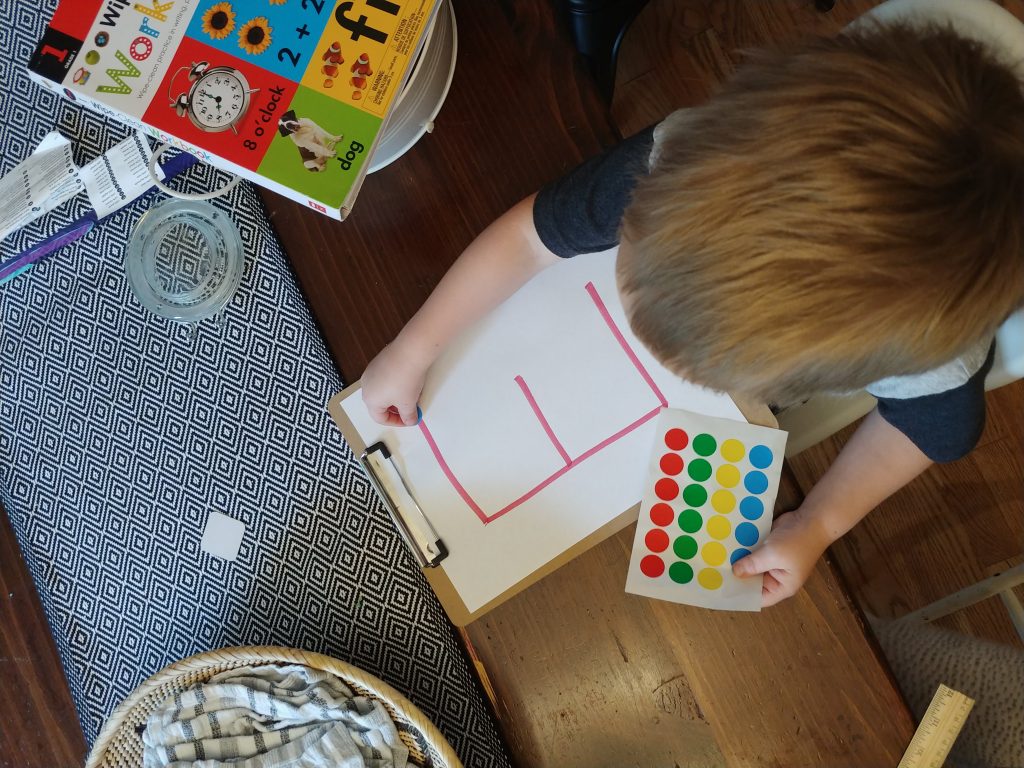 If your toddler is trustworthy, the do-a-dot paints would be fun in the car too. They're not very messy if s/he knows how to screw the tops on and off.
Road Trip Activity Binder (Ages 4-6+)
Once my oldest kids were in the early reading stages, I created a road trip activity binder. This is super fun and can be done several days in advance.
I put most of the sheets in page protectors to be done over and over with a dry erase marker. Then, I put some coloring activities in the back pocket.
You can include a zipper pouch of writing supplies in the binder or just throw them all in a ziplock and hope they don't drop it. (That's what I did… they accidentally dropped it a lot. I'll be getting a binder zipper pouch for next time. HA!)
I scoured the internet for free printables. These were the best ones I found:
23. Audio Books + Music
First of all, I have a completely obnoxious toddler playlist of kids'music on spotify. I'm sorry. And, also, you're welcome. My toddlers love it. I try to save it for later in the car trip when everyone is grumpy and it's worth it to me to listen to the Wheels on the Bus instead of whining.
I also love these kids scripture memory songs! And my kids love them too.
Audio books won't be super interesting to your 1-2 year old, but by age 2.5 or 3, our kids have loved audio books!
We grab the picture books that come with CDs at the library for long trips!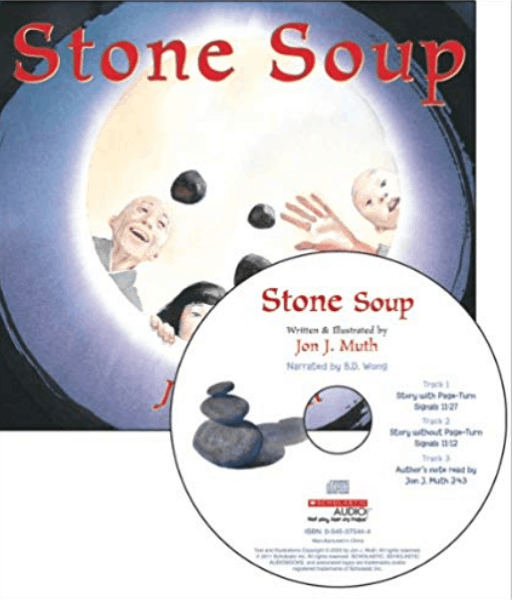 Or you can grab audio book chapter books on CD or PlayAway for your preschoolers. I purchased 4 pairs of kids' headphones (pictured below). They withstood a LOT of abuse! For the cheap price, they're amazing! Our kids ages 3-8 loved being able to have their own stories.
Below, you can see our 4 year old listening to Rikki Tikki Tavi on PlayAway. A lot of libraries have PlayAways, which are mp3 players with individual stories or story collections on them. Battery Operated. (Buy a bulk pack of AAA batteries for your trip if you're going to bring PlayAways.)
Favorite Audio Books for Road Trips with Preschoolers, Kindergarteners, 1st Graders
Frog & Toad*
Magic Tree House
James Herriot's Treasury for Children*
Magic School Bus*
Winnie The Pooh
Ling and Ting: Not Exactly the Same*
Mercy Watson (series)*
Ana Hibiscus
Harry Potter (once they're old enough to follow the story)
The Lion, the Witch, and the Wardrobe (around 5-6)
Matilda
Charlie and the Chocolate Factory
*These have picture books too…. You could snag those at your library for kids to look at while listening.
We use Scribd instead of Audible. It's $8.99/ month and you can download things for when you're offline. It has ebooks, and audio books – tons of options. Not everything I've ever searched for is there (especially brand new popular things). But, everything on the above list is on Scribd except Harry Potter.
When my dad first told us about Scribd, I thought, "Wait, is there a catch?" Because it was such a better deal than Audible. But it's legit! We've been using it for over a year. Try it 2 months for free here! (and if you do, I get a month free too… woot woot!)
24. Family Bonding… Talk, Sing, Play
Though the conversation may not be as interesting or as intellectually stimulating as our pre-children car conversations, sometimes, I've noticed, our kids just want to be included.
So, we ask questions, reminisce on funny stories, sing songs the kids like, make up new songs, and talk about where we're going and what we'll do when we get there. And we try to make the 'getting there' part of it a fun family trip vibe! We hope to travel more with our kids as they get older, so we are trying to plant the seeds now for having fun with it – even when we want to pull our hair out.
You can play classic road trip games too. Once your child starts recognizing the ABCs, you can try to teach the alphabet game. I think our kids started enjoying it around age 4. We also play a lot of I spy, and Name That Tune.
(For more early childhood learning ideas, check out this article about preschool resources for learning at home!)
25. Screen Time
I used to be philosophically opposed to tablets and movies to entertain kids in the car. We did it when we were little, so can they. HAHAHA. This was obviously the philosophy of pre-parent Renee, back before I had kids, when I was the most perfect parent.
Current real-life-mom Renee loves the DVD player in the minivan. Especially for the last 4 hours of back to back driving for 2-3 days.
Our kids get bored and crabby with back to back movies all day, so we alternate between movies and other activities. We also don't start the drive with a movie. We go as long as possible before resorting to movies because it seems to make everyone happier for longer.
It seems like around age 2 or 3, they start to enjoy a full-length movie in the car. Before then, it's hit or miss on whether a movie will hold their attention.
We NEVER let the kids watch movies in the car in regular life, so they get super excited in anticipating movies for a long car trip. We go to the library and get a few old favorites, plus a couple new ones.
We don't do any touch screen type things. This is our personal preference with our kids in general and we don't use them for trips either, even though it might make the car quieter. They end up affecting our kids more negatively than we'd like, so the pros don't outweigh the cons for our family.
If you are judging me for our use of movies on road trips, I assume you either:
a.) have a 2 year old who is freakishly good at entertaining herself (we didn't use movies when we had a 1 child to 2 adult ratio haha)
b.) don't have children
c.) never drive 500+ miles with your children under the age of 5
d.) are a much better parent than me.
Judge all you want judgey mcjudgerson. I have no shame. Ha! To each their own.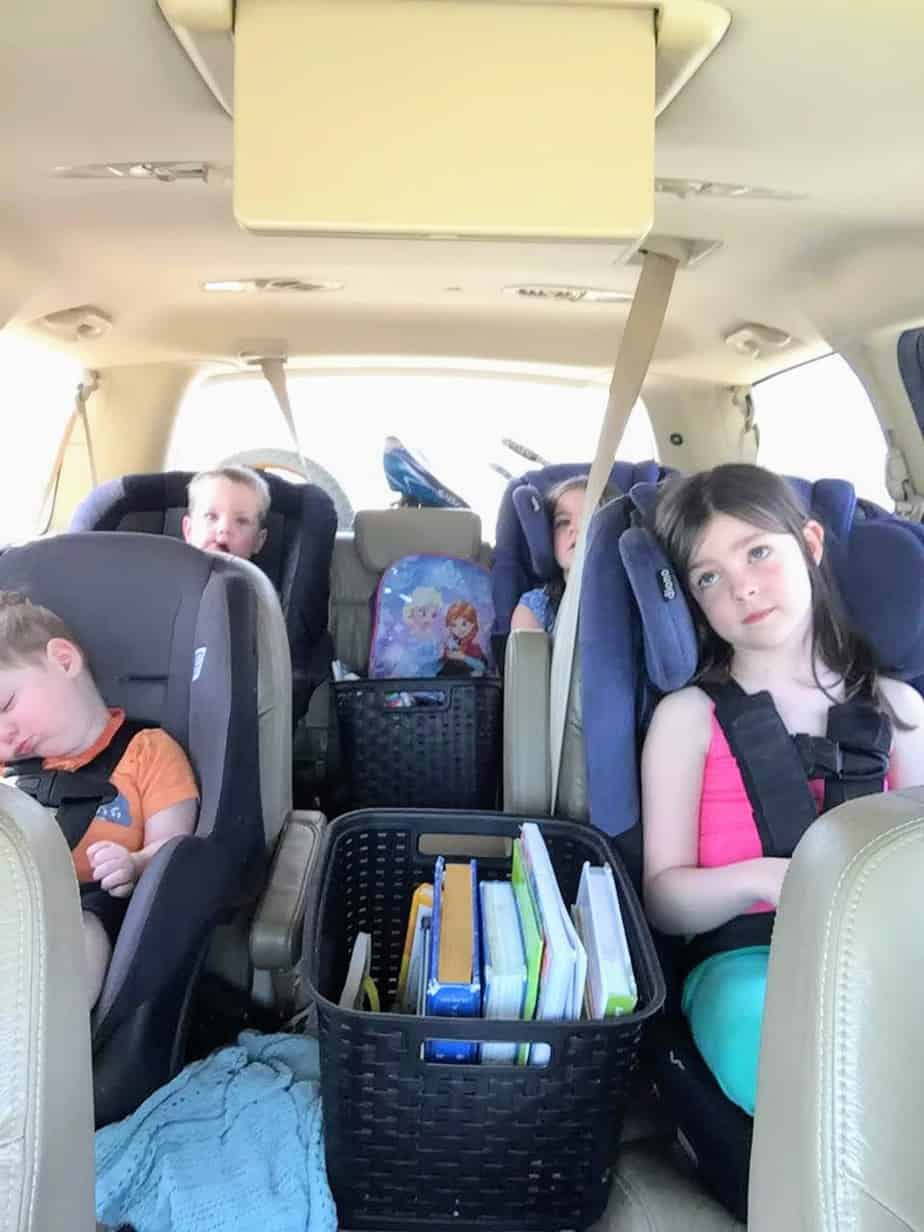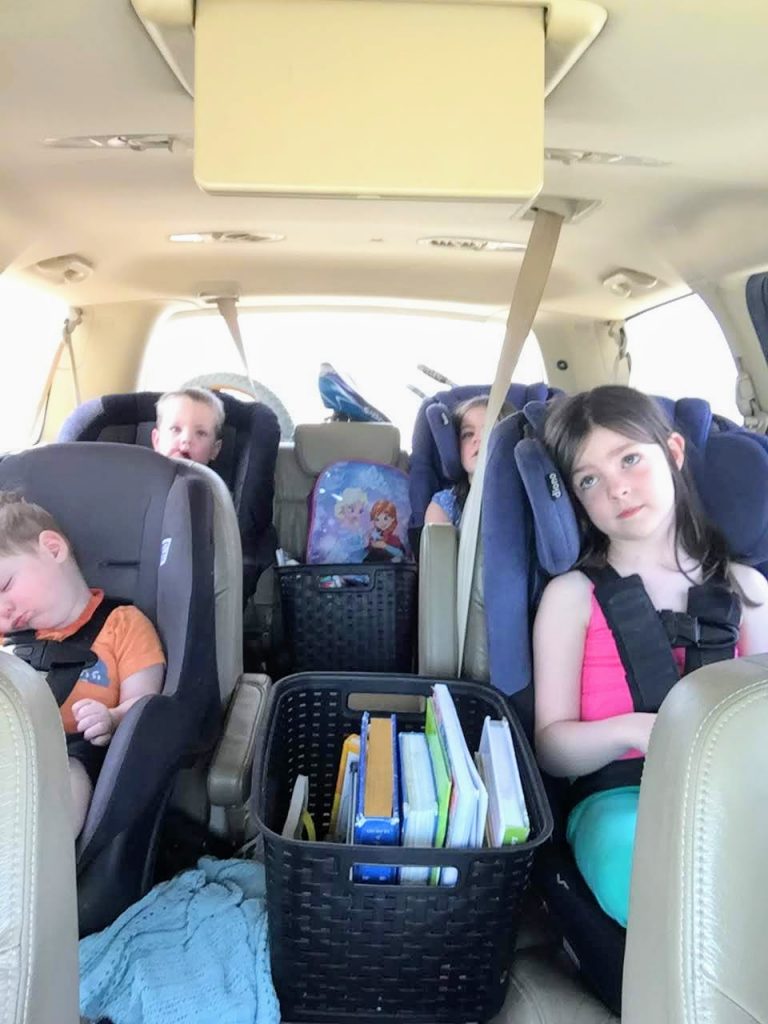 Side note about child's car seats:
As you can see, we have had a lot of carseats. 4 at one time was our max. The big kids on the right in the picture above are sitting in Diono Radian RXTs.
Every other car seat we've ever owned feels like a major hassle compared to these ones. If I could go back, I would just buy that from the beginning and use it for life. It's the perfect convertible car seat from newborn all the way to booster. In fact, we recently got 4 of these slightly cheaper, but still awesome, Diono Radians 3r ones for my inlaws' minivan so Grammy can tote grandkids around. And we bought 2 more for the other Grandma! They are amazing.
Caveat – they're heavy! So if you plan on flying with your carseats a lot, I'd recommend these lighter weight ones.
26. Noise Cancelling Headphones + Grace
Know it won't be perfect, give everyone extra grace (including yourself), and buy some noise canceling headphones. (Ha! Just kidding. But seriously.)
We've had kids get the stomach flu 4 times on road trips, once in a rental car. Crap happens (sometimes literally) on the road with kids. Embrace it. You'll be there eventually. Hold a hand or let them cry, and think one more time about those noise cancelling headphones.
I share general kid stuff over on Instagram sometimes, and there's a travel with kids highlight! Come find me there @mrsreneecook … send me a DM too – I love hearing from blog readers there.