We have always lived out of state from one or both of our families. As newly weds, we used to enjoy the 7 or 8 hour car rides together… listening to new music, podcasts, or sermons. Sometimes I'd read out loud while Ben drove. Then when he fell asleep at the wheel to my soothing voice, we'd mix it up and blare a new CD while drinking too much coffee. But that didn't matter because we could make a quick pee-stop whenever was needed. Oh, and I could 'hold it' longer than 12 minutes. (The post-3-babies-pee-struggle is real. Don't judge.)
Those days are long gone though. Since we like to visit family, we've had to figure out a few things to make the 8-12 hour road trips easier with toddlers. And by toddlers I mean, 4 kids under 5. Ha!
Disclaimer: this isn't a fool proof method. Even if you do every.single.one of these things, there is still a 17% chance that your 6 month old will projectile vomit all over herself and her carseat 3 times during the trip, when it's -10 degrees outside and you're driving at midnight. #SpeakingFromExperience 🙁
#1 – Movies!!
I was philosophically opposed to tablets + movies to entertain kids in the car. We did it when we were little, so can they. HAHAHA. This was obviously the philosophy of pre-parent Renee, back before I had kids, when I was the most perfect parent. Now, bring on all the movies.
Our toddlers get bored and crabby with back to back movies, so we alternate between movies and other activities. It seems like around age 2 or 3, they start to enjoy a full-length movie in the car. Before then, it's hit or miss on whether a movie will hold their attention.
We NEVER let them watch movies when we're just driving around in town, so they get super excited in anticipating movies for a long car trip. We go to the library or Grandma's house and get a few old favorites, plus a couple new ones.
(Side note: My 2 year old in this picture is sitting in a Harmony brand carseat from Walmart. It was super narrow and $100. It ended up being SUCH a hassle that we eventually tossed it and bought all Diono Radian RXTs for the kids. If I could go back, I would just buy that from the beginning and use it for life. You get what you pay for in carseats! The cheap ones may be safe but they are a HASSLE! Of course, if cheap is what you can afford, then deal with the hassle.)
If you are judging me, I assume you either:
a.) have a 2 year old who is freakishly good at entertaining herself
b.) don't have children
c.) never drive 500+ miles with your children under the age of 5
d.) are a much better parent than me.
Judge all you want judgey mcjudgerson. I have no shame.
#2 – Rest Stop Bag
We generally try to make 3-4 hour segments in the car before stopping. After many stops at a McDonalds where I've had to run back to the car in the freezing cold to get a change of clothes or diapers or wipes or cheerios or baby food or whatever… I now pack a "rest stop bag" with the following:
3-4 diapers of each kid's size
Travel pack of wipes
Formula + bottle if we have a kid of this age with us (which we have had almost continuously for the past 2 1/2 years….)
Baby food + spoon + puffs or cheerios if we have a kid of this age (the baby food age is the WORST age to make long road trips with…)
Change of clothes for each kid
My wallet
The key to the rest stop bag is don't put anything in it that you need to get out while driving. Rest stop items only in this bag.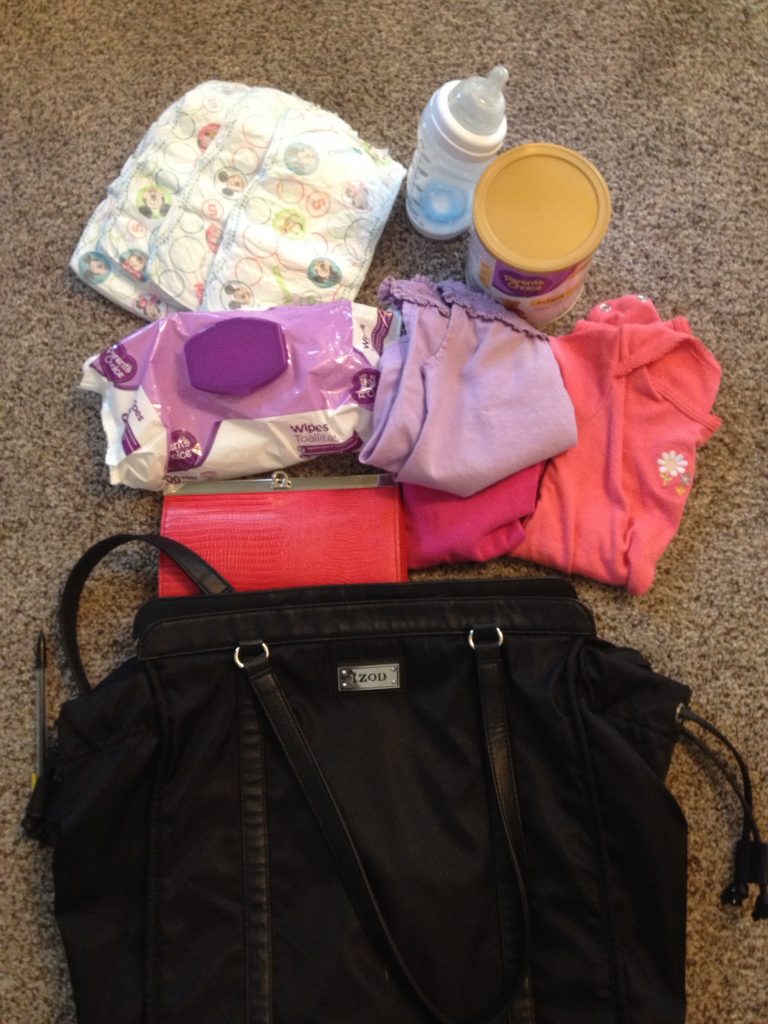 #3 – Book basket within kid's reach
For a 2 year old, I'd put mostly old favorites because they like the same thing over and over.
As our kids have gotten older, we checkout fun new library books for the trip. It's pretty risky traveling with library books, but ya' know, gotta keep things exciting. Living on the edge, folks.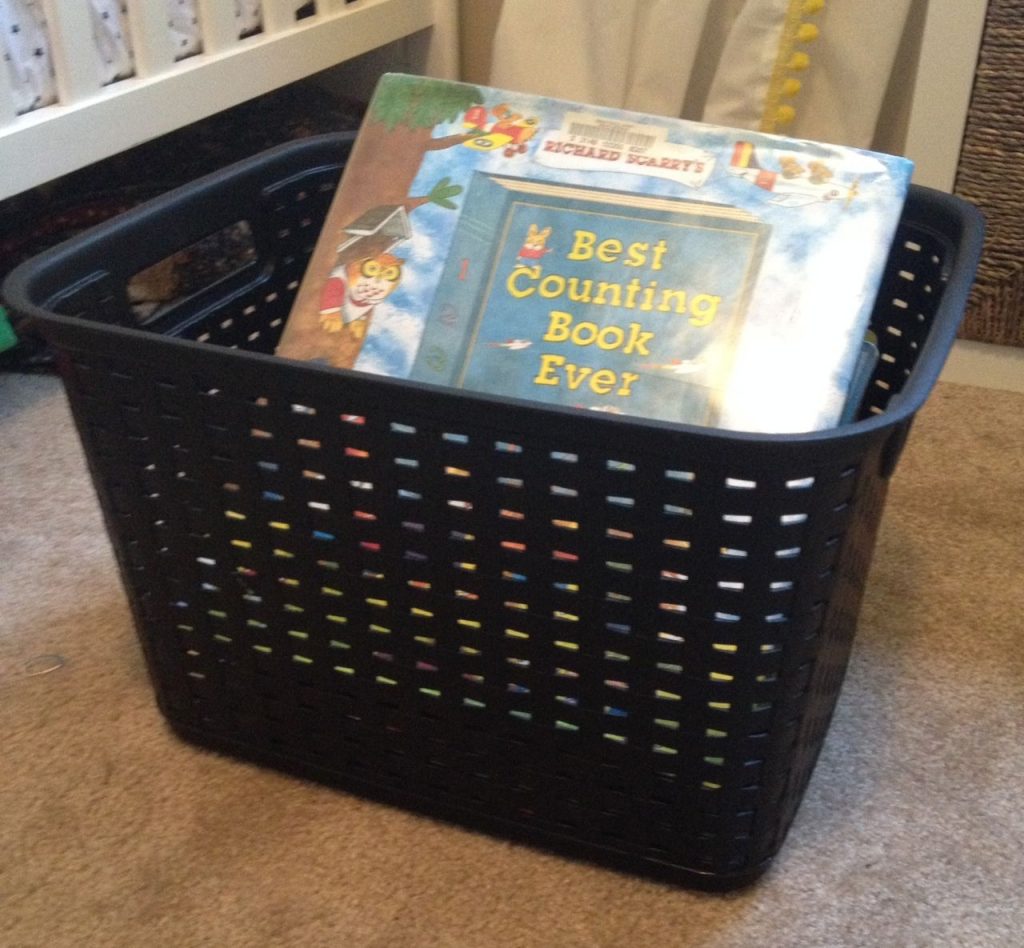 Besides your kids' favorite books, any 'finding' or flap books are fun for toddlers in the car too. Some of our go-to's in this category are:
#4 – hidden Box of toys in the front seat
Put a mix of old and new "hands on" activities in a box and keep it out of site.
I used to put this box right next to Addie but I've found everything in it lasts longer if I give it to her one at a time and then she plays with it for a while on her own.
Honestly, before the kids turn 2, we just bring a couple favorite baby toys and they do fine. Our babies have generally been pretty happy in the car except for the aforementioned projectile vomiting incident. My theory is that sleep training from birth helps babies travel well in the car!
As the kids have gotten older, a toy box has come in handy though. I usually get a couple new fun things from the Target dollar spot!
here are some things our kids have liked between 2-5:
New coloring book
New mini pack of markers or crayons
Puffy stickers (easy to peel and come off anything!)
Mini notebook with a new fun pen, pencil, and pack of stickers.
Small amount of duplos in a ziplock
Wood lacing beads
Lacing cards (Sometimes the Target Dollar Spot has these!)
Do-a-dot marker (I give 1 or 2 at a time with a piece of cardstock or a notebook)
Small baggie of a couple figurines
These water wow things are AWESOME. But you need a way to refill the water… I use a plastic waterbottle with a sports type lid.
Magnetic cookie sheet with alphabet letters matching activity (free printable HERE)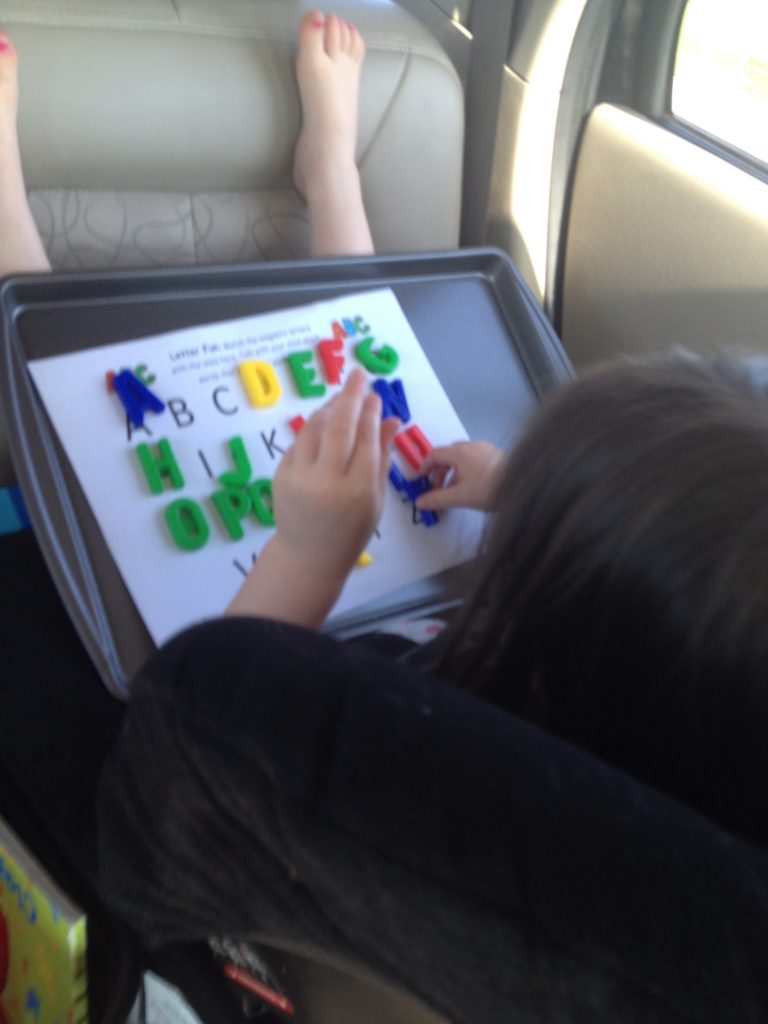 Embroidery, toddler-style. (plastic needle & hoop from hobby lobby + yarn) For the netting, I used some of that stuff you put down in your cabinet to keep things from moving. Or you can buy netting near the hoops at hobby lobby.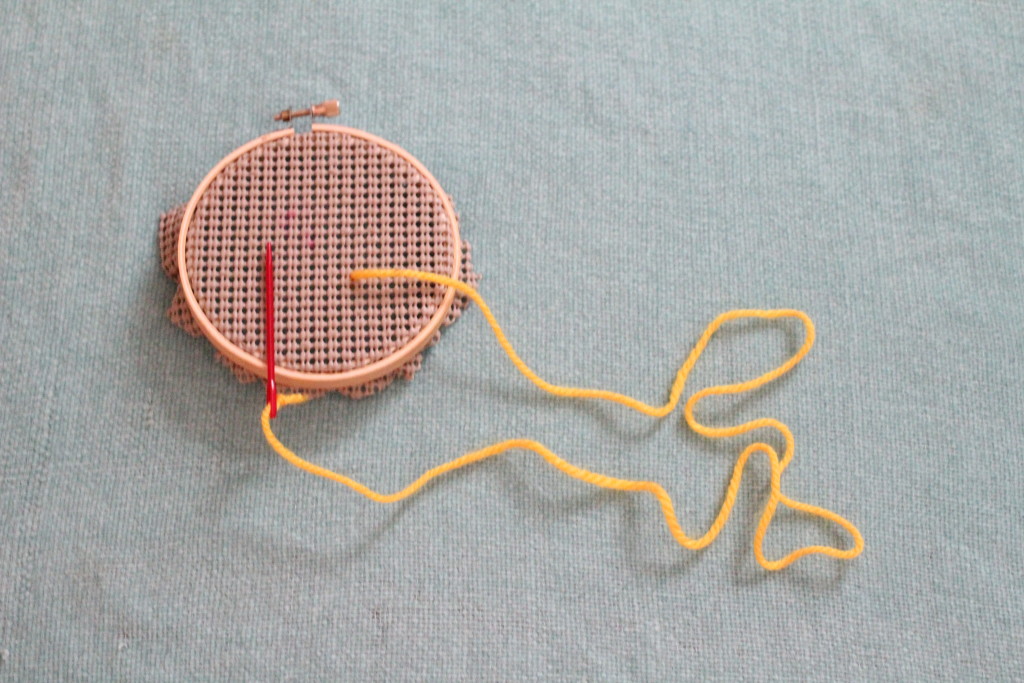 Use your discretion on what would work for your kids depending on age/ responsibility level. If they can't unscrew and re-screw a top, don't give them do-a-dots. It only took 1 road trip with my 3rd child to realize markers were not a good idea for him. (The 1st 2 had done fine with markers.) Haha!! So, do what works for your kiddo!
#5 – Awesome Sticker Binder
This may technically fall under the category of #4, but it is so awesome and consumes so much of their time it deserves a point all by itself. Make a binder filled with dot sticker pictures, letters, numbers. These dot stickers are $1 at Walmart (or you can order some on Amazon.)
I had a bunch of page protectors from my teaching days and put each letter in a page protector. This makes it easy for your OCD child to take the stickers off and put them back on if they don't line up right.
Also, you can just peel off all the stickers and reuse them without reprinting the whole alphabet. Not sure if that's worth the time… This activity is the one she'll do for the longest period of time, hands down.
The page shown below is from Play at Home Mom. I purchased the downloadable file for $5 – it included the uppercase and lowercase alphabet as well as some various numbers and counting activities.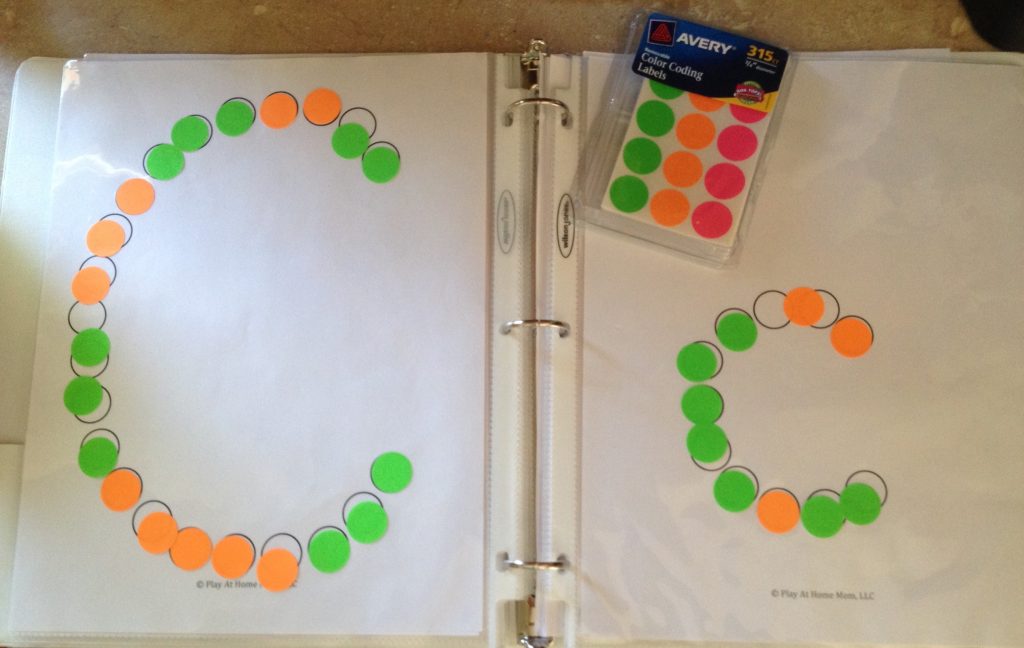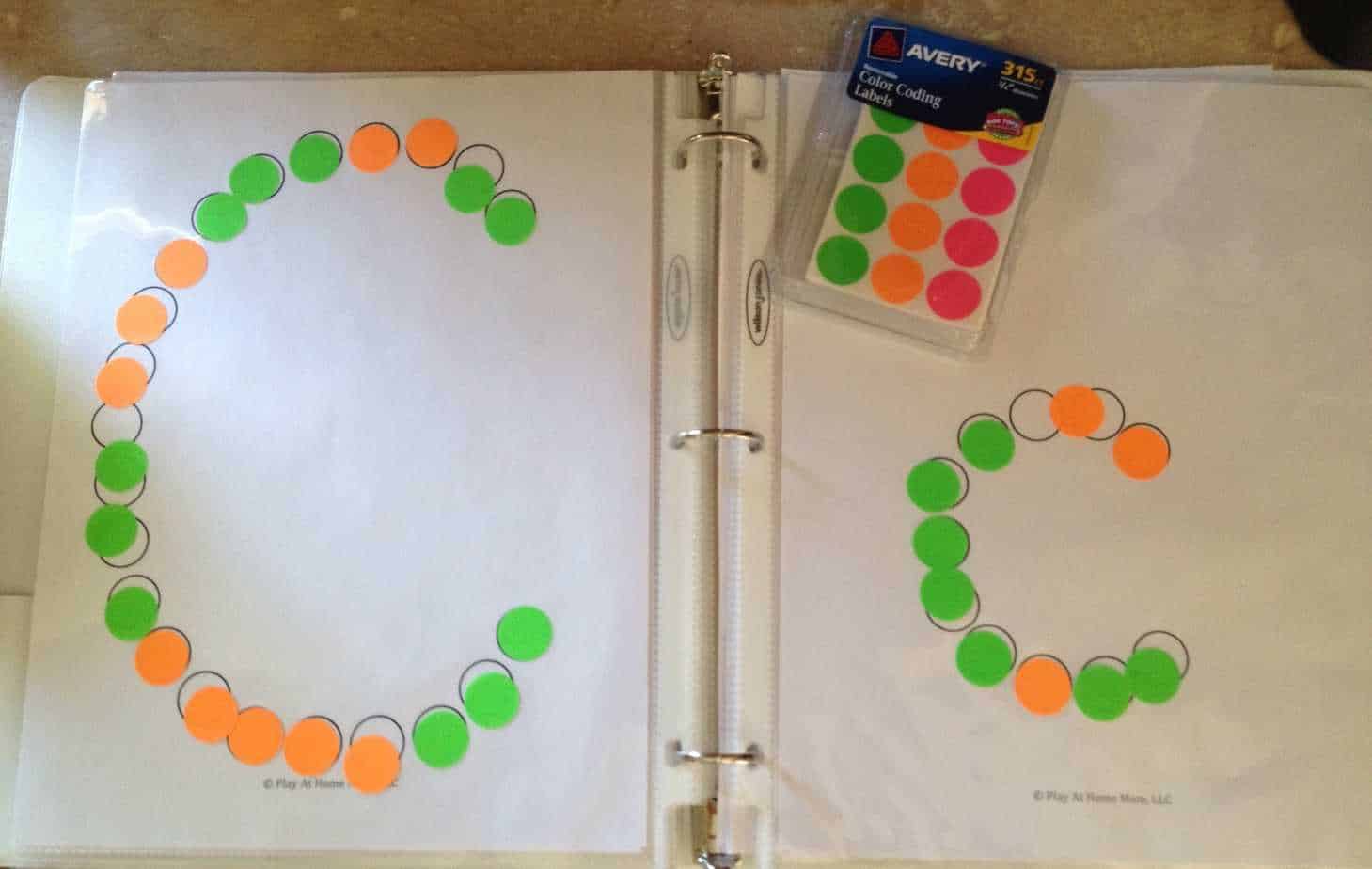 Shortly after purchasing that file, I stumbled on this free file from Confessions of a Homeschooler. The letters are a little smaller but it still works. And it's free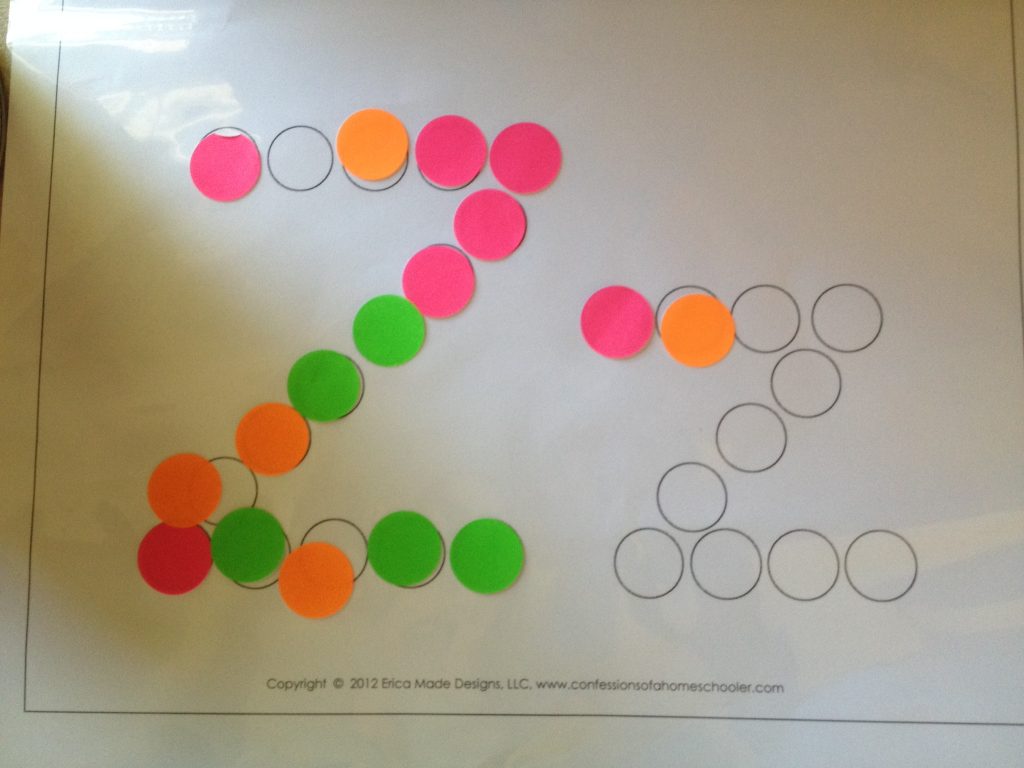 Palmer Practicality has a ton of great free printables designed for Do-a-Dot paints*, but they also work well with these $1 stickers for in the car! If your kid is trustworthy, the do-a-dot paints would be fun in the car too. They're not very messy if s/he knows how to screw the tops on and off.
(Don't print this image – click the link above to go to her site and print from there, please.)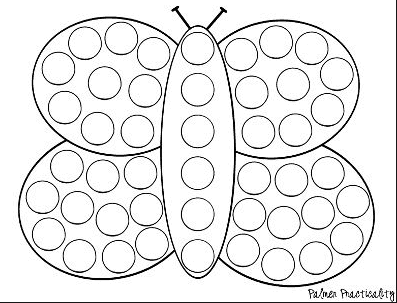 #6 – Talk to Them
Though the conversation may not be as interesting or as intellectually stimulating as our pre-children car conversations, sometimes, I've noticed, our kids just want to be included. So we ask questions, reminisce on funny stories, sing songs the kids like, make up new songs, and talk about where we're going and what we'll do when we get there.
#7 – Know it won't be perfect & buy some noise canceling headphones.
We've had kids get the stomach flu 4 times on road trips, once in a rental car. Crap happens (sometimes literally) on the road with kids. Embrace it. You'll be there eventually. Hold a hand or let them cry, and perhaps invest in some noise-canceling headphones?
What are your tips and tricks for travel with littles? Add your ideas in the comments below!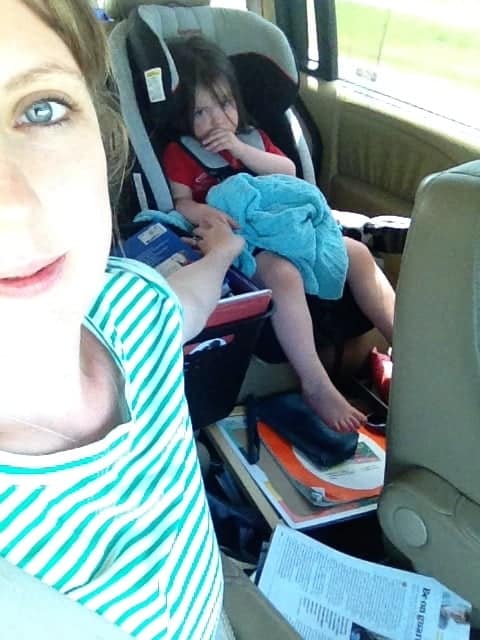 This post contains affiliate links noted by an asterisk* If you purchase something through a link on my blog, I receive a commission at no additional cost to you. Using affiliates pays for the costs of operating this blog (and the rest goes to our student loan debt). You can read my full disclosures policy here.