Some of the links on this page are affiliate links. When you make a purchase through an affiliate link, I earn a commission at no cost to you. See my entire disclosure policy for all the boring details.
In this post, you will learn the BEST toddler girl gift ideas! Whether it's for a birthday, Christmas gifts, or just for fun, I guarantee your toddlers will love these. How do I know?
We have had a toddler in our house for the last 7 years. (All 4 of our kids were born within 5 years.) And our toddlers have all loved the same basic toys – so have all of our little toddler friends. First we had 2 girls and then 2 boys. Every single toddler in our house has loved an item on this list, so most would also work for toddler boys.)
In fact, many a seemingly-fun toddler toy has been chucked aside while digging through the toy bin for a specific mini backpack or stack of magnatiles. Which is why this post only includes the best gifts.
This post is divided into a few different lists:
Myth of educational toddler toys
All time favorite toys for toddlers
Non-toy things toddlers love to play with
Toys that are fun to give & great to pull out sometimes
Little toys (think – stocking stuffer or something small)
Favorite toddler books to give
Here we go!
Most "Educational" Toys are a Waste of Money
Your toddler does not need a toy that shouts the ABCs to be learning. In fact, children under the age of 5 primarily learn through unstructured play. (I'm a homeschooling mom and all our kids, so far, have learned to read before age 5.) You can research that more for yourself another time, but I mention it here for 2 reasons:
To convince you not to waste your money on the newest educational toy fad (ahem: STEM TOYS) that's being marketed at you.
To give you permission to spend on fun, open-ended toys that your kids will play with for years to come.
Things on my list below will, for the most part, be used by all ages of kids for years and years to come.
All Time Favorite Toddler Toys
1. Magnetic Tiles
These might be my #1 favorite toy of all time. Our kids never get sick of these, and so far, I've seen kids ages 6 months – 10 years old enjoy them at our house. So a big kid will love getting these as a holiday gift too.
If a child already has some magnetic tiles, it's still fun to add to their collection because as they get older, it's fun to play with a larger number of magnets. It's a great way to build a collection of the best toys.
The off-brands tend to run around $0.50 per piece, whereas Magnatile brand tends to run closer to $1.50. We've owned several brands of magnetic tiles and I can't see a big enough difference between Magnatile and the off brands to pay 3 times the cost.
We have purchased this exact set from Amazon 4 times over the years – haha! I prefer playmates to Picasso tiles… I feel like the picasso tiles break more easily.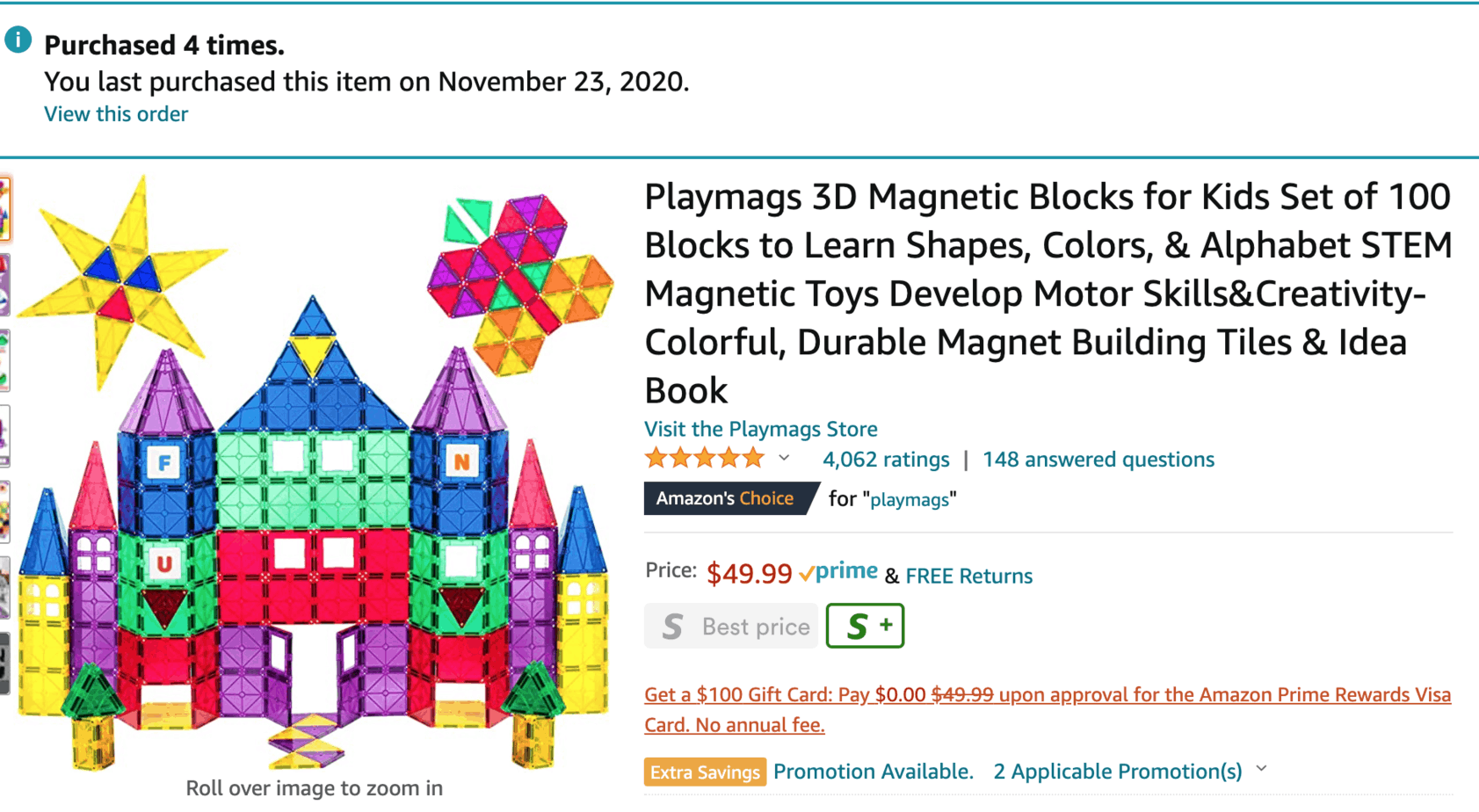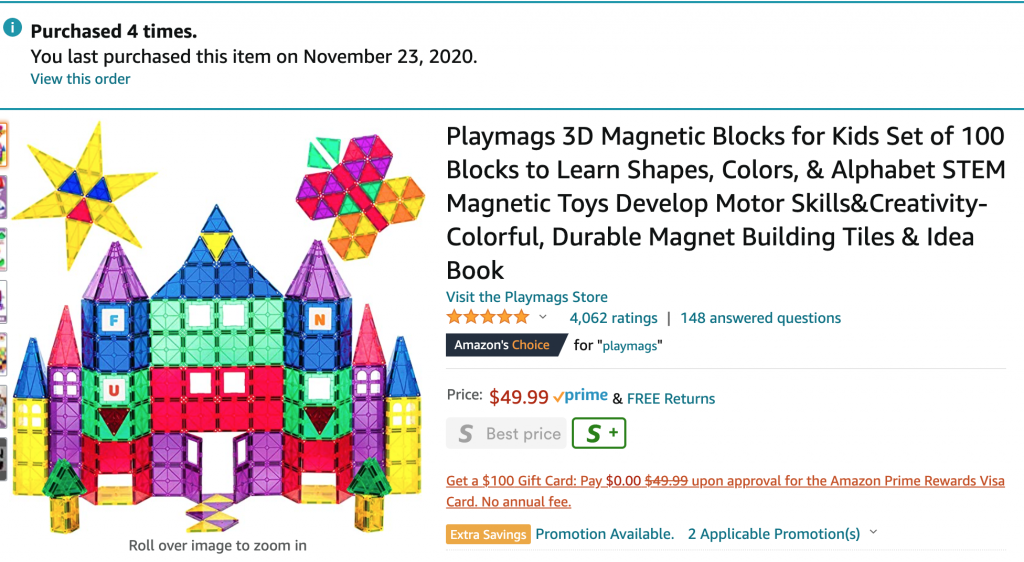 One year, we gave our kids these larger pieces to make the collection more fun! They play with these all the time!
2. Duplos
Our Duplos are extremely well loved! Duplos are the big version of Legos. We've had several brands of building blocks type toys over the years (mega blocks, fisher price builders, off-brand duplos, fat brain toys little blocks, etc.)
The basic Duplos are the most loved, period. And they're so good for imaginative play.
The duplo train and classic box are my 2 favorite beginner sets to give a 1-2 year old, and a big giant platform (from Target) makes a Duplo collection way more fun!! I recommend sticking to brand-name for this toy. They stay together better, and the off brands aren't always compatible (even when they claim to be).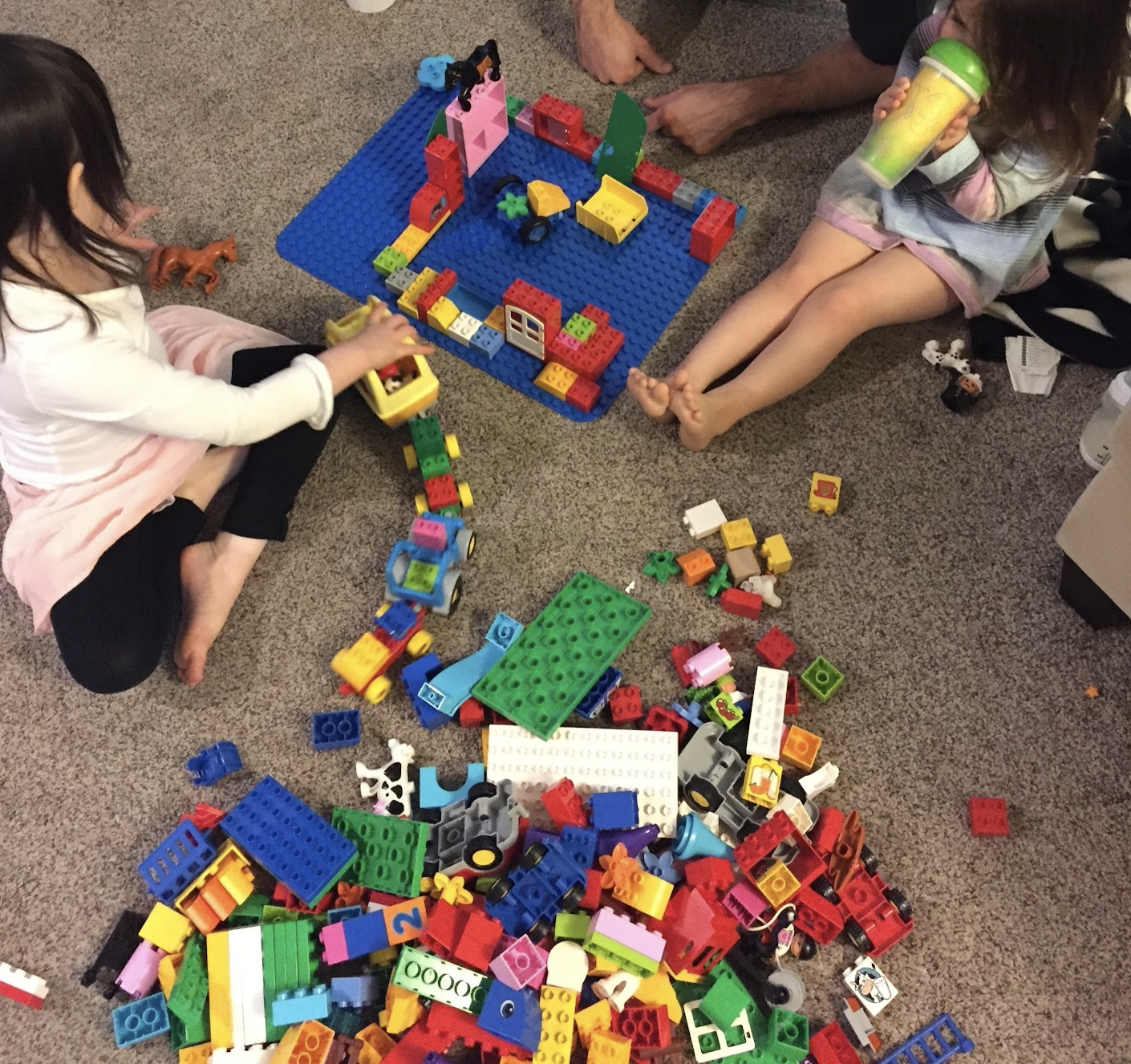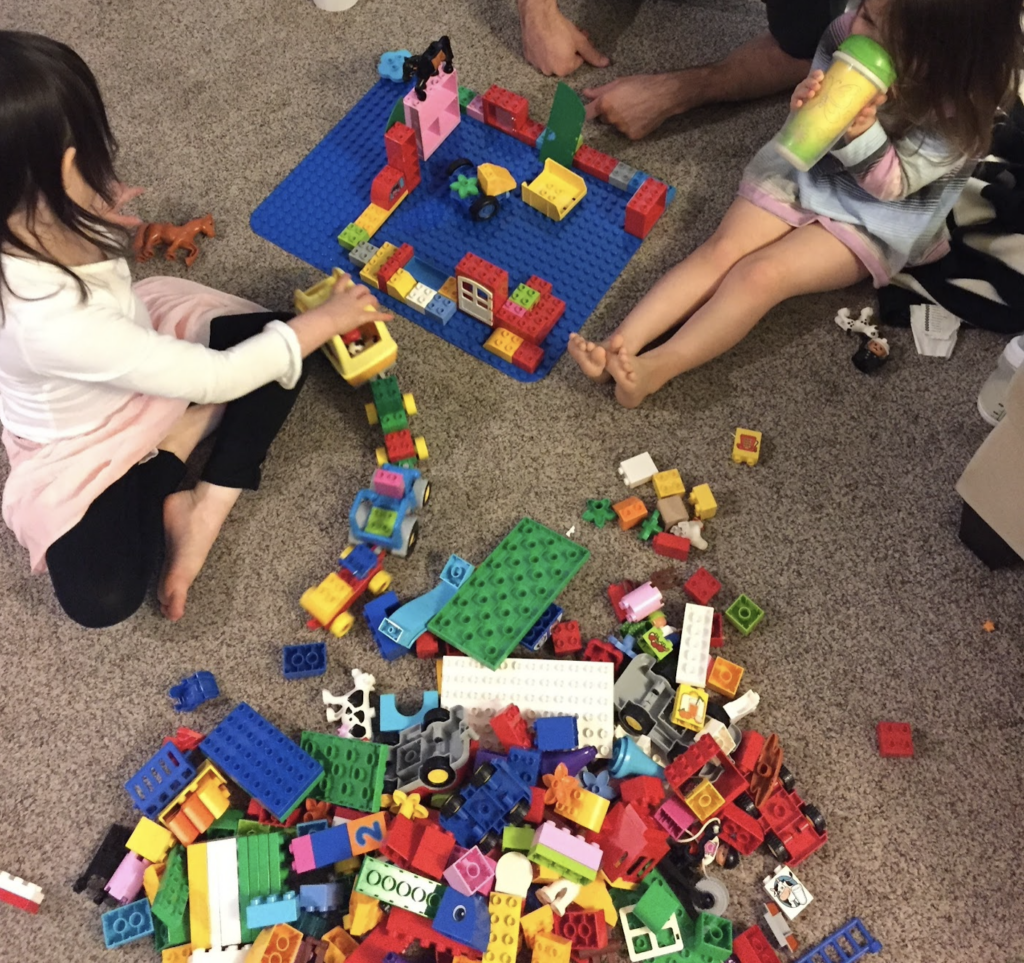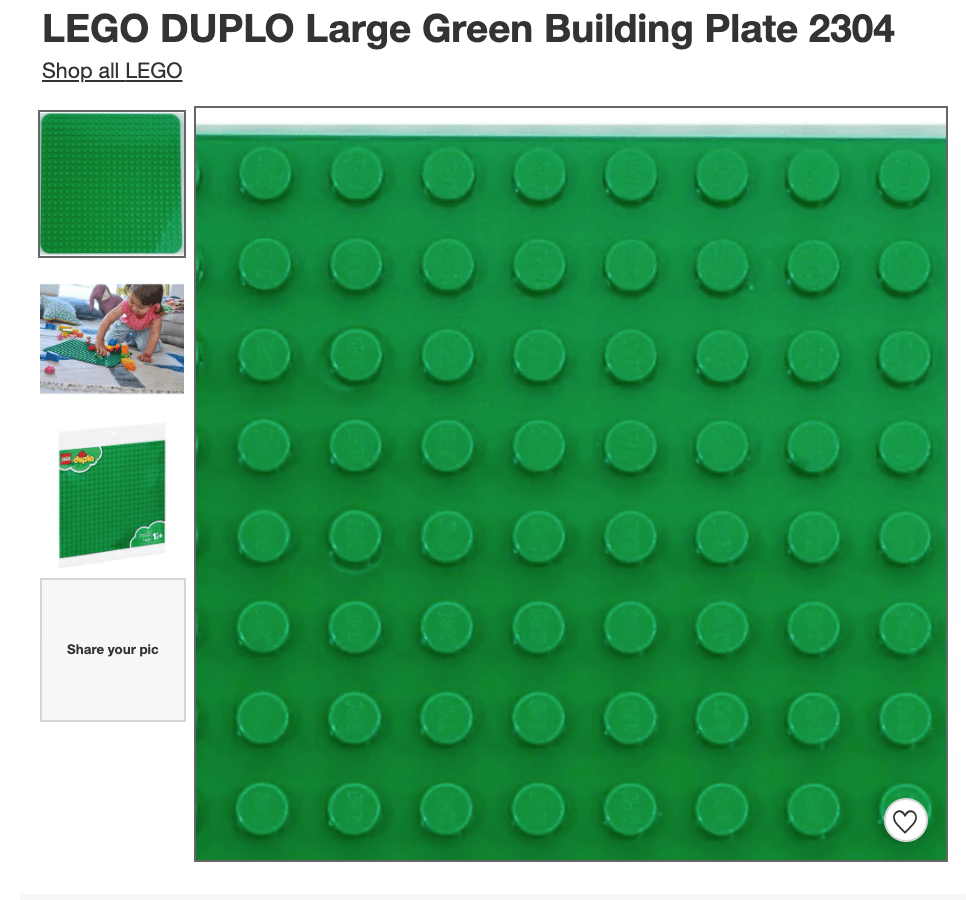 TIP – check your local Facebook Marketplace for secondhand Duplos 🙂
3. Stroller/ Wagon to Push
Every child of ours (and every toddler that comes over to our house) has loved playing with a pushable wagon or grocery cart or stroller of sorts. The picture on the right happens to show the strollers being used for baby dolls and stuffed animals, but the picture on the left is more often the situation… the toddlers put all manner of random things in and out of a push toy, push it all over, empty it out, fill it back up, and on and on.
Ha! These push toys provide hours of fun for children ages 18 mos – age 5. Sometimes my older kids even now are doing cute role play games with younger kids who are over to play & they'll all have a great time with the stroller, grocery cart, etc.
Here are our personal favorites when it comes to push toys:
Push toys are so good for gross motor skills. Speaking of which, these next few items are awesome gross motor toys!
4. Giant Bouncy Ball
Think – the kind you can buy at Target or Walmart in the summer in those giant ball-cages on the end cap. So fun! Our toddler will play fetch with himself with one of these for quite a long time. And just when the game gets old, you can pull out a laundry basket or cardboard box and show them how to play basketball 🙂
5. An Awesome Swing
These swings might be one of the top 5 gifts we've ever given!
We have this giant swing on our tree outside– it's fun at all ages and you can adjust the height so a toddler can hop on themselves. Our toddler boys spend hours swinging on this 10 months a year. We have it hung pretty low so that young children can get on easily, but you can adjust the height.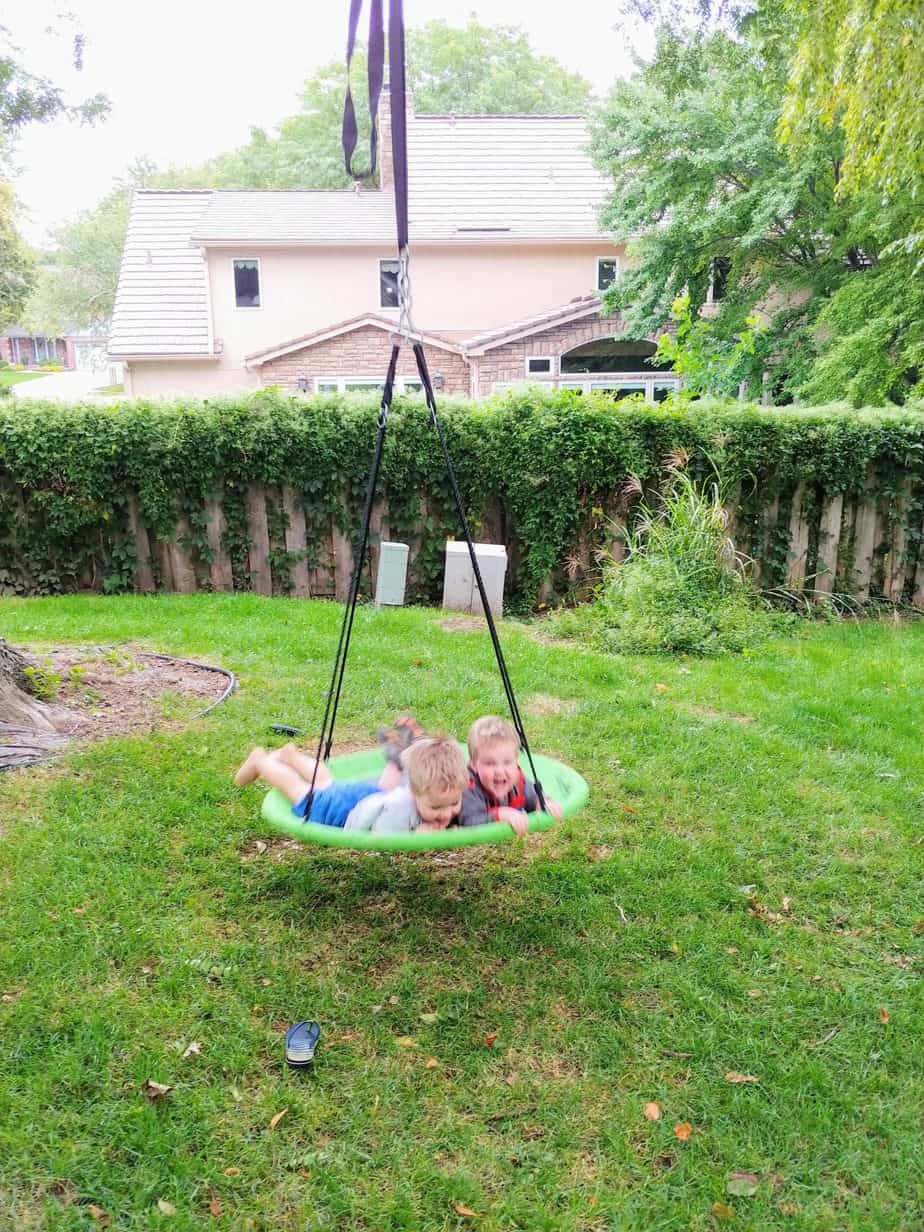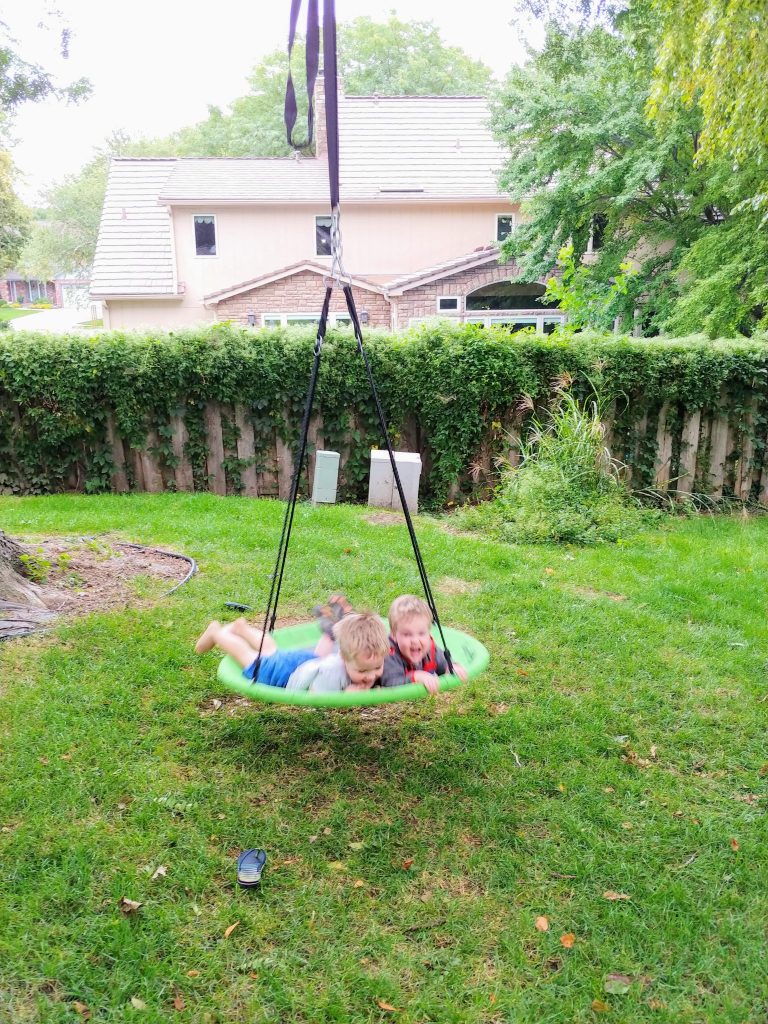 We also have 2 of these hammock swings inside! The kids love them, and they're fun for older kids too. In addition to the swing, you'll want to grab a swivel kit so it swings more easily. If you don't own a stud finder, you'll want a cheap one like ours to be able to find the studs in the ceiling to hang it from.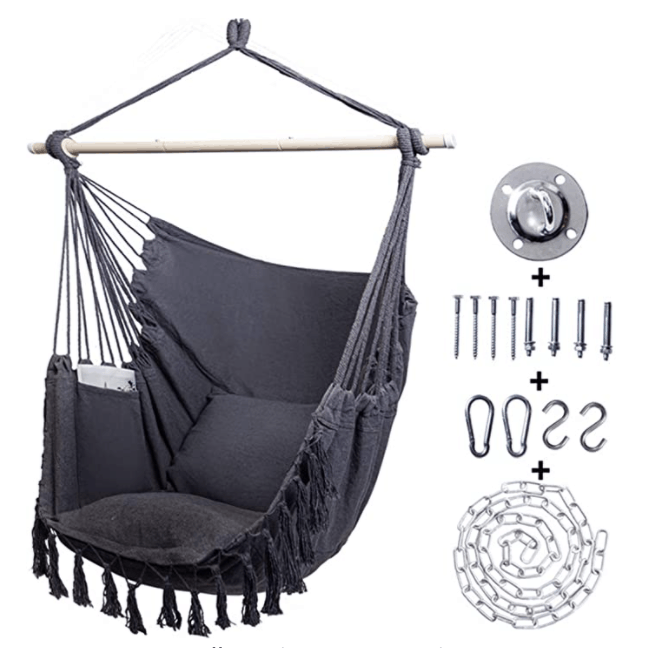 DON'T GET THIS ONE – We tried this pod toddler swing and didn't like it! Would NOT recommend.
When we add gymnastics stuff to our basement, we'll probably put a more traditional swing like this. I feel like swings make the best christmas gifts.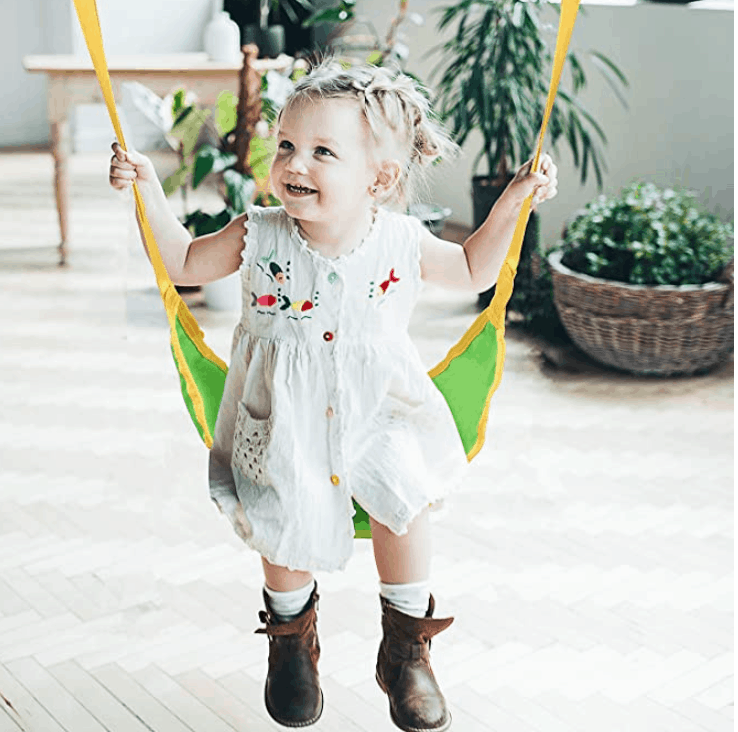 Swings are way better than a regular toy 🙂
7. Balance Bike
Our 2nd, 3rd, and 4th kids all learned on a balance bike! We didn't know about them with our first, and she had the HARDEST time switching to two wheels. Balance bikes are well worth the $$ and will last ages 2.5-4.5 ish. It seems like sometime around age 4.5-5 is when kids can get the hang of pedaling and balancing. So balance bikes are a great gift for older toddlers, or 3-year-old girls. They come in tons of different colors and brands. We've had a basic strider one like this that's lasted through 3 toddlers/ preschoolers over the course of 6 years.
8. Water Table
I pull our basic water table out every spring. It's not fancy, but it gets a TON of use by all ages of kiddos. They have so much fun with this old toy. We usually hit the dollar store for some new buckets and shovels each year, and then toss them before winter. The accessories never seem to last more than a year.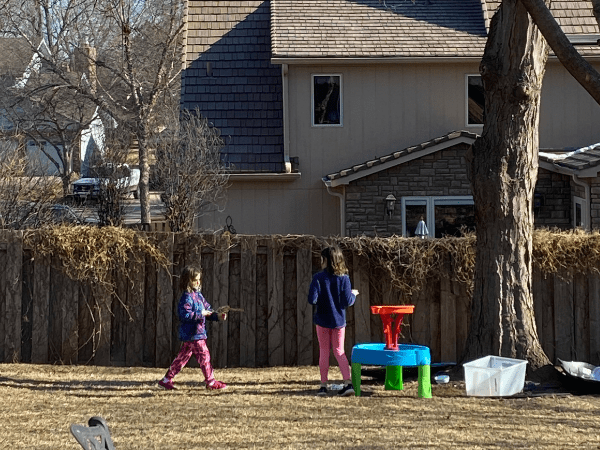 9. Sensory Bin
If you've never had a sensory bin, I know it sounds like a horrible disaster. But, if you can teach your little ones appropriate sensory bin behavior, this bin of rice could keep your two year old relatively quiet & in one spot for 30 minutes. Or more. Every single day.
Plus, it is an amazing activity for building fine motor skills. And if you go the plastic container route, it costs next to nothing. (The perfect gift for a budget.)
The best part about a sensory bin gift is it can be used in the kitchen, living room, or wherever. It's very flexible & is a great toy for growing with the kids.
For years, we had a large, shallow under-the-bed style bin as our sensory bin. I stored it under something with some rice in it, and periodically swapped the rice out for dried beans, lentils, garbanzo beans, ice or whatever.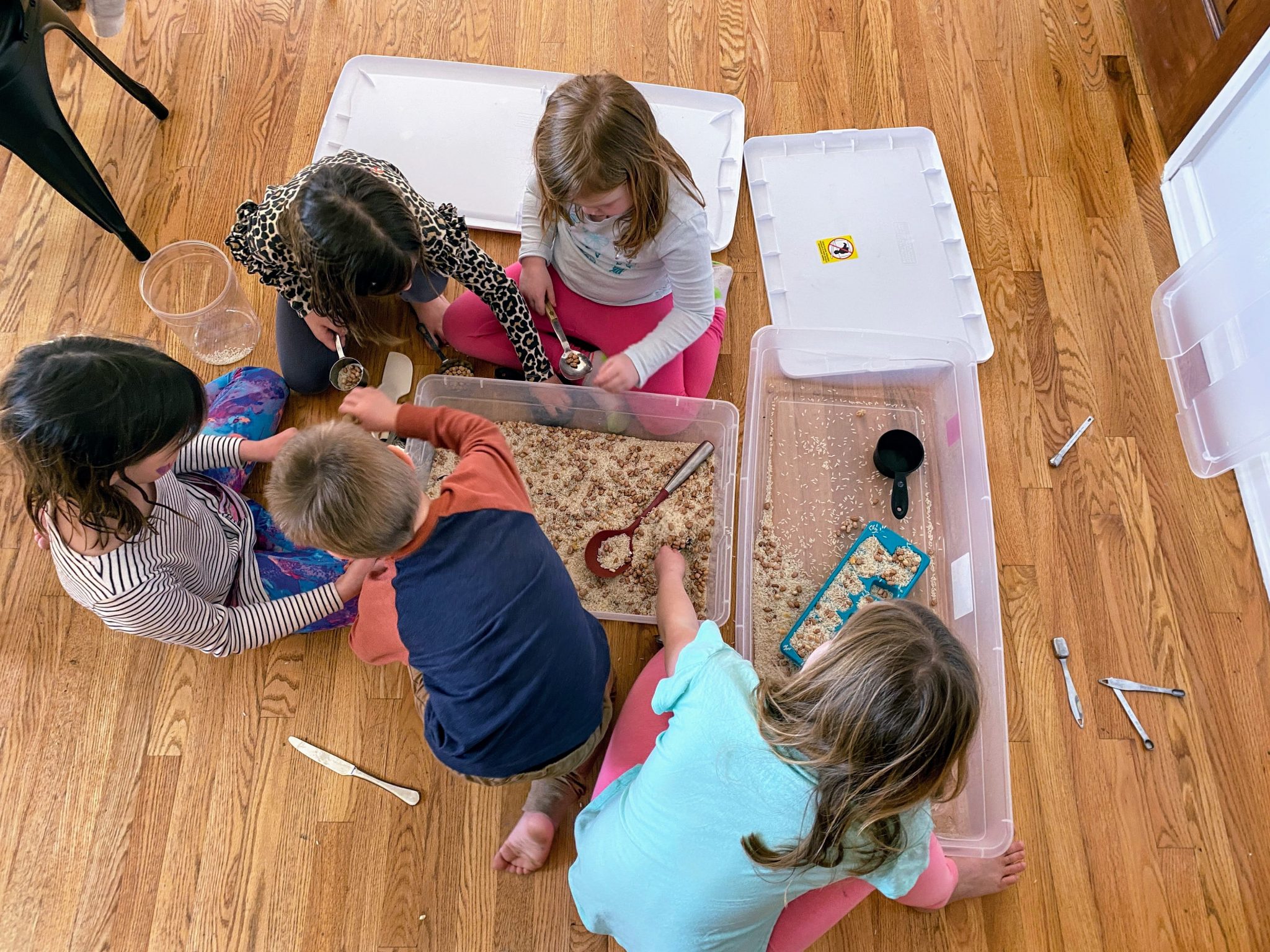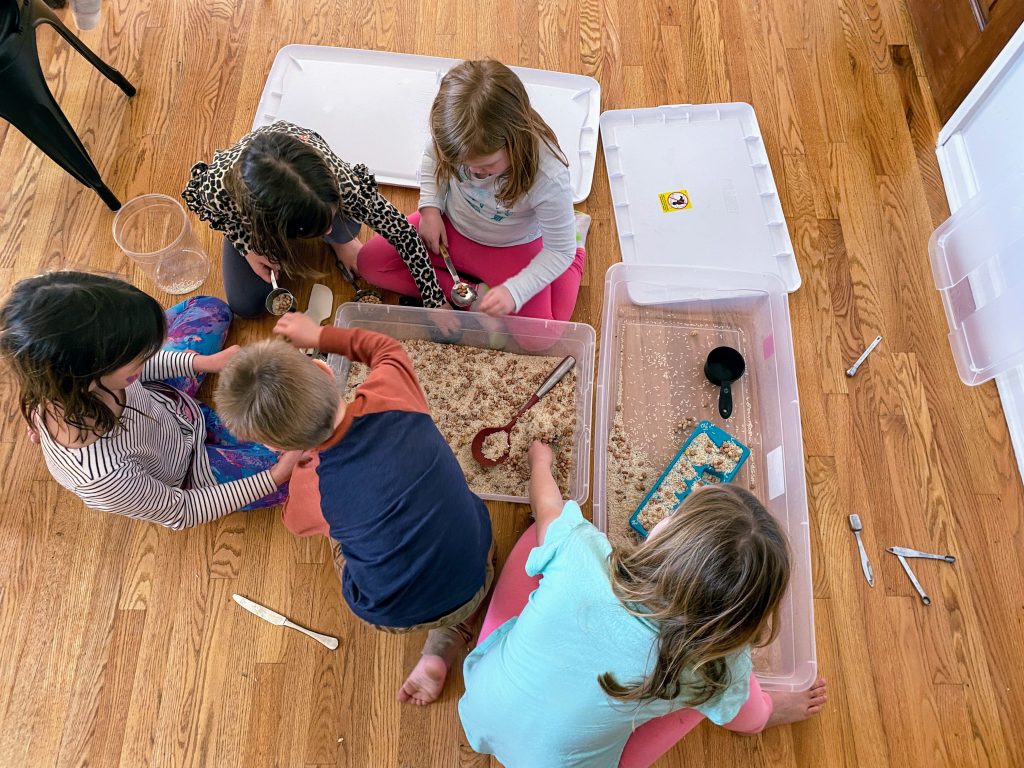 We recently upped our sensory table game and added this ikea table with two trofast bins inside. This cost me less than $60 and was so worth it! I love this setup for more easily accessible sensory play, now that all of our kids have learned appropriate sensory bin behavior. It's just the right size for our resident toddler and preschooler too.
You can also grab little figures, sea creatures, animal figurines, or favorite character toys that go with your toddler's interests to use in the sensory bin.
Sometimes, they put the table tops on and use it for art or other play too. We had little kids' chairs laying around, but these ikea stools work perfectly if you don't have kids' chairs already. This keeps our busy toddler occupied through a good chunk of our homeschool morning.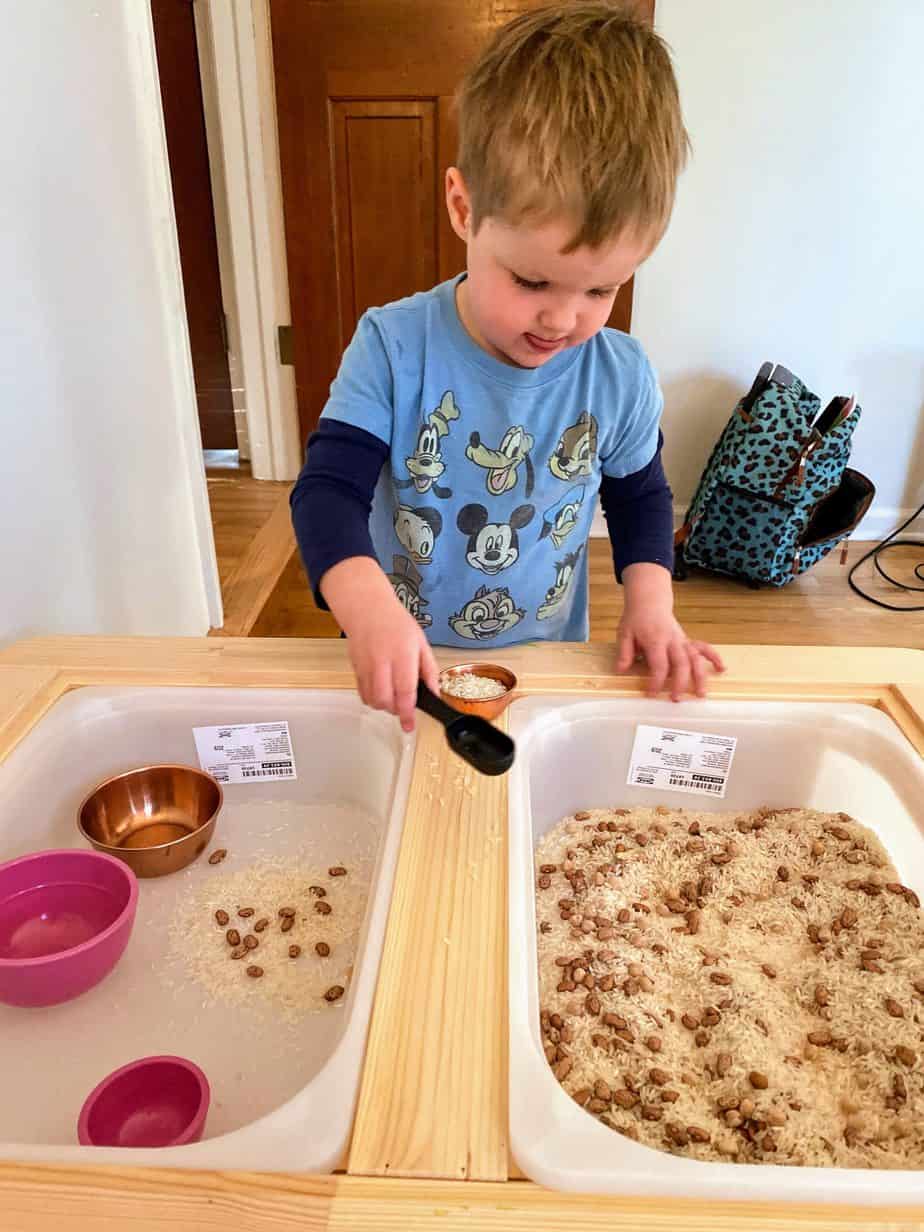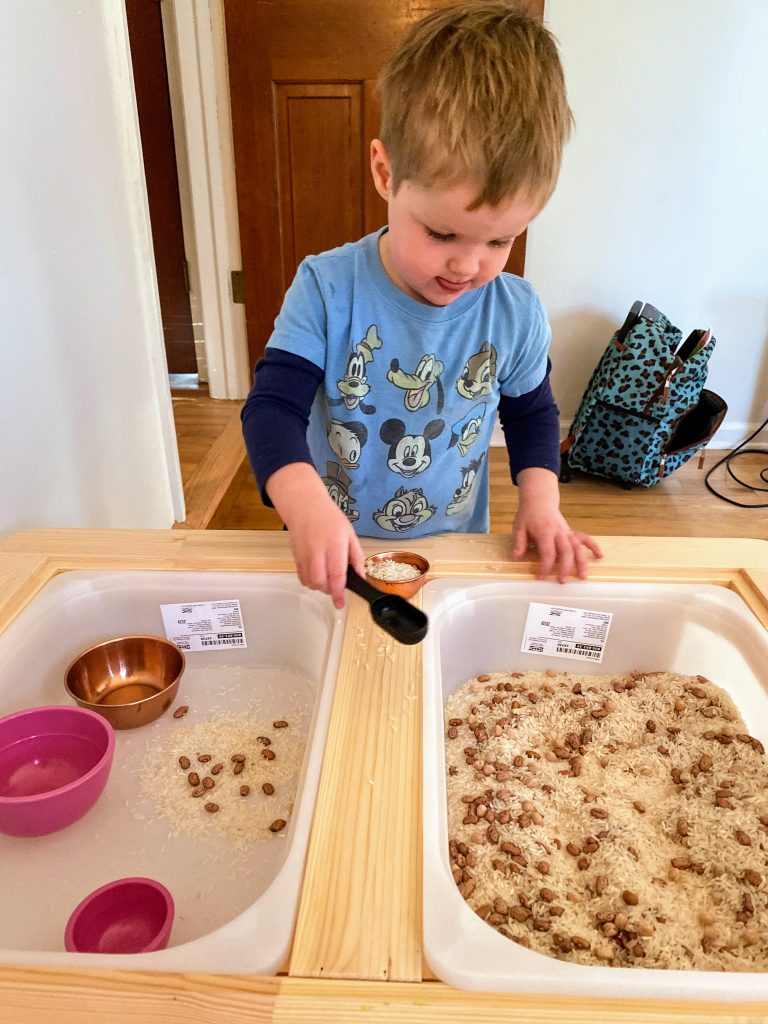 Here's a cute sensory toy kit that would be a fun gift to go along with the table or bins, although, I usually just let my kids raid the kitchen drawers. The downside is that I'm usually missing my favorite kitchen tools 🙂
10. Wooden Train Set
This is the type of thing you can find used on Facebook Marketplace as well. (I got a humongous set that I actually split between our kids and my nieces/ nephews one year.)
It's a better gift around ages 2.5 – 4, but I'm including it on the toddler gift list anyway because it's so well loved at our house. Any time it gets old, I put the bin away for a couple months. When it gets pulled back out a few months later, it's all fun again.
We prefer NOT to have a train table… the flexibility of playing on the floor is more fun!
For a 2 year old, the parents will probably have to build the train tracks at first, but the kids will get the hang of it!
My recommendation is to get a simple set like this, plus a couple fun bonus bridges/ tunnels like I linked earlier! If you have leftover money in your budget, grab an expansion pack. The more basic tracks you have, the more fun. The fancy houses & people & tree accessories never get played with though, in our experience.
Favorite Bridge #1 | Favorite Bridge #2 | Favorite Bridge #3 | Starter Set | Trains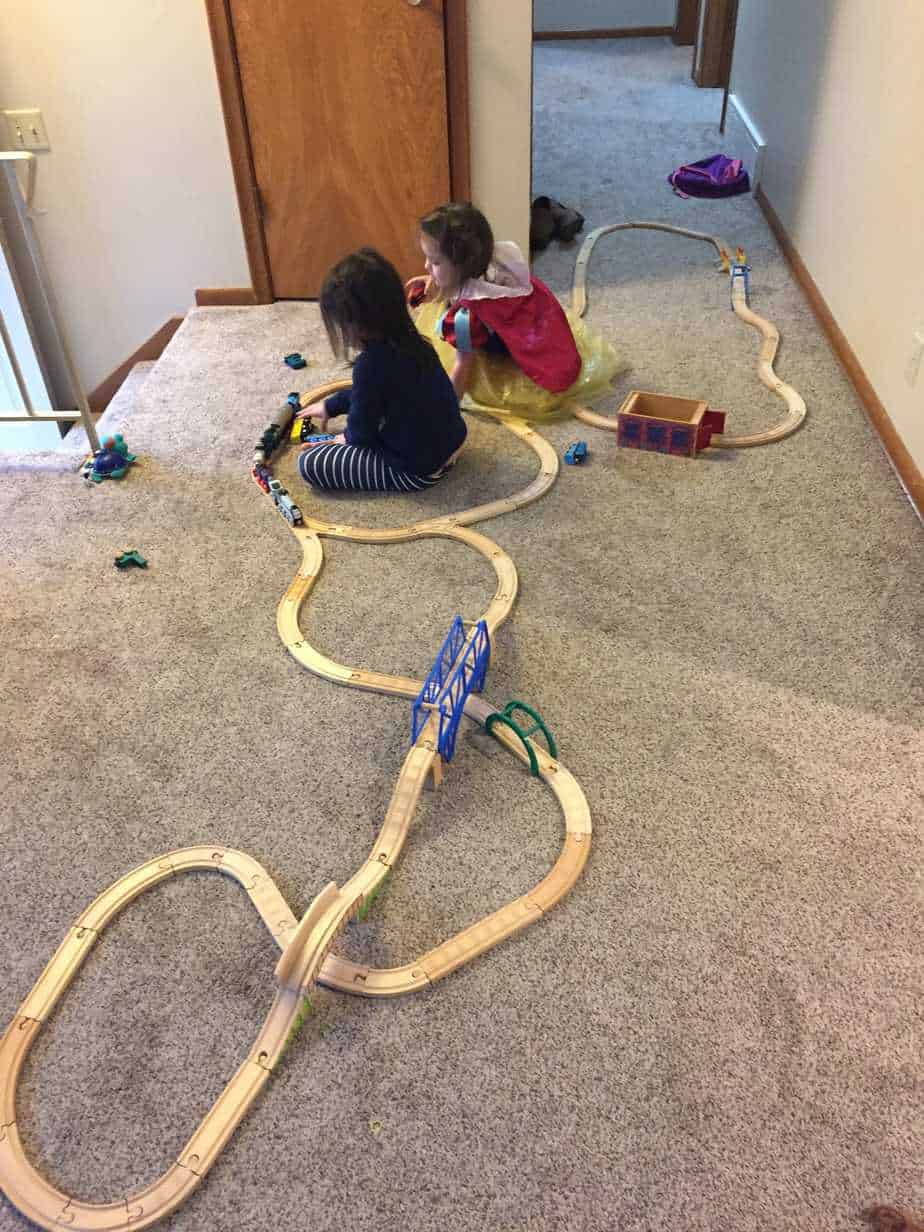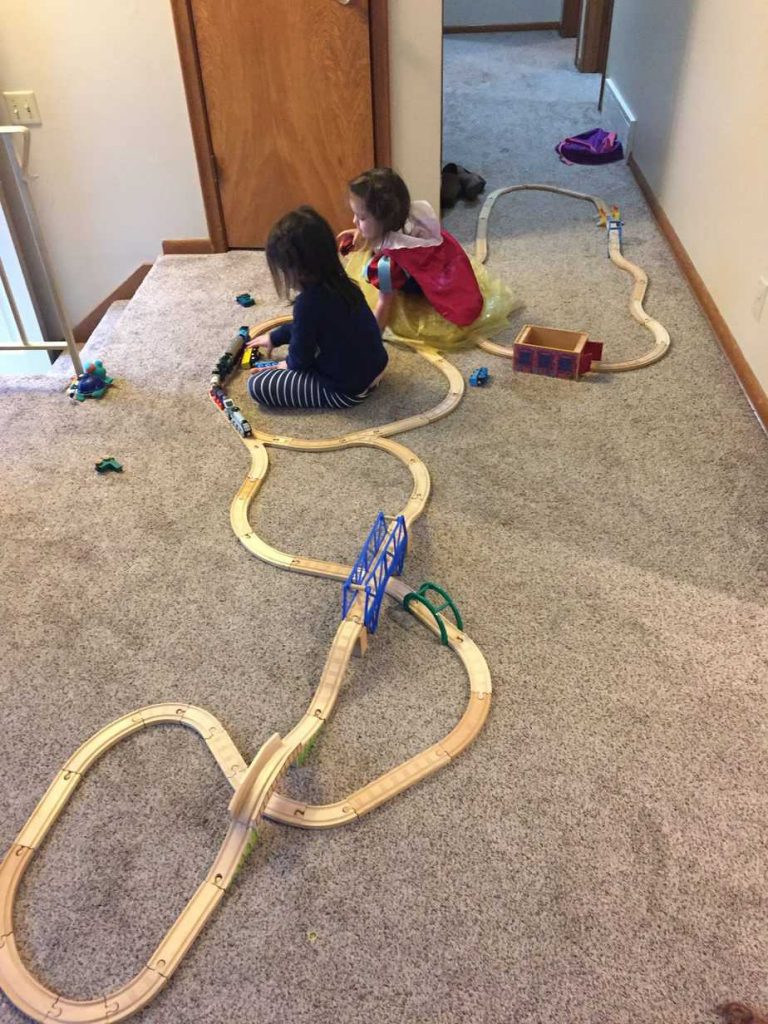 11. Wooden Blocks
I "invested" in Lakeshore Learning brand wooden blocks one Christmas for our 2-4 year olds. Blocks are one of the longest standing best sellers at Lakeshore & are actually legit educational toys & stem toys. Even though a set of wooden blocks doesn't have the same "wow" factor as opening something shiny & noisemaking, I guarantee it's a better use of your money. They inspire all kinds of different ways of pretend play for YEARS and YEARS. They're lifetime warrantied too. There are tons of different pieces you can order too.
You can get a set or order individual blocks. We ordered a set or two and then added on a bunch of big flat platform style blocks. They are SO fun!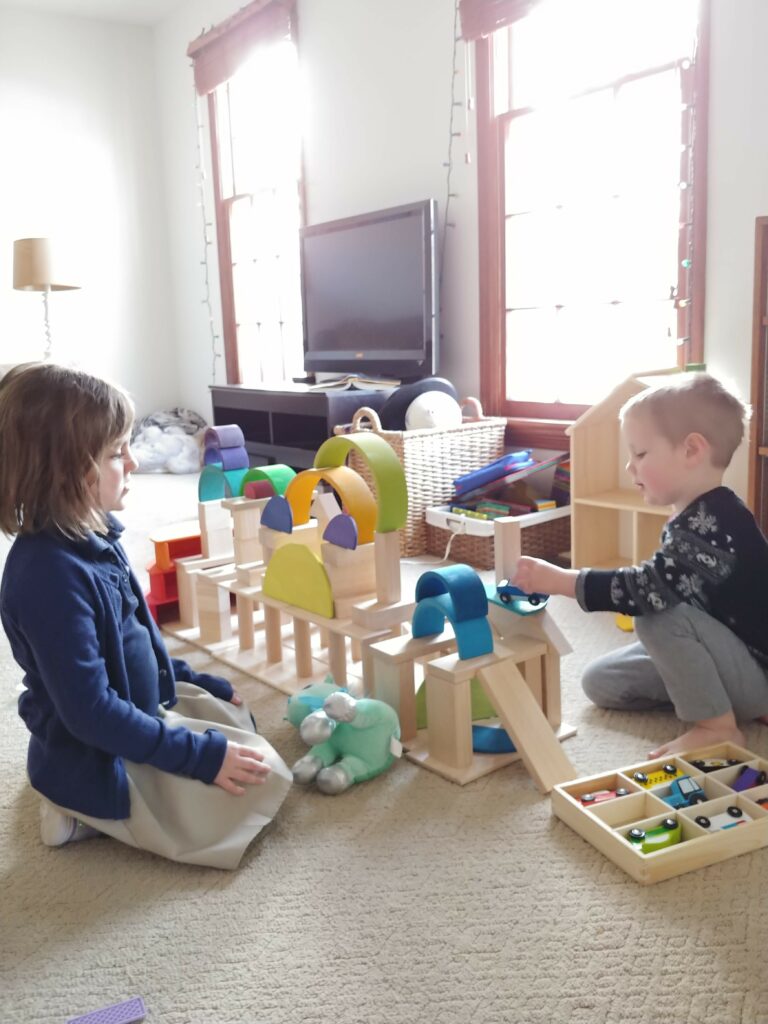 Toddler Gift Ideas That Are NOT Toys!
1. Something to Carry Around and Put Stuff In
Think – a bag, box, or basket of sorts.
Our kids (and all their friends) seem to play some version of a travel game quite often. They all find a purse, lunch box, mini backpack, suitcase, or tool box. Then they fill it with random items, bring it to the airplane (or bus or van or whatever they're pretending), and off they go. This game can go on for hours, so I highly recommend encouraging it.
At the end of the day, you can play a race-to-put-it-all-away game and everyone can help return the random items inside the various containers to their proper homes.
We have these roller backpacks for our girls' homeschool co-op, but they get a lot of use for playing travel, our weekly library haul, and for real travel. Highly recommend! (I know a rolling backpack doesn't really feel like a toddler Christmas gift… Trust me, though, it'll be WAY more fun than some random plastic, noise making toy.)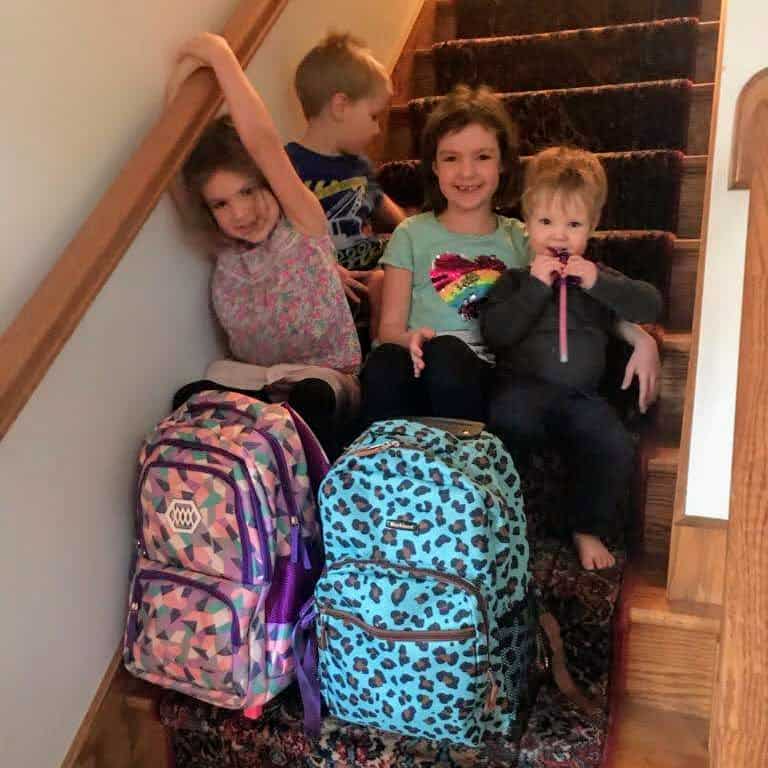 Other fun bag options, all of which our kids have loved a similar version of:
2. Kitchen Stuff: Utensils, Tea Set, Cart, Play Food, Etc…
Walmart has a great selection of colorful, cheap kitchen utensils! They're in the regular kitchen area, w which is so fun because non-toy gifts are always the preferred toy anyway. Haha.
You could gift them in one of the above bags and I guarantee any toddler girl would love it.
If you wanted to give a bigger gift, a toy kitchen, tea set, or play food with a shopping cart would be SO fun for little ones.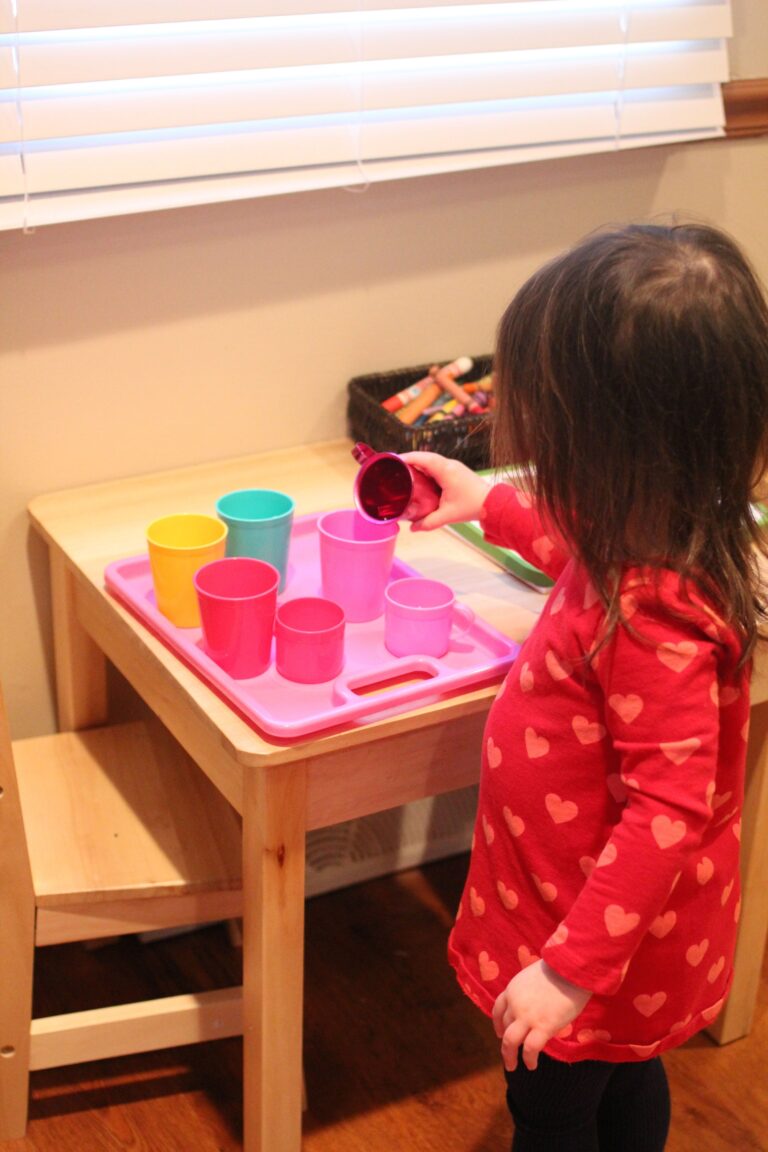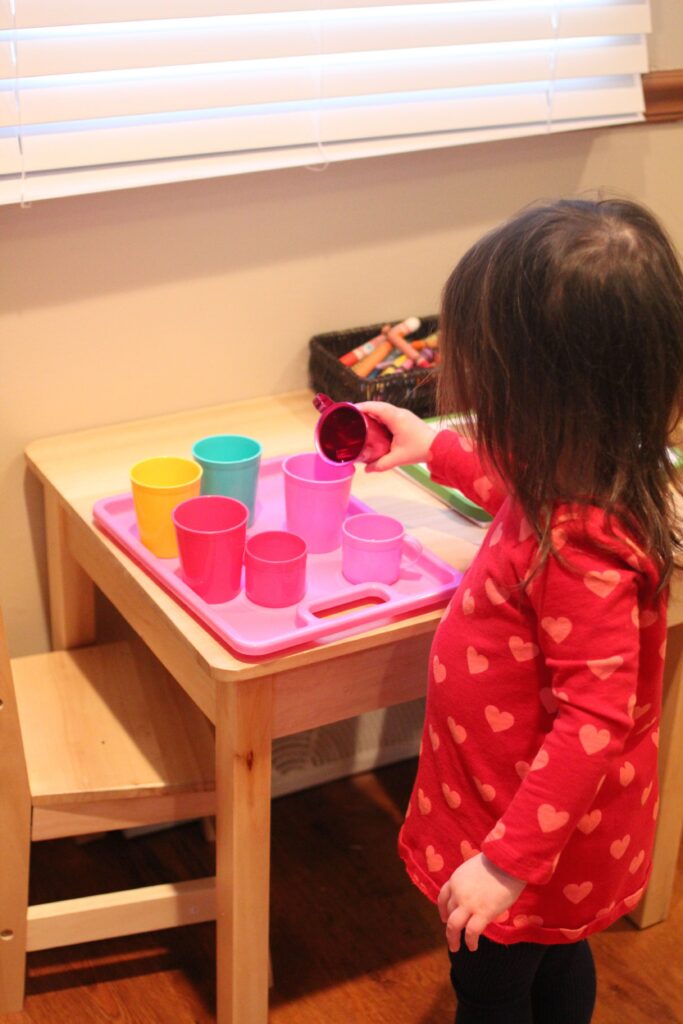 3. A giant box.
Enormous boxes were fun in the 1990s and they're fun now. My kids just got some huge wardrobe boxes from people who moved, and they've been going strong in our basement for a couple weeks.
If you're feeling really creative, you could cut and tape it in such a way that it's a play space or play house.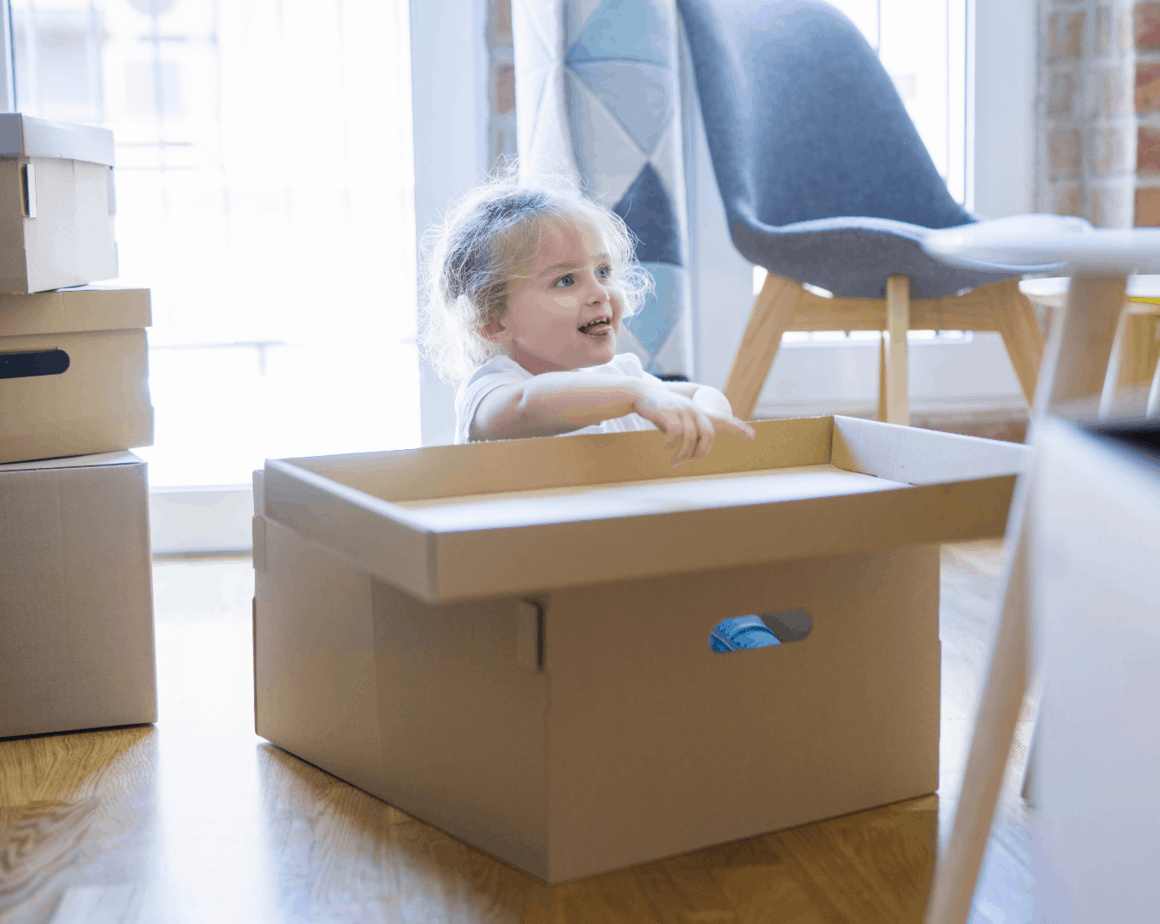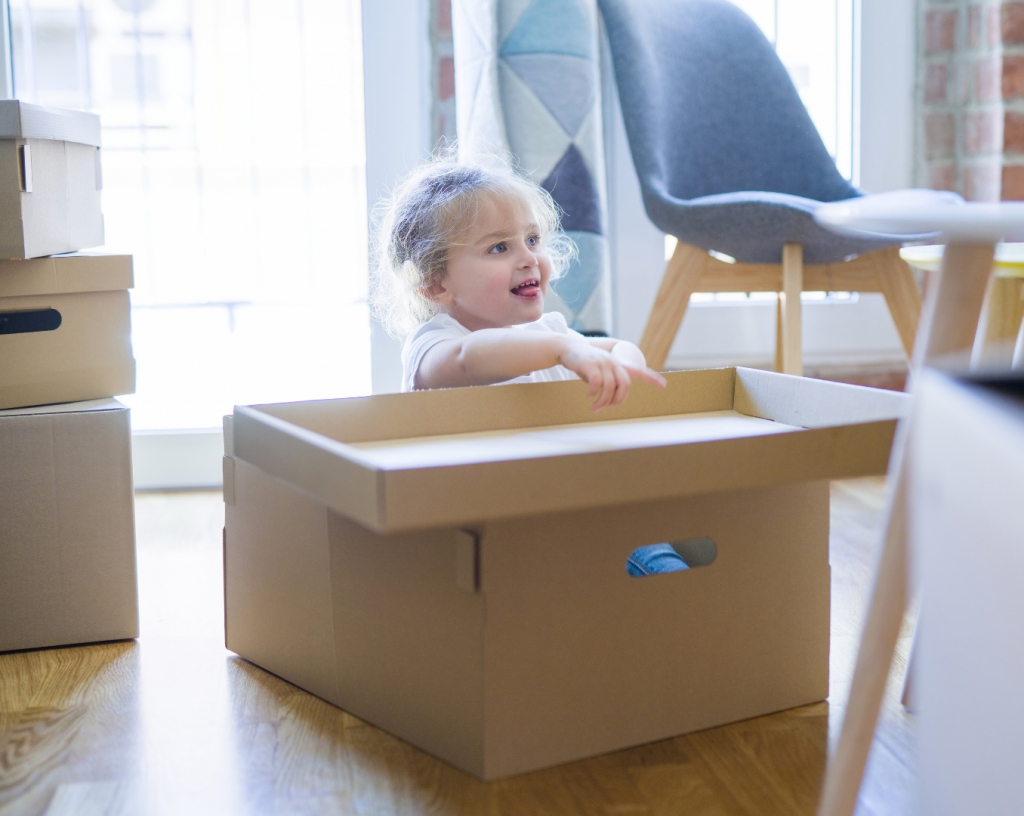 4. Old Cellphones or Cheap Calculators
These are the most coveted non-toys toys at Grandma & Granddad's house. (For the little ones and an older child as well.)
Bonus points for a flip phone or keyboard pop out phone. (You can actually buy cheap, old, nonworking phones too! 5 phones for under $30.)
These are the style of calculators my kids love to play with.
Goodwill or a thrift store are often the perfect place to snag old phones too.
Toys that Are Fun Sometimes
I know that's a rather anticlimactic heading, but I couldn't think of how else to say it! These toys are all ones we own that my kids love… sometimes.
They don't get used every single day like the magnetic tiles or a mini backpack. BUT, they get good use when friends come over, or if I put them away for a while and pull them out to feel "new" again. Sometimes I'll get one out for a toddler to get us through the last 30 minutes of the big kids' school work in the morning.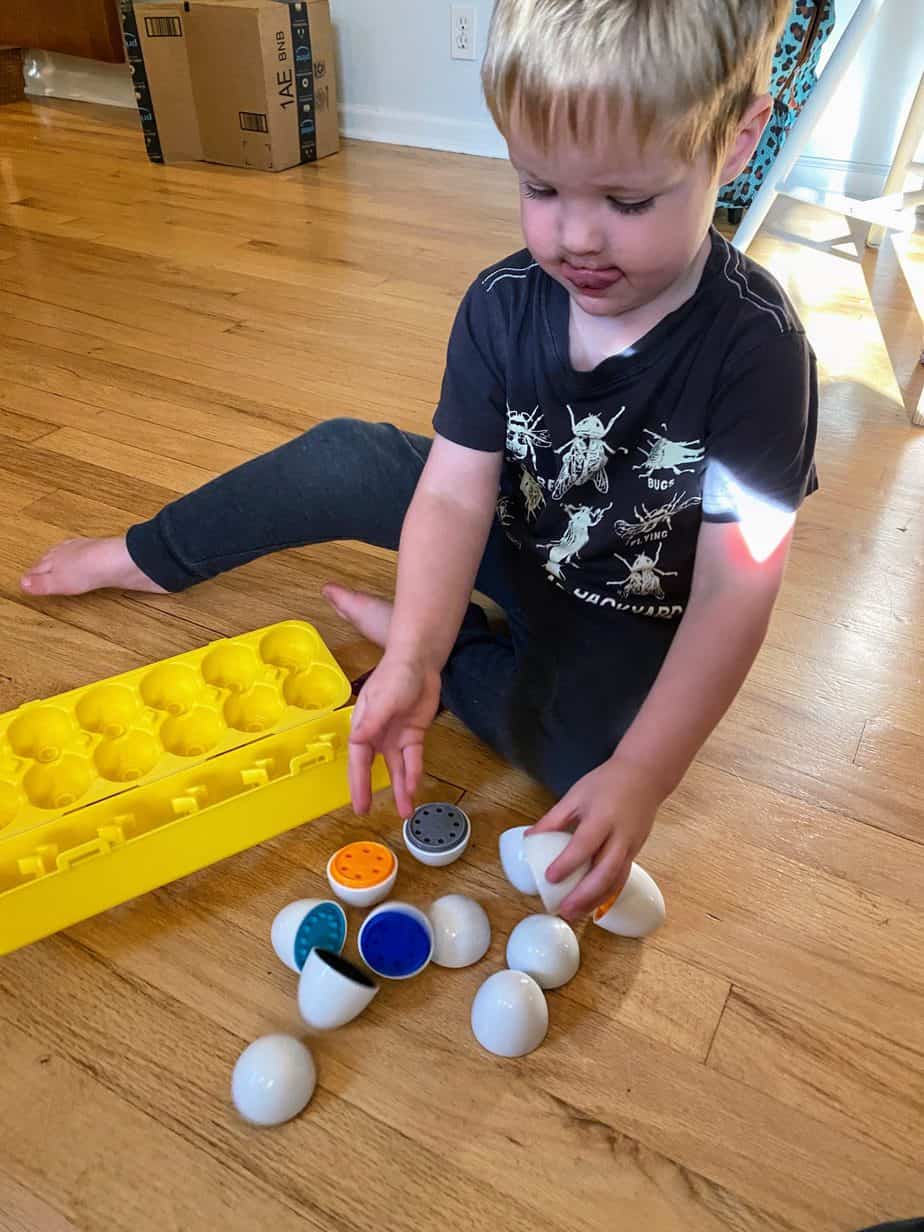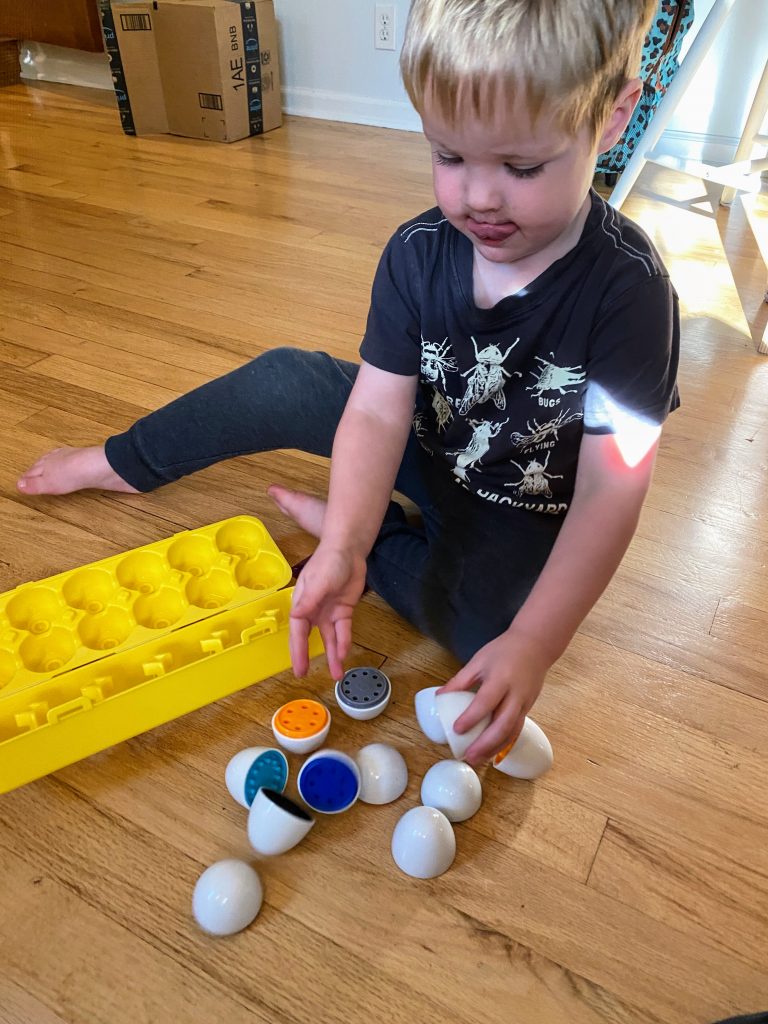 Little Toys/ Stocking Stuffers
Some of the previous toys mentioned would make great stocking stuffers – fake phones, calculators, sensory bin accessories, kitchen tools.
I have a pretty strong preference to not give junk for gifts 🙂 If you're giving these as stocking stuffers, you'll need to take some out of the packaging. Here are some other ideas for stocking stuffers for 1-3 year olds.
New reusable water bottle – this is our favorite for toddlers! (And we've tried TONS over the years haha)
Paint sticks (relatively mess free)
Dot paints (my personal favorite for toddler art)
New wooden train – fun to add to a collection, or just get a set like the one below and they can magnet the trains together and drive them around on any hard surface
Train Bridge – If the child already has a wooden train set, add a new fun bridge to it! These are our 2 favorites for toddlers because they can put them together themselves. (#1, #2) The brand doesn't matter; all wooden train sets are compatible. Both our boys and girls have loved wooden trains and accessories.
"Real" Keys – grab some at your hardware store, or here's a 3 pack. Don't forget to put them on a fun keychain!
Change purse/ zipper pouch – Probably cheapest in the Target Dollar Spot or at the Dollar Store, but here are some cute easy-to-order ones. My kids enjoy SUCH fun independent play with a change purse, pennies, real keys, chapstick and a back pack. Ha!
Chapstick – we gave our 2 and 3 year old toddler girls chapstick in change purses one year in their stockings and they ignored all the other presents that year. 🙂
A cool night light – This cute tap on cat one is fun!
Best Books to Give Toddlers
These are the books that are so well-loved in our home we've had to replace a couple after a few young toddlers read them 1,000 times.
Books are one of my favorite things to give along with a birthday gift or a simple toy. They make such a good gift & as an added bonus, they'll be enjoyed over and over.
Any Sandra Boynton board books are a great choice for younger children, but especially the following:
Also….
We store our books in a large, shallow basket like this so they're easy to grab and to clean up.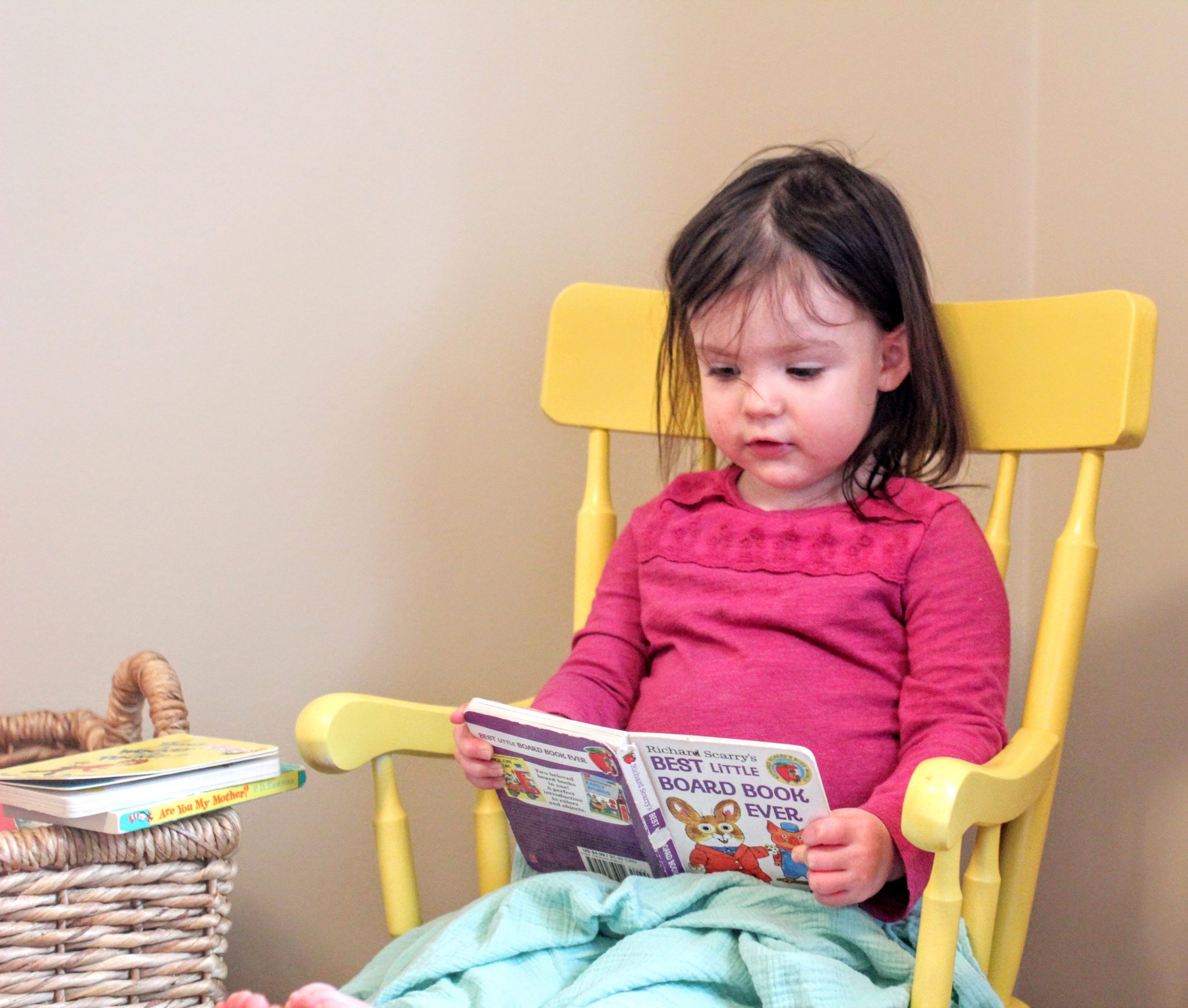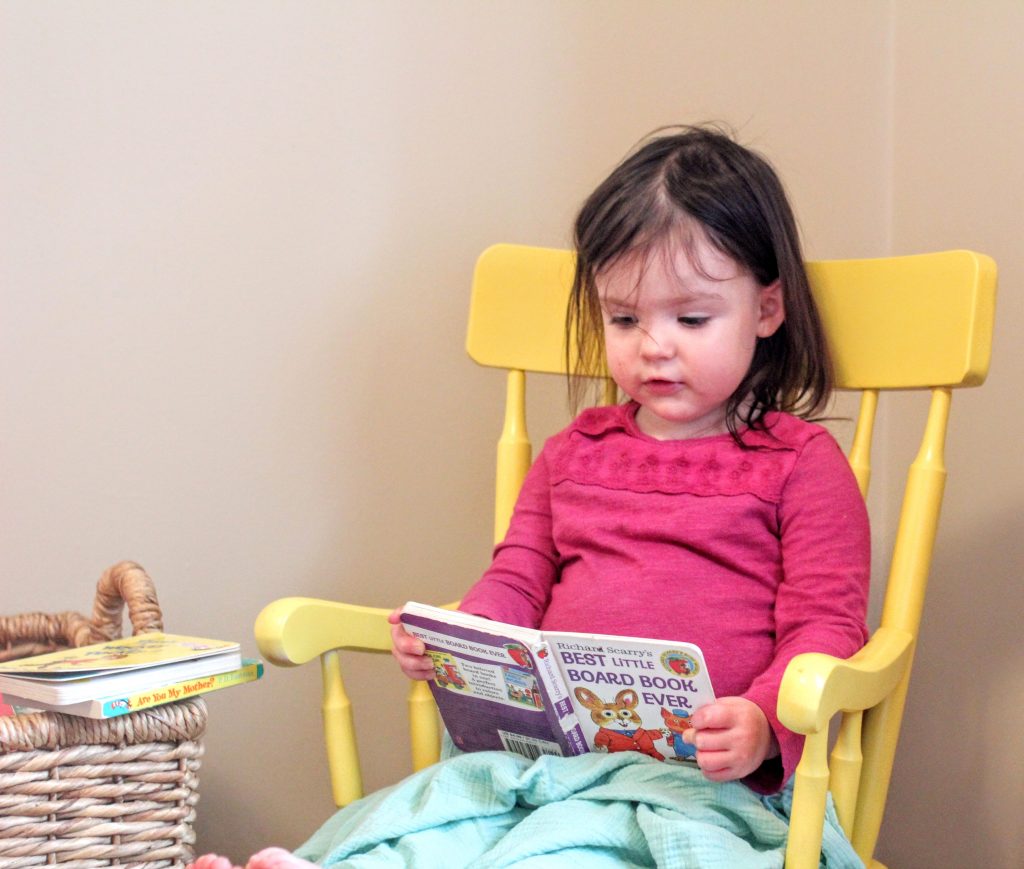 So there you have it! A ton of toddler girl birthday gift or Christmas gift ideas that are guaranteed to be fun. My kids and I promise 🙂
Other Related Posts: