Some of the links on this page are affiliate links. When you make a purchase through an affiliate link, I earn a commission at no cost to you. See my entire disclosure policy for all the boring details.
It all started when I had a 10 month old. We had just moved across the country and my husband was in a crazy intense masters program. I was staying home in our tiny 3rd floor apartment, with no family nearby, no friends, and no car. AND we'd just found out we were pregnant with our second baby… surprise! Weary described my every day life. I was straight up exhausted all the time. And lonely as all get out.
Well, there was this Bible verse CD my baby loved. It seemed to be the only thing that would get her through witching hour. The songs are horribly cheesy, although slightly less obnoxious than others I've heard. (Something about the combination of kids singing slightly out of tune with an overly-enthusiastic adult man joining in… it's just not my favorite genre, ya know?)
But I found myself humming the tune to this particular song over and over.
Galatians 6:9

"Let us not grow weary of doing good, for in due season you shall reap, if you don't lose heart."
Then, one morning during my quiet time, it dawned on me… the annoying kid's song that had been on repeat in my mind was exactly the kick in the butt encouragement I needed!
YIELDING TO TRUTH
This verse has become one of my mantras, and through it, God has totally changed my perspective on the mundane tasks of motherhood.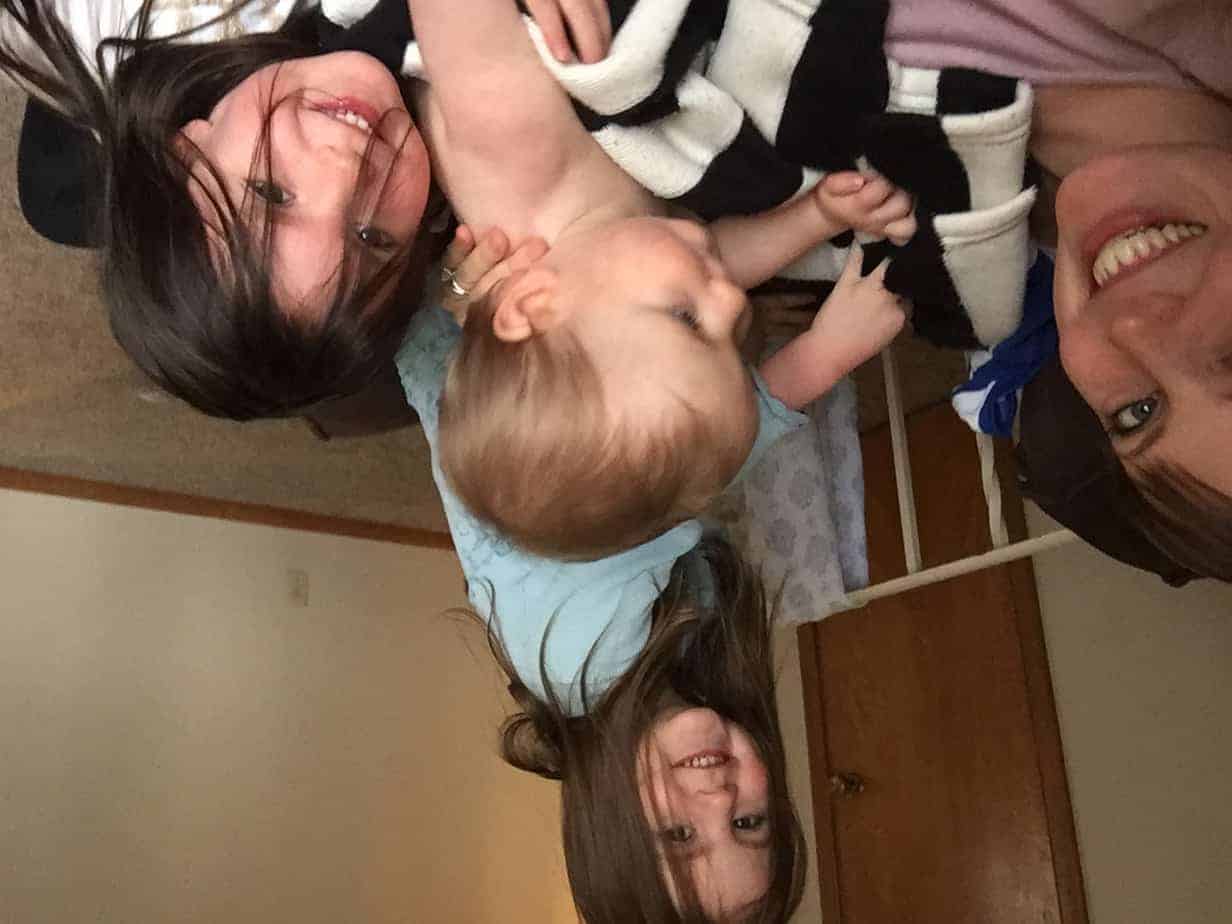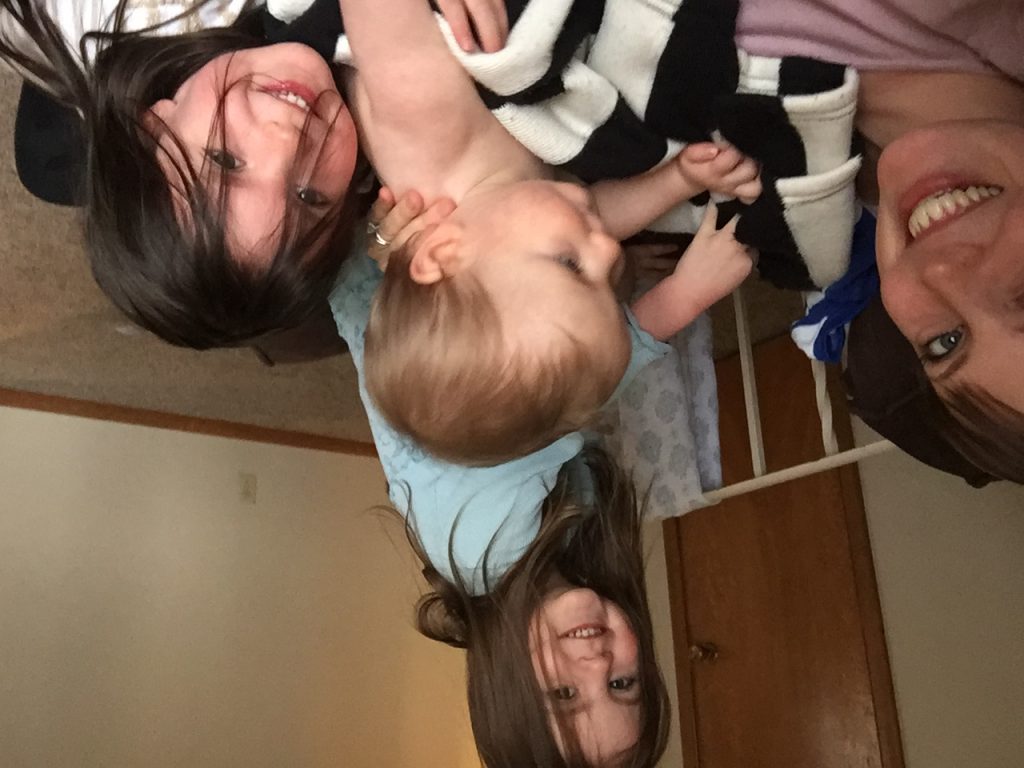 I wanted to break the verse down with you and share some things the Lord has taught me about what it looks like in everyday mom life to "not grow weary of doing good, so that in due season, we can reap if we don't lose heart." Let's go through it phrase by phrase.
LET US NOT GROW WEARY OF…
washing dishes
sweeping underneath the high chair 3 times a day
singing if you're happy and you know it
reading chicka chicka boom boom
letting the baby crawl over you
holding him even though your shoulder is so sore
grocery shopping and meal planning
playing with play dough
discipline
cleaning up potty accidents
making dinner
school drop off and pickup
..for in due season, you will reap, if you don't lose heart.
What are you weary of?
DOING GOOD (IN MOTHERHOOD)
"Doing good," for me, in this season, is mothering our young children. Meeting their needs, day in and day out. Sometimes, it is so, so fun. But sometimes, it's not. Alas, my enjoyment level is not mentioned anywhere in the verse. What is your season of life? Where are you called to do good and what does that look like?
Sweeping up tiny pieces of food underneath the high chair (so.many.times.per.day) will not always be necessary. They won't always need just one more hug and kiss 17 times. They won't always need time outs. Wherever you're at, it's a season. And the good thing about seasons is, they change! So, let us not grow weary of doing good.
IN DUE SEASON, YOU WILL REAP
When the seasons of motherhood change, you will begin to reap!!
You can take that to the bank, momma. 2 verses earlier, Paul writes, "You will reap what you sow." (Gal 6:7) Sow the seeds of grace and discipline and love and the gospel. Just keep sowing and waiting, sowing, and waiting.
And in the mean time, the encouragement is let us not grow weary.
The language of that statement makes it sound like a choice. Is is really that simple? Just, don't grow weary…?
Maybe it is.
HOW TO CHOOSE
The idea that not growing weary was perhaps a choice I could make was a big "ah-ha" for me. I started to think about daily mom tasks as chances to choose. I can let these things weary me, or not.
Very quickly, my attitude was better. I had more energy & patience for my children, and I wasn't resentful towards Ben for "getting" to leave the house. I started enjoying being home with my kiddos.
Okay, but how? How do you just choose not to grow weary when you're about to pull out your hair because they just dumped out an entire bucket of teeny tiny beads?
The secret is… the Holy Spirit. One of my favorite Bible teachers frequently says, "God has made no provision for you to live the Christian life alone." This isn't a matter of pulling up your mommy bootstraps and just trying harder. God has given His Spirit to help us change!
John 14:26 "The Helper, the Holy Spirit… will teach you all things and bring to remembrance all that I have said to you."

Romans 8:26 "The Spirit helps us in our weakness."

Galatians 5:22-23 "The fruit of the Spirit is love, joy, peace, patience…"

2 Cor 5:5-7 "He who has prepared us for this very thing is God, who has given us the Spirit as a guarantee… we walk by faith, not by sight."
Those are just a fraction of the Scriptures that explain how the Holy Spirit helps us in daily life. And it all applies to our day to day mommy life too. Start asking the Holy Spirit for help to not grow weary of doing good.
SO, WHAT ARE YOU CHOOSING TODAY?
To grow or not to grow weary… that is the question.
Be careful though. Because if, at the time when your kids are melting, and dinner is burning, and your hair is falling out, you begin to choose not to grow weary, to press into the Lord and ask for His help specifically with your weariness, you might find yourself increasingly cheerful as your husband walks in the door. And you may find yourself less irritable towards your kiddos. And you may even find you have a little extra energy for the evening.
Let us not grow weary, mommas! We're not alone, and in due season, we will reap. If we don't lose heart
P.S. If you ever feel overwhelmed in your everyday mom life, try my new free email challenge. I can't promise to eliminate all overwhelm, because, well, kids will be kids. BUT, the principles and tips I share in this course have transformed me from a crabby & stressed mom to one who enjoys my kids… most of the time!