Some of the links on this page are affiliate links. When you make a purchase through an affiliate link, I earn a commission at no cost to you. See my entire disclosure policy for all the boring details.
Our 4 year old's bedtime habits had gotten out of control lately. One more toy, one more kiss, one more hug, one more drink… if we said no to something, dramatic tears ensued. Perhaps you can relate? Any one of those things on any given night wouldn't be an issue. But, slowly we had let our 4 year old be in charge of her bedtime, and it was spiraling into ridiculousness.
Here's the thing about kids: they want parents to be in charge. They want to live in a parent led home. Sure, it's in their nature to test you and say no and push the limits.
But parents who stand firm on boundaries have happier kids. Parents who are in charge have happier kids. The least happy children are the ones whose parents are letting them run the show. But wait… How do I know? And what does that look like on a daily basis?
I'm glad you asked.
What Parent Led is Not
Our culture is generally quite anti-authority. So, when I throw out the phrase "parents be in charge," I want to justify and clarify what I mean. A parent led home is not….
Manipulating your children to behave how you want them to.
Verbally, emotionally, or physically abusing your kids (obviously).
A place where mom & dad are mean, authoritarian dictators.
Good behavior for the sake of good behavior.
Philosophy of the Parent-Led Home
As Christians, the Bible is our primary guide for parenting. There are are dozens of Bible verses we could examine about parenting, but many Biblical parenting principles can be summed up by these 2.
Proverbs 22:6 says, "Train up a child in the way he should go; even when he is old, he will not depart from it."
Proverbs 29:15 says, "The rod and reproof give wisdom, But a child who gets his own way brings shame to his mother."
Entire books are written about a Biblical parenting perspective (this is my favorite). For this post, I'll stick to the main principles we need to understand in order to embrace the concept of a parent led home.
1. It's the parent's job to raise the child.
After God finished giving Moses and the Israelites His commandments, He said, "And these words that I command you today shall be on your heart. You shall teach them diligently to your children, and shall talk of them when you sit in your house, and when you walk by the way, and when you lie down, and when you rise" (Deut. 6:6-7).
God told parents to teach the children what God said. He chose parents to be the primary communicators of His grace to their children.
Ephesians 6:1-4 says, "Children, obey your parents in the Lord, for this is right. "Honor your father and mother" (this is the first commandment with a promise), "that it may go well with you and that you may live long in the land." Fathers, do not provoke your children to anger, but bring them up in the discipline and instruction of the Lord."
Again, the picture is parents teaching children. That verse even tells parents not to provoke (annoy, exasperate, manipulate) their children, but to bring them up in God's ways.
It saddens me to see parents stressing out over their tantruming 2 year old, "What do you want? Do you want this sandwich? Would you like to have 3 bites of broccoli and then eat a cookie? Do you want to go to the park? We're almost done buying the food, and then we'll get to go to the slides."
Look, my kids have thrown massive tantrums in public. And I have felt VERY STRESSED in that moment. Haha – all kids do it! And handling that situation could be a whole separate post. But, hear me as gently as possible on this:
Is it possible that you are causing more problems by allowing your child to be in charge of more things than they can handle?
No matter what they say, kids don't want to be in charge of everything.
Guess what we did when we realized we had let our 4 year old be too in charge of bedtime?
We showed her this chart. We sat her down calmly one day, when everyone was in a good mood and it wasn't that close to bedtime…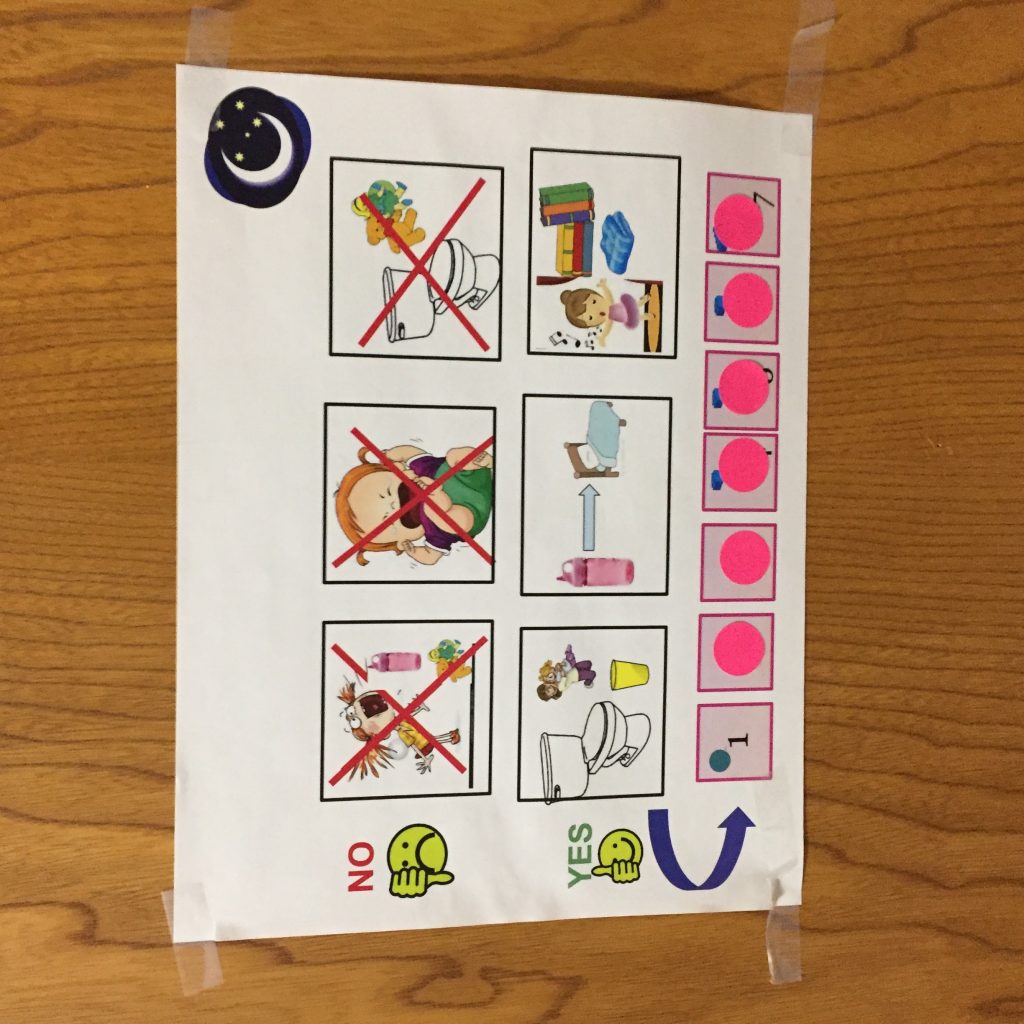 We said something to the effect of, "You are making too many requests at bedtime, and throwing too many tantrums. Mom and dad are in charge of bedtime, not you. So, here are the new bedtime rules. (Pointed to top row) There is no calling out for extra things, no throwing fits, and no asking for things when you come out to go potty. (Pointed to bottom row) You may…
Come out to go potty.
Get a drink in the bathroom or bring your water bottle to your room before bedtime.
Give a hug when you go potty.
Sing and read in your room until you are sleepy.
We took all the toys out of your room. Your books, blankets, and stuffed animals are still there. If you follow the rules, then in the morning you'll get a sticker on a box. If you get stickers 7 days in a row, then you will get your toys back."
She cried briefly when she realized her toys were gone, but honestly, this fixed bedtime almost immediately. She was so much happier. She read and sang in her room most nights and fell asleep sooner than before. After 7 days, we implemented the 3-toy rule and haven't looked back.
Once we as parents took control of bedtime again, our kid was happier.
2. Parents are not the ultimate authority.
In all 4 verses quoted so far, the clear order of authority is:
God
Parents
Children.
That means that we are not making up our own rules, mommas. Womp womp! We don't just arbitrarily declare everything to be the way we want it and enforce our household rules however we see fit.
As Christian parents, our job is to seek to understand what God says (in His Word, the Bible) and teach those things to our children. He also gives us freedom and authority to make household rules…
Here are some thoughts when it comes to rules/ discipline/ etc…
Say "yes" when possible even if it's inconvenient to your personal preference
Have 1 or 2 habits each child is working on explicitly. Because once something is truly a habit, you rarely have a discipline issue over it.
Treat habit training differently from discipline issues.
Get on the same page with your spouse about what you will treat as a discipline issue and how you'll handle it.
Never give a command for which you do not intend to follow through.
Obviously, those are guidelines and none of us are perfectly going to hit those 5 principles as moms. They're just general things to remember.
3. Teaching is a combination of discipline & explanation.
The Bible teaches that children come into the world "foolish," meaning they don't know any better. This concept actually explains a lot of the ridiculous things kids do.
When you ask your 2 year old who just colored on the walls, "What's wrong with you? Why would you do that?"…
She has no idea. She literally does not know what is wrong with her or why she's doing that. The Bible clearly repeats how to correct "foolish" kid behavior.
For the commandment is a lamp and the teaching a light, and the reproofs of discipline are the way of life. (Prov. 6:23)

The rod and reproof give wisdom, but a child left to himself brings shame to his mother. (Prov. 29:15)

My son, do not regard lightly the discipline of the Lord, nor be weary when reproved by him. For the Lord disciplines the one he loves, and chastises every son whom he receives. (Hebrews 12:5-6)

My son, do not despise the Lord's discipline or be weary of his reproof, for the Lord reproves him whom he loves, as a father the son in whom he delights. (Prov. 3:11-12)
Do you notice a pattern?
The key is: an unpleasant consequence COMBINED WITH correcting or explaining the proper behavior. Neither doling out unpleasant consequences nor lecturing & explaining will work by themselves. The unpleasant consequence has to come with explanation.
I don't know why this is, but I figure that the God who created us understands our nature better than we do. So, if this is how he says to "train up my children," then that's how I'm going to do it.
(As a side note, I used to be a public school teacher. I've studied and seen a myriad of secular behavior modification systems. All the successful ones employ this idea – unpleasant consequence combined with explanation of the correct behavior. So, whether or not you agree with the Bible, this stuff really works.)
BUT HOW?
If this philosophy is new to you, you may be wondering, okay, that makes sense, but now what?! What does that look like?
Honestly, I would read both of the following books together with your spouse, and figure out how you're going to handle day to day issues and discipline from here on out.
Parenting: 14 Gospel Principles to Radically Change Your Family
If these ideas are new to you, every situation might feel overwhelming to handle at first.
Your child screams, "no I want the yellow plate," at lunch. Or, they throw yet another tantrum in Target. Or, like my 4 year old, they have a big bedtime charade every single night. And you'll be racking your brain, what does the parent-led home look like right now?
Over time, though, you and your spouse will figure out what a parent led home looks like for your family. That's not to say it's easy all the time. No way! Parenting isn't for the faint of heart! But, you'll find your rhythms, and your kids will get used to it. And, overall, your home will be so much more peaceful as you embrace and establish a parent led home.
May your emotions be calm and your coffee be strong, mommas!!
p.s. Feeling overwhelmed by daily mom life lately?
Try my free 5 day email course. It's all about helping you identify the biggest frustrations in your daily mom life & transforming them into routines that WORK for you!!