In this post, you will get 20 fun ideas for easy handmade diy gifts. Whether you're looking for birthday gifts, Christmas gifts, or another special occasion, these ideas are all easy & inexpensive gifts to make.
Every one of the pictures below is from the original source website & all the links go to the tutorials. They're all easy gifts to make rehome.
Which of the following 20 homemade gift ideas do you think you would want to make?
1. DIY chalkboard
This gift could be made for under $5 and would be a great gift idea for a gift exchange with a family member or some best friends.
2. Leather Cuff
This leather cuff is one of my favorite handmade gift ideas. It's such a unique diy gift!

3. Instagram Tile Coasters
Instagram coasters – these are so fun for DIY Christmas gifts! These coasters are thoughtful gifts made easy. You just need some tiles, family pictures & modge podge. They're a fun alternative to a picture frame.
4. Paper Tile Coasters
Paper tile coasters are cute homemade gifts if putting your coffee mug on pictures of your family isn't your thing… You can find a free printable pattern on pinterest facebook
5. Felt Tablet Case
(You could do manlier buttons if you were making this for a dude. or do it with leather and line the inside with felt.) Felt tablet case project instructions are here! I feel like these are a super fun, neutral alternative to the boring gift card people usually do at gift exchanges.
6. Button Bookmarks
Button bookmarks are the perfect gift for teachers or the avid reader. They'd be an easy gift to put together last minute for Mother's Day or something!
7. Zipper Clutch
Such a cute zipper clutch. Here are the instructions. I love this for throwing in tote bags, or as a stocking stuffer under the Christmas tree. It'd be cute for a baby shower gift too because these would be perfect for corralling mom's stuff in a diaper bag.
8. Cute hand warmers
These hand warmers would be cute stocking stuffers and this same idea with bigger pieces of fabric would work for microwavable heating pads too. Perfect for achy muscles, or just being pampered with one around your neck or under your feet. (ahem: good pregnant lady gift idea)
Tip – you can add essential oils (I buy these on amazon for my wool dryer balls) or vanilla extract to the rice for a long-lasting therapeutic smell. Last year, I was given a larger, microwaveable heating pad like this and it is AWESOME!

9. Monogrammed Door Hanger
Monogramed door hanger – great idea for diy gift or even just a diy crafts project! This type of home decor can be used on the door or as a wall hanging. It can be customized to lots of decor styles too. This craft project would be a great handmade gift for someone into home decor.
Some of my favorite homemade gifts have been experience related… a special way to show you care could be to buy all the supplies for you AND the recipient to do this activity together one night.
10. Cutting Board Tablet Holder
The one on the right is $35 at Pottery Barn, which isn't THAT expensive for a super cute tablet/recipe book holder. But if you're on a tight budget like us, you can make the one on the right with a $1 or $2 cutting board from goodwill 🙂 Here's the source for the project.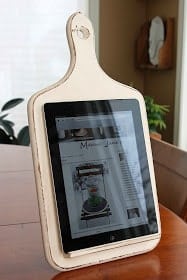 11. Cookbook Holder
Here's a similar cookbook holder from HGTV. I love this one!! If you don't have all the power tools they have, you can get the wood cut at whatever store you buy it at, and hand sand it before putting it all together. This would be pretty cool for father's day even, if you have a dad in your life who likes to cook.
12. Key Chains
Cute Keychains are a fun little gift. These would be unique homemade Christmas gifts that could be customized for anyone. They're easy enough that bigger kids could participate in making them too.
13. Paint Dipped Wooden Spoons
Tip- Use masking tape to get a straight line on those painted spoons.
14. Tic Tac Toe Game
Hardware stores often sell those life edge wood slabs for projects now, so this would be a pretty easy gift idea.
15. Bath Fizzies/ Bombs
I'm not usually one to give fancy lotions and soaps. BUT, one of the best gifts I ever got was after my first baby. A friend gave me a fancy bath bomb thing from Lush. It was so relaxing and smelled amazing. So I'm kind of tempted to try these handmade lavender bath fizzies as a fun (and cheaper) alternative. All you'd need is a set of cheap glass jars (mason jars work well) & a few natural ingredients. You could just do a DIY bath bomb or you could find more ideas for face masks, homemade soap, etc and go all out on the DIY pampered luxury gift.
16. Monogrammed Tray
These painted and monogrammed trays are cute, and would be super budget friendly if you scored a tray at goodwill & had some old paint lying around.
17. Homemade Lip Balm
This homemade lip balm is one of those things that would be super cheap if you already had coconut oil around, or if you were making it for several people. I think it'd be a great stocking stuffer or gift for teachers.
You could even gift the lip balm in a small tote bag, organization box, or some other fun teacher gift.
18. Bird's Nest Necklaces
These bird's nest necklaces would be a super easy homemade gift and they're so cute. You don't need any special jewelry making tools or anything either! I feel like my bigger girls would love making these handcrafted gifts for their friends or for their grandmas for mother's day.
19. Stamped Washer Necklaces
For these stamped washer necklaces, you do need a set of steel stamps. They run about $15 for the whole kit on Amazon. I'm guessing you could find a set at hobby Lobby or Michael's with a coupon too. But, again, if you're making them for several people, $15 for several gifts isn't bad 😉
These would be a perfect way to include your kiddos in making a special gift for a grandma. Plus using a steel stamp set would probably be a lot of fun. I feel like kids would make good use of these in the long run.
20. Homemade Bubble Bath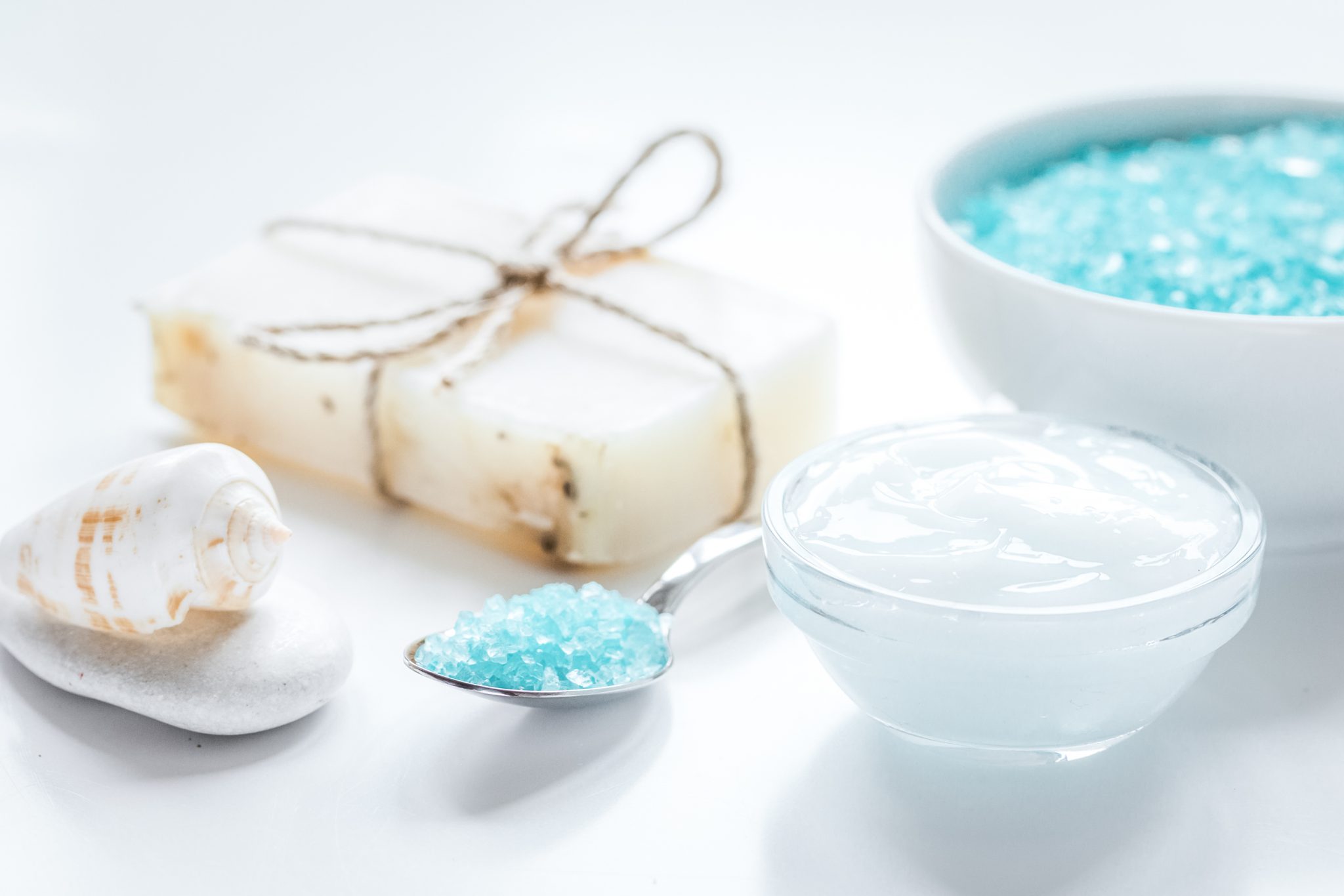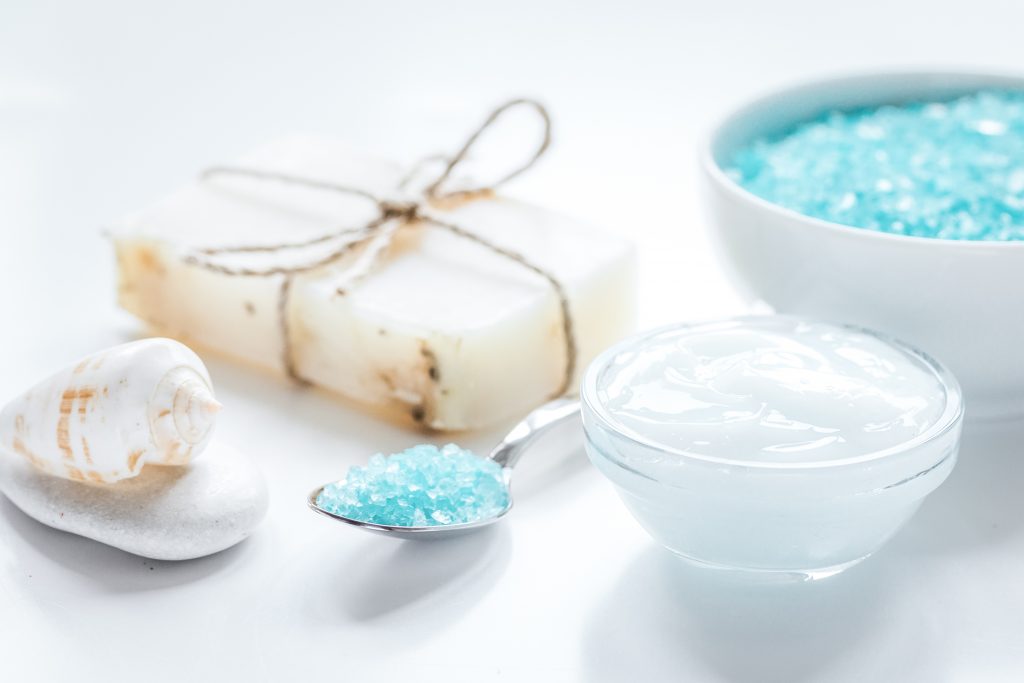 Bonus – Gift Wrap
Presentation is everything with a gift! Don't forget some cute gift tags, pretty tissue paper, and a few festive bags or boxes. If you go to Hobby Lobby in November or December, you shouldn't have a hard time finding any of those extra accessories on sale. To keep costs down, just do the same tags & tissue paper for all your gifts.
The gift tags are super simple accents for your homemade gifts kids can actually help with too.
Even More Handmade Gifts for Your Gift List
I promised this post would be full of EASY ideas, but if you have a little more time and want to get even more into homemade gifts, the possibilities are endless… you could do homemade candles, hot chocolate bombs or hot chocolate mixes with homemade marshmallows, diy cards or stationary sets, sugar scrub, or hand-sewn face masks in a spa kit. Keep searching online until you find what something that'll be a good gift for the loved ones in your life.
A handmade gift is a GREAT WAY to show someone your love this holiday season. If you're not into handcrafted gifts, check out these custom gift ideas you can order instead.
RELATED POSTS:
Okay, so what was your favorite of all these fun handmade gifts?!