Some of the links on this page are affiliate links. When you make a purchase through an affiliate link, I earn a commission at no cost to you. See my entire disclosure policy for all the boring details.
I love this time of year. From right before Thanksgiving all the way through New Year's. I love how simple Thanksgiving is, and I love preparing the food with loved ones. Then, I love getting out the Christmas tree the next day & watching our little ones throw all the ornaments on the bottom third. I love making cookies & gingerbread houses.
I love the mostly quiet mornings and evenings by a dimly lit tree reading my advent devotional. I like Christmas movies and music. I love the first snow. I love the cold outside and drinking hot chocolate inside. (Important note: I only like the cold through Christmas. And only when it's above 20 degrees cold. Then, I strongly would prefer if spring came in January.) I love the extra time with family, thinking of fun stocking stuffers, and giving presents.
Speaking of giving presents, I used to wonder why people spoiled their kids if it was obviously bad for them, but now I totally get it. I have a ridiculous urge to get them a zillion things, which would not be good for anyone. Fortunately my husband (and our giant mount of student loan debt) keep the urge under control.
Of course it's not just gifts that add up. There's parties, party attire, decorations, wrapping paper, etc… Whether you're in debt or not, you too may be cutting costs at Christmas this year. Here are a few ideas to join in on the fun, but keep the fun from breaking the bank (or from running up a credit card bill you can't afford).
Make Food for Parties
If you're invited to bring something to a party, consider making it from scratch instead of buying it. Making it is almost always cheaper than buying it, especially if you have staple pantry items around already. Veggie trays, cheese & meat platters, desserts, etc… They're all cheaper homemade. (And usually yummier too!)
One-Cookie Platters
When I was growing up, my mom made these beautiful, elaborate Christmas cookie platters. She and my dad would take them to work for office friends to share. She'd pass them out to neighbors and teachers. People literally looked forward to them every year. And every single cookie on there was amazing.
But it's not cheap to go out and buy baking ingredients to make 7 varieties of cookies for 50-100 people. So, if your Christmas budget is extra tight this year, choose your one favorite cookie to give to neighbors, teachers, office staff, and the like. There are usually cute tins, plates, and labels at the dollar store or the dollar section of Target too. Ingredients for one type of cookie cost less than ingredients for a variety.
Handmade Gifts
Handmade gifts aren't always cheaper. But they can be. I collected a list of 20 nice, inexpensive handmade gifts that you'd actually want to give someone over in this post. The key to making handmade gifts very cost efficient is to make them in mass quantities.
Decide on something that a large number of people you want to give gifts to would like, and then make it assembly line style. This is time and cost efficient. For example, a friend of mine wanted to DIY a growth chart ruler. The materials for one would cost around $25. The only thing you would need more of to make more than 1 is wood. So for $30, you can make 3, which makes them $10 each instead of $25 each. That's a pretty good price for a really nice gift! (Here's a good tutorial by the way, in case you want to tackle it.)
Give Your Kids Experiences
Instead of gifting your kids more toys, use Christmas to gift them stuff they need (i.e. clothes for the next size) or experiences. A friend of mine did something fun for her son's 4th birthday. They gifted him 12 dates, 1 for each month of the upcoming year. 10 of those were with either mom or dad, and 2 of those were special (read: more expensive) dates with both parents.
They live in CO, so one of the special dates was a day on the slopes, learning to ski! Some of the mini monthly dates could be ice cream, pick out 1 thing at Goodwill, a trip to the cheap movie theater in town, or one of those free Saturday morning projects at Home Depot.
I'm guessing a 2 or 3 year old would be a little confused by this gift, but by age 4, this would be pretty fun! Plus it keeps on giving all year. Along the same lines, memberships to a zoo, children's museum, trampoline park, or kids gymnastics place, are a great gift for kids!
Give Your Time
If you have time to give, give your time! An awesome gift to a mom of littles would be a coupon for a morning of childcare. Offer to help someone organize something they've always wanted to organize, or give a family member a day of your time for yard work the upcoming spring. Got a busy friend? Make him or her several freezer meals. Be creative!
The thing about giving time is you have to bug the person to use the gift. If you haven't heard from them by the end of January, send a note saying, "Don't forget, I'd love to help you with ______ as a Christmas gift. What's a good time for you?"
Ugly Sweaters
Somehow, ugly sweaters are back "in." Like, I saw them on the rack new at target for $30. Good gracious. If you need an ugly sweater, and you're on a budget, get one from grandma or goodwill. Both of those will be a lot cheaper than buying one new.
Wrapping Paper
I love pretty wrapping paper as much as the next pinterest user, but it's an easy thing to ditch when you're cutting costs at Christmas. Save yourself $30-50 and buy a giant roll of brown paper shipping wrap for $4. (It's usually located near the other shipping & office supplies in a store like Walmart). Our roll lasted us 2 years. If you want to spice it up, get 1 roll of pretty red ribbon from a craft store with a coupon. OR, just have your kids decorate a bunch of it with stickers, stamps, and whatever other crafty supplies you have around. That's a bonus because it's a time consuming activity for them. Win!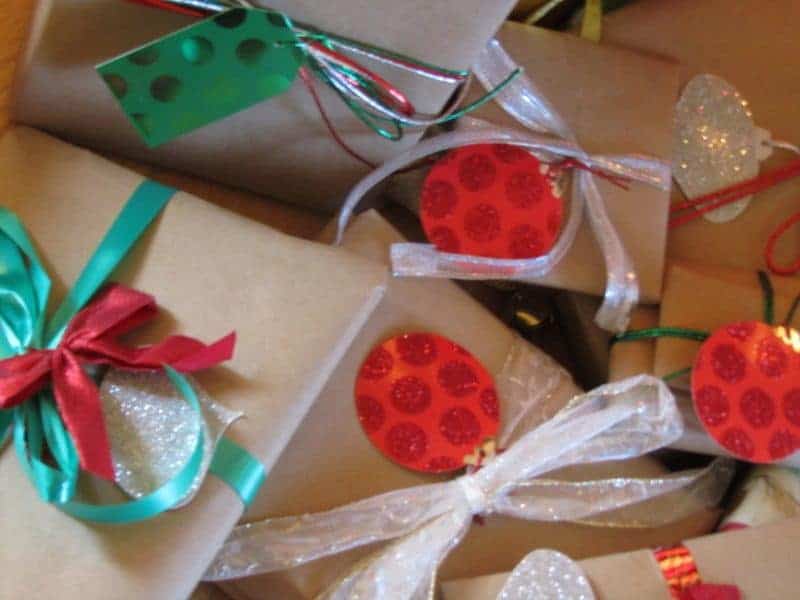 I bought those assorted tags in a package of 20 for $2.00 at Hobby Lobby. The ribbon was all laying around. I save pretty ribbon each year and recycle.
Or use newspaper and wrap red yarn around the packages. I think that's considered vintage.
Reuse Boxes
Start saving all your online ordering boxes. Then package gifts in those! No reason to go out and purchase a cardboard box that is the "right size" for a shirt when you have other boxes laying around. Who cares if the box is a weird size and shape for what's inside? It'll just make opening it more fun!
Any other ideas for cutting costs at Christmas?