Mommas, I see you at the park (and the zoo, pool, checkout line, library,…) snapping a zillion phone pictures like a boss. I do it too. And then a month later, you start getting the dreaded YOU ARE ALMOST OUT OF STORAGE notifications. What's a girl to do!?
If you have an iPhone like me, Apple wants you to "upgrade" your storage settings with iCloud… and it's expensive. (Plus I don't find it very user friendly, since I paid like $1000 for my phone… but maybe that's just me!)
For years, I've been very diligent about uploading my photos to my computer and deleting them off my phone. But that takes time and hassle. I've finally switched to Google Photos.
And it is the bomb.
Google Photos lets you store unlimited amounts of pictures for free. Once I show you how to use Google Photos, your pictures will be as close to set-it-and-forget-it as possible.
All your pictures will be in one place and easily accessible on your phone, tablet, or computer at any time. You'll be able to search by name, location, object in the photo, or by facial recognition. (Seriously. That's a thing.)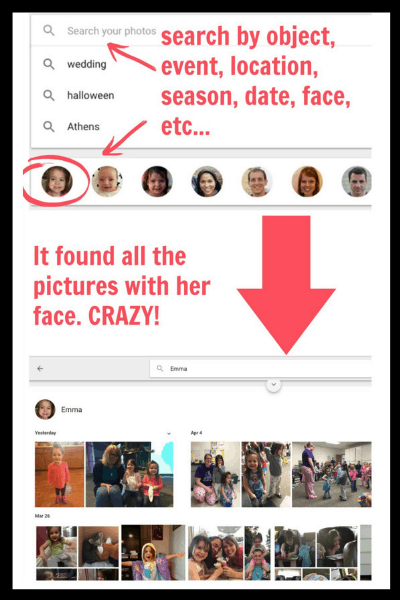 (Oh and not just search the person… you can click a few buttons and Google Photos will make you a digital photo album of that person that you can get printed for $15. AMAZING!!)
My Google Photos tutorial is going to walk you step by step through EVERY SINGLE THING you need to know. It should take you about 10-20 minutes start to finish.
Ready?! Let's Go!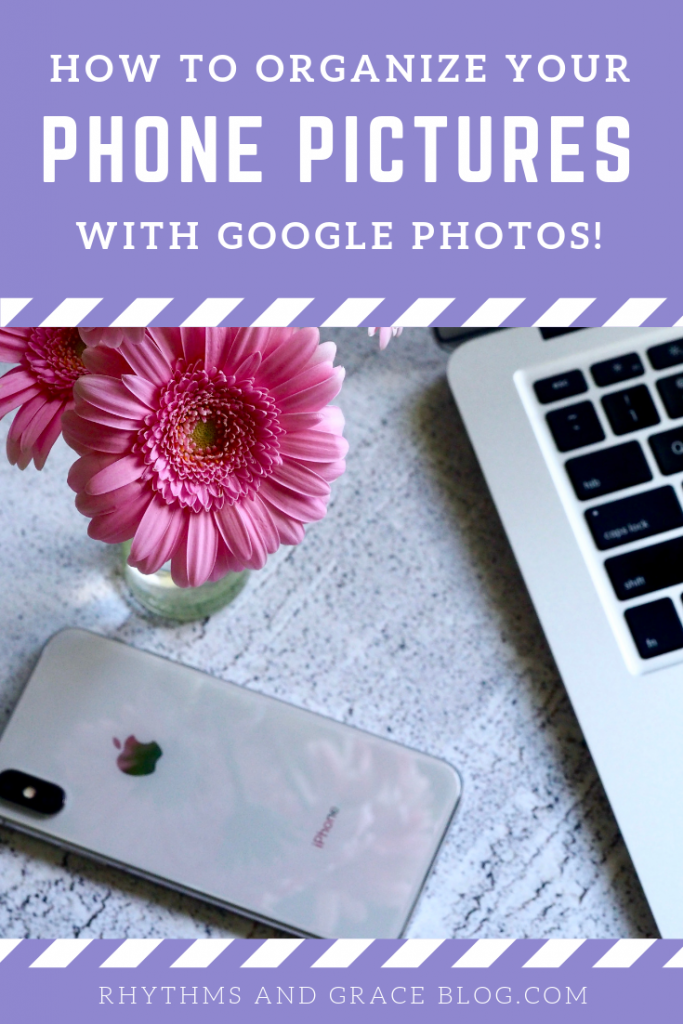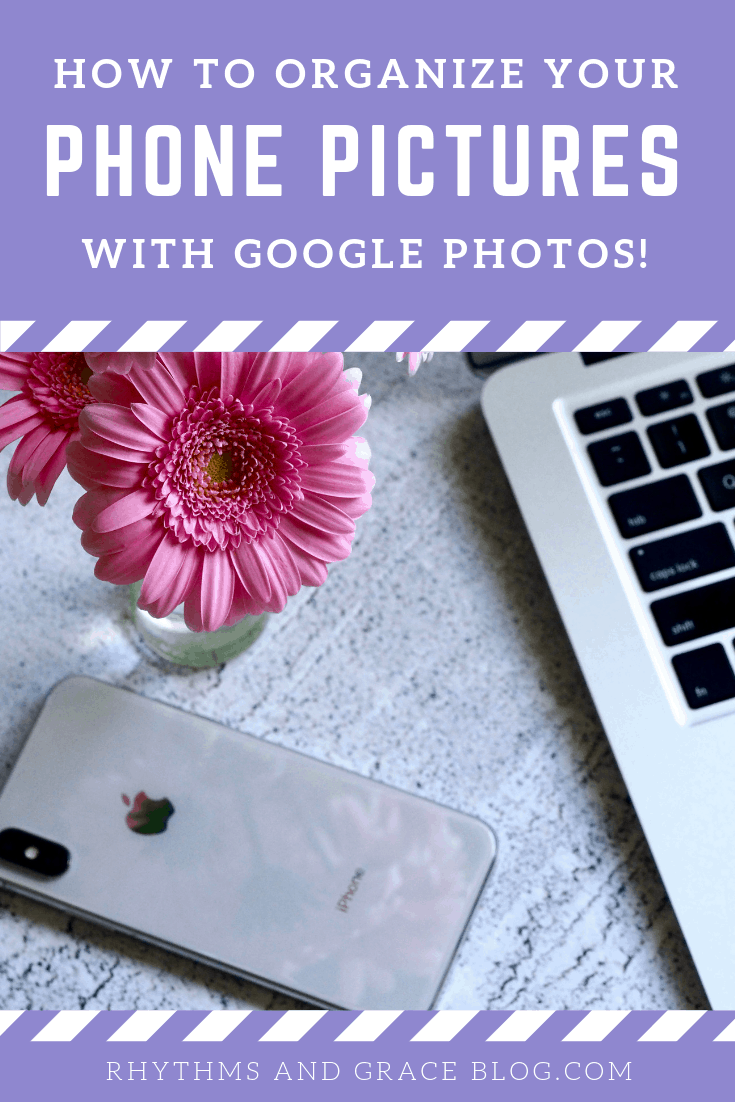 Step 1. Sign in or Create a Google Account
Go to google.com. If you have gmail, use that email address to sign in. If you don't have a gmail account, create one in about 5 seconds. You can use it for everything google or just for photos.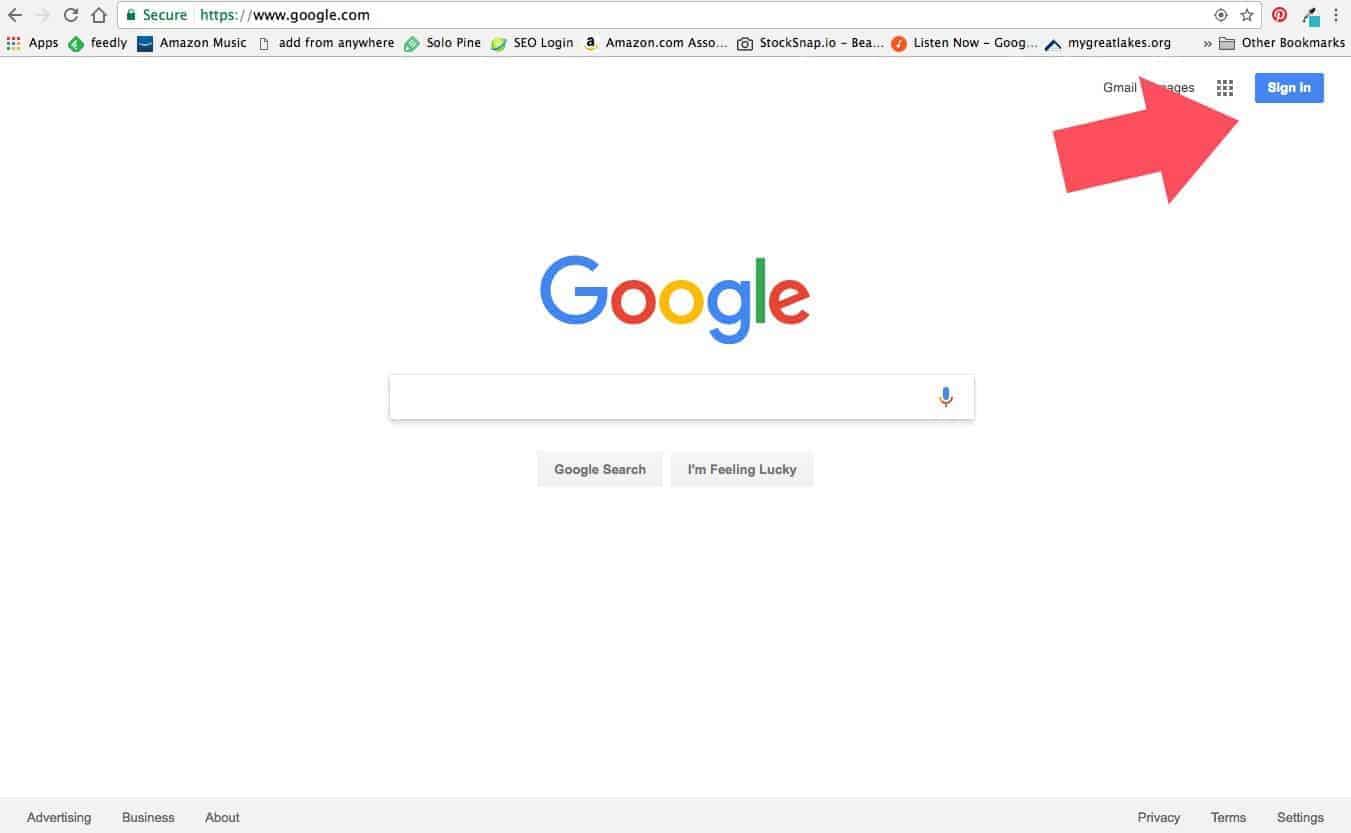 Once you have an account, go to photos.google.com, you should see this: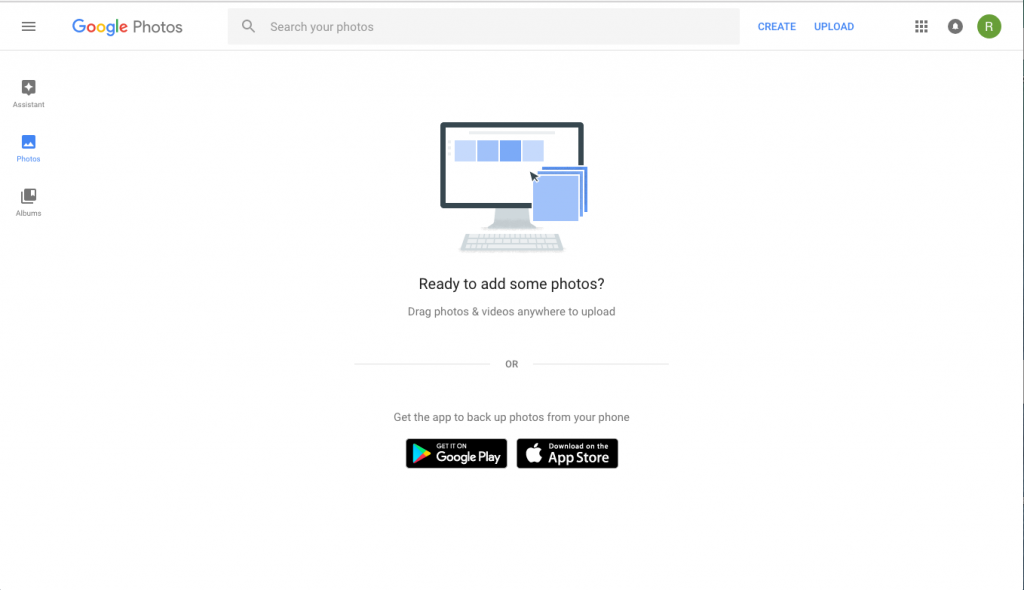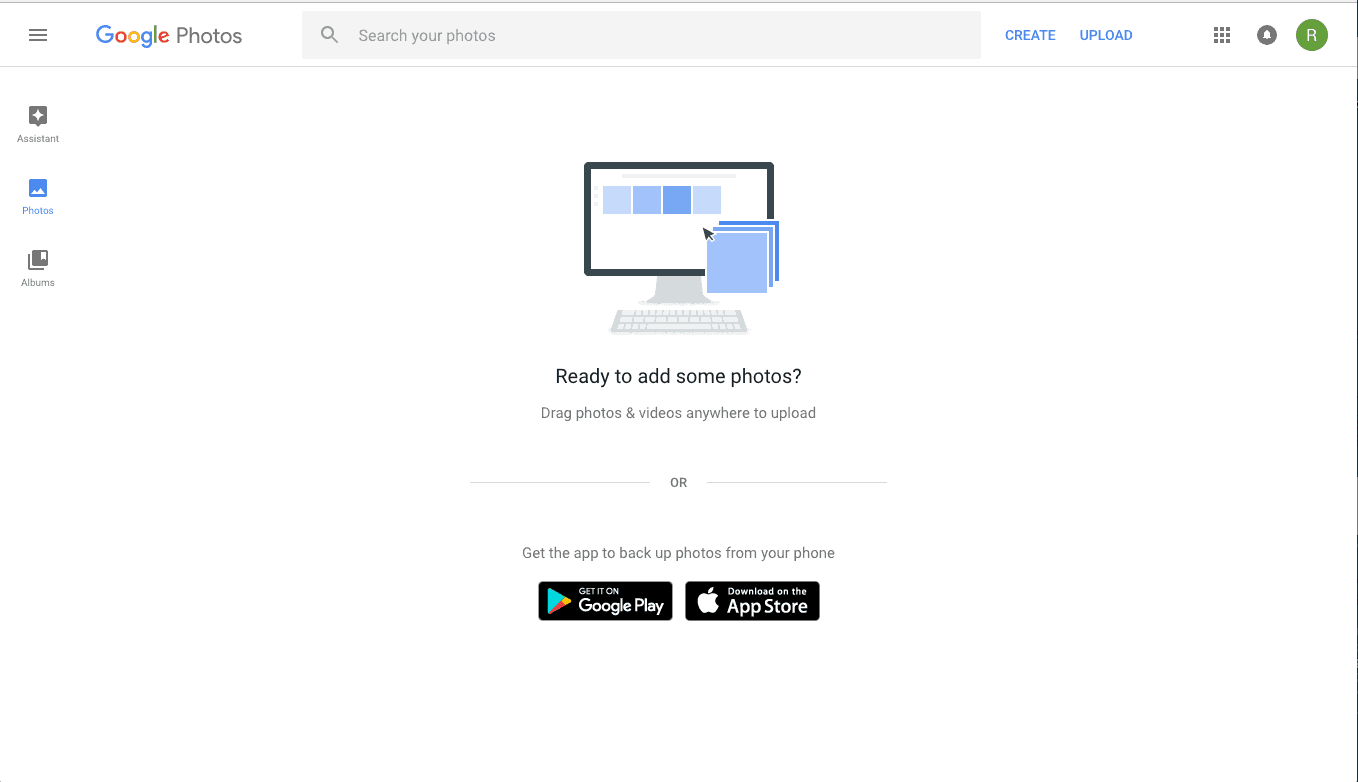 Step 2. Get the Google Photos App & Sync Everything on Your Phone
See those black buttons at the bottom? If you take pictures on your phone, download the google photos app. Login to the app from your phone with the same account you did on your computer.
Follow the prompts to sync Google Photos with your phone picture library. This will do 2 things:
Make sure all your current phone pictures go to Google Photos.

Make all future pictures you take go into Google Photos automatically.
Step 3. Let Google Photos Find All the Pictures on Your Computer
If you don't use your computer for pictures, skip this step.
Follow computer prompts for Google Photos to automatically find all the images on your entire computer and upload them to your Google Photos Account.
If you have a lot of pictures on your computer, it might take a while, but do it now anyway. You can still complete the rest of the tutorial on your phone while your computer is running the search.
When you want to finally get your pictures organized (with this strategy) or finish that baby book you've been meaning to get around to for the last 5 years, then all your pictures will be in one spot- Google Photos. You can thank me then.
4. Make sure you have the right settings
In order to get the most out of using Google Photos, you need to make sure your settings are correct on both your phone and your computer.
4a. PHONE INSTRUCTIONS
Open the Google Photos app, click the 3-line menu bar, click settings, and check the following:
Back up & sync: backing up to yourgoogleaccount@gmail.com
Face Grouping ON
Google Drive ON (this will pull any photos from your google drive)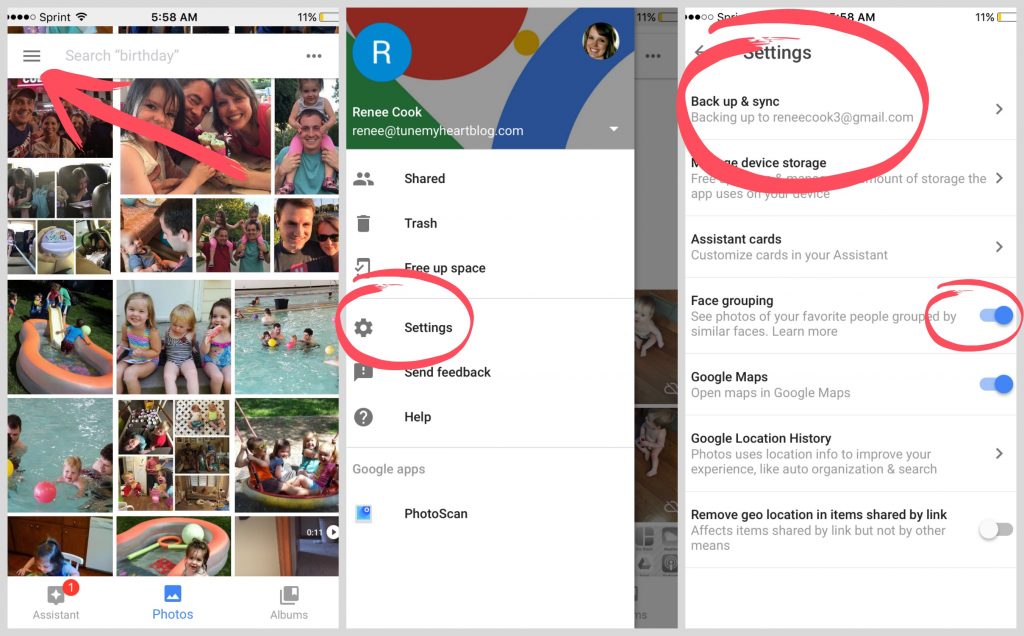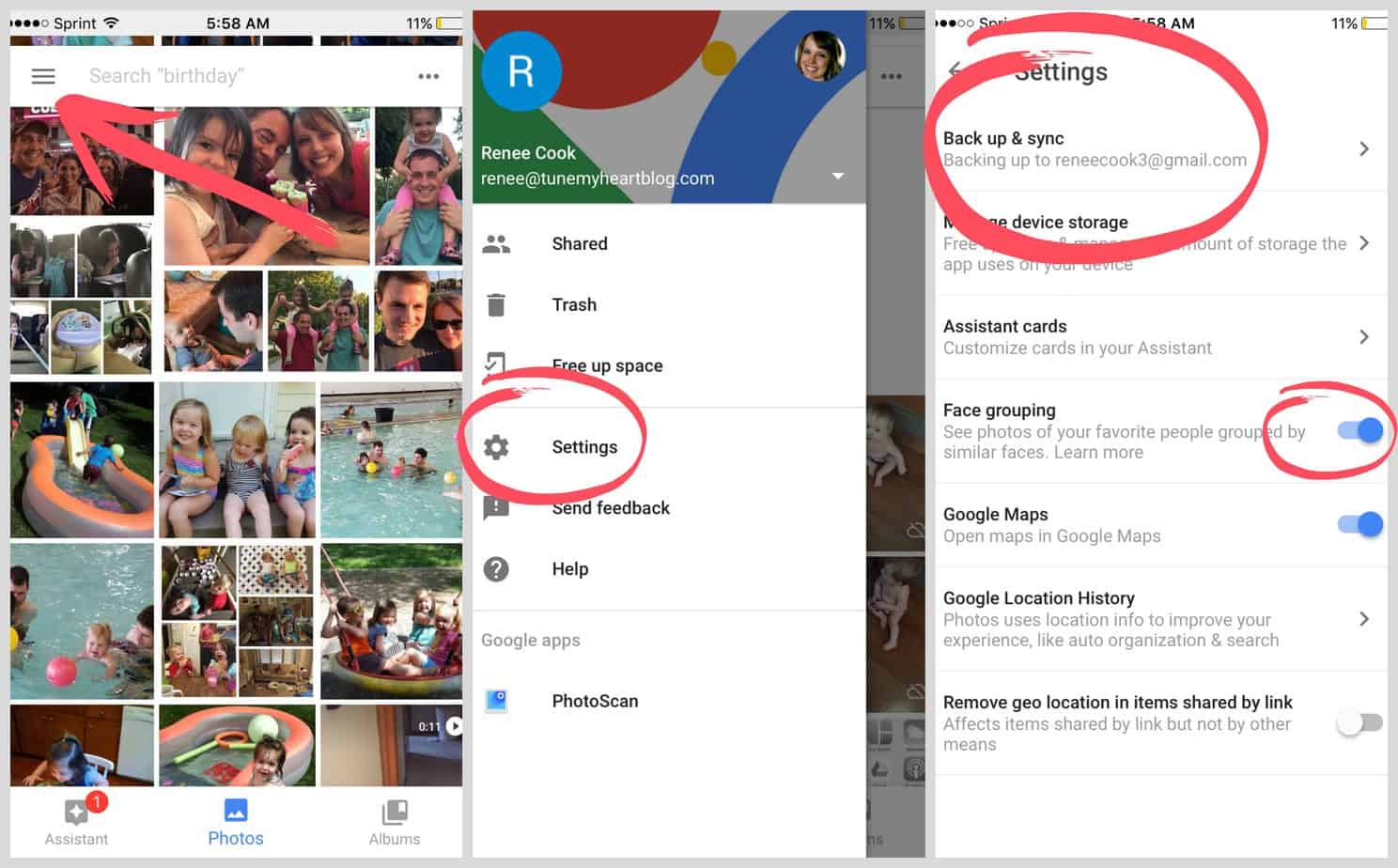 4b. COMPUTER INSTRUCTIONS
If you don't own a computer, skip this step. If you own a computer, go to photos.google.com, click the 3-line menu bar, click settings, and make sure this one thing is right:
Unless you are a professional photographer, you do not need to not choose original. Here's why. I did a bunch of research on this! When you choose "high quality," Google will compress your photos & store them for free.
BUT, you won't be able to tell the difference in the print quality of the compressed files unless you blow them up to the size of a bed sheet.
I haven't tried printing them the size of a bed sheet, but I have used compressed files from Google Photos in 12 x 12 photo albums and 11 x 14 frames, and had no problem with the quality.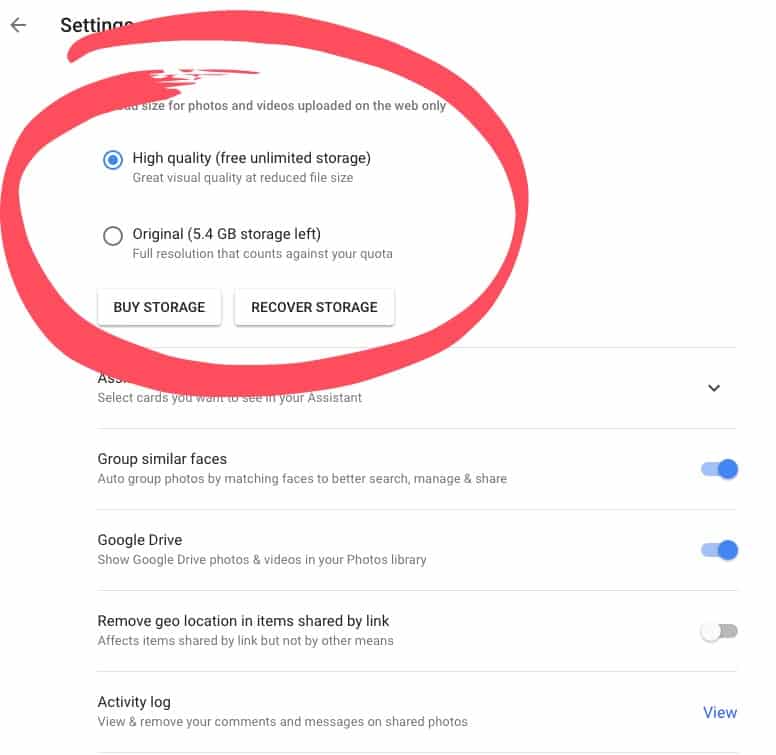 Step 5. Delete pictures from your phone confidently and get your storage back!
When my phone or computer tell me I'm almost out of storage, I feel all…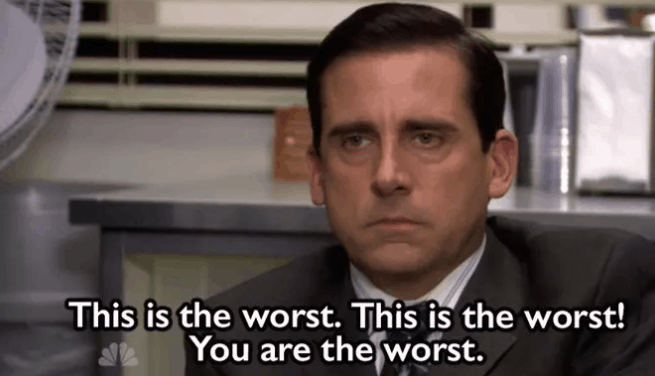 If you are getting those "out of storage space" messages a lot, this cloud thing is gonna rock your world!
5a. WHAT THE HECK IS THE CLOUD?
Storing your digital files in the cloud is like having a giant storage unit for all your digital crap that you can access by going online.

Instead of driving to your storage facility, driving to your unit, and opening it with a key, you just go online (photos.google.com) and access them with an account login.

The internet finds all your files stored in the cloud (in this case pictures in google photos) and delivers them to you in fractions of seconds. The internet is mind blowing.
The out-of-storage messages come up when you run out of storage space on your actual phone/ device. When you take pictures with your phone camera, your phone stores them on its internal storage. The phone has a limited amount of space on it- 16 GB, 32 GB, 64 GB, 128 GB. You pay more for a phone with more storage.
When you use the Google Photos app on your phone to manage your pictures, AND let it auto sync and backup to the cloud, then you do not need those pictures to also be taking up space on your phone's internal storage.
This means you can delete them all from your phone's regular photo library/ app, but still see them on your phone in Google Photos. (Because the Google Photos App stores them in the cloud rather than on your phone.)
If you follow the steps below, you will backup all your photos AND free up space on your phone. Win win!
5b. FIRST, MAKE SURE YOUR GOOGLE PHOTOS PHONE APP IS BACKING UP AND SYNCING WITH YOUR GOOGLE ACCOUNT.
Here's how to make sure you only delete photos that have already been backed up.
If you've been following my directions for the whole post, these settings should already be taken care of. But, it never hurts to double & triple check.
In the Google Photos phone app:
Click the 3 line menu button, and go to settings.

The top line is "back up & sync." Double check that your phone is backing up to your google photos account. If it doesn't say your email address here, click the arrow and turn on Backup & sync.
5c. THEN DELETE ONLY PICTURES THAT HAVE ALREADY BEEN BACKED UP
Again, in the Google Photos phone app…
Click the 3 line menu button.

Click "free up space."
It will ask you if you want to "REMOVE X NUMBER OF ITEMS?" Click remove.

It only finds images that have already been backed up to Google Photos. You'll be able to access them on your computer and your Google Photos app whenever you want. So, don't worry about deleting them from your phone library. It will not delete pictures that are not already backed up.

If any of your pictures are also in an album on your phone (like favorites), it will ask you again if it's okay to delete them from the album. Click delete. Remember, it doesn't matter if you delete them from your phone albums, because they're all in Google Photos now. And that's where you're going to manage your phone pics now. (See number 6 below.)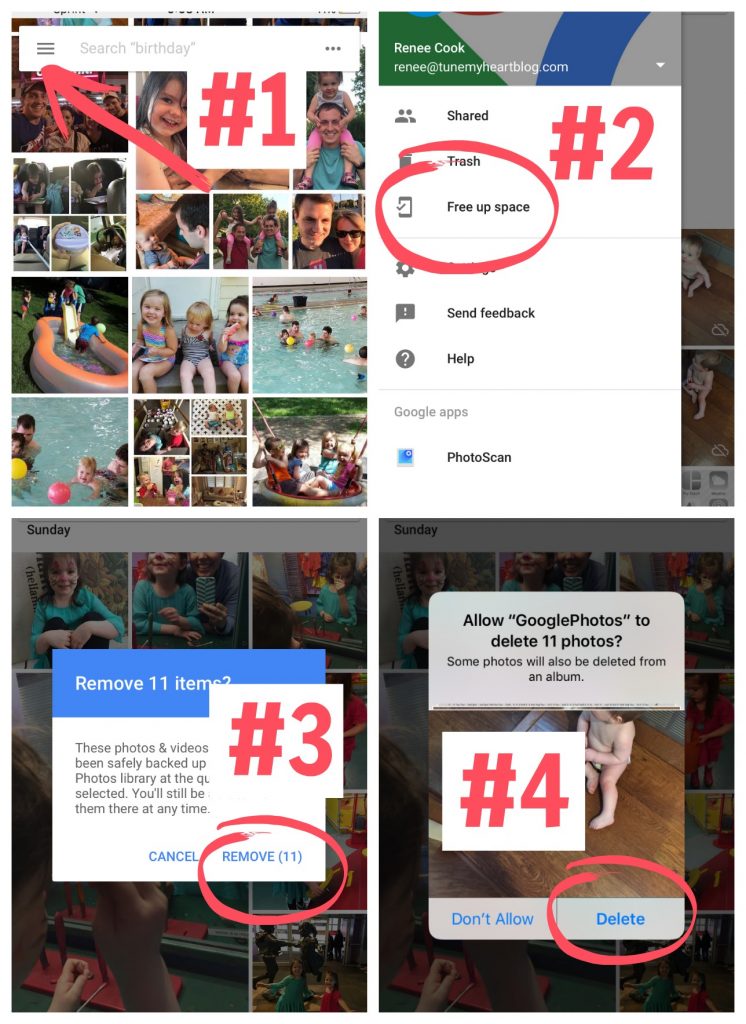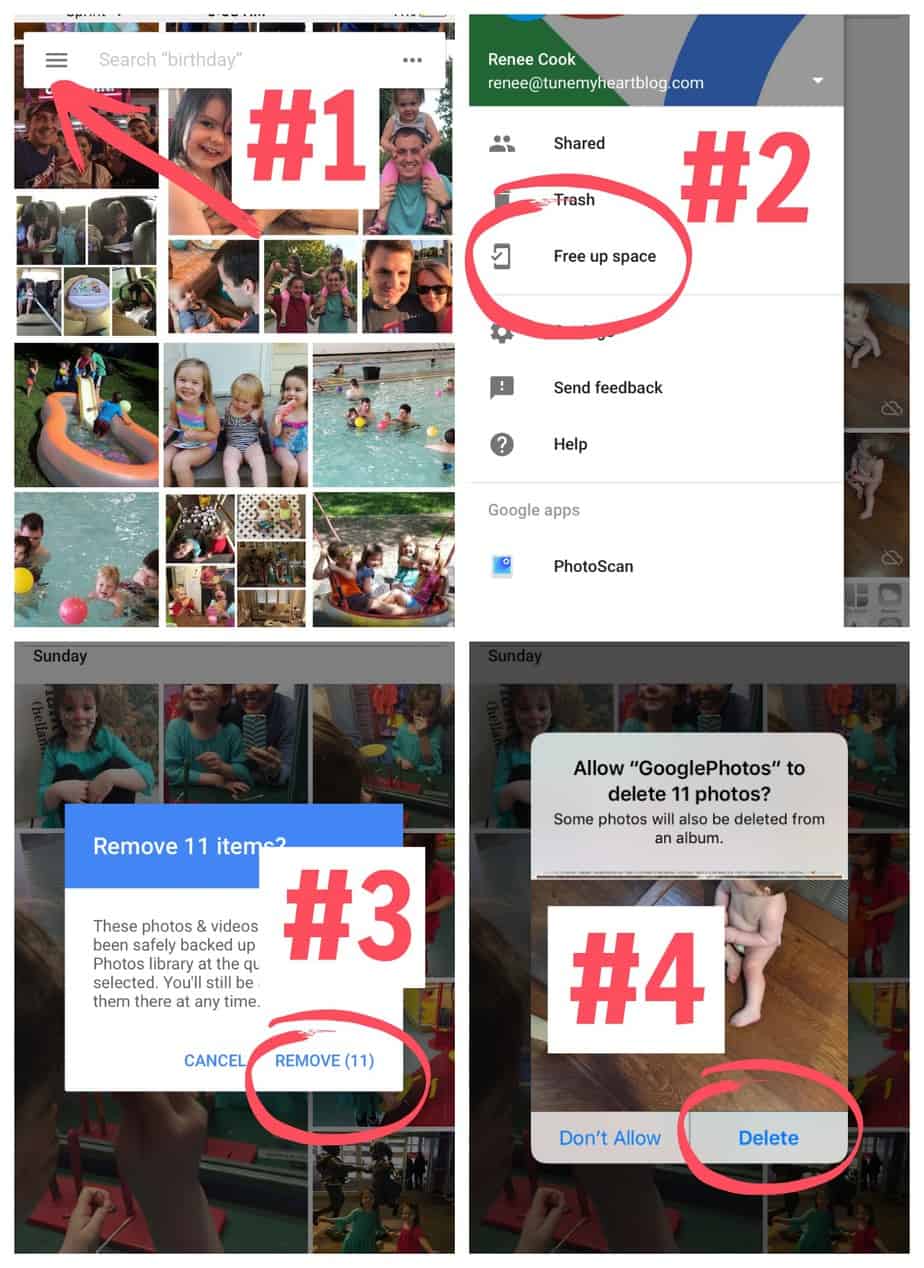 5. You'll now see a prompt that instructs you to finish delete your photos from your phone's library. If you have a non iPhone, find where all your images are actually stored. You can probably access the "storage" somewhere in settings. Or in your gallery app.
In the Google Photos app, you will be able to see once all the photos from your phone have been backed up to the Google Photos cloud. If you need to triple check, get on a computer or a different device and login to your Google Photos account. If all your phone pictures are there, then they're backed up!
Then, delete the pictures from your actual phone to free up space!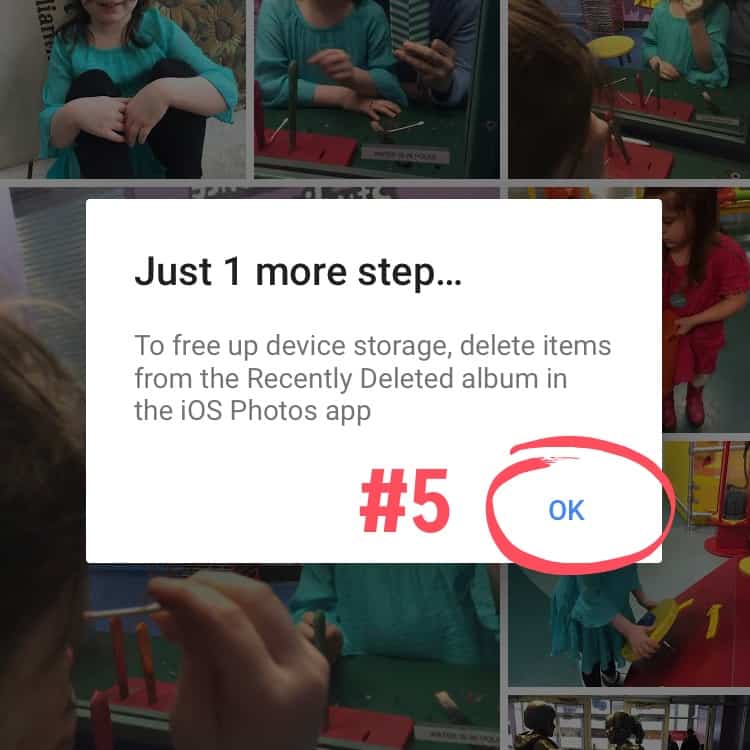 If you have an iPhone, do the following to complete the process:
Open your regular iPhone Photos App.

Click Albums at the bottom.
Find the Album titled "Recently Deleted" and open it.
Click "Select" at the top right corner.
Click "Delete all" at the bottom left corner.
Confirm by clicking "Delete xxxx Items." Don't stress! Remember, all these picture are in your Google Photos App AND in your Google Photos account online. You're just deleting them out of your phone library to clear out space.
7. Stop using your phone's default photos application.
This last step is really important and will save you tons of time and hassle.
You need to get in the habit of managing your phone pictures from the Google Photos App now. Do not use your phone's default photos application.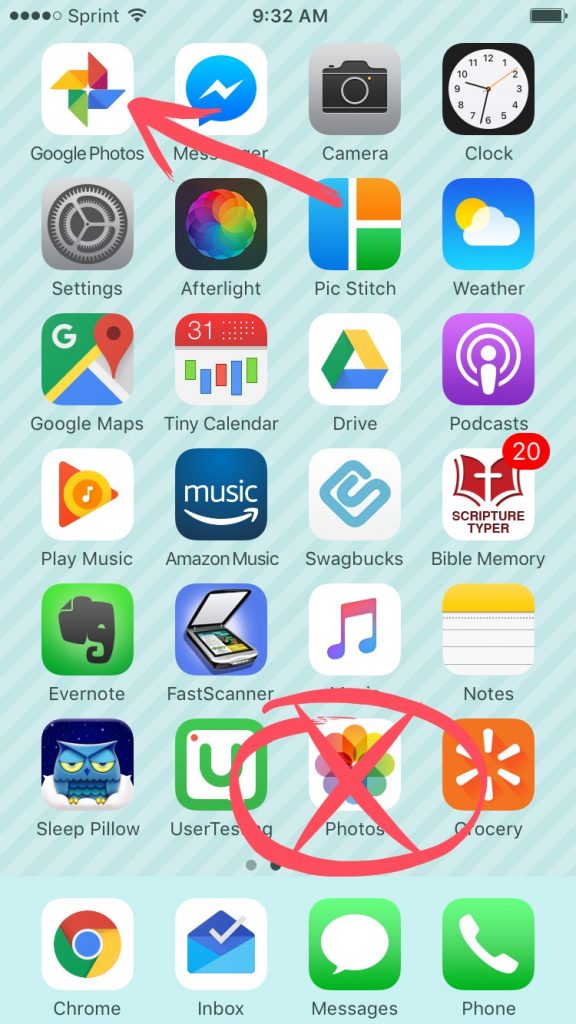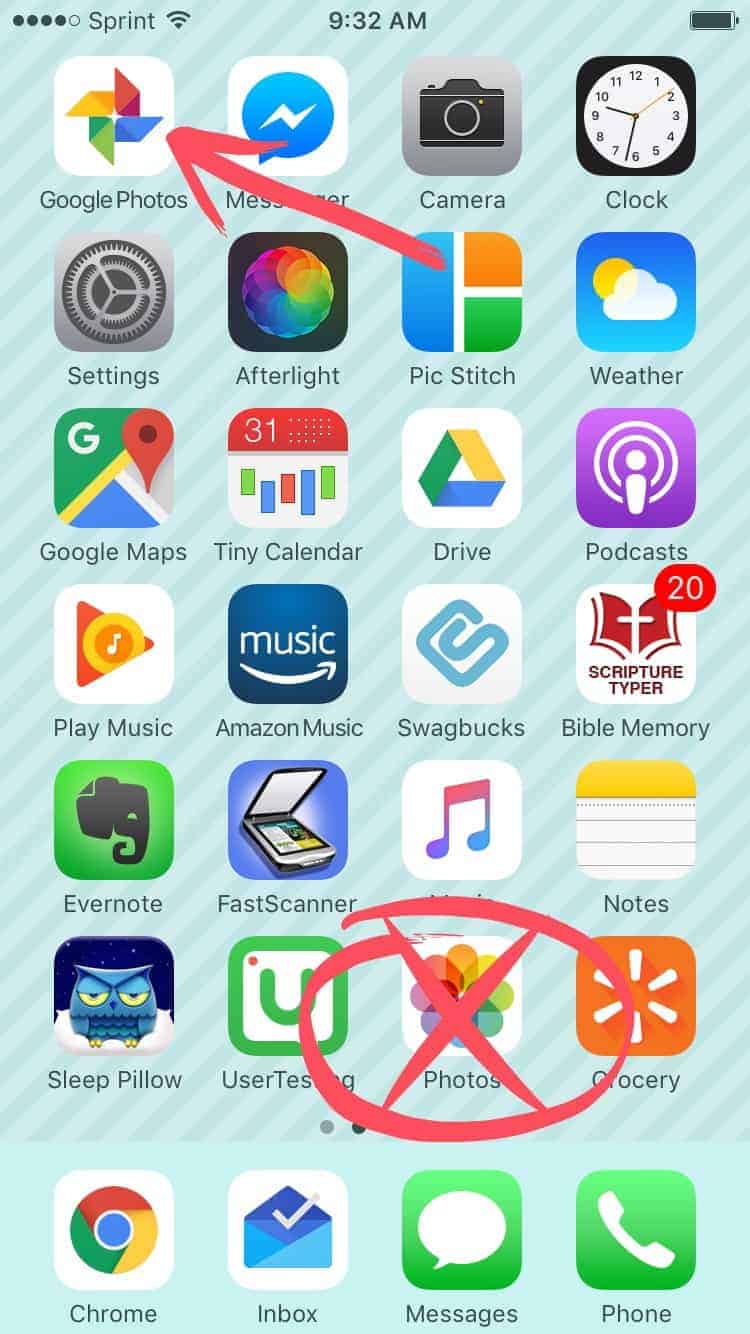 I have an iPhone, so I moved the Photos picture app off my home screen entirely. (If you have an Android, say goodbye to "Gallery" or whatever.)
Any time I want to edit, delete, or share photos FROM MY PHONE, I open the Google Photos App. No more Apple Photos app. This took some getting used to, but now, it's second nature.
The reason this is awesome and will save you tons of time and hassle is that any edit you make or any pictures you delete in the Google Photos PHONE application will be automatically updated or deleted in your backed up computer version.
No more uploading your phone photos to your computer in order to manage them. You can now just login to your Google Photos account from any computer anywhere at any time and see all the pictures from any mobile device.
If I take a few pictures of my kids in a row, I try to go through them and delete all the crappy ones (from the Google Photos app) as soon as possible.
Then, next time my phone is on wifi, those deletes will automatically be updated in the cloud. I can access the ones I kept from my computer in my same Google Photos account or my Google Photos phone app.
I use Google Photos on my computer to organize my photos monthly and make our annual Blurb books, or other photo gifts, so I really love that I don't have to hunt down the phone pics and upload them anymore.
NOW WHAT?
I'm so glad you asked! There are a few more tips and tricks to getting the most out of your Google Photos account. Here are just a few things Google Photos can make with your pictures as of 2020:
Collage from a fun family day
Quick video of your kid's first year of life
Create side by side photos or videos of people or pets
Creating a new album with all pictures of a particular person
Automatically add photos of a person to a new album ongoing
Share directly to social media or various groups of people privately within google photos – they can comment too!
(Most of those things can be found under "for you" –> "create new.")
One time, I got a notification that said: "They grow up fast don't they?" and this video was attached to it.
Google Photos just made me that all on it's own. Cue the nostalgic mommy feelings!!
CONCLUSION
I hope this tutorial was helpful, and that you're feeling all techy, and relieved that your memories aren't going to disappear. Now, share this Google Photos tutorial and convince others to make the switch!
p.s. if you want to get REALLY organized with your pictures, I have an 8-step system that I teach over in THIS POST.