Our 4th child just turned 1, and I can say for sure: it's never too early to start setting expectations and training your little ones. 1 year olds understand WAY more than we realize.
It might seem silly because those 1 year olds are so darn cute! Toddling around, giggling at peekaboo, pulling everything down off your end tables… but, teaching your 1 year old, "no" will set the stage for more obedient toddlers!
Don't worry, I'm sure your one year old will turn 2 and still scream at you sometimes and throw themselves on the floor… After all, there is no formula for perfect children.
BUT, I guarantee that learning how to discipline a 1 year old will make disciplining your child as a toddler and preschooler much smoother!
So it's worth starting young!
After having 4 one year olds in our home, here are all our best 1 year old discipline and training tips!
I will share:
What discipline even means for a 1 year old
What discipline DOESN'T mean
How to deal with screaming
4 key phrases to start using with your 1 year old
How to teach them "no," and not make it a joke
What we do for timeout
Introducing obedience in a simple way
Saying yes a lot!!
This post has a LOT of ideas, so feel free to pin it/ save it for later if you want to come back and reference it!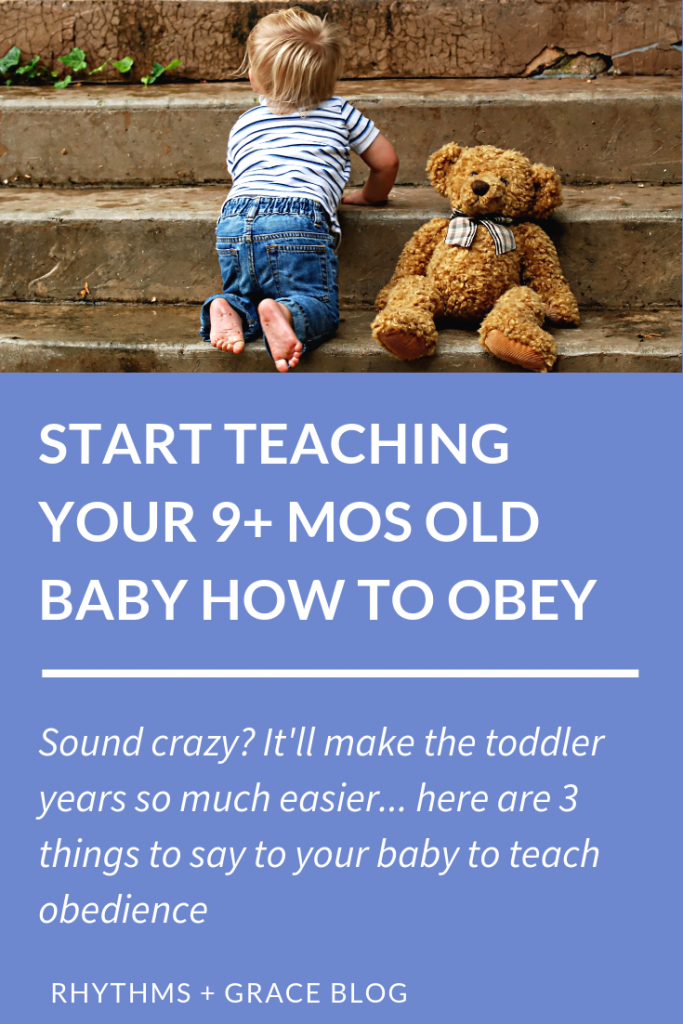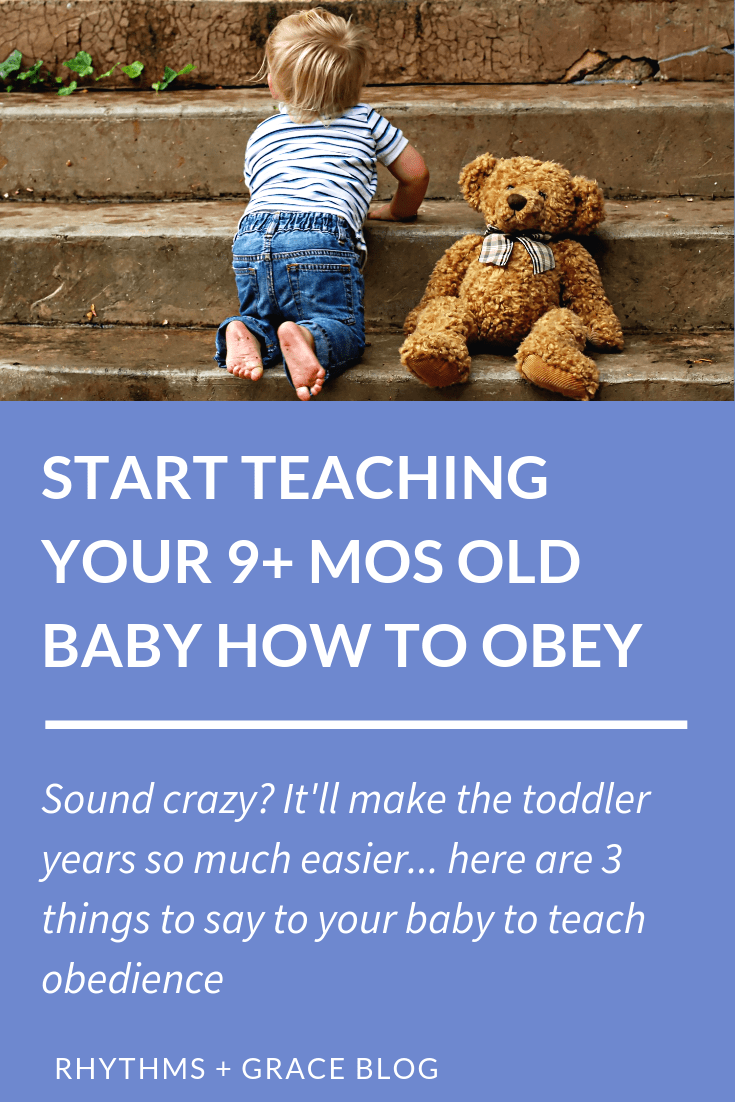 Wait, what is "discipline" at this age anyway!?
The word discipline sounds so old fashioned and serious. And these 1 year olds are so darn cute…what with all their peekaboo and toddling around.
The word discipline has latin roots meaning "instruction, knowledge," so in English, we use discipline in a variety of ways…
When I'm talking about discipline for your 1 year old, I'm really talking about teaching and training that little cutie pie… you are going to very likely be the one to hold their hands as they learn to walk; how to say "please" in sign language; what the letter A looks like; how to sing Twinkle twinkle little star…; how to stir the brownie batter and not splatter it all over; how to make a cookie cutter shape in the playdough and stack the blocks up.
And on and on… AND you can teach them not to scream in your face when they don't get their way. (Eventually.)
AND you can teach them not to scream in your face when they don't get their way. (Eventually.)
That teaching process – the one for the screaming (or other defiant behavior) is what's called discipline.
And at the age of 1, discipline is setting the foundation for HABITS + OBEDIENCE under a loving authority.
Honestly, at the age of 1, it's boils down to behavior modification and teaching them about who is "in charge" in the home.
During their 2, 3 and 4 year old years, if you are a Christian and want a gospel-centered home, you can start to introduce the gospel to the conversations surrounding obedience. But the gospel won't be super effective with your 14 month old 🙂
A note about "being in charge."
We advocate a parent-led home. If the parents are in charge, it doesn't mean the child is in charge of nothing.
The parent in charge can give the child a lot of things to be in charge over… We say "yes" to a LOT of things for our small children.
We say "yes" to a LOT of things for our small children.
You want to wear polka dots and stripes? Fine.
Mismatched socks? Go for it!
No coat in the rain? Sure! You'll be wet but if it doesn't bother you, it doesn't bother me.
13 Books and 10 stuffed animals in bed? Seems uncomfortable to me, but why not?!
Take out all the pans in the cabinet? Noisy, but okay!
Scream no and hit me when you're frustrated? NOPE.
Okay. Now that we're on the same page about what 1 year old discipline means, let's get to the nitty gritty practical stuff…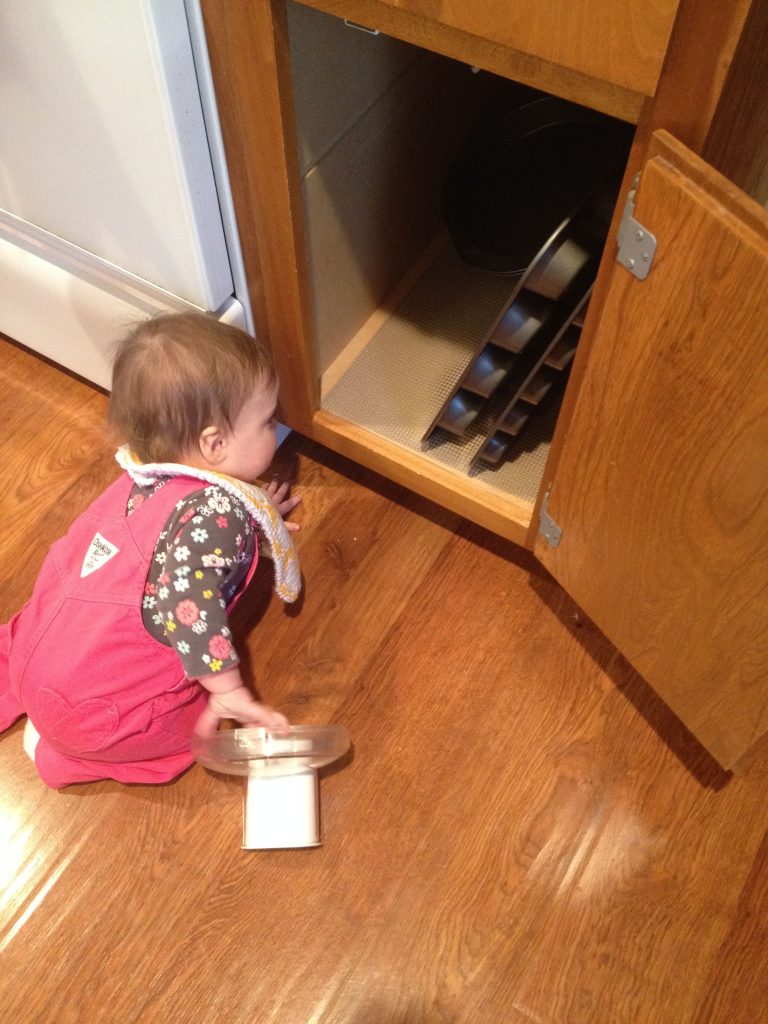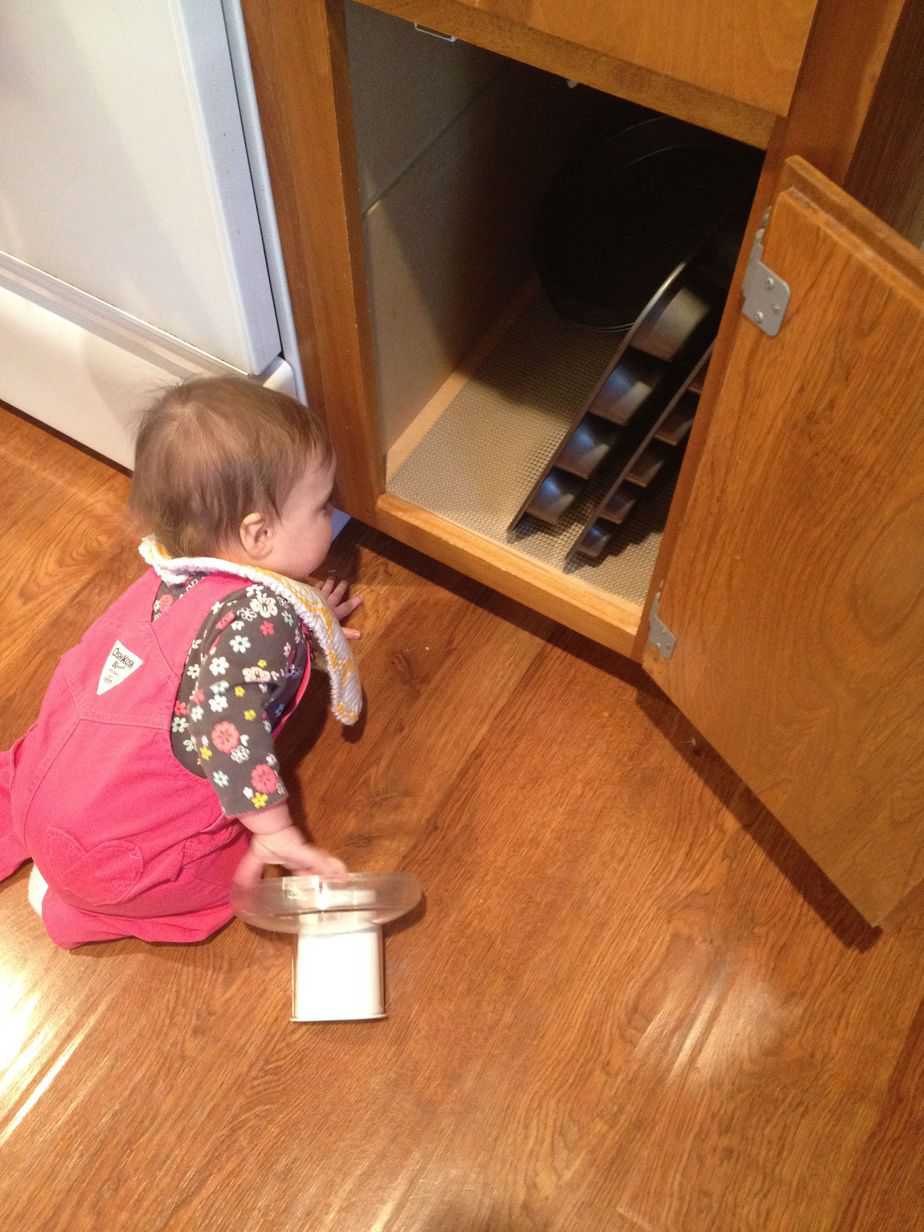 Phrase #1 for 1 year old discipline: "That's a No."

This simple phrase is literally the biggest secret to teaching your 1 year old "no." Using "that's a no," instead of just "no" is really effective for 1 year old discipline!
I don't remember where I first heard this phrase, but it stuck with me. I do remember that I started saying it to our first child when she was about 8 or 9 months old. And, I felt kind of awkward saying the whole phrase, "That's a no" instead of just "no."
As we got used to it, we liked it better than 'no,' because it is more specific. It first comes in handy when your newly crawling almost-one-year-old starts exploring. We're not big into baby proofing, so a lot of things are just off limits. (I'm not against baby proofing, we just never got around to it.)

Cords are the first thing all our kids have gone for. They're just so dangly and enticing. Especially laptop cords! My husband and I both have laptops that we leave in various places around the house.
Being home with them all day, I need/ want to be able to leave my computer out and know they're not going to a.) pull it on top of themselves b.) break the expensive computer c.) break the expensive charger d.) somehow get electrocuted from the plug.
Enter – "That's a no."
​

Snag these cute 4x6 printables with reminders of these basic phrases for discipline with toddlers.
Post them over your kitchen sink, in your toddler's bedroom, playroom... where ever you need a reminder to take a deep breath and use these phrases firmly & consistently with lots of love!
How exactly to teach your 1 year old no with this phrase
This might not need explanation, but, we're pretty deliberate with how we teach this, so, in the spirit of oversharing, I thought I would give you a step by step for how using this phrase to teach your 1 year old "no" might look.
Baby crawls towards charger.

As soon as she touches it or reaches for it, I clap loudly (to get her attention/ break her focus) and say firmly "Emma, that's a no" while pointing to the forbidden fruit item.

I often repeat again with the item inserted, "The charger is a no."

Then I bring her away from it and distract her with something else. I carry her away facing away from me and put her down on the ground across the room. (Note about this below*)

As I'm first introducing this phrase, I would let her go for it a few times so I could instill 'that's a no' and really get them to hear it a lot.

(Just don't make it a game where you're chasing them toward the charger for fun! It's hard not to turn it into a game because they're so dang cute. More about that in a minute…)

When baby first starts crawling, you are just teaching him or her what this phrase means and how to listen to that firm mommy or daddy tone in your voice.

You don't have to apply 'that's a no' to every single off-limits thing right away. We kind of informally picked cords as the first thing we taught 'that's a no' with because cords are everywhere, at our house and other people's houses, and they're semi-dangerous.

With other things we didn't want them playing with, we'd just move them out of reach, or say "that's a no" one time and then move them away or whatever.

It's so exhausting to try to monitor every single off limits thing at this age, so we focused on one thing (cords) to teach this concept of listening and obeying the phrase "that's a no."
How to discipline a one year old with "that's a no"
*How you discipline a 1 year old and enforce "that's a no" will vary based on your parenting styles, and your child's personality.
We have 3 children who are relatively compliant (and one who is NOT). I clapped loudly by them and used my firm mommy voice (not yelling – just a firm tone) to say, "THAT'S A NO." Then I moved them away from the off limits situation and put them on the ground across the room, and they promptly burst into tears.
Or, they might not cry, but that momentary "separation" basically did the trick.
That process of saying no firmly, and moving them away from me was enough to cause them "pain…" They now associate the phrase "that's a no," with displeasing you and realize that they don't want to do that.
After 10 seconds, I always scoop the child up, smile and say, "Mommy loves you. That's a no. No cords. Listen and obey mommy. " Then we go play or do something else/ I distract them.
We also had a child who, in the same scenario, smiled and turned around and went right back towards the same object, smiling at me the whole time. Daring me to mean it. At the ripe old age of 1! Some people call this a strong willed child 🙂 The amount of determination "strong willed children" have, of course, varies from child to child.
For any repeated, clear disobedience like that, we always flicked the top of the child's hand while saying, "that's a no." He would look surprised, sometimes shed a tear, and we'd all move on.
Here's why we were okay with this: the key to discipline is CLEAR BOUNDARIES + EXPLANATION + PAIN + LOVE.
You can read our whole parent-led home philosophy in detail, but the "pain" point is what people have trouble figuring out. And it's incredibly unpopular to say! (I hope I don't get kicked off the internet for writing this!)
The thing is – it's not actually pain. I am not talking about abusing or hitting your 1 year old. So everyone calm down… Try it.
Flick the top of your own hand and feel how "painful" it is. (Ahem: basically no pain at all). But that tiny amount of momentary discomfort communicates to the child what you mean when you say, "that's a no."
So much better than the pain of, say, pulling a lamp on top of your head or getting electrocuted from sticking a fork in the outlet… ya know!?
A compliant 1 year old will learn this VERY quickly. A strong-willed 1 year old will take more time. But if you are consistent, they will learn! I promise!
Don't discipline a 1 year old for being childish! (or any age child for that matter!)
They're 1, for goodness sake. Do not make every single thing in your home a "no."
Your one year old is going to empty all your drawers and cabinets, climb the stairs, explore and touch and eat everything… And if your older toddler leaves water out, your younger toddler will dump it all on the ground 🙂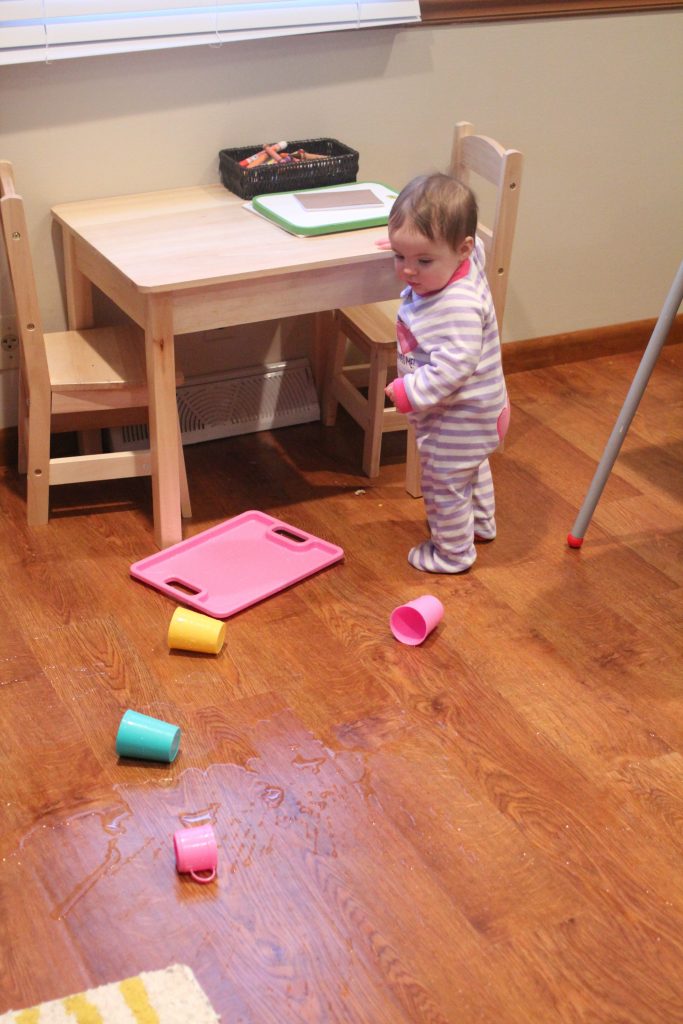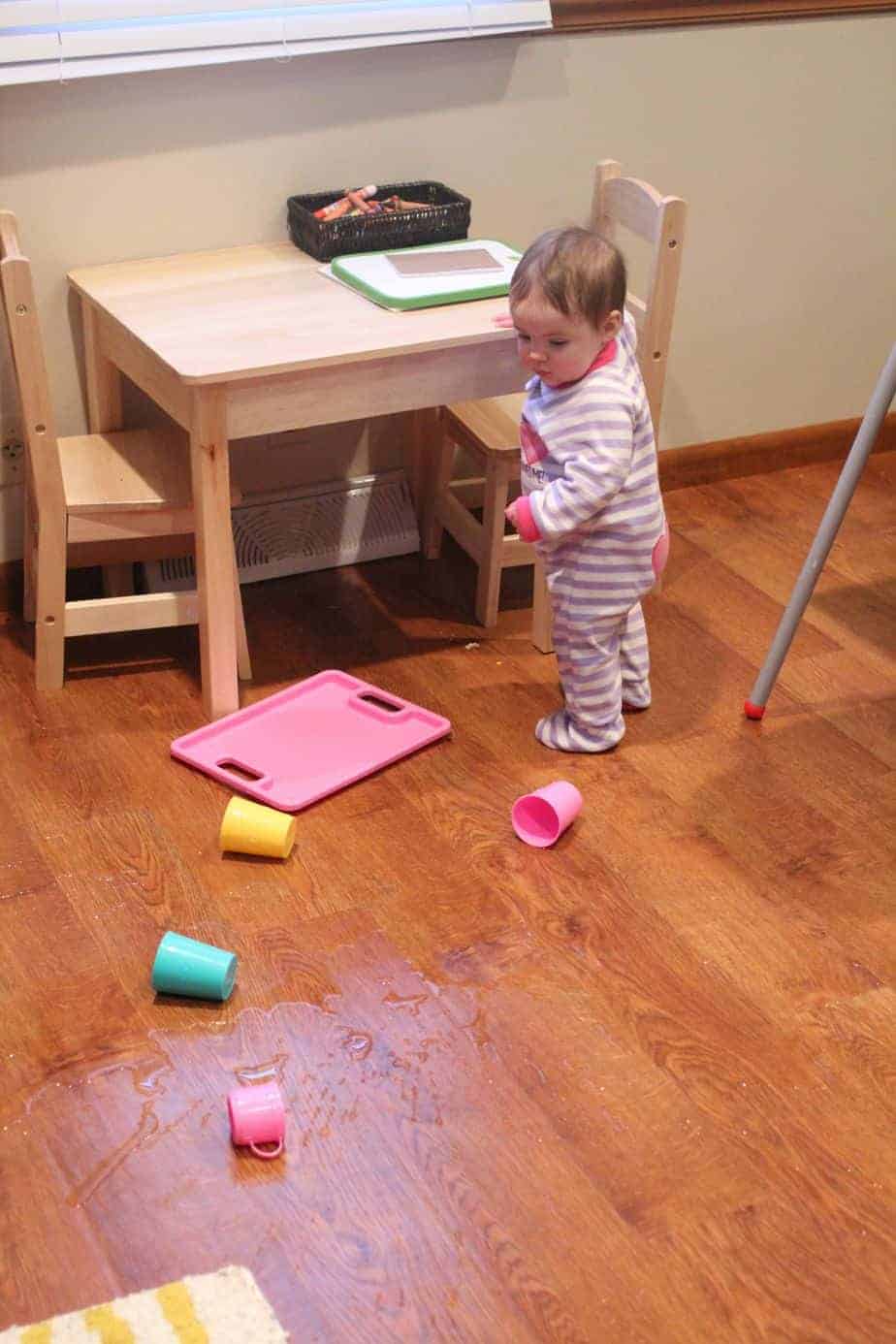 dealing with frustrated screaming + time out
Ahhh those 14 month olds… they have so many opinions and so few words. Which leads to… lots of screaming!
The big thing with the screaming is – discern the motive of the screaming/ crying:
Frustrated/ disappointed (most crying before 18 months)
Attacking you/ defiant (starts around 18 months old give or take and is very intentional sounding)
If the child is frustrated, try one of these things…
1. Give him a chance to figure it out.
Offer a few options for what you think he is trying to say. "Are you asking for a drink?" "I can't understand you when you use a whiny voice. Try to speak clearly." "I'm sorry I can't understand you. Would you like to ___________" (just change the subject. haha!)
If you ever DO figure out what the child was saying, you could practice it with them…
"OHHHH, a drink of water!" When you want a drink, you can come get a cup like this and show it to me! Then I'll know you want water. Come on, I'll show you how. Come get a cup in this drawer."
Kids love role play! So any time you can make a role play/ pretend game out of a skill they need to practice, that's a great preventative toddler strategy.
Or you can say "waaaa-terrr" really slowly. Encourage them to try. Show them the sign language for it. Then talk about water a lot in books and at meals and whatnot until they learn to say the word.
2. Distract/ redirect the 1 year old with something else.
Just move on! If they're frustrated because they can't communicate what they're trying to tell you, just take them somewhere else and find a new activity.
They're so fickle, most 1 year olds will be happily distracted by something shiny and different.
3. Let them cry and move on.
We all cry when we're frustrated and small children cry when they don't get their way. (Heck, so do I sometimes!) It's part of life.
Your 1 year old will likely get over the disappointment relatively quickly if you don't make a big deal about it.
Our current 1 year old loves to eat the markers that his big siblings leave laying around… I usually take the marker away and calmly say something like, "You can't eat the marker. Sorry."
He'll burst into tears while I take it away and throw it in the trash, then I'll go back, pick him up and say, "I know that's disappointing. Let's go play choo-choos."
By then, he's usually over it.
Around 18 months ish, this strategy won't work as well because you'll offer a choo-choo and he'll throw it on the ground still in a rage that he can't eat the marker.
At that point, I usually gently set the child down and say something like, "When you're done crying, we can play something else," then I walk away.
A very basic rule of 1 year old discipline is:
Reward what you want repeated.
And I don't mean reward like a sticker. I mean coddling and paying attention. If you give lots of attention and fuss to tantrums, tantrums will definitely continue.
Don't coddle fits. Especially once they've become defiant. Speaking of which…
If the screaming is defiant… (and how we do time out)
Whether they're increasingly frustrated or not ticked that getting their way, or just screaming defiantly at you in the first place…
Our approach has been to remain calm but firm, carry them to a room or crib or chair, and say, "No fits. You may not throw a fit when you don't get your way. Time out."
OR: "No fits in the kitchen/ family room. If you want to scream because you're mad, you'll have to stay in your room." Then walk away.
I know it's so hard to remain calm! My kids have revealed a deep-seeded rage in me that I didn't know existed before the first child turned 17 months old! Haha! They can be so frustrating. Deep breaths. Pray for patience. Be the grownup.
As they get older, you'll have plenty of chances to apologize when you are impatient.
If the child leaves the open time out space (chair/ room), use a crib. They will not get confused about whether it's bedtime.
In order for this to work, your mentality is key: There is no "battle." I'm not arguing or fighting you. Because you (the screaming 2 year old) are not in charge of anything in this situation. You have to have a parent-led mental state in order for this to work. Don't give up!
Go back in less than 2 minutes. If they're still screaming, wait for a brief pause and enter calmly. Ask: "are you done now?"
Likely, they'll calm down quickly. Hug & reassure them: "I love you. I forgive you. You may not throw a fit when you don't get your way." OR "you can't scream at mommy even when you're really frustrated."
Then it's over! No long lectures or drawn out battles with an irrational 22 month old!
Phrase #2 for 1 year old discipline: "shake shake shake"
Another thing we noticed about the word "no" is that you can teach your baby "no" about the same time they start to shake their head back and forth (like you shake your head, "no").
The problem with this is, the head shake is super cute! And they love to play the shake-your-head game.
BUT if you associate the shake-your-head game with the word, "no," then when you say, "that's a no," they'll cutely shake their head no! Like it's a game. 🙂
What we've done to counteract this is use the phrase "SHAKE SHAKE SHAKE" for the head shaking game and stick to "that's a no" (in a firm voice) for teaching "no."
However you go about teaching this, the point is to teach your child to respond to you when you're serious, and make sure they know you're not playing a game when you use "that's a no."
Joking is fun!
Yes! We joke with our kids all the time! Just not about the word "no" at 10 months old, right when they're first learning what "no" means.
Here's an example of the joking we try to avoid:
Chasing them as they crawl toward the laptop charger or outlet or fan or whatever because everyone is smiling and giggling as you say "no no little sugar plum…"
This makes it really hard to make your "no" mean NO for real down the line.
We do the fun crawling chasing game all the time still; just not surrounding the word "no" while teaching what is off limits.
We do joke about "no" as the kids get older!
Our 2-6 year olds love asking something outrageous and hearing me laugh and say, "No way, Jose!"
By 2 years old, we can tease the kids, "Don't have any fun at Grandma's house while we're gone!!" And they'll laugh and respond, "We will! we will!"
Or we'll say, "Don't you dare eat your veggies!!" And they'll laugh and say, "I'm going to!!" (How's that for awesome parental manipulation? haha!)
The point is… once the boundaries are clear, and they can tell what "no" means and that you are in charge and you mean it when you say, "no," then you can joke freely.
BUT when you actually want to teach them, "no," don't mix up the word with any sort of game! It'll make it all easier 🙂
Couldn't you move the cords?
Yes… I know we could move the laptop. But we want them to begin the process of learning to obey before we're in a parking lot.
The laptop is a great situation for teaching "no" because it's not life or death.
We do prevent/ avoid some situations
We don't mess around with teaching "no" about our steep and dangerous basement stairs; we just keep the door closed. The bathroom doors stay shut so the 1 year old doesn't fall head first in a toilet. And we don't expect our toddling 13 month old to stay next to us in the parking lot. We just hold her.
Also, we do move some things out of reach because it's not worth dealing with every single little thing being off limits.
For example, I don't put sharp knives in the toddler-accessible silverware holder in the dishwasher.
And I have nothing on any end tables during the stage of a 9 month old learning to pull up because they just pull everything off the end tables and throw it all onto the floor. I don't want to be saying, "that's a no" all day long 🙂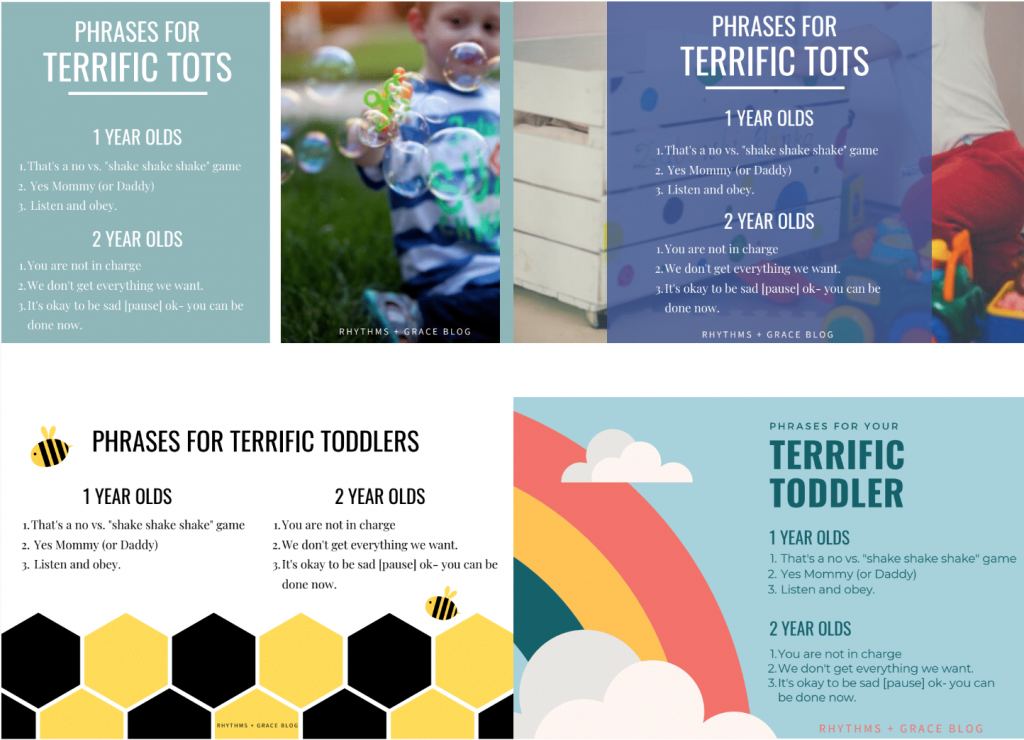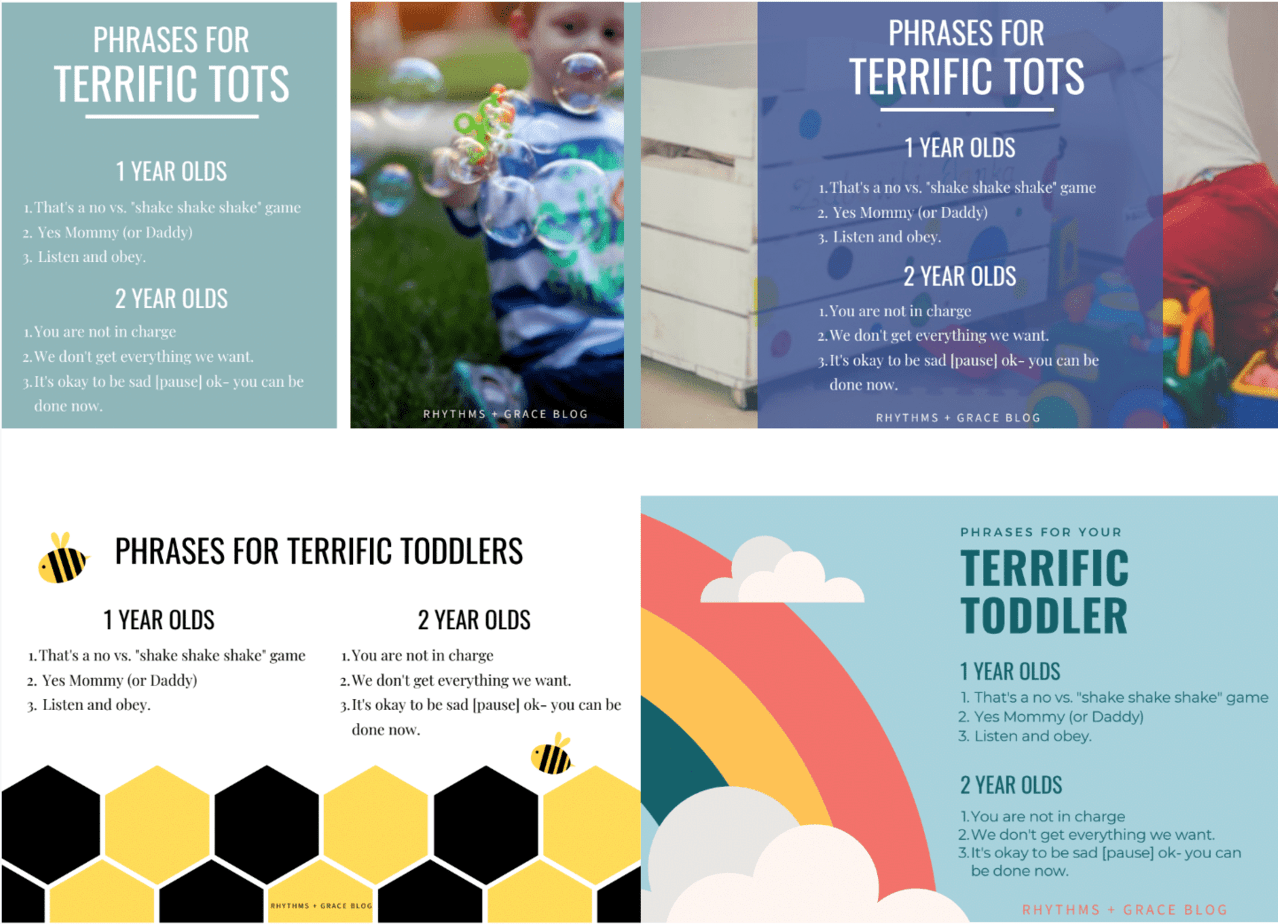 I made these cute terrific toddler phrase reminder cards that you can print and hang around your house! Maybe in those places where your toddler is particularly likely to have an epic meltdown 😉
Phrase #3 for 1 year old discipline: "Yes Mommy."
In conjunction with teaching "that's a no," we also teach "yes mommy."
Sometime around 8-12 months, your little one starts very cutely and deliberately nodding their head yes.
It's harder for them physically than shaking their head no. Once baby can nod, I say "yes" a lot and nod with them so that they learn the nod means yes.
Sometimes I'll play a game of going back and forth between nodding and shaking for the baby to imitate me:
Baby shakes, I shake and say, "shake shake shake."
Then I nod, and say, "Yes, yes, yes."
And baby copies the nod, giggling.
Sometimes we mix a peekaboo in here too! It's all fun and for the point of associating head shakes with "shake shake shake," and head nods with "yes."
It doesn't take long for baby to associate the head nod with "yes."
Once they understand it means yes, we add the head nod/ "yes" to the whole 'that's a no' situation.
How to discipline 1 year old by teaching, "yes mommy!"
I'll say, "that's a no… no cords. Say yes mommy." Then I'll nod with baby and say "yes mommy," (as if the baby is responding.)
The idea is that they nod to symbolize they understand that you are telling them something. Introducing "yes mommy" super early on will pay off BIG TIME in the "terrific 2s." haha!
The baby may not actually nod at the right time for a long time… that's okay! Just do it anyway. They'll catch on.
At first, it's all just instilling the habit. The true understanding comes a bit later.
Our second daughter was around 13 months when she started nodding almost every time we said, "Say yes mommy."
That doesn't mean she obeyed perfectly… obviously! It's just our way of instilling the habit of her responding when we tell her something. This way, when she turns 2 and we're going on a walk, I can say, "you need to stay on the sidewalk and not go into the street" and she says "ok mom" and I know she gets it.
Around 1.5-2 years old, the "yes mommy" will likely go from a head nod to words. It was later for my 3rd son…. all his words came a bit later than the first two girls.
Sometime around 2, they develop the ability to even say "Yes, mommy" thru gritted teeth.
Once the child has built the habit of acknowledging when they hear you and understand you, it's easier to identify and distinguish between when they're going against what you've told them, and when they just don't know any better.
Phrase #4 for 1 year old discipline: "Listen and Obey"
This is another one that felt awkward at first. I don't know if the word obey is old fashioned or feels culturally unacceptable or what, but I find myself slightly self-conscious using it in front of people.
6 years and 4 kids later, I'm basically over that. "Listen and obey" rolls off my tongue a zillion times a day. I can't remember where I first heard this one either, but I've heard a lot of people use it.
The idea behind "listen AND OBEY" (as opposed to just "listen to me") is that your child can listen and choose not to obey.
Going back to our parking lot example, if your tiny 2 year old dictator listens to you and hears you say "hold my hand please," but disobeys by running the opposite direction, well, that could end badly. So, obedience is a key part of the "listen and obey."
How to introduce and teach "listen and obey" to a 1 year old
"Listen and obey" is easiest to teach when you can help them obey. You're not expecting obedience, really. You're just teaching the concept of what "listen and obey" means.
1 year old discipline scenario: teaching clean up your toys
You can say "it's clean up time, put the toys in the basket," and then you basically put all the toys away and guide the 12 month old's hands to drop the toy they're holding in the basket.
While helping them do all the work you say, "Good listening and obeying mommy. Clean up time! Great job!"
In this way, you are teaching the concept of 'listen and obey' as a positive thing. I'm all about the positive!!
1 Year old discipline scenario: dropping cup from highchair
We worked on "listen and obey" with our second child around 13 months old. By that age, she totally understood that we didn't want her to throw her cup on to the floor when she's done drinking. We want her to put it back on the table.
Anyway. During a meal, if I saw her pick up her cup to drink, I'd say, "Emma, when you're done, put your cup back on the table, don't drop it on the floor. Say yes mommy." She usually nods. Then as I saw her finishing her sip, I'd even reach to help her put it back on the table and say, "Good listening and obeying, Emma!! Yes, your cup goes on the table."
The older child usually gets excited too and claps and says "Yay, Emma!" 🙂
For the record – I have since lost the capacity to teach the cup dropping thing to my 3rd and 4th children at the age of 1… LOL.

There are WAY too many things going on during a mealtime with 4 kids under the age of 6 to teach the 13 month old not to throw their cup.

I just take it away and he can learn it when he's 18 months. BUT… if you have 1 or 2 kids and are not otherwise preoccupied, they can totally learn not to drop a cup around 12-13 month sold!!
As your one year old gets more words, he or she will be able to say the word 'obey.' At some point, they got old enough (around 2 years old) to where we would say "you need to listen and _____," and each child would fill in the blank "obey."
It's kind of synonymous with a 'yes mommy.' Some sort of acknowledgement of their understanding.
I still use it all the time with my big 3 at ages 2.5, 4.5, and 6! Often more of a reminder. When I can see one of them teetering on the edge of disobedience, I just quietly remind her/him, "Listen and…." and much of the time, they'll say "obey" and comply.
(Notice I didn't say all of the time.)
These are not ideas to create perfectly behaved toddlers.
Hear me on this, friends.
Our kids aren't perfect.
Perfection is not the goal. Eventually, there will be lots of opportunities to preach the gospel to your kids in their moments of sin. To show them their behavior reveals their heart and that what who they really need is Jesus. There will be many opportunities for you to apologize and show them Mommy needs Jesus too.
But when they're 1, focus on teaching your 1 year old to obey. It will set the stage for all the other, more important stuff as they get older.
My 13 month old still dropped her cup a lot at the table. Less often, but still.
The 2 year old sometimes unplugs my laptop or opens my makeup and puts it on, even though she knows better.
If I choose to send the 2 year old to time out for something, he'll yell "noooo" as he runs to timeout… one final act of defiance. Haha!
Isn't that how grownups are too, though? God graciously enables us to get increasingly better at attitudes and behaviors… but we're never perfect. I am not perfectly patient with my kids, but I'm more patient than I was a year ago. I do not put others first 100% of the time, but I'm less selfish in my parenting than I was 4 years ago. (Most of the time…)
Grace.
Let's give our kids grace, whether they're 1, 7, or 29. Grace doesn't mean permissiveness…. it means we teach them obedience, then love them no matter what!
Consistency, explanation, discipline, love, patience and grace.
Ok. I'm nosy curious nosy & want to know if anyone already uses any of these phrases with their kids… or are you going to try them? Do you have other phrases that your kids respond well to? Start/ join the conversation in the comments below!
This raising small children thing is not for the faint of heart. They are persistent and stubborn little firecrackers – full of energy and so so needy. Let's come along side each other and help a momma (or pops) out!
​

Snag these cute 4x6 printables with reminders of these basic phrases for discipline with toddlers.
Post them over your kitchen sink, in your toddler's bedroom, playroom... where ever you need a reminder to take a deep breath and use these phrases firmly & consistently with lots of love!