Some of the links on this page are affiliate links. When you make a purchase through an affiliate link, I earn a commission at no cost to you. See my entire disclosure policy for all the boring details.
This will be my 5th year reading through this Advent devotional: The Greatest Gift. I already pulled it out so I won't miss December 1. Do you want to read through it together? We could comment together on instagram or facebook… You will love this book.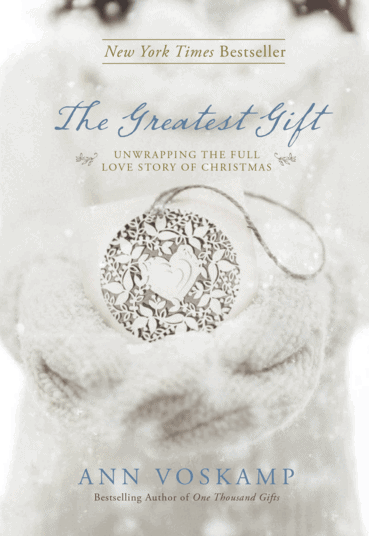 It is so so good. I love reading all my notes in the margins in different colors from each year.
There are a few books I like to read once a year. Because each year, we find ourselves in a different place. And the same book can teach us different things in different seasons. This is one of those books.
Ann Voskamp, the author, writes in the intro:
"The coming of Christ was right through families of messed-up monarchs and battling brothers, through affairs and adultery and more than a feud or two, through skeletons in closets and cheaters at tables. It was in that time of prophets and kings, the time of Mary and Joseph, that men were in genealogies and women were invisible. But for Jesus, women had names and stories and lives that mattered.

The family tree of Christ startlingly notes not one woman but four. Four broken women – women who felt like outsiders, like has-beens, like never-beens. Women who were weary of being taken advantage of, of being unnoticed and uncherished and unappreciated; women who didn't fit in, who didn't know how to keep going, what to believe, where to go – women who had thought about giving up. And Jesus claims exactly these who are wandering and wondering and wounded and worn out at His. He grafts you into His line and His story and His heart, and He gives you His name, His lineage, His righteousness. He graces you with plain grace.

Is there a greater Gift you could want or need or have?

Christ comes right to your Christmas tree and looks at your family tree and says, "I am your God."

This, this, is the loves tory that's been coming for you since the beginning.

It is possible for you to miss it… You could wake up on Christmas only to grasp that you never took the whole of the Gift, the wide expanse of grace."
It was nearly impossible to choose one excerpt of the intro to highlight here. But I'm pretty sure any more than what I typed above would be bordering on major copyright infringement stuff.
Or go to a bookstore (do they still have those?) and get a copy there.
You will be so glad you did.
And in the quiet mornings or evenings this month, find some time to sit. Ponder. Wonder. Wait.
Wait for Him to meet you where you are.
Wait for Him to reveal Himself to you in a new way this season.
Wait for Him to refresh you, to renew your spirit. To show you a deeper joy.
Advent reminds me of this song. I think it's a good prayer for the season.
Come Thou long expected Jesus
Born to set thy people free.
From our fears and sins release us,
Let us find our rest in Thee.
Israel's strength and consolation
Hope of all the earth Thou art.
Dear desire of every nation
Joy of every longing heart.
Born Thy people to deliver
Born a child, and yet a King
Born to reign in us forever,
Now Thy gracious kingdom bring.
By Thine own eternal Spirit,
Rule in all our hearts alone.
By Thine all sufficient merit,
Raise us to Thy glorious throne.
(I like this version)