Some of the links on this page are affiliate links. When you make a purchase through an affiliate link, I earn a commission at no cost to you. See my entire disclosure policy for all the boring details.
I've been working on Emma's baby book and thinking about what a newborn really needs. Looking through pictures from her first year brought me back in time… I was remembering the craziness surrounding the month she was born.
It was a couple of our hardest months.
There was a cross country move when I was 36 weeks pregnant. (Not something I'd recommend…)
Then, there was staying at my inlaws' house alone for 10 days with my 16 month old. They were on vacation, my husband was finishing grad school and driving our moving truck across the country by himself.
There was Ben going to a job interview the day he arrived in town.
Then, there was realizing Ben couldn't start the new job until a month after Emma was born. Oops.
There was unloading our minimal amount of earthly possessions in our new rental house that we'd signed a lease for on Craigslist, never having seen it in person… and not being sure that we'd have a job to pay rent.
Then, there was being out of money because we had been living on student loans for 10 months and the money was gone.
There was having a ginormous pile of student loan debt to tackle on one income.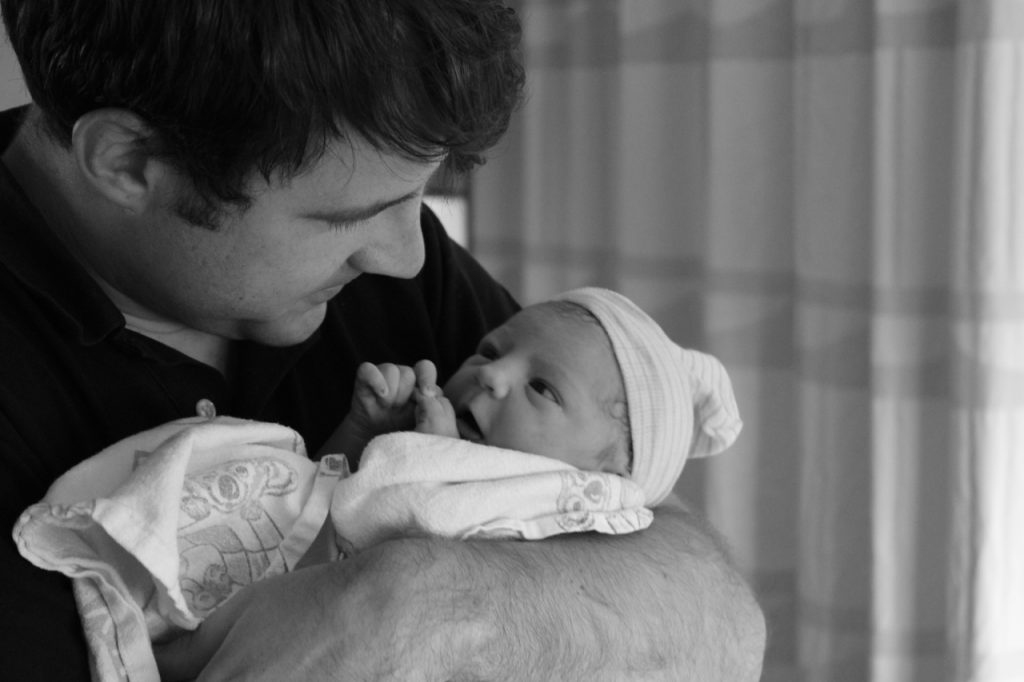 She ushered in joy and stillness and quiet to an otherwise chaotic, stressful, anxiety-filled month. (We'd moved across the country with a pile of student loan debt and no good job offer on the table; although we'd already rented a house.) The day we came home from the hospital was the first night in our new (rental) home.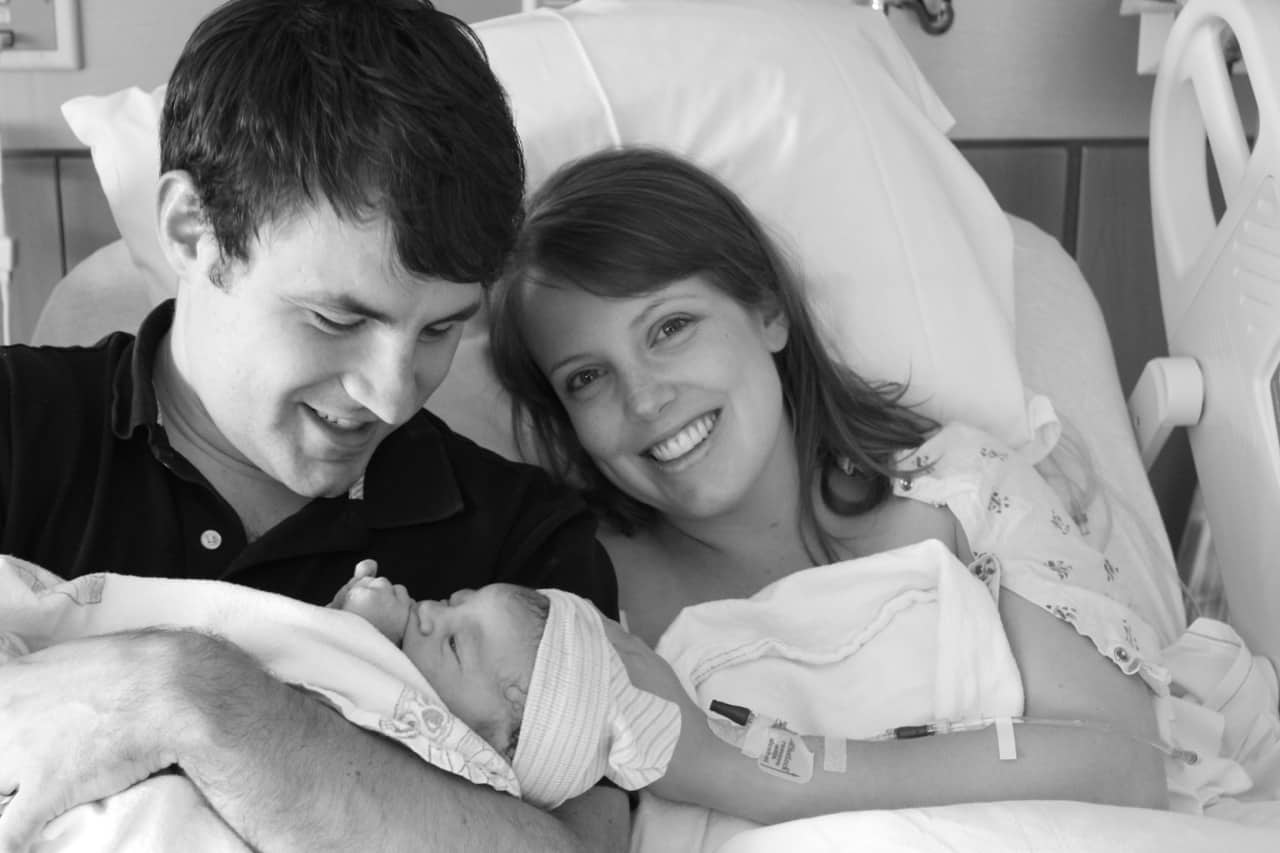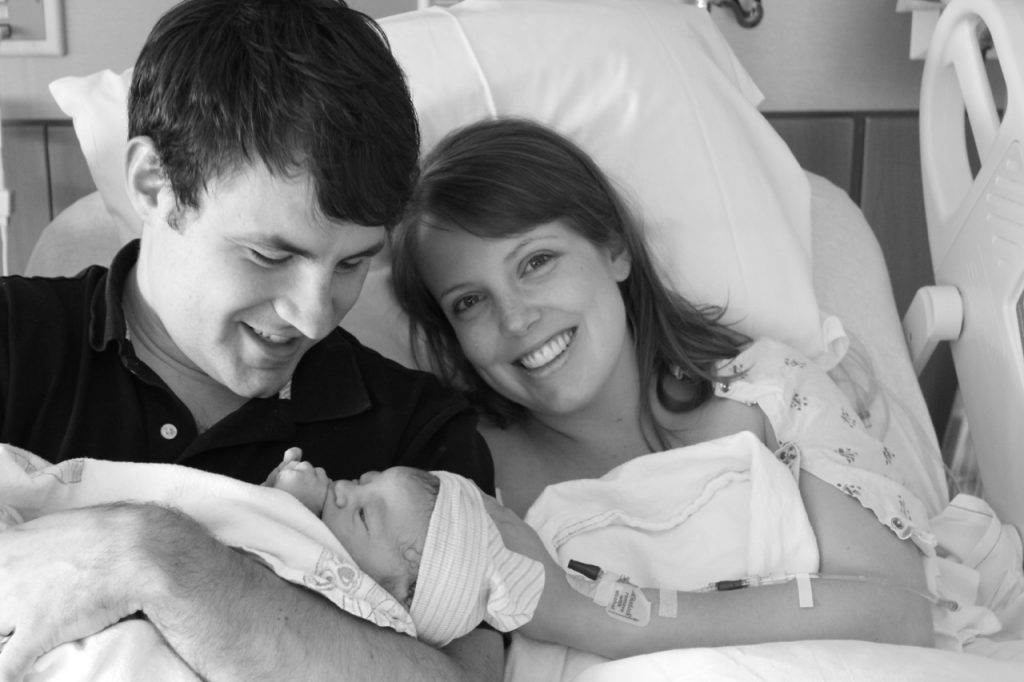 We had no extra furniture – there were 2 couches (used & cheap from Craigslist). And our beds. And a table and chairs in our eat-in kitchen.
And that's about it.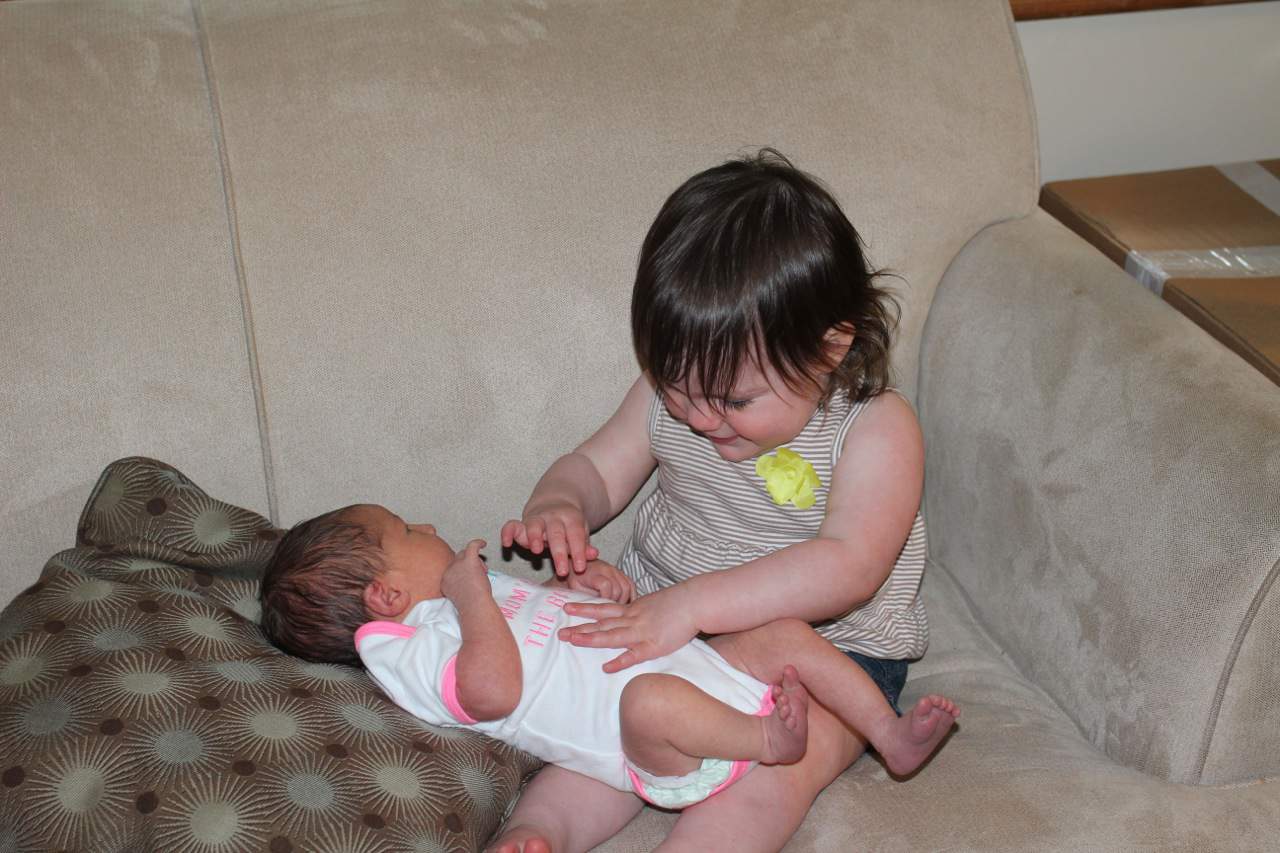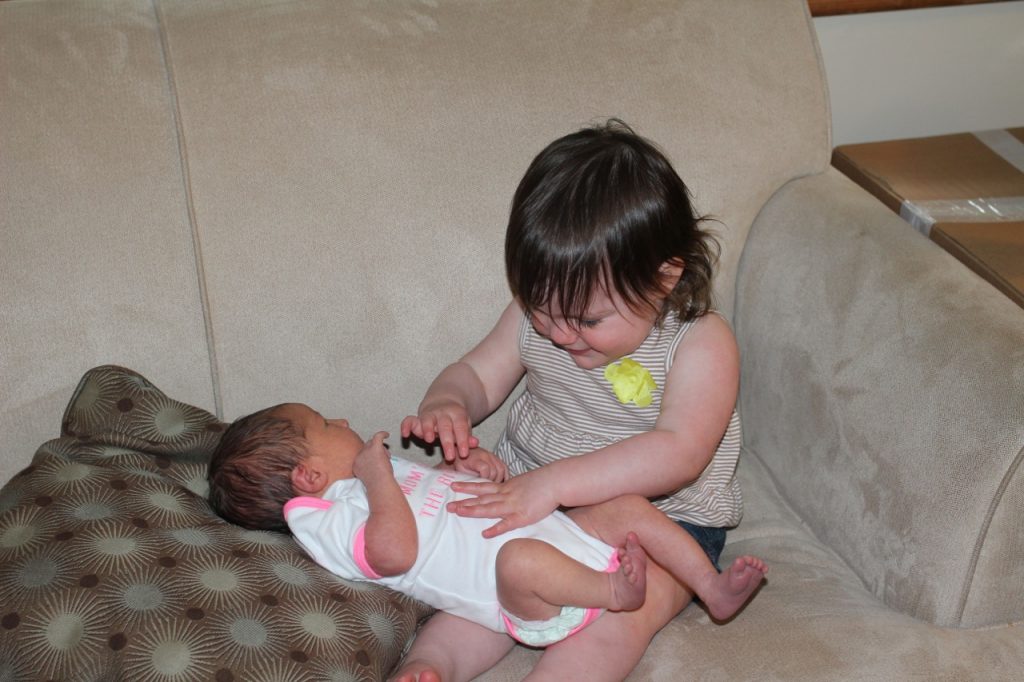 Please note the cardboard box end table beside the couch – gotta have somewhere to put your water and breast pump 😉
We had no nursery.
No extra crib – our first child was only 17 months, so she still needed that.
No changing table, no dressers, no rocker.
No special going home outfit.
No organized closet full of little onesies with tags on.
No baby animal art hung or carefully arranged shelves full of colorful board books.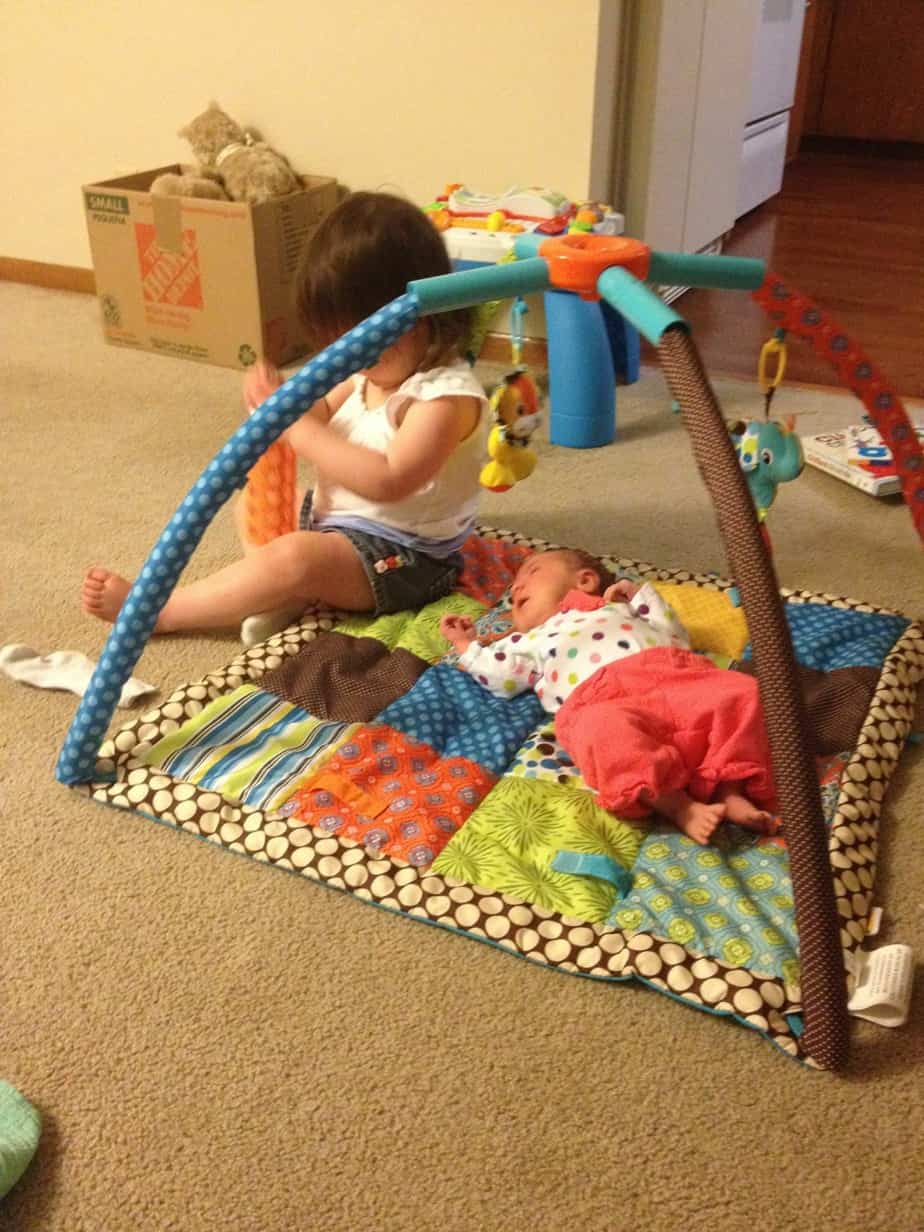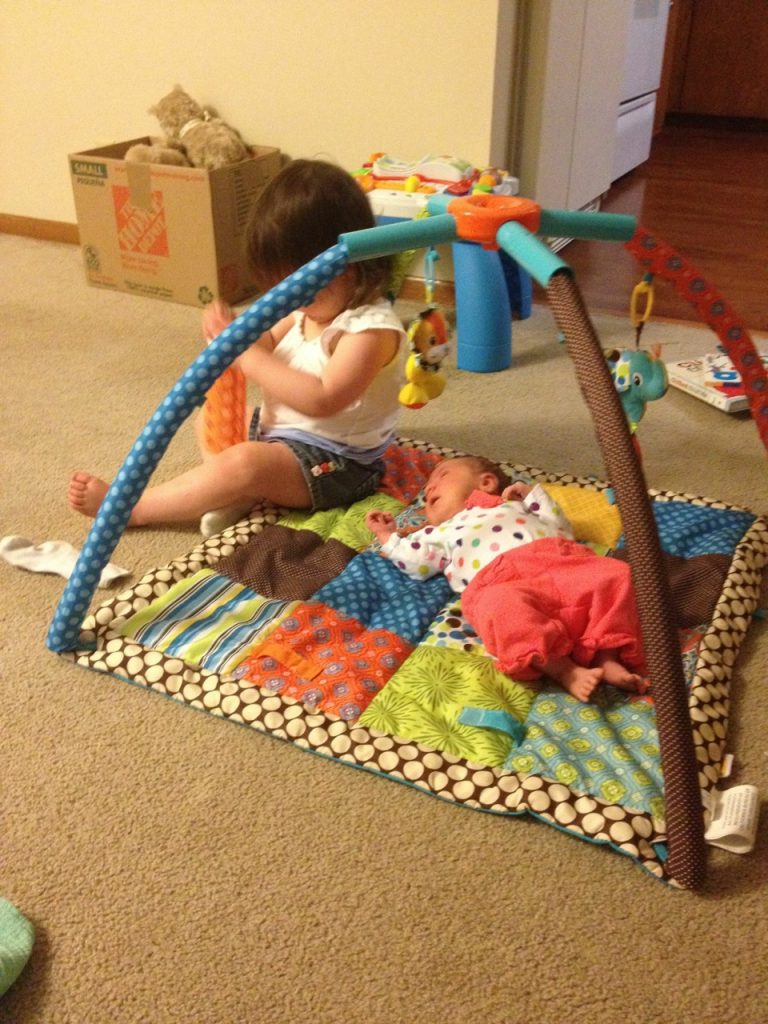 Toys were in cardboard boxes.
She slept in a basket on the floor in whatever room no one else was in. (We LOVE this portable bassinet for the first 3-4 months!! )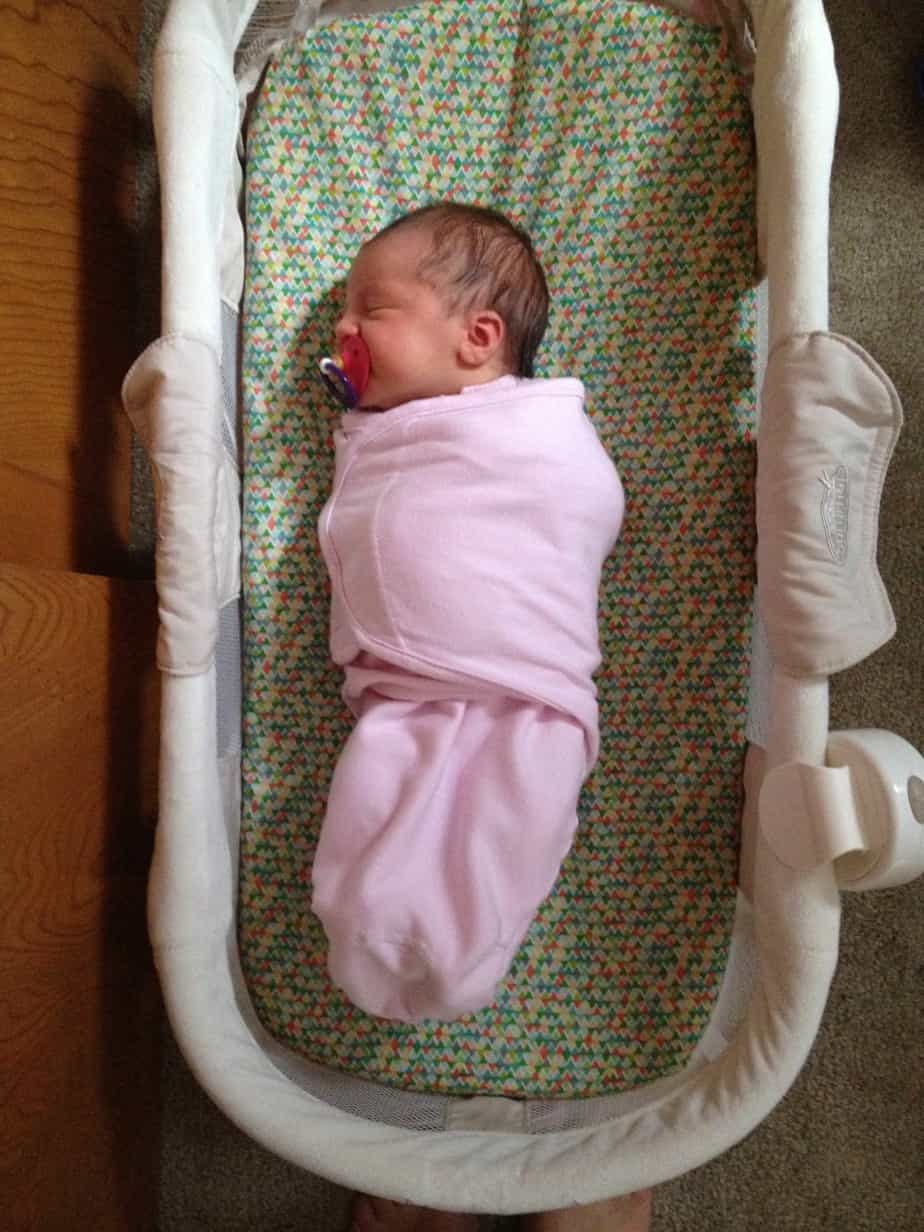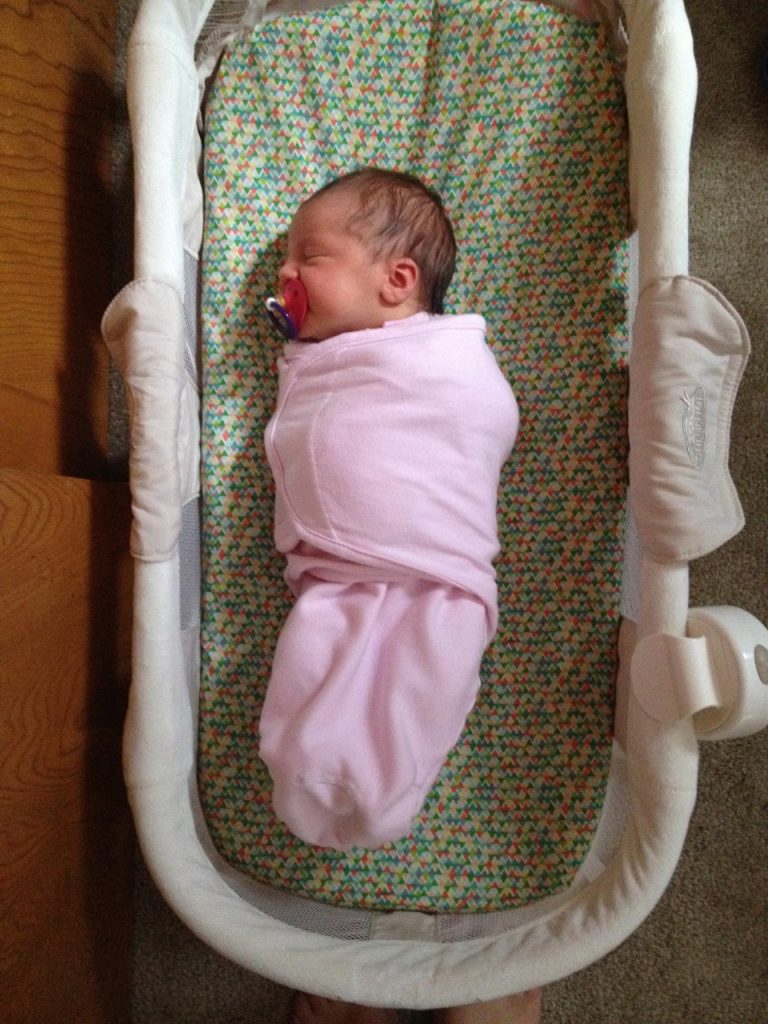 And as I thought back on all this, I realized…
a newborn just doesn't need that much.
We had a carseat and stroller; some hand-me-downs and old blankets; my favorite velcro swaddler + paci. But not much extra.
And in looking back at pictures, I remembered that while all the extra stuff is fun – decorating a nursery, buying tiny clothes, registering for tiny gifts – it's just that.
Extra.
And if you don't have very much, or can't do all that, that's okay.
Babies don't need that much. At the risk of sounding painfully cheesy & all hormonally preggo, babies need nurturing love, food, and sleep. And that's about it.
If you're a mom-to-be and you feel the pressure – to get it all done, or make everything just so, or have it all together – it's okay. You don't have to. You can relax.
Say "yes" to all the help that's offered.
Say "no" to everything that sounds like too much.
And love your baby as best you can.
The rest will fall into place.
Because what a newborn really needs is love.
(and a carseat… cause, ya know, they won't let you leave the hospital without that.) 😉
Related: Minimalist Baby Registry Must Haves