Some of the links on this page are affiliate links. When you make a purchase through an affiliate link, I earn a commission at no cost to you. See my entire disclosure policy for all the boring details.
Whether you've tried budgeting a million times or it's the first time ever, starting a budget can feel daunting. What if I do it wrong? What if I mess it up? What if I don't guess right?
I'll save you the worry and tell you up front – you won't find what works for you right away. You will very likely overspend at first, and you will probably not guess all your spending numbers right. (Aren't you glad you stopped by for some encouragement?)
That's. O-K.
You will get there. Most of us budget nerds suggest approximately 3 months, give or take, to get the hang of it. It took my husband and me 5 years to figure out what works for us, sooooo…. I'm not sure what that says about us. But, perhaps that's why I feel so strongly about it. Once we finally did get the hang of it, it felt so relieving and freeing to have a budget. I never want to go back.
Budgeting gets a bad rap of being tedious and restrictive. But, it's not. Having a budget is eye-opening, and freeing. It brings peace and order to your money and your home.
Remember – spending money isn't inherently bad. The process of creating a budget doesn't mean no more fun or no more spending. It means you are looking at how much income you have and making a decision in advance about how to spend it. It means you are consciously aware of how much is coming in and going out, rather than swiping your card and hoping it works out at the end of the month. You are in control. John Maxwell says, "a budget is you telling your money where to go instead of wondering where it went."
I listen to the Dave Ramsey podcast sometimes, and one time, a family called in and said they started budgeting only to realize they'd been supplementing their income with 10,000$/ year in credit cards, and it was such a shock. They always thought it was just a little here, just a little there. So, when they cut up the cards and started budgeting their money, it initially felt restrictive… after all they'd "lost" $10,000 of spending money a year. BUT, they also said it felt like freedom! Because for the first time, they were the ones in control.
A budget is simply YOU telling your money what to do. You being in charge of your money, instead of your money controlling you.
Ok. So, say you're convinced. You want to find the budgeting strategies that work for you. You sit down with a pen, paper, and coffee (obviously), and think, "ok, now what? Where do I start?"
Start here. Welcome to Budgeting 101.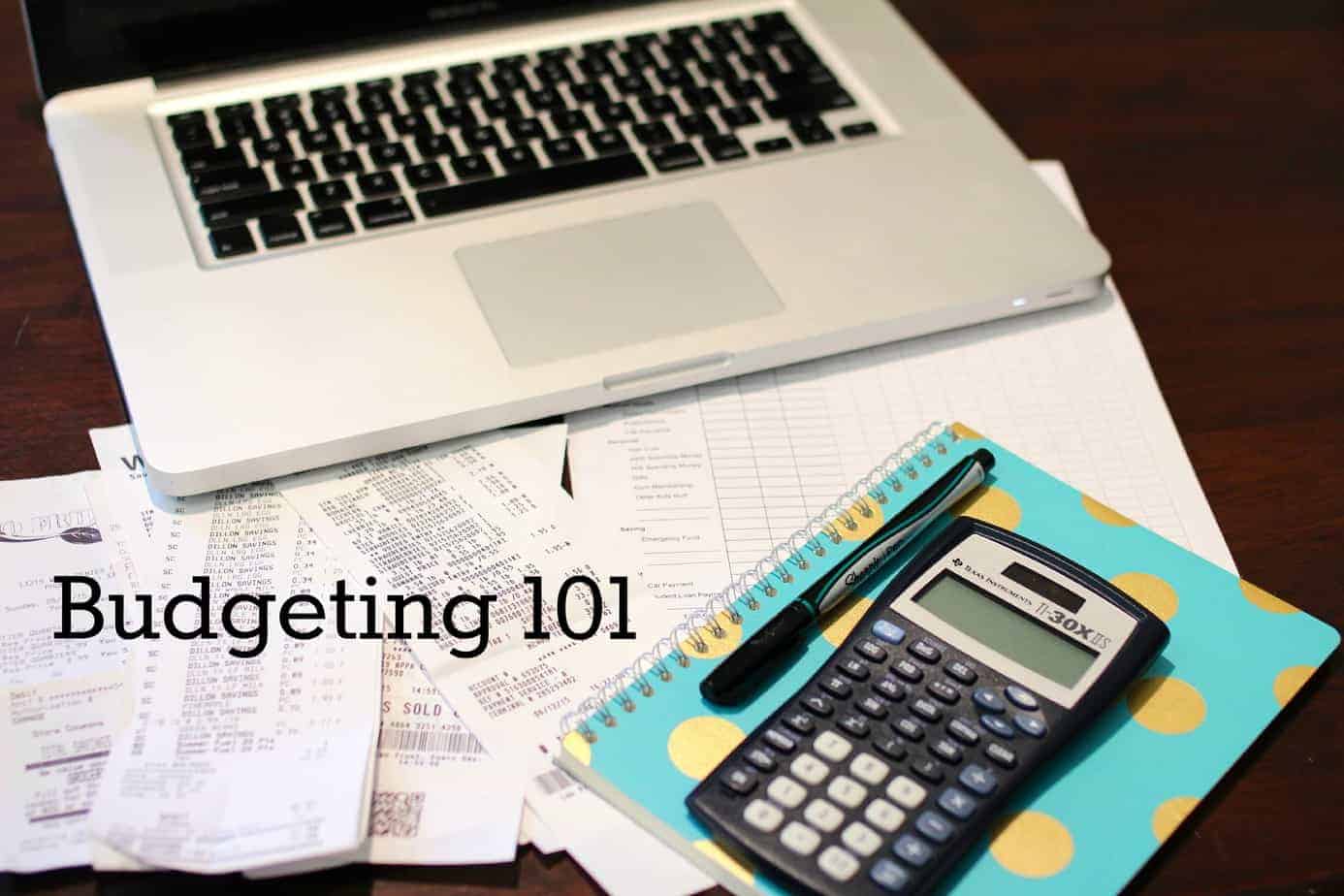 You'll want to choose some sort of tool to use for tracking your budget. Here are some ideas:
Step 1. Roughly Sketch Out Your Budget.
I think this brainstorming step is easiest with pen & paper. Use my budget template to get started quickly. Then, go back and plug the info into your app of choice later.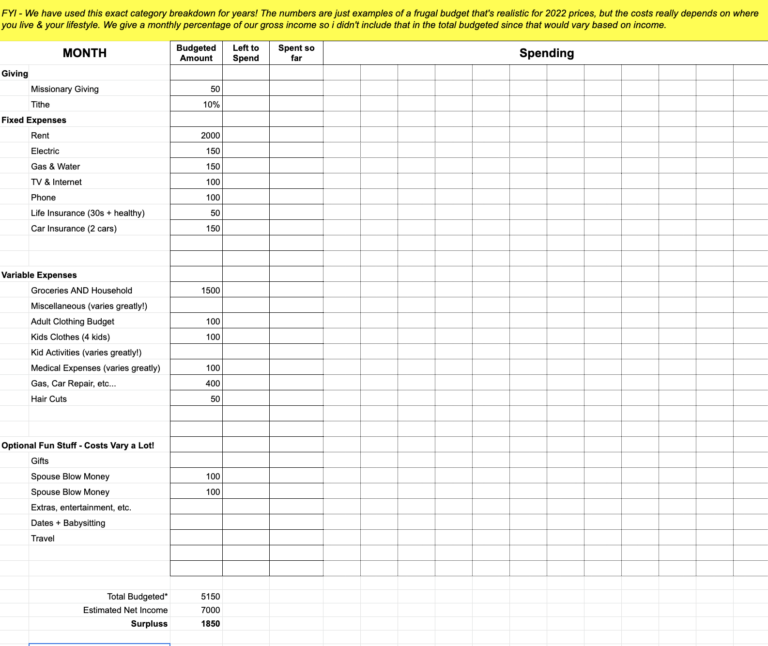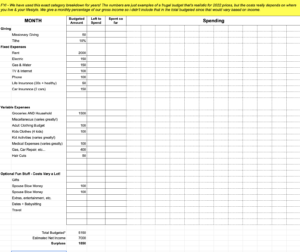 2. Write down next month's income.
If you're income is variable (commission, self employment, hourly based, etc… ), guess based on the lowest it's ever been. We'll deal with variable income budgeting more at another time.
3a. Make a list of all the things you spend money on in order of importance
Food, shelter (including utilities), everything else. The above budget template that has categories might be helpful for you.
3b. Write down how much you think you spend on each of these things in a given month.
The goal is to spend every single dollar of your income on paper before the month starts. You are not budgeting based on your current bank account balance. You are budgeting based on the month's income. Since we are paying down student loans with a vengeance, we have a bare bones budget for the month and then all the leftover dollars go in another category titled "extra debt payment." We still 'spend' them on paper, so we're not tempted to buy other stuff with the extra money.
That's it.
You did it.
You have a budget! Congrats.
Okay, here's the thing. That budget is a contract, not a suggestion. You have already spent (on paper) every single dollar you're going to make next month. So when your paycheck hits the bank, there is no wondering what to do with your money. You've already decided.
You told your money what to do already. Now, just make it do what you said you would.
I think the BIGGEST hindrance to budgeting is looking at your bank account as the determining number for how much money you have. Once you have a budget in place, you can ignore your bank account balance, which is actually incredibly freeing.
If you make $2,000 next month and you budgeted $400 for food, then you have $400 to spend on food. Not $401, not $500. You don't have all $2,000 in your bank account for food. If you budgeted $30 for clothes, you don't have money for a $50 dollar pair of jeans. If you save this month's $30 clothes then next month when you allow yourself $30 more for clothes, you can buy a $50 pair of jeans. But this month, even though your paycheck was $2000, you don't have $50 for jeans if you only budgeted $30 for clothes. The budget categories tell you how much you can spend, not your bank account balance. Make sense?
The next steps are tracking your spending and adjusting your budget accordingly. Those are really separate tasks from making your budget, so they're covered in other posts in this series. You can learn to track spending and adjust your budget accordingly here.
Your "homework" for today is to print out that template or open it in google docs and make your first budget. Like I said earlier, most people say it takes a few months to get your budgeting down… accurate numbers, the systems you like, how to talk about it with your spouse. It took us 5 years. It doesn't have to be perfect today, just start! Hopefully it'll take you less than 5 years 😉
One last thing. If you are new to budgeting, this process will be a lot easier if you both use either cash or a card tied to the same account so that all your transactions are in the same place. We used to use cash. You can read about my method for managing an all-cash budget here. Now, we use our debit cards – both for the same checking account – for everything. And that one account is linked to YNAB, so all the transactions show up there. It's so simple. If you insist on having multiple accounts/ cards, you can connect all of them to YNAB. But I still think it ends up being easier to spend all your money from one account.
If you're just starting out and need someone to bounce ideas around on or have any questions, please feel free to contact me.
Happy Budgeting 🙂
– Renee
p.s. if you can handle it, go on to the next post in the series: How to Track Your Spending