Some of the links on this page are affiliate links. When you make a purchase through an affiliate link, I earn a commission at no cost to you. See my entire disclosure policy for all the boring details.
How cute is this little Emma book!? We just received Emma's custom photo board book from Pint Size Productions in the mail and she is loving it!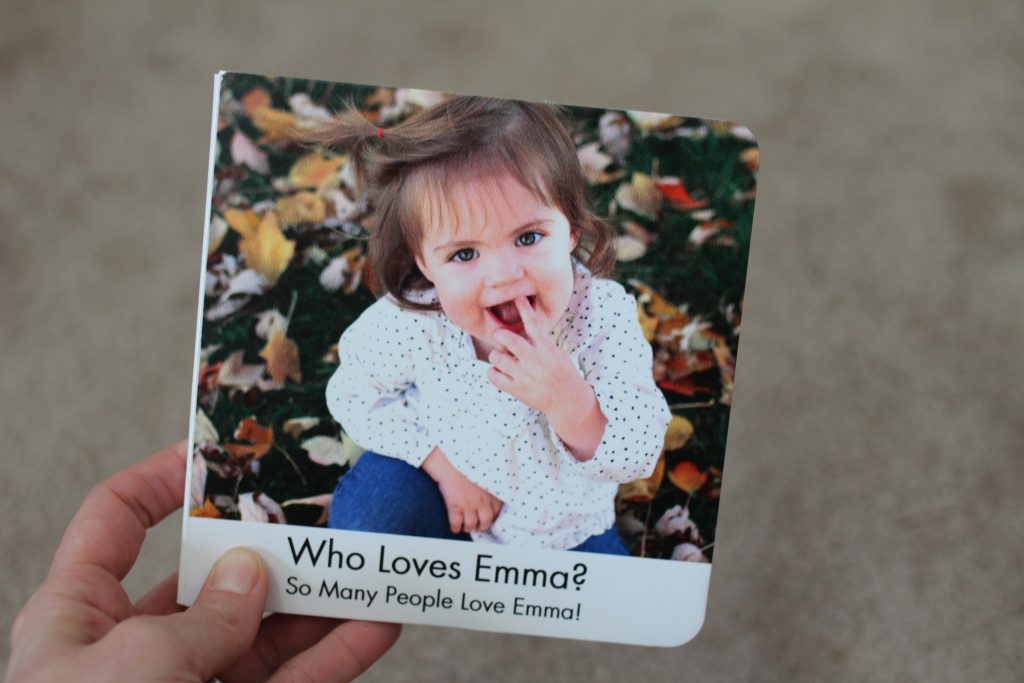 TEACH YOUR TODDLER FAMILY MEMBERS' NAMES
We first found out about Pint Size when Addie was given one of these by one of her grandmas. It was perfect because we were living far from family, and it had everyone's pictures in it. Even though we lived 800 miles from the closest family member (and 1500 miles away from the rest), she learned the names of everyone who loves her the most!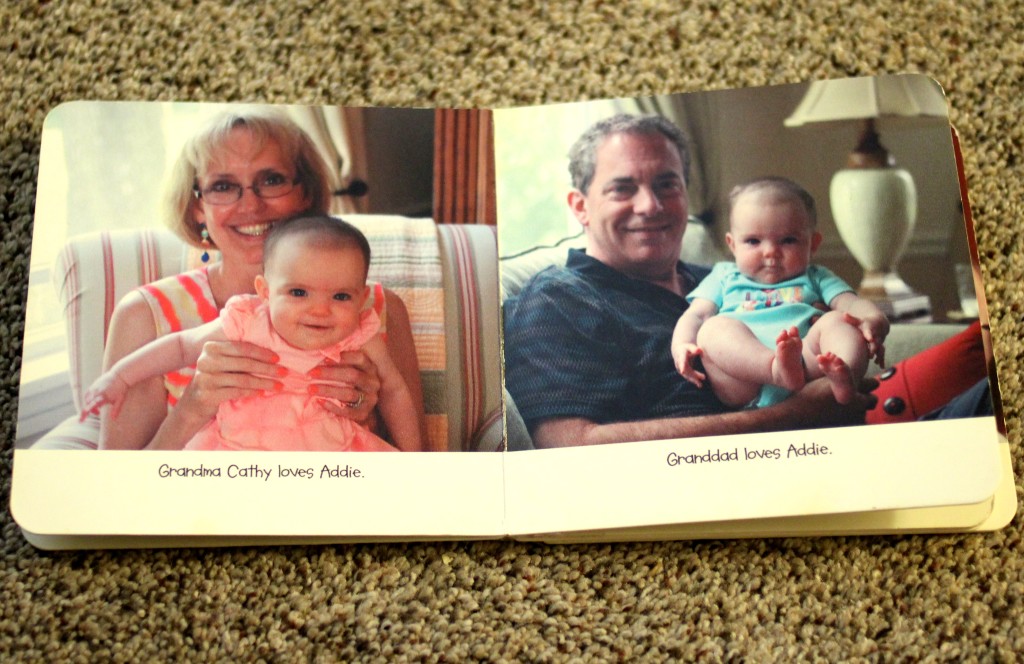 SUPER DURABLE, HIGH QUALITY
You can't tell from the above picture, but Addie's book is well-loved. It's been across the country and back. Babies have attempted to eat it, and toddlers have attempted to destroy it. It has withstood the true tests of durability! Way to go, Pint Size! Very high quality photo board book.
Recently Emma started wanting to read Addie's book – she loved seeing all the pictures of family. She'd bring it to Ben or me and say, "reeeeeead!? reeeead!?"
But every page said, "so-and-so loves Addie…" because it's a personalized board book. haha!
We would read it aloud and fill in "so loves Addie… and Emma…" #secondchildproblems
Anyway, I finally got around to making Emma her own book and the lovely people at Pint Size said they would give one of you one too! [Update: the giveaway has expired, but these photo books are still awesome and available for purchase!]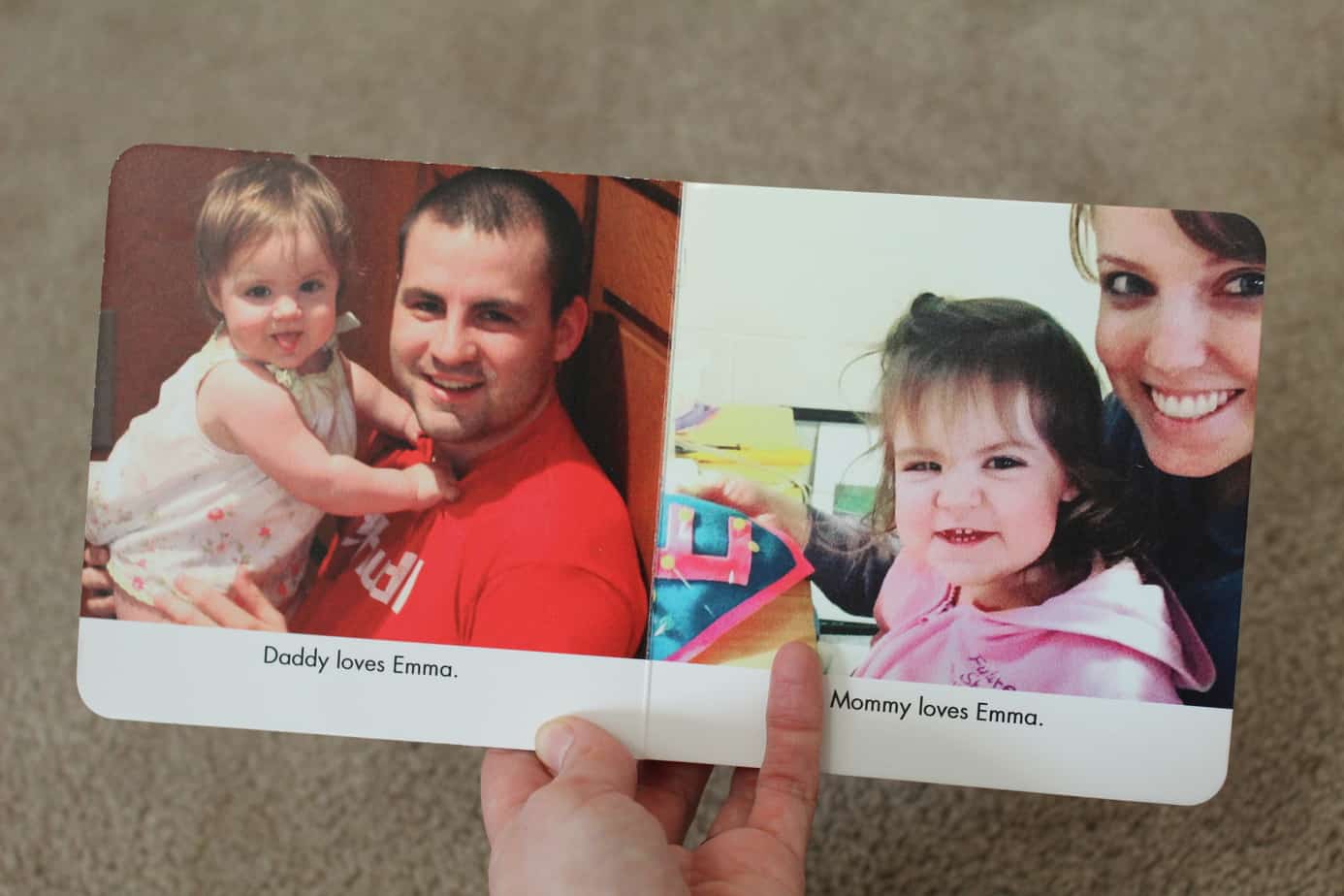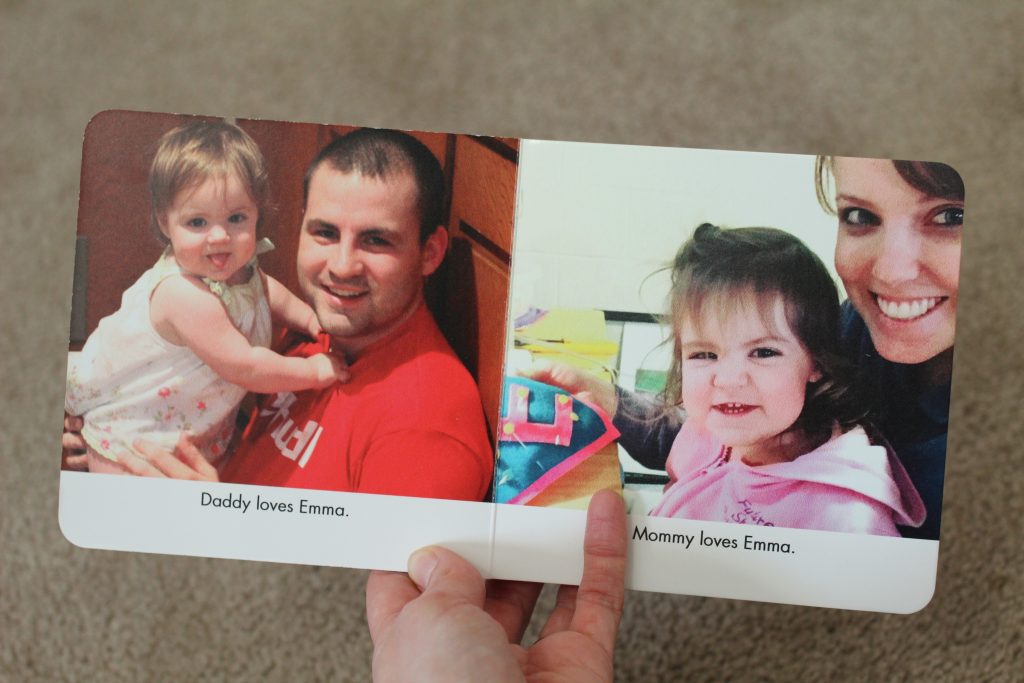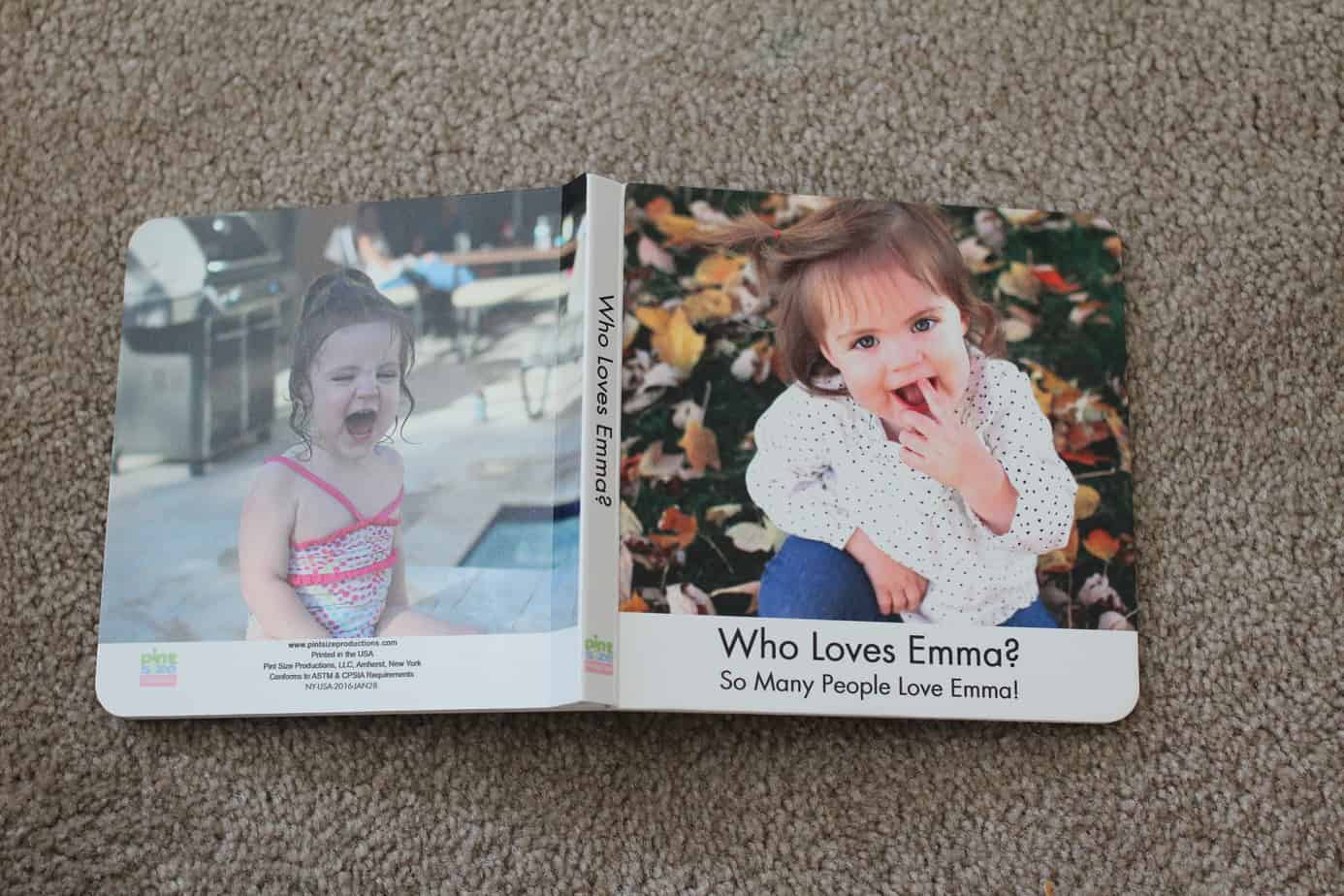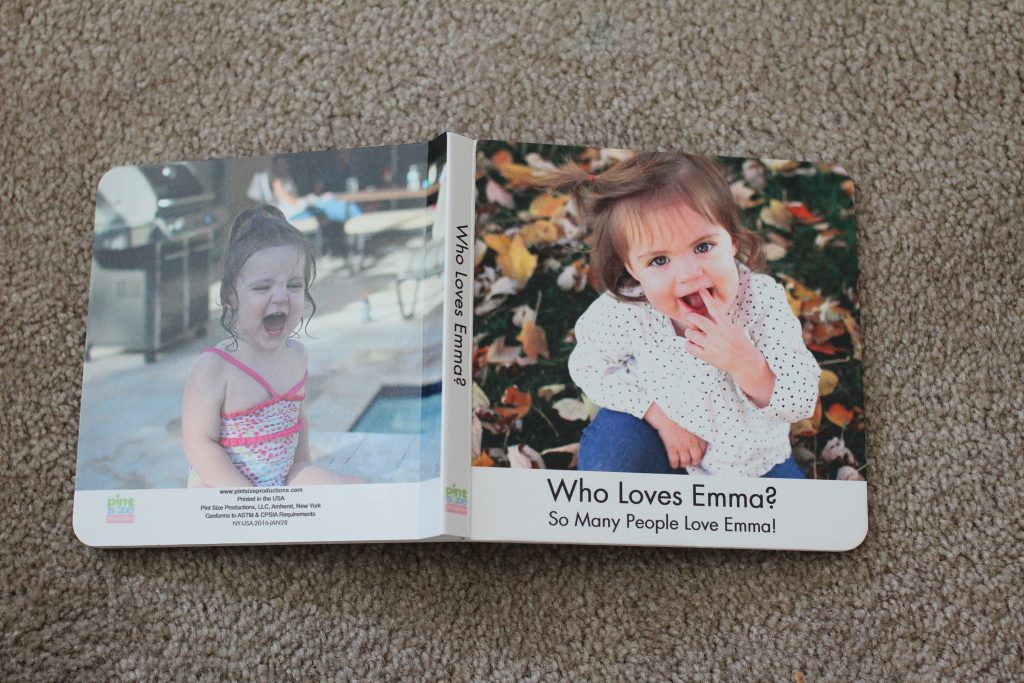 The girls were pretty excited when Emma's book came in the mail!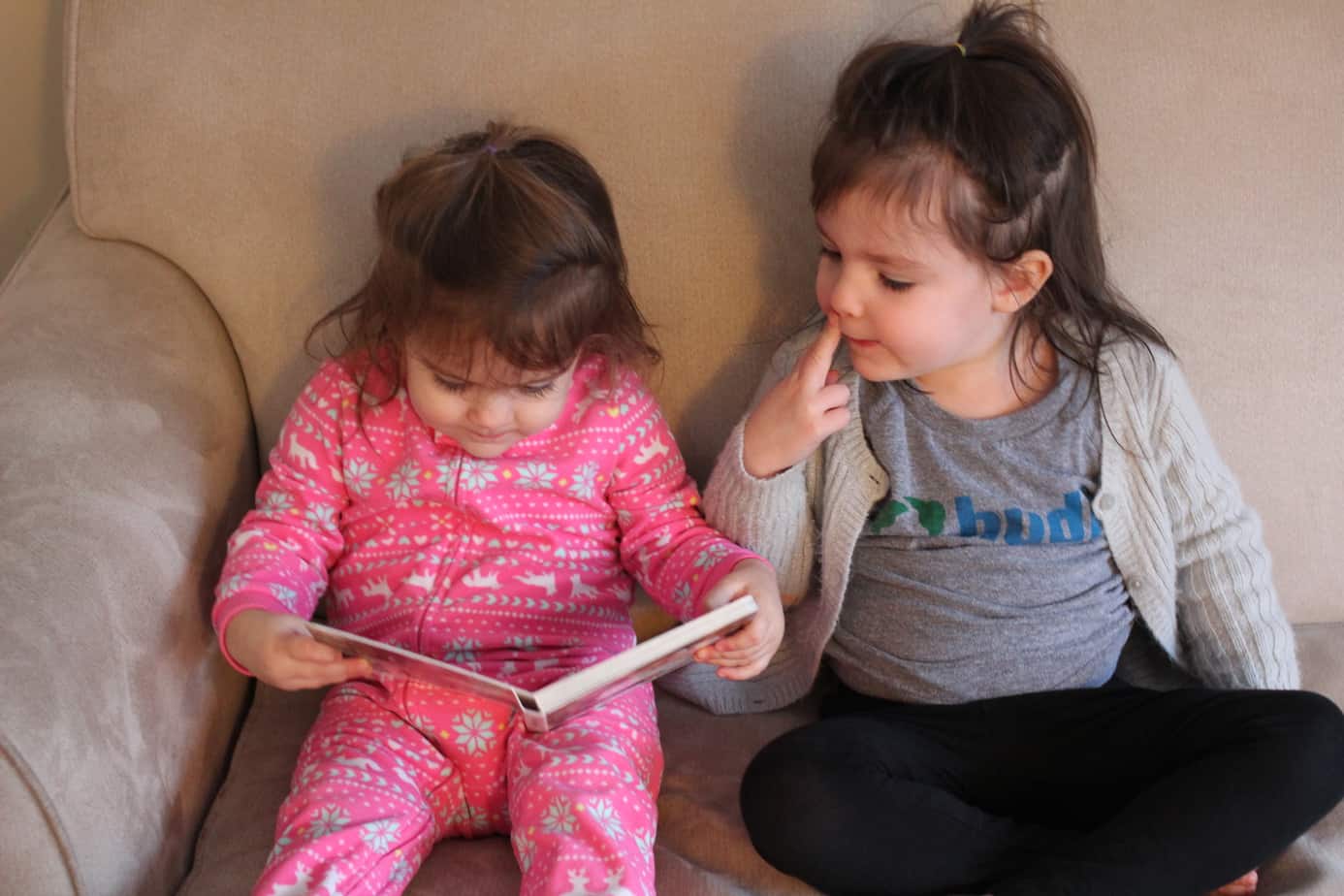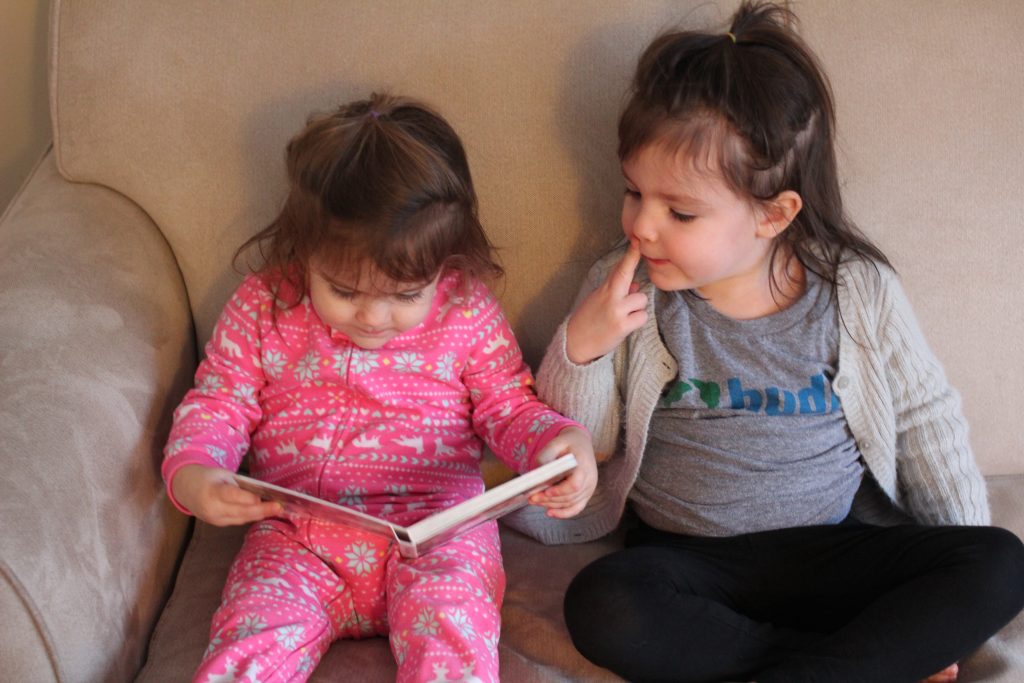 They would both squeal the name of the person they saw as they turned each page!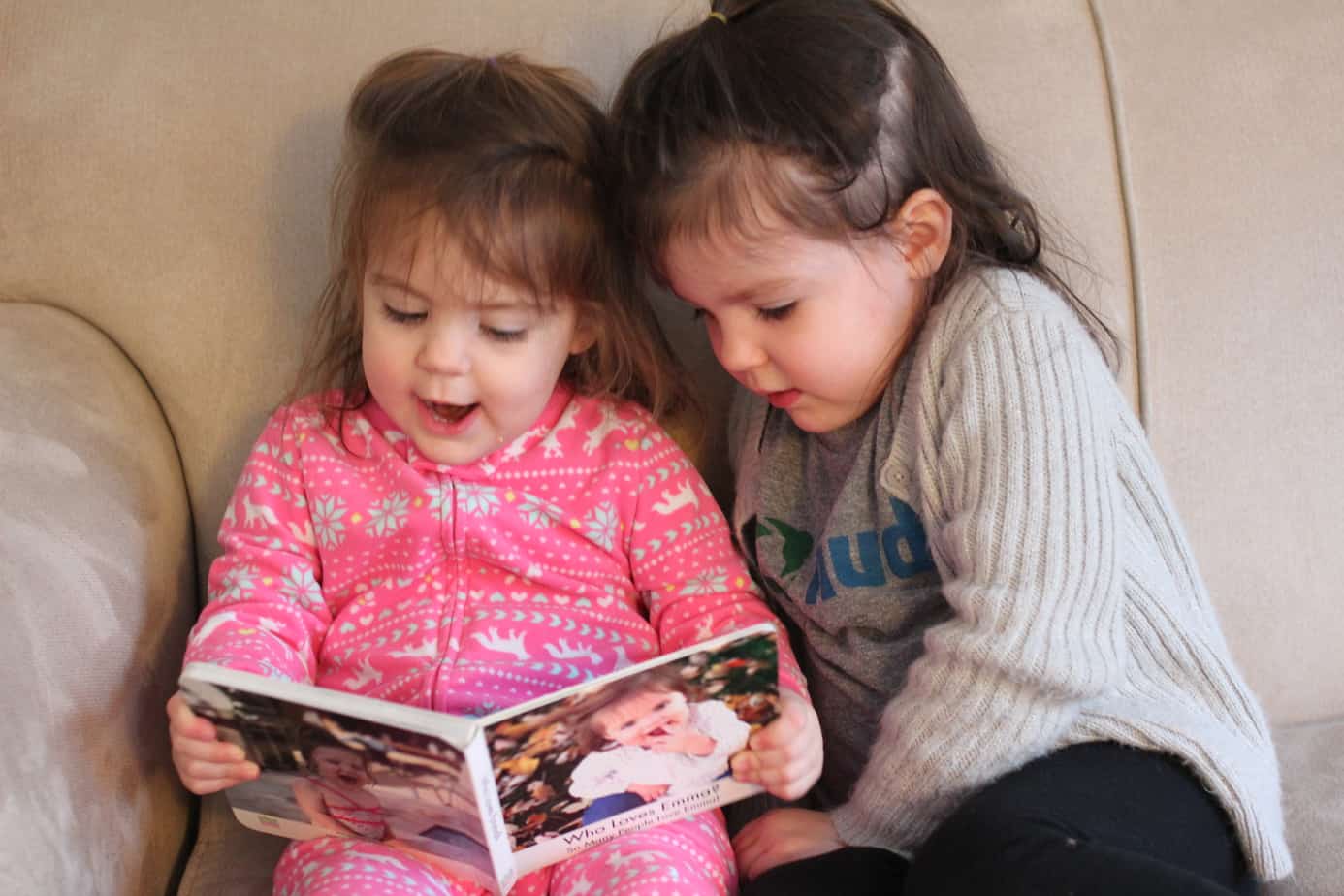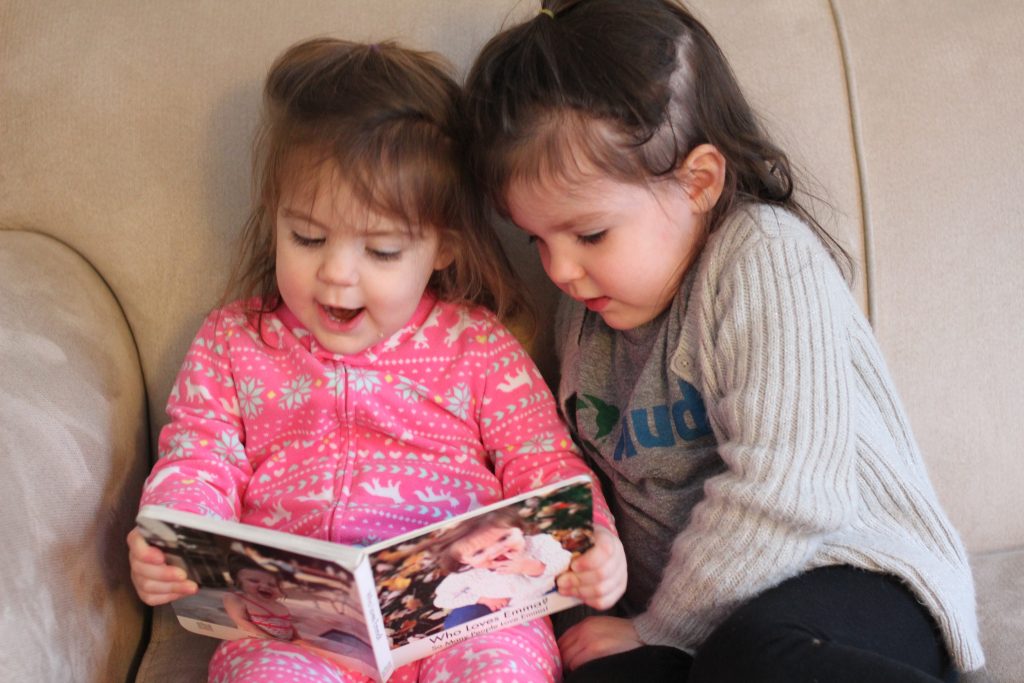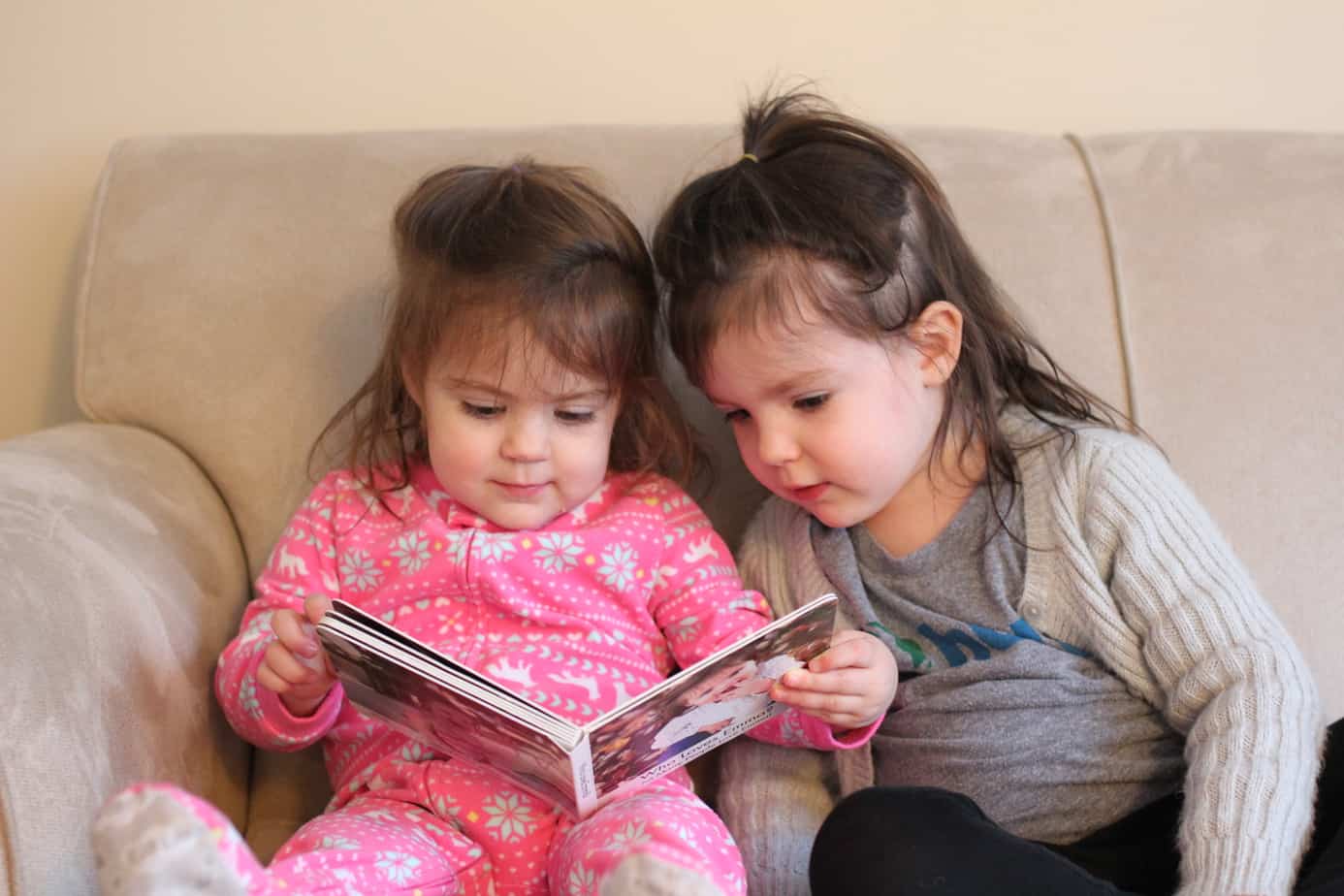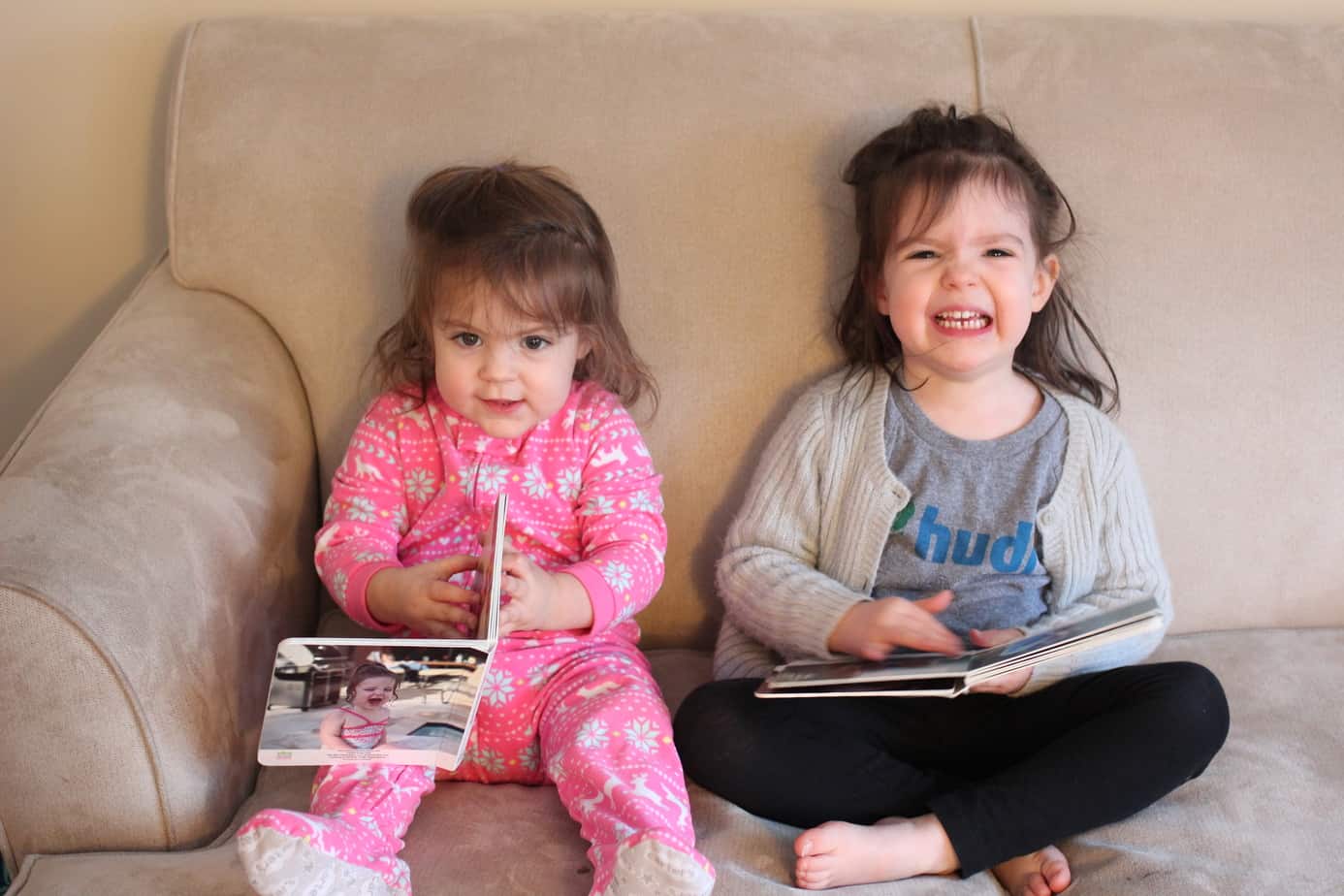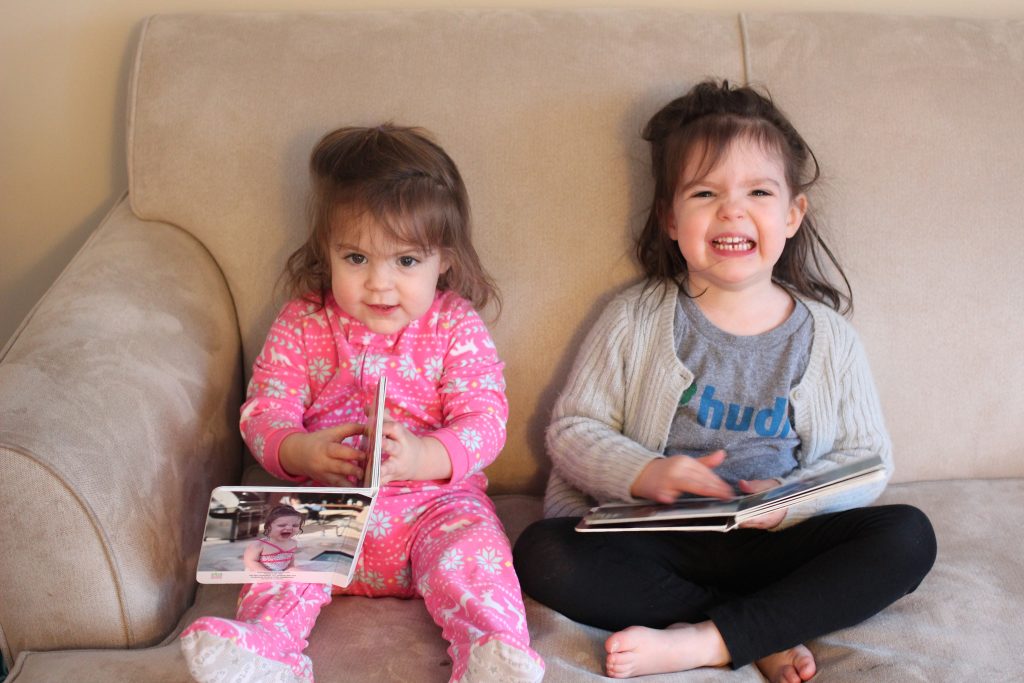 SEVERAL DESIGN OPTIONS
We went ahead and copied the same format of the book Addie already had – we put a picture on each page of Emma with a family member and wrote "Grammy loves Emma… Mommy loves Emma…"
But you can do anything you want. There are several different design options for your photo books. You can start from scratch…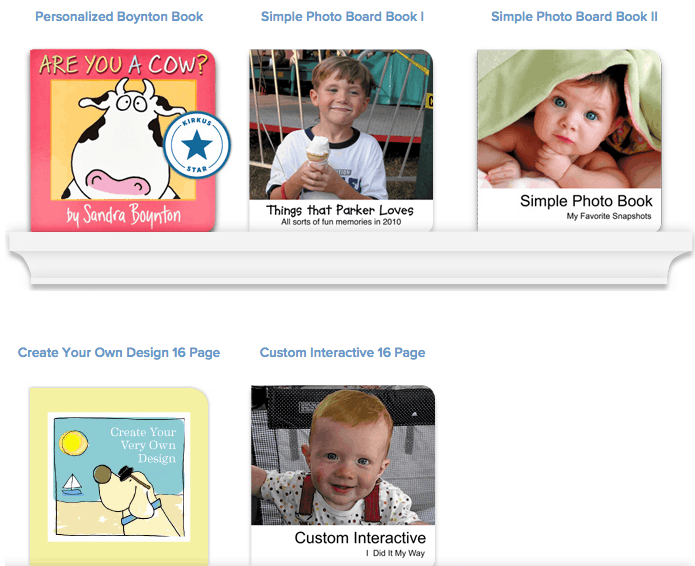 or use one of their predesigned templates.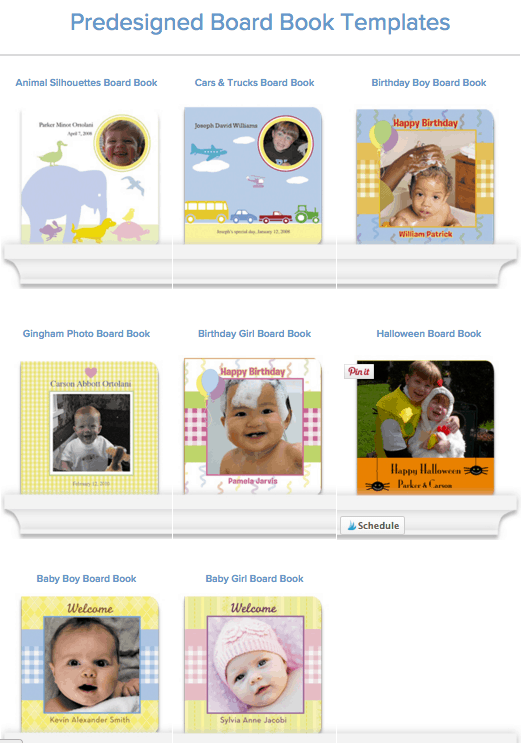 Once you choose your book design, you just create an account (so they can save the book you're making), drag and drop your pictures, and it's done! It took me 15 minutes start to finish after I already had my pictures chosen. (Here is how I organize all my pictures so that projects like this are quick.)
Plus, the people at Pint Size are very quick to respond and easy to work with, so if you did have a question while you were making it, you could shoot them an email and get some help.
I will say – I've used a lot of companies for photo gifts in the past, and I know there are a lot of options for these types of personalized photo books (pinhole press, artifact uprising, etc.) BUT – Pint Size Productions specializes in these board books. This is like their thing. And I think they were one of the first ones doing it. I'd highly highly recommend working with them any time. [Update: they've held up for years, and I plan to do similar books with Pint Size for 2 boys too!]
I love this idea for a infant or toddler birthday gift, or for their own version of a baby book. My kids love theirs.
Happy book-making, mommas!