Some of the links on this page are affiliate links. When you make a purchase through an affiliate link, I earn a commission at no cost to you. See my entire disclosure policy for all the boring details.
Our favorite thing to eat in the summer is meat off the grill. Grilling usually means quick, easy, and healthy… what's not to love!? We bought a $99 gas grill from home depot a couple years ago plus a $50 propane tank that lasted us 2 years of grilling. Worth it! You can probably cook most of these meats on the stove or in the oven, but they are so so tasty and easy on the grill. Plus, grilling is faster and requires less cleanup 🙂 Win win!
Lately, we've been trying tons of new recipes for grilling since my husband has been on phase 1 of the Ideal Protein Diet (which basically means meat + veggies only… no carbs, bad fat, or sugar.) Grilled meat soaked in healthy, sugar free marinades is basically our dinner every night. I figured I'd share a few of our favorite marinades we've stumbled on lately.
I love using these marinades to get dinner prepped first thing in the morning – here are 11 other tips for making dinner in the morning.
#1 – Pork Chops with Mushrooms and Shallots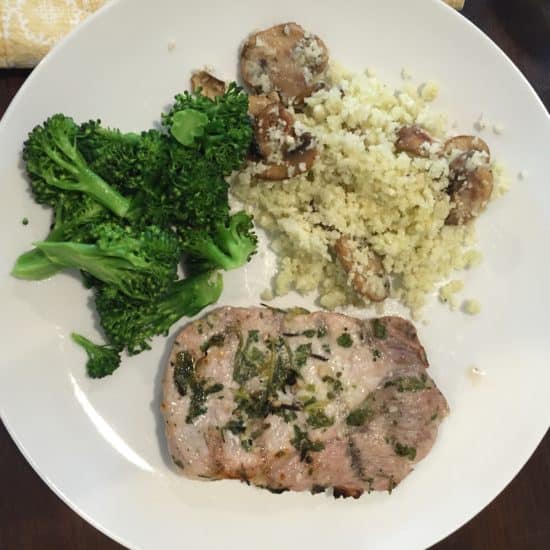 Ingredients:
1 tsp olive oil

4 pork loin chops (with bone), 1 inch thick, trim all visible fat

1/2 tsp salt

fresh ground pepper

1/4 cup chopped shallots

1 cup fat free chicken stock

10 oz sliced baby bella mushrooms

1 tbsp dijon mustard

2 tbsp chopped, fresh parsley
Directions:
In a large frying pan heat the oil over moderately low heat.
Season pork with salt and pepper. Raise heat to medium.
Add the chops to the pan and
Sauté for 7 minutes.
Turn and cook until chops are browned and done to medium, about 7-8 minutes longer.
Remove the chops and put in a warm spot.
Add shallots to the pan and cook, stirring, until soft, about 3 minutes. Add the stock to deglaze the pan, stir in the mustard, 1 tbsp parsley, then add mushrooms, season with fresh pepper and cook about 3 minutes, or until mushrooms are done. Put the chops on a platter and pour the mushroom sauce over the meat, top with remaining parsley.
#2 – Lime Cilantro Marinated Pork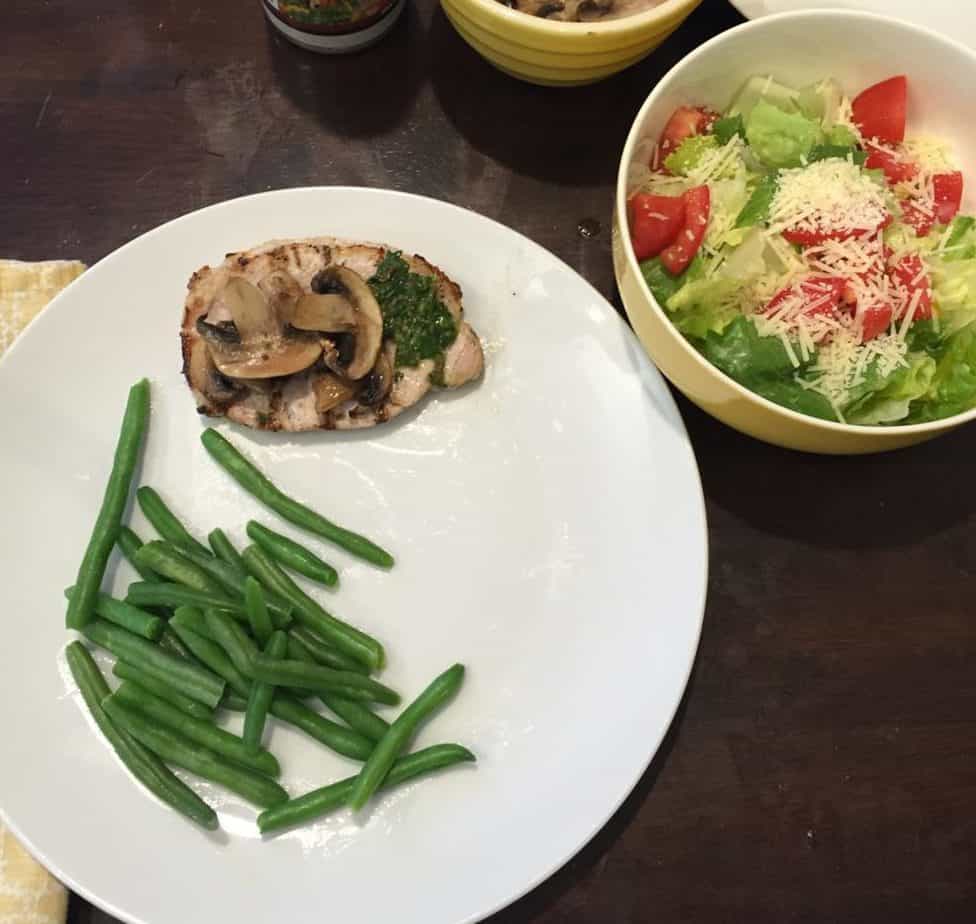 Ingredients:
1 Tbs. lime juice
2 tsp. olive oil
1 Tbs. apple cider vinegar
1/4 tsp. crushed/ minced garlic
1 Tbs. fresh cilantro finely chopped; sub 1.5 tsp. dried cilantro
1 Tbs. green onion, finely chopped
Sea salt & pepper to taste
Directions:
Whisk lime juice, vinegar, & olive oil in small bowl. Add remaining ingredients & mix.Marinade pork or chicken for 1-8 hours, then grill.
Annnndddd I forgot to take pictures of the rest. #NotAFoodBlogger
#3 – Grilled Tarragon Chicken
Ingredients:
2 raw chicken breasts
2 Tbs. lemon juice
2 tsp. garlic powder
2 tsp. onion powder
1/2 Tbs. dried tarragon
1 Tbs. olive oil
Directions:
Place all ingredients in plastic bag, shake until chicken is covered. Let sit at least 30 minutes. Remove chicken from bag & grill. (If you want to cook more chicken breasts, increase the marinade ingredients accordingly.)
I don't know what to say about this one. Buy some tarragon and try it. It's a good basic grilled meat. The leftovers could go in a salad. Yum!
This is my mom's recipe & one of my all time favorite pork marinades. You can bake the whole pork tenderloin in the oven or marinade the entire thing, but then slice it up for the grill.
#5 – Thai Dressing Marinade
1 clove garlic, finely chopped
1/2 teaspoon fresh ginger, finely sliced
3 Tablespoons rice vinegar
1 teaspoon Splenda or Stevia
1 teaspoon soy sauce
1/4 cup olive oil
1 teaspoon sesame seeds
1/4 teaspoon red pepper, crushed (I just sprinkle a little in since I don't like spicy)
This last one is from my husband's aunt. It's AMAZING!! I mix it all together and marinade some thin chicken breasts to grill. Once they're grilled, I serve over rice with steamed veggies on the side or chop them up into smaller pieces and serve in lettuce wraps.
Another way to make this last one is – cut up the raw chicken into approximately 1 inch pieces, mix it well with marinade, and cook it in a wok or large skillet on the stove. You could add any veggies you like to make it a stirfry, or serve it in lettuce wraps.
So there you go – our current 5 favorite marinades for easy & healthy summer cooking. What are your favorite marinades?! I love trying new ones all summer long. Share your best ones in the comments below and/or leave a link to the recipe.