Some of the links on this page are affiliate links. When you make a purchase through an affiliate link, I earn a commission at no cost to you. See my entire disclosure policy for all the boring details.
I'm trying something a little different with my monthly menu plan for March: freezer cooking & cooking for more leftovers. I've been planning & shopping for monthly meals instead of weekly for a while, and I'm still loving it. (Read more about why I love monthly meal planning and how I plan and shop for a month at a time.) This month, I decided to include meals from one of those "127 freezer meals in 30 minutes" shennanigans you see on pinterest. I've never tried freezer cooking in advance, and it hasn't really appealed to me before. I don't mind throwing together a quick dinner most nights, and since I'm home full time with the little ones, I have the time to cook. Plus, thanks to my good friends Thomas the Tank Engine, Elsa & Anna, my 30 minutes of cooking time is often somewhat kid-free 😉
The only way I've really freezer cooked in the past is to "double and freeze" if I'm making something that freezes easily like chili or baked ziti. I just double whatever that I'm already making anyway. It's no extra work for double the meals.
This month, though, I was inspired by this post to try my hand at bulk cooking double recipes of 3 freezer meals for a total of 6 meals in the freezer. It's not that many meals at once, so I'm hoping it's not too crazy. I plan to spend an hour or two on Saturday putting those 6 meals together. Also, each of those 3 meals is big enough for us to eat 2 nights in a row. Win! Plus, I put a couple of my "double and freeze" meals in the rotation to give us additional freezer meals.
So here's what my seemingly empty meal plan looks like for March. We always eat a steamed veggie and/or a salad on the side. Sometimes fruit, and sometimes rice or potatoes.
1 – pepperoni pizza braid (basically, stromboli)
2- bean & cheese burritos
3 – pan fried pork chops
4 – chicken enchiladas (double and freeze; this is my all time favorite enchilada recipe)
5 – leftovers | make 3 freezer meals, double each of them
6 – family dinner
7 – chicken taco soup (freezer meal)
8 – leftovers
9 – teriyaki chicken (freezer meal)
10 -leftovers
11 – mac & cheese (double and freeze)
12 – leftovers
13 – family dinner
14 – slow cooker BBQ Chicken & Veggies (freezer meal)
15 – leftovers
16 – chili (double and freeze)
17 – leftovers
18 – chicken bacon rollups (my sister in law's recipe – I'll post it when I make it!)
19 – leftovers
20 – family dinner
21-28 out of town
28 – breakfast food (aka: something that can be made easily when we get back from an 8 hour drive with kids. there is a 95% chance this will end up being takeout. #justsayin)
29 – use a freezer meal
30 – leftovers from yesterday's freezer meal
If this works out as planned, we'll spend less money than usual, or close to the same amount, and have 5 meals in the freezer to use next month. I'll let you know 🙂
To make my grocery list & cooking process easier, I put all the recipes I'm using for freezer meals in one spot, which you can download for free here if you want! Or, view in google drive. Also, the links above will take you to the original recipe pages.
(Clicking the image below will open the file in google drive. Use the link above if you want to download the pdf version.)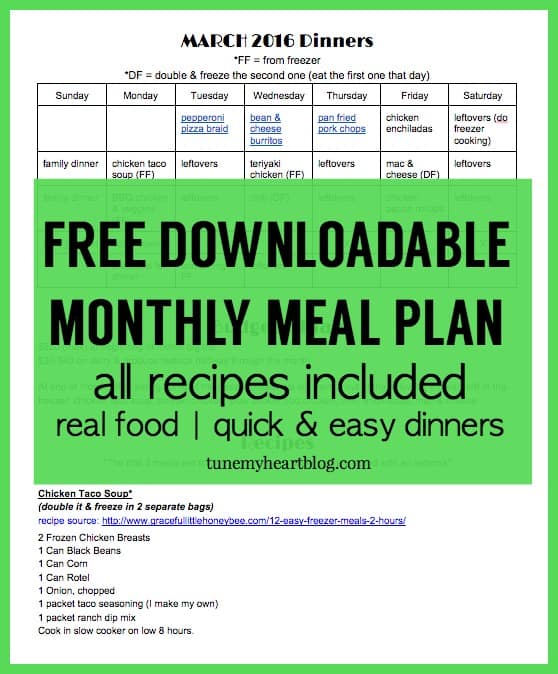 As always, my super fancy & totally pinterest worthy monthly meal planning calendar is free to download too!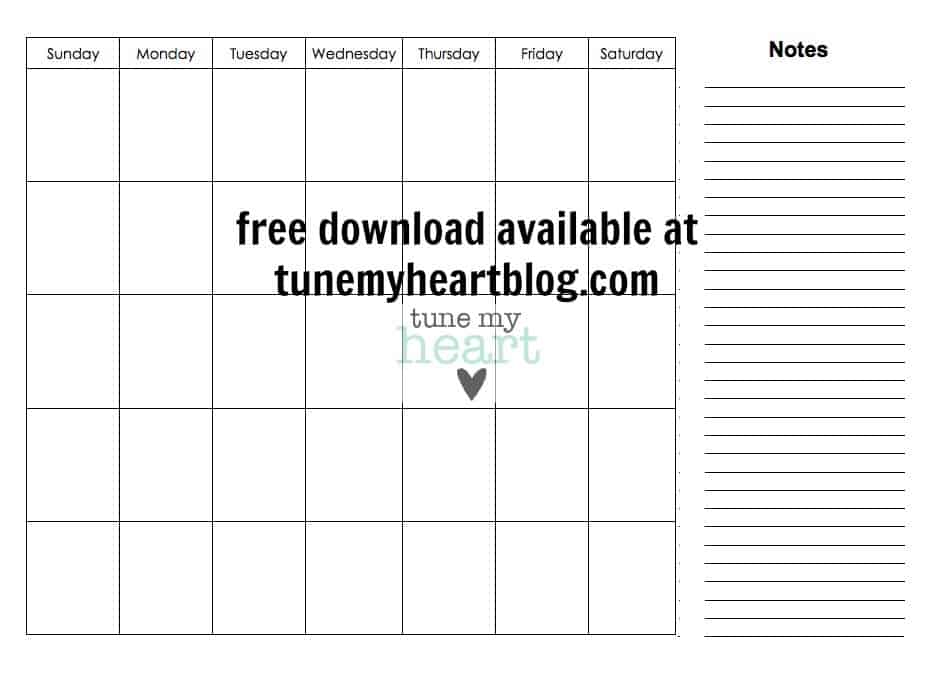 Anyone have any favorite freezer meals to share?!