Some of the links on this page are affiliate links. When you make a purchase through an affiliate link, I earn a commission at no cost to you. See my entire disclosure policy for all the boring details.
The following is a guest post from Jessica. Her foodie blog is amazing. [Warning: if you read it when you're hungry, you might cry.] Read this recipe, then make these mouth-watering apple pie crescent rolls that somehow count as breakfast and/or dessert, then go swoon over her beautiful food pictures on her site.
---
Hello! I'm Jessica and I'm delighted Renee invited me over to share a recipe with y'all today.
On my blog, I share my favorite recipes and best kitchen tips with the prayer that they will encourage us all to gather around the table more often with good food and great company. My husband and I live in North Carolina just outside of Charlotte and we are in the process of adopting our first child from the Philippines. Thanks for having me over, Renee!
Today, I'm sharing a new favorite around our house in honor of fall – Apple Pie Crescent Rolls! But, before we get to these delicious apple pie bites, can we talk about how lovely Renee's blog is?
Her recent post about boxed cake mix and what's on and off her balance beam completely resonated with me! How often do we try to add more and more to our to-do list because we think it's what we should be doing or what Pinterest tells us all good women/moms/Christians are doing? This time of year is particularly bad with Christmas decorations and Thanksgiving menus just around the corner and the fresh burst of productivity and obligations that the back to school time brings.
To echo Renee, it's totally okay to just say no to fancy pie recipes or meticulously designed cakes and anything involving glitter. Honestly, glitter is permanently off my balance beam. Let's release the hustle and bustle of the upcoming season and the constant pressure to do more. It's fall and the leaves are changing and the apples are ready to be picked!
My prayer for all of us is that we can find a small, quiet bit of time to take something off our balance beams and instead drink a favorite beverage (my choice is always a latte), savor the day the Lord gave us, and hopefully enjoy a delicious and easy snack like these Apple Pie Crescent Rolls.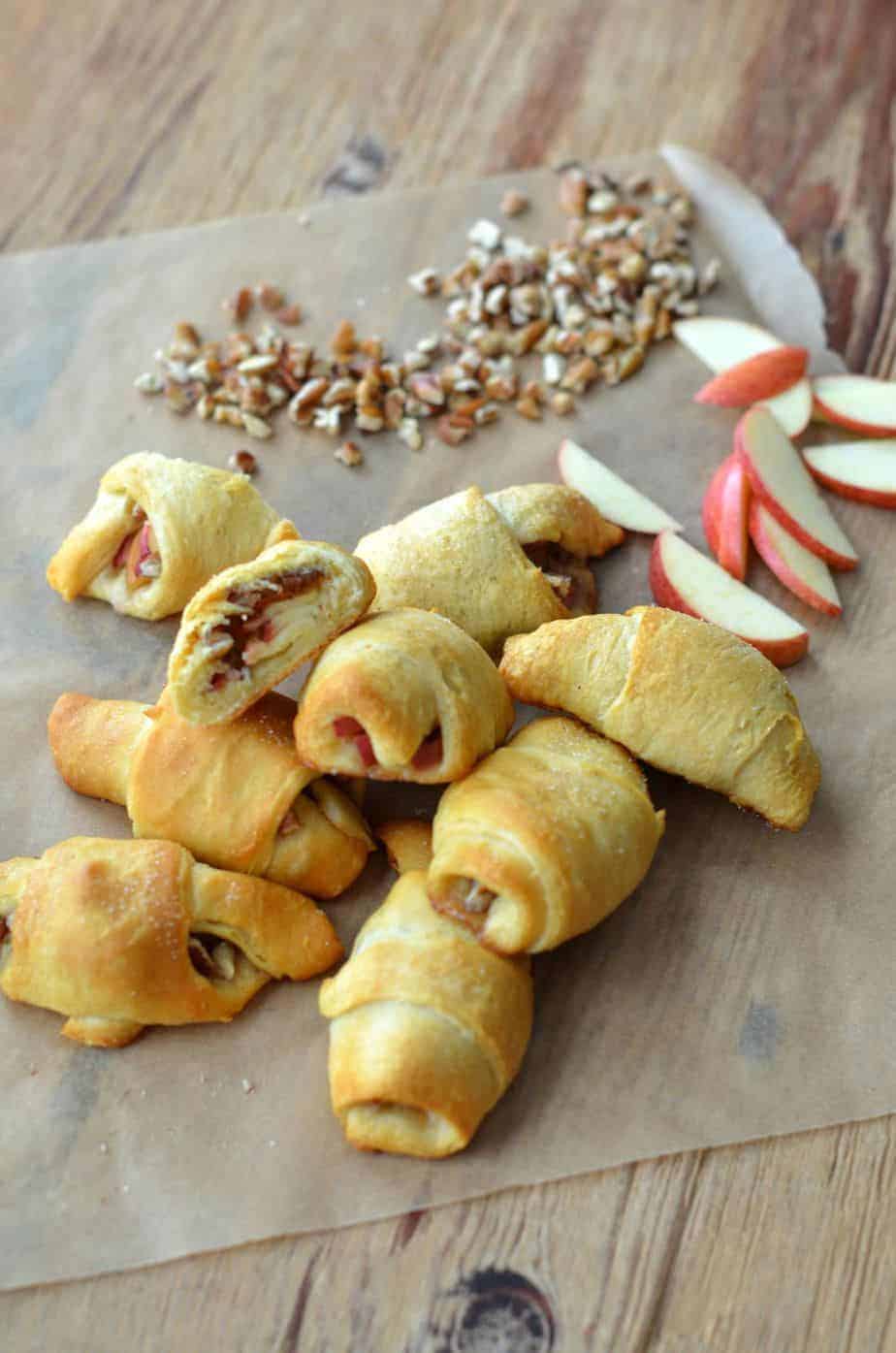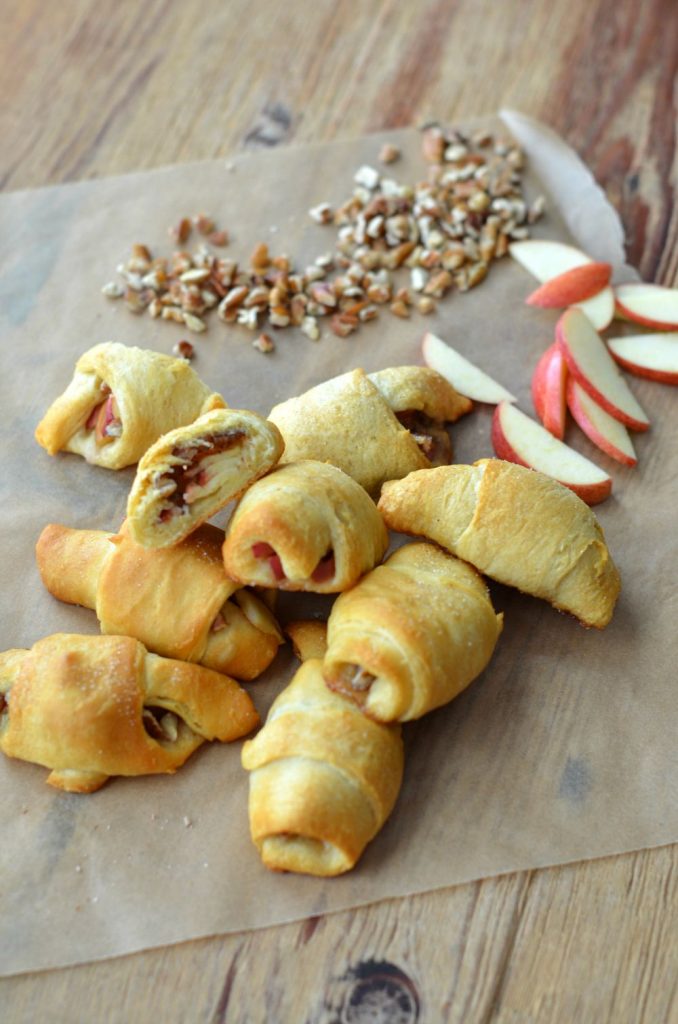 Apple Pie Crescent Rolls are filled with thinly sliced apple, crunchy pecans, maple syrup, and cinnamon. With the flaky crescent dough, they taste just like little bites of apple pie – no crust rolling required. The perfect Saturday morning breakfast or after school snack!
These will take you about 10 minutes to prepare and 15 minutes in the oven. You'll know they are ready to come out because your house will smell like a delightful fall cinnamon apple candle.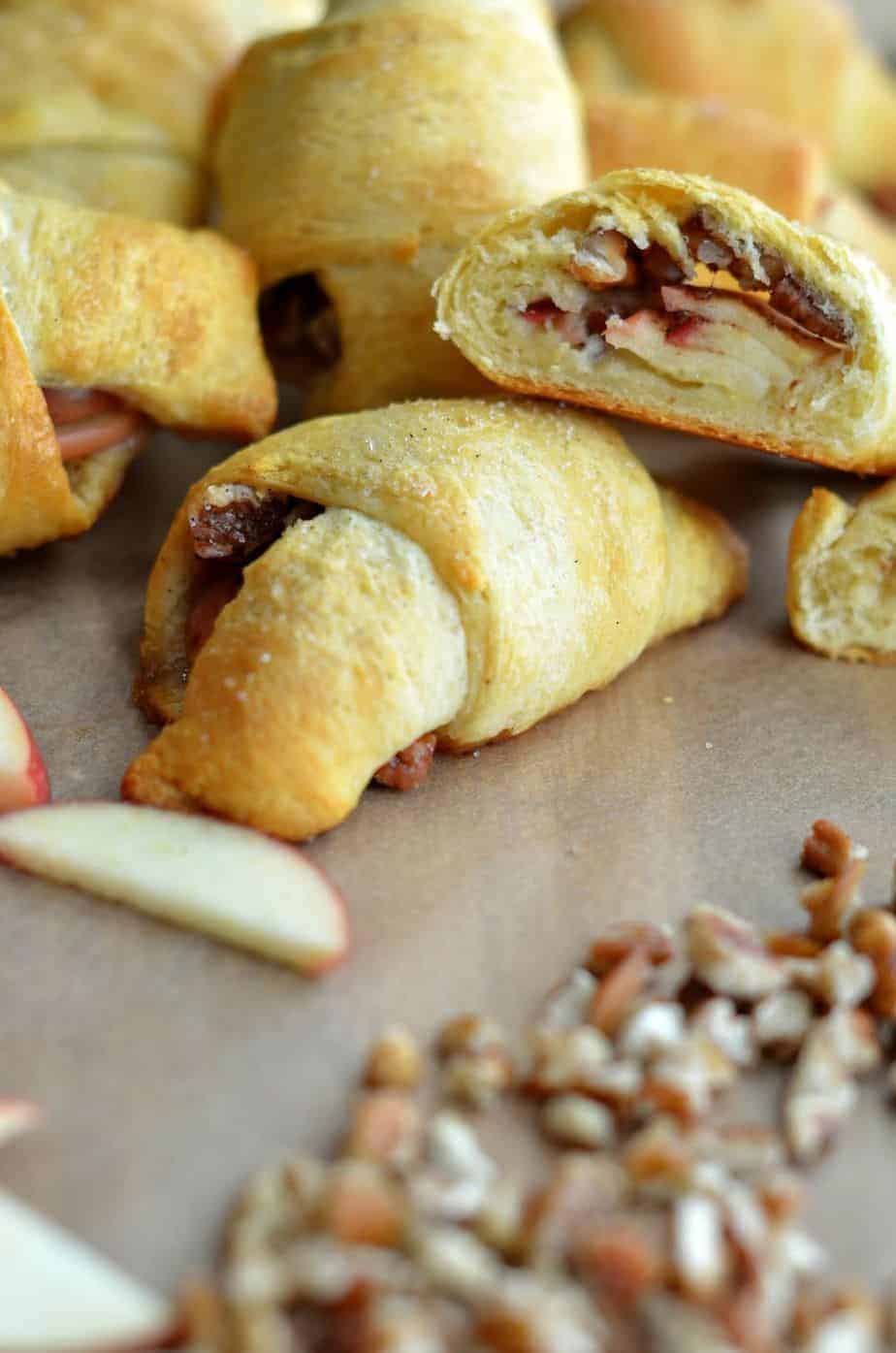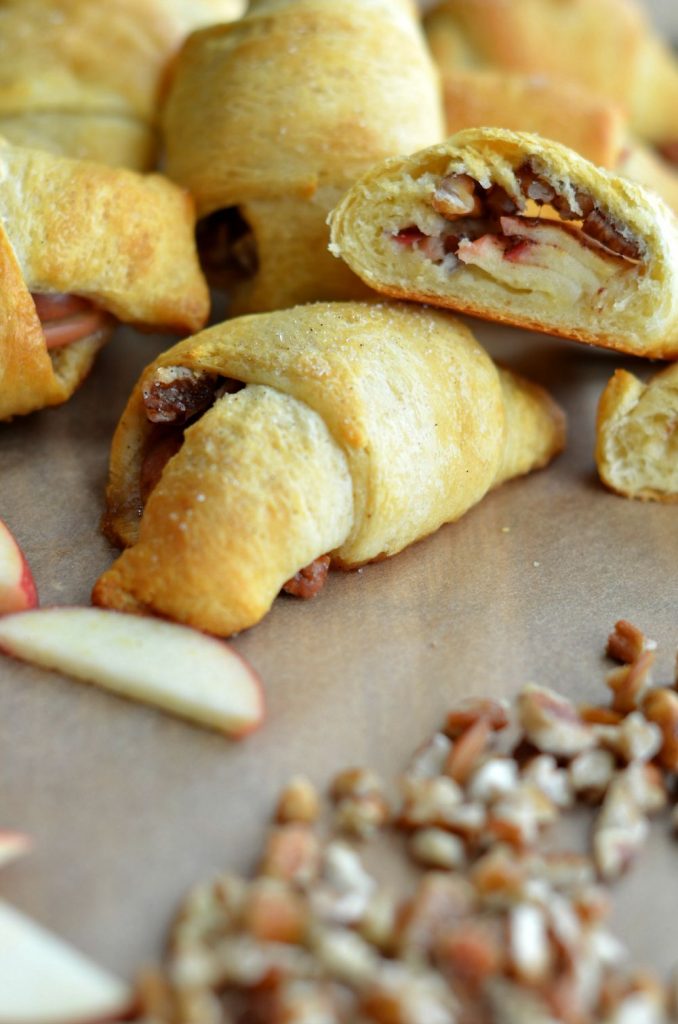 One quick note: when they are fresh from the oven they smell delicious and look so tempting, but are also hot little pockets of steam. I learned this the hard way! Let them cool just a bit or cut them in half before diving in.
I hope you enjoy!
Apple Pie Crescent Rolls
Ingredients
8 oz tube crescent rolls
1 apple, thinly sliced
¼ cup chopped pecans
2 tbsp maple syrup
½ tsp cinnamon
1 tbsp sugar
Directions
1. Preheat oven to 375 and line a baking sheet with parchment paper or aluminum foil.
2. Separate crescent roll dough and place each piece flat on the baking sheet. Top with 3-4 thin slices of apple and sprinkle on a handful of pecans. Lightly drizzle with maple syrup and a pinch of cinnamon.
[easy-image-collage id=2688]
3. Roll crescent dough and place seam side down. Sprinkle tops with pinch of sugar.
4. Bake for 14-15 minutes until tops start to brown.
5. Remove from oven, cool slightly, and enjoy!
Jessica Wood is an obsessed foodie, habitual coffee drinker, and creative communication professional. See her latest recipes and kitchen tips atJessicaNWood.com and connect with her on Instagram @JessicaNWood.