Some of the links on this page are affiliate links. When you make a purchase through an affiliate link, I earn a commission at no cost to you. See my entire disclosure policy for all the boring details.
A few years ago, our family started a really simple Jesse Tree tradition during Advent, and I loved it! A friend and I threw together a Jesse Tree Ornament Exchange as an inexpensive and relatively quick way to get a bunch of hand-made Jesse Tree ornaments for Advent.
Here's How It Works
We had 11 people in our Jesse Tree ornament exchange, and 25 ornaments to do – one for each day of Advent. So, everyone signed up for 2 ornaments and made 12 exact copies of the same ornament. You could just host a Christmas party where everyone brings their completed ornaments and you eat, drink, swap and be merry!
Because we didn't plan this idea until right before Advent started, we gave people the option to come make ornaments craft-party style. About half the participants came for the afternoon to finish crafting theirs, and half just showed up for the drop off/ exchange part.
Passing Ornaments Out
Surprisingly the trickiest part was divvying up the ornaments at the end. You may think it sounds silly, but here's the process I'd suggest:
Everyone brings a container or bag to carry their ornaments home (or the host provides lunch-sized brown paper bags, or clear ziplocks)
Lay out piles of ornaments in a line… kind of like this except don't do them in a square… trust me, put them in a line. The square was so complicated.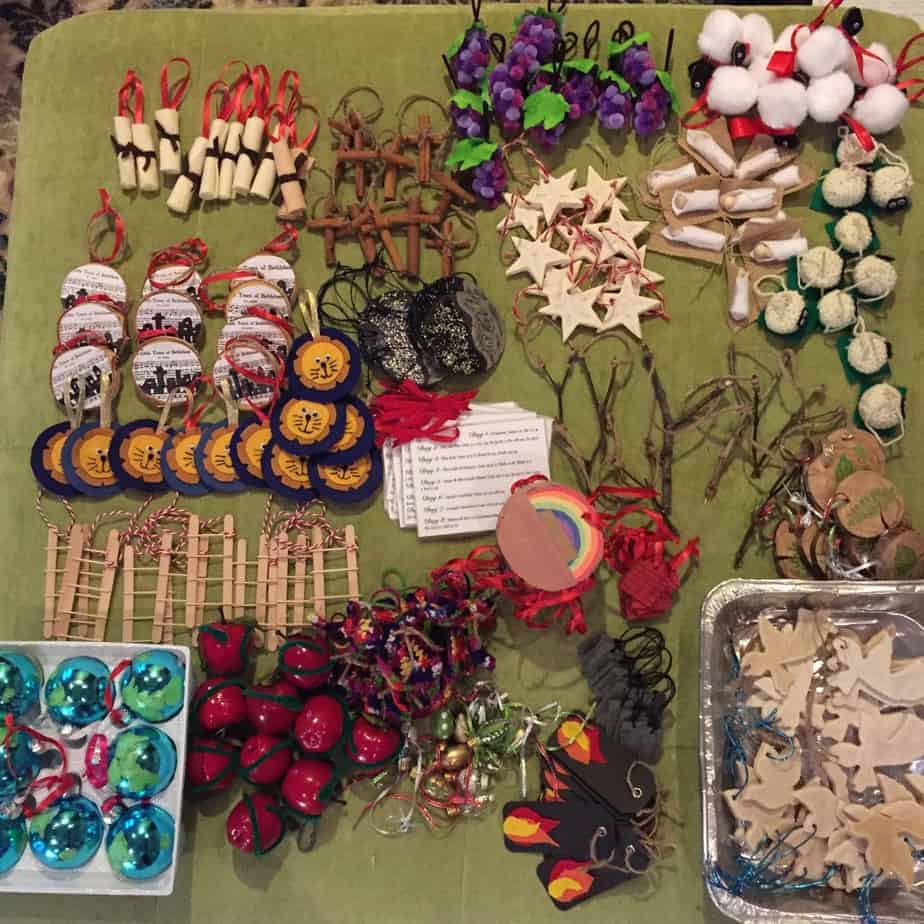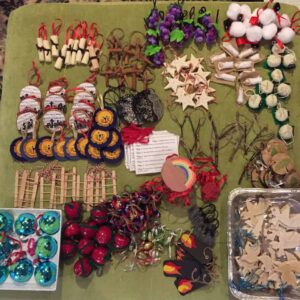 Have a sheet that lists the days and the ornaments for people to take home, so they can pair up their ornaments with whatever verse/story method they're using.
Have each person go through the line with her own bag putting one of each ornament in her bag.
If you hate crafts but want Jesse Tree ornaments…
My mantra when it comes to stuff like this is: Do what works for you. If a crafty ornament exchange sounds like a slow, painful, torturous death, buy a Jesse Tree coloring kit for your kids to do on Amazon. Here are some Jesse Tree ornaments on Etsy, or you can just print this kit for free.
I like crafty ornament exchanges because crafts is my jam! I dream of hosting a monthly craft nights when my littles are bigger. If Ben works late, I quilt. Also, I used to be a music teacher. So, planning an Advent calendar with a coordinating ornament is literally fun for me. I am channeling my inner elementary school teacher onto my whole family. (Lucky them…)
If you are drowning in life and have no room for anything but survival, skip a Jesse Tree this year. Instead, spend your free time during Advent reading your Bible, singing carols, hanging out with family, and resting in Jesus' love, joy, peace and hope.
Our Ornaments
And just for fun inspiration if you decide to make your own, here are all the ones from our Jesse Tree ornament exchange! My friend who hosted the Jesse Tree ornament exchange made these printable cards for everyone to go along with the ornaments. She said I could share them with you! CLICK HERE TO DOWNLOAD THEM (and click here to read more details about doing a simple Jesse Tree with kids.)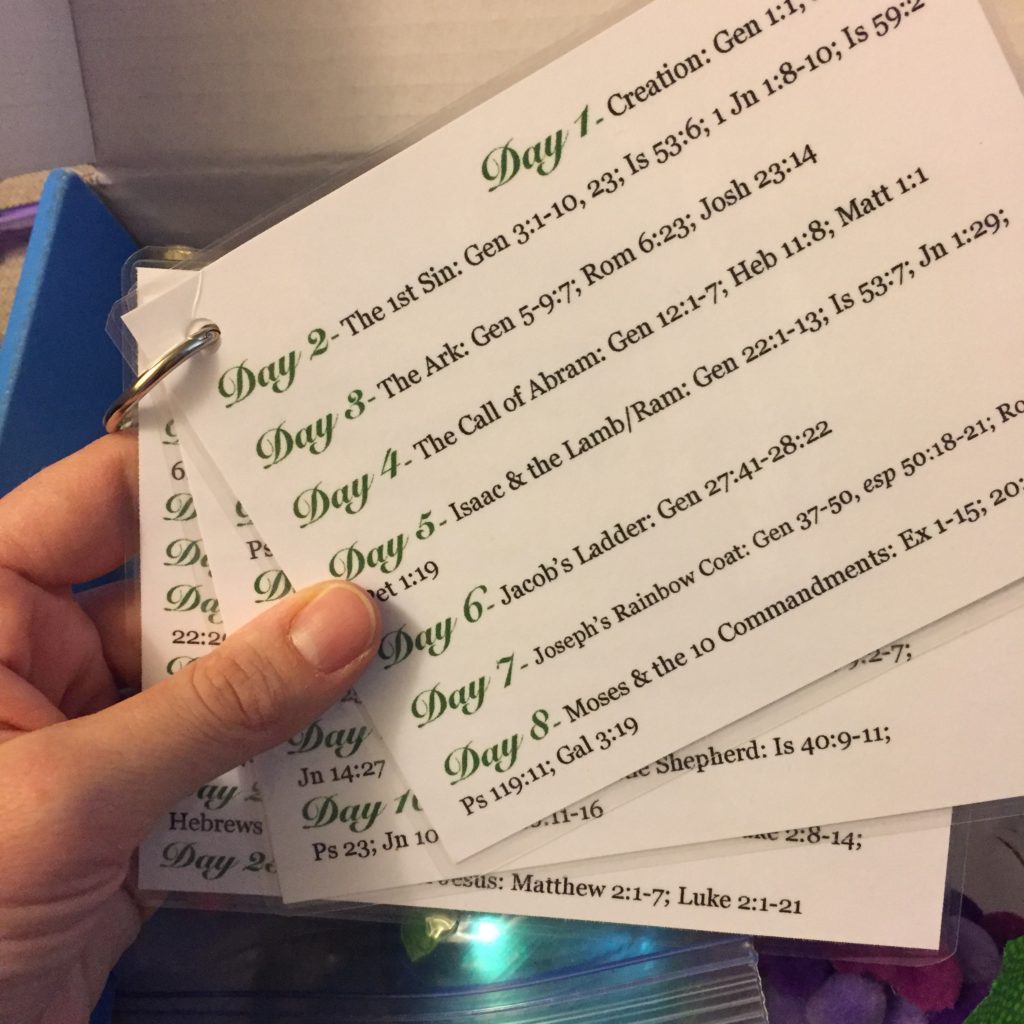 FYI – There are several different versions of a Jesse Tree, with slightly different verses to go with each day. But, every Jesse Tree focuses on Old Testament prophecies of Jesus' birth and stories of people in His ancestry. The stories and ornaments below correspond with the cards above. If you order different ornaments, you might need to tweak my cards slightly.
These turned out so great – I loved everyone's different ideas. What's your favorite?
[easy-image-collage id=3466]
The pictures are in order left to right, top to bottom.
Day 1: Creation (earth)
Day 2: The 1st Sin (apple + snake)
Day 3: The Ark (rainbow)
Day 4: The Call of Abram (sand + stars)
Day 5: Isaac & the Lamb/Ram (lamb)
Day 6: Jacob's Ladder (ladder)
Day 7: Joseph (rainbow robe)
Day 8: Moses & 10 Commandments (tablets)
Day 9: Canaan & Promise of Blessings (grapes)
[easy-image-collage id=3471]
Day 10: Ben and Renee. JK, Boaz & Ruth (heart)
Day 11: King David (Slingshot)
Day 12: Josiah finds the law (scroll)
Day 13: Prophecy, Shoot from the Stump of Jesse (leaf on stump)
Day 14: Prophecy, Lion & the Lamb (both are pictured here – they're on the same ornament back to back)
Day 15: Prophecy, Prince of Peace (dove with crown)
Day 16: Prophecy, Gentle Shepherd (sheep + staff)
Day 17: Prophecy, The Suffering Servant (cross)
[easy-image-collage id=3473]
Day 18: Prophecy, New Covenant (heart)
Day 19: Prophecy, Bethlehem (hymn + town outline)
Day 20: The Exile (flames)
Day 21: Return to the Land (brick wall)
Day 22: The Star (star)
Day 23: The Light of the World (lightbulb)
Day 24: Angles Proclaim the Coming of Christ (red angels/ stable picture)
Day 25: The Birth of Jesus (baby in manger)
Have you done a Jesse Tree or do you have any Advent Traditions?