Get Your Baby to Sleep through the Nightand on a predictable, daily, routine
​
​
Goodnight, Baby!
a concise, practical guide to helping your baby establish a healthy routine and learn to sleep through the night.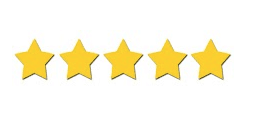 The Principles You Will Learn
for Creating Routines and Establishing Healthy Infant Eating + Sleeping Habits
How to get full feedings in and why it matters
Why (and when) you should be waking your baby up
What to do during middle of the night feedings
Why nursing baby to sleep hinders the process and what to do instead
Tired cues, wake times, and sample schedules
Simple bedtime routines that work
Teaching baby to take longer naps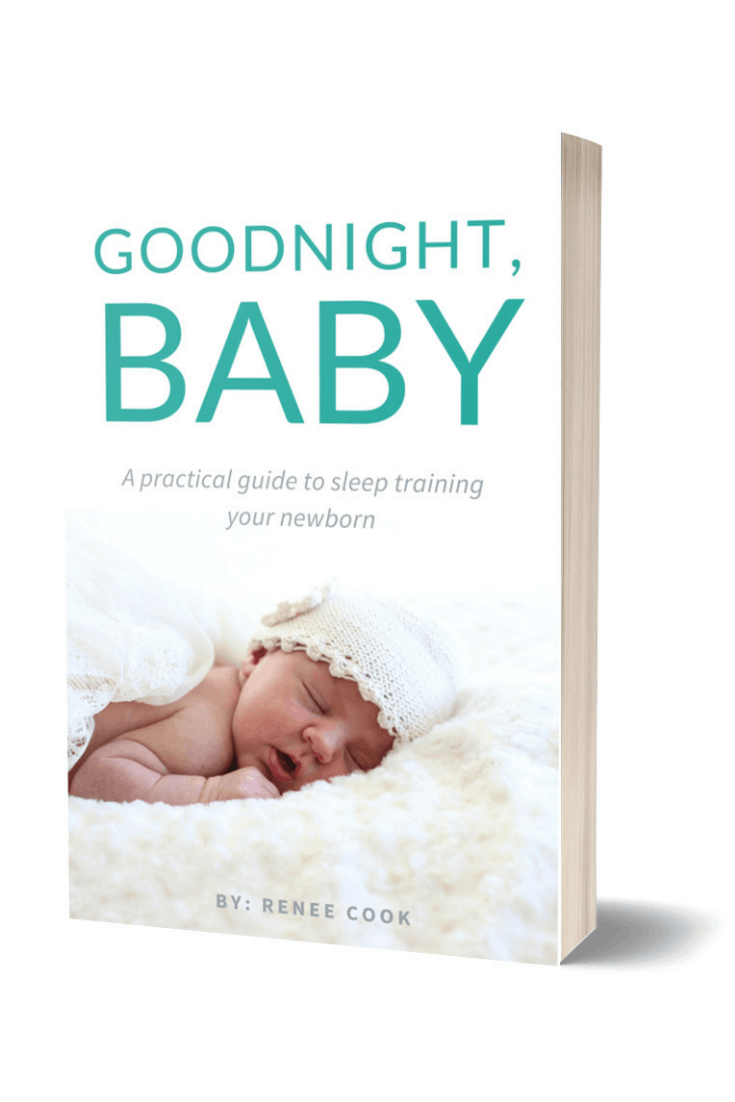 ​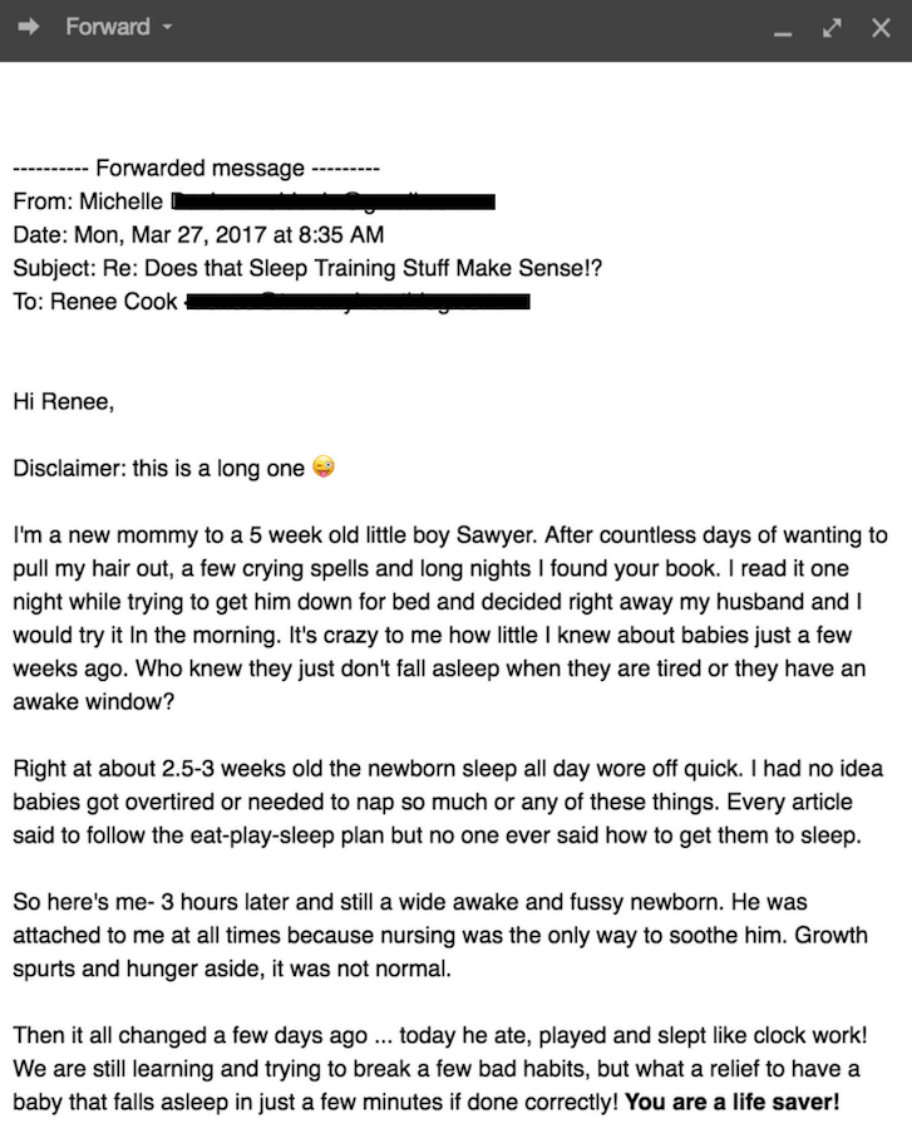 HAVE A PLAN THAT WILL WORK FOR YOUR FAMILY
Pregnant and wondering how the whole sleep-training thing works?
Want to get your newborn on a predictable daily routine?
Desperate for your baby to take reliable naps?
Tired of not knowing whether your baby is hungry or tired?
​
WHAT OTHER MOMS ARE SAYING​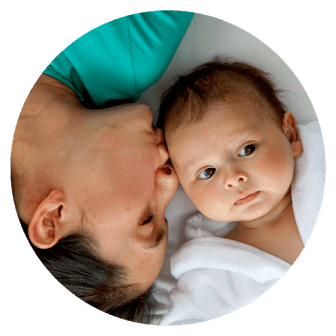 "This book is everything I have needed. I have started to do as the book says this past week and I see such a big difference. I was sure my baby was colicky, but now he naps every 45 minutes and sleeps more soundly. And, he doesn't cry for hours before bed. Little one is a much happier, as am I. We can't thank you enough."
-Laura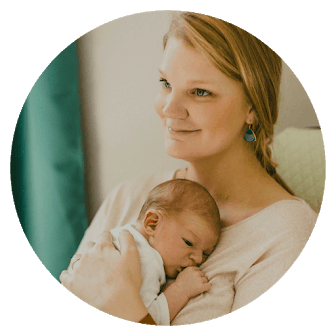 "After countless days of wanting to pull my hair out, crying spells and long nights, I found your book. This book changed it all … today, he ate, played and slept like clock work! We are still learning and trying to break a few bad habits, but what a relief to have a baby that falls asleep in just a few minutes! You are a life saver!"
-Michelle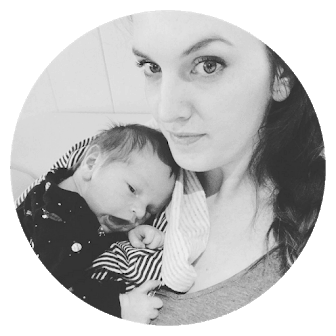 "Renee's book is an easy read & contains practical tips every mommy should know. Within a week of implementing some of these tips, I'm seeing not only better sleep for our 3 month old, but a happier, well rested baby."
-Faith
WHAT'S INSIDE?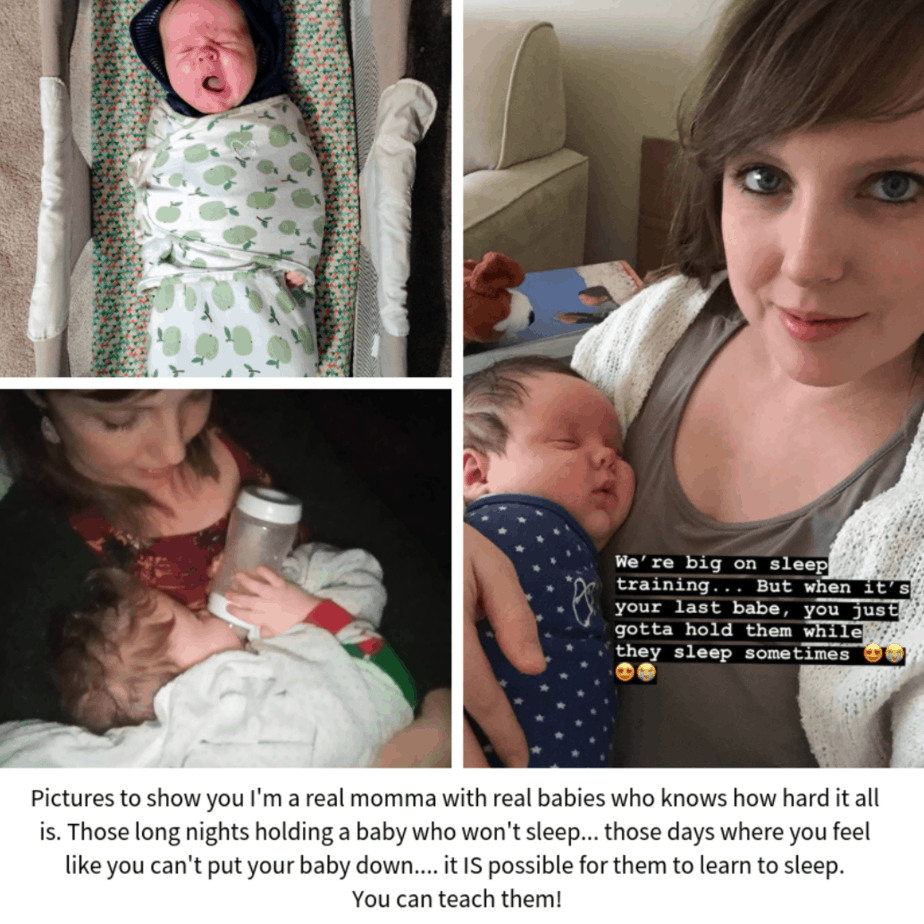 A "SHORT CUT" – You don't need to read a 500 page manual to understand sleep training. This guide is 40 pages long. It tells you everything you need to know and nothing more.
TIPS FOR EVERY KID – This proven method has worked with all 4 of our kids (with varying personalities and sleep needs) and countless others.
TONS OF STRATEGIES – Several lists of ideas for troubleshooting when things don't go as planned. Because no baby is perfect!
ACCESS TO A PRIVATE FACEBOOK GROUP COMING SOON – You will get access to a private facebook group where you can ask all your baby questions!! This community offers encouraging support and advice!
PEACE OF MIND – Know you're going to use a method that works and you won't end up paying an expensive sleep consultant to help you in the future.
BUT WHAT IF IT DOESN'T WORK?
We are so confident in this product, and we want this guide to help you and your baby!!
We don't think you'll need our MONEY BACK GUARANTEE, but it's there just in case.
If for some reason, the method doesn't work for your baby or jive with you, email to ask for a refund. We want you to purchase with confidence and know that you will all be sleeping better after using this guide. If it's not for you, we'll make it right!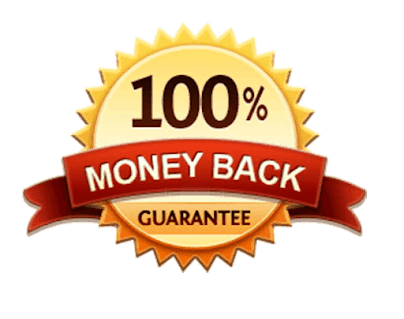 FREQUENTLY ASKED QUESTIONS
"Don't babies just kinda figure out sleep on their own?"
It depends on the baby. Some babies are super relaxed… some, not so much. We've had both! Our third baby was NOT chill. But he was able to learn to take consistent naps and sleep 8 hours by 12 weeks old (and 12 hours by 16 weeks). Who knows how terrible of a sleeper he would have been had we not used this system!?
Our fourth baby, on the othe hand was SO chill. We used this method from the beginning with him, because it had worked for all our other children. But, I have a feeling he might have just been a pretty easy baby no matter what sleep training method we'd used.
A lot of babies need help to become good sleepers. You can find a sleep training method around 6-8 months, when you start to feel desperate for more consistent sleep. OR you can try this method, which introduces simple sleep training methods from the very beginning.
"I want my baby to be flexible… this sounds too rigid?"
Having flexible kids was (and is) important to us too! We had 4 babies in 5 years, so life can be hectic. We wanted flexible kids so we could travel to see out of state relatives, leave our kids at Grandma's house for a weekend, or have a babysitter put our kids to bed.
BUT – flexible is not the same as random. Flexible is like a rubberband… it means you can stretch or bend, but you bounce back to some sort of normal. But you have to have a normal to bounce back to if you're going to have flexible kids.
The guide goes into detail about the process of training kids to be flexible ad understanding that flexibility will vary based on each child's personality.
"When should I start sleep training?"
NOW! YESTERDAY. ASAP.
Just kidding. It's not quite that urgent. But the sooner you start, the easier it will be. This book makes the perfect gift for expecting parents! That's when I wish I would have had it.
The Goodnight Baby guide provides a wholistic method that approaches eating, awake times, naps, night time sleep, etc… for your newborn! Some people will say to start "sleep training" at 4-6 months old. That can work, but it usually involves a lot more crying than if you use a wholistic routine-based method like ours.
You will learn foundational habits to establish from the beginning – during the first few months of baby's life at home. And I promise that starting early will make transitioning to the older baby months easier!
"What about baby-led sleep training?"
I have an entire article that explains the difference between baby led and parent led sleep training. You can read it here.
If you're on the fence, you have nothing to lose! That's what our money-back guarantee is for.
"Doesn't sleep training involve a lot of crying?"
Not necessarily. The guide has a great explanation of crying + sleeping. We've actually found that the sooner you start this method, the less crying there is. For most babies!
The amount your baby cries partially depends on your baby. Our 1st and 3rd kids were (and are) more high strung than our 2nd and 4th. They cried more in general. As our first, wonderful pediatrician with 40+ years of experience said, "Babies just cry sometimes. It's okay. It clears out their lungs. You're still a good mom!"
That was such a freeing thing for me to hear as first-time mom! Crying is so stressful!
Don't get me wrong – I still hate listening to my babies cry. This guide walks you through expectations about crying, and how to set boundaries with crying that work for your family and help your baby thrive.
"What about my premie baby?"
If you've had a baby in the NICU, you know those nurses are very rigid about feeding times. Our method helps you continue that same structure at home throughout the day.
In general, this method will still work even if your baby was born premie. It's very likely that your premie baby will take longer to grow strong enough to sleep 8-12 hour stretches through the night.
The principles in here about establishing healthy sleep routines apply to premie and full term babies!
If your baby has any special health concerns, we'd encourage you to show our guide to your healthcare professionals. If there is any hesitation whatsoever, that's what the money-back guarantee is for.
"I'm not sure my spouse is on board…"
My husband and I are 100% a team. And we think every marriage should operate that way. Being a team doesn't mean you always agree. It means you agree to eventually agree. If one spouse feels VERY strongly against this method for some reason, don't do it.
We've never heard from someone who said they're spouse refused to get on board… Most hesitations stem from a misunderstanding that gets cleared up once both parents read the guide in full.
THIS IS ONE REASON THE GUIDE IS SHORT!! We want both parents to read it and be on board together.
Also… there's that money back guarantee again 🙂 Make your decisions about what's best for your family together. Our money-back guarantee will respect that!
"How do you know this stuff?!"
We had 4 babies in 5 years. I repeat, 4 babies in 5 years. We needed each baby sleeping consistently through the night and on a predictable routine because I would have gone CRAZY otherwise. Haha! We've compiled these strategies from a combination of things: reading-all-the-books, friends' advice, trial-and-error with our kids. (Sorry, kids!) Then, I condensed everything we've learned into the top 10 principles and 40 pages with all the best tips and tricks you need to help your baby and family thrive!
Some day, you'll be doing all this in your sleep! You'll look back on when it all felt really hard and you'll pass along the same advice to a new mom friend.
It all gets easier 🙂
Where can I find your blog?
Here: Rhythms + Grace Blog

(c) Rhythms + Grace Blog 2019