When you have littles, a trip to the doctor with a cup of coffee & no kids counts a break! Even if they're running behind and the appointment is an hour long and they need to draw blood and get a urine sample and want to ask routine questions about family history for 40 minutes. Who cares!? Not this momma-to-be-again. My kids are at a friend's house (thanks, friend!), I'm drinking coffee… Take all the time you want, doc.
After the nurse drew blood, weighed me (up 6 pounds… french fries or baby?), checked blood pressure, and whatnot, the nurse practitioner came in. She was friendly. We made small talk for a minute.
All I could think about was the heartbeat.
I wanted to hear the heartbeat.
Just to make sure.
She sat down and started to ask questions. This first routine appointment involves a lot of questions. Medical history, previous pregnancies, etc…
"Uh huh. nope. yep." Head nods. Heads shaking.
A few questions in, she said suddenly, "let's find the heartbeat! We should have done that first thing." I tried to casually smile and agree, but I'm sure it wasn't lost on her that this is the part I'd been eager for. After all, I tend to wear my emotions on my sleeve. (I also tend to wear whatever grimey stuff was on my kids' hands on my sleeve… but that's really a different topic.) #MyClothesAreNeverClean #Don'tLookClosely
I lay down on the table. She squirted that cold goopy stuff on my lower abdomen (cold goopy stuff is the medical term) and started fishing around with the doppler. She found my heartbeat a few times but wasn't picking up the baby's.
She said, "if we can't find it with this, we'll pull out the ultrasound machine…. the first one is the hardest."
I tried to remain calm, "yeah, they're still so small…"
It was probably a minute or two at most, but it felt like 20.
And then she found it.
So faint, but there.
"There it is! Sounds perfect," she said. "low 160s."
I felt the tears well up in my eyes.
She must have noticed. She said, "the most wonderful sound isn't it?"
I just nodded.
And then we carried on. All the questions.
The tiny faint heartbeat brought to mind that Dr. Seuss book, Horton Hears a Who*. "A person's a person no matter how small," it ends. Darn book, gets me every time.
I've never really felt emotional hearing the heartbeat before. Each time in the past, it's seemed amazing to me. Such a wonderful sound. But never super emotional. This time, I guess, it all feels different. I'm a little more vulnerable this time around. A little more aware that sometimes you think you'll hear the heartbeat and it's gone.
Today, we're celebrating life, grateful for this little one, and praying we'll get to meet him/her this side of Heaven.
In other baby news, I'm 13 1/2 weeks along now. Showing a little, but if you didn't know me you probably still wouldn't ask. I hope. Let's just say, I'm more comfortable with the non-pregnancy jeans unbuttoned than buttoned… but again, could be too many french fries. TMI?
I refuse to dig out the maternity clothes yet. Except leggings. I bought a glorious pair of maternity leggings. They're warm, but not too thick. I paid $35 at Target but they're on sale right now for $25*… I might get a second pair. I mean if I workout in them and happen to sweat during that workout, then I'll need a backup pair. Because when leggings are your pajama pants, workout pants, and dressy pants, then it's probably okay to own 2 pairs, right? Anyway – preggo ladies, these are the best maternity leggings I've owned for any of my pregnancies.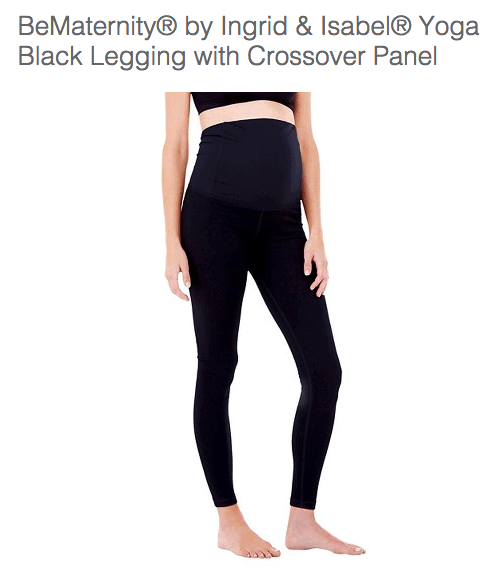 My uniform of choice these days is the aforementioned leggings with a long-ish plaid flannel. Or a sweater. Or a long-ish tanktop underneath a regular shirt. Because I try to cover my butt as per the Leggings-As-Pants guidelines in For the Love (Jen Hatmaker's most recent book). Also this cool necklace that used to be my grandma's. I hear vintage is all the rage these days… I'm pretty trendy.  
[Side note – my aunt just gave my kids a bunch of hers and my grandma's old jewelry and cute little jewelry boxes. They LOVE to play with it. This would be such a fun Christmas idea for a little girl would be grabbing a bunch of huge colorful necklaces and bracelets from goodwill & wrapping them all up in a jewelry box. My aunt said she ordered the ones she found online from Kohls.]
A few more pregnancy notes for the baby book… 
Cravings: Same as before. Salty foods & carbs & takeout. Specifically, Jimmy Johns, Chinese food, & Olive Garden. I have craved Jimmy Johns and Olive Garden through all 3 pregnancies. You can buy Olive Garden salad dressing at the grocery store now. Obviously I did, and obviously we have fake-out Olive Garden salad every night.
Morning Sickness: all gone!! But if I don't eat every hour, I start to feel wonky.
Coffee update: Because I know you're dying to know, my taste for coffee has returned, y'all. And it's glorious. Although I don't drink it as often. Guess that's a perk of going cold turkey.
If you follow my facebook page, this story is familiar to you so you can skip it 🙂
Addie loves watching this babycenter video that simulates the pregnancy. It references blood cells. She asked tonight "do I have those?"
Me: yes
Her: are they poops or toots?
Me (laughing): they're neither. They're blood cells.
Her: Ohhhh are they in my pee pee?
Me: nope… they're in your blood.
Her: ohhhhh.
All so matter of fact. Not sure what the obsession these days is with bathroom-related chatter. Maybe Freud was on to something?
Well that's our latest update.
Hey, if you read this blog, thanks for reading 🙂 It's been a while since I've said that…